Natasha and Torre crossed paths almost twenty years ago in their hometown of Detroit, Michigan on Labor Day weekend in 2001. What began as a friendly exchange of hellos between the two turned into casual flirting for the rest of the time they were at the holiday celebration. Although they did not exchange numbers that day, Torre found a way to get in touch with Natasha and the two went on their first date. They both felt an instant connection and the rest is history! Natasha and Torre walked down the aisle in a stunning wedding ceremony in Las Vegas, Nevada. Check out more from their gorgeous day curated by planner Kortney Rankin of Elle Audrey New York and beautifully captured by Amy Anaiz Photography.
Bride: Natasha Weathersby, 43, Clinical Research
Groom: Torre Weathersby, 41, Auto Detail Business Owner
Photography by: Amy Anaiz Photography
Place of residence: Las Vegas, NV
Wedding date: Sep 5, 2020
Wedding location: Westin, Lake Las Vegas, Las Vegas, NV
Wedding theme/motif/inspiration: Modern Elegance
Honeymoon Destination: St Lucia or Spain/Italy
Engagement story:
The summer of 2015 I decided that it was time for a change and in order to do that I had to leave Michigan. I arrived in Las Vegas where Natasha picked me up from the airport for us to head to California. We talked and talked, catching up on the long ride to my new home. I was scared but excited all at the same time, hoping to pull off my planned proposal. Despite my fear, I built up the courage to plan a surprise proposal over dinner at her favorite restaurant, Yard House. With the help of the restaurant staff, we were able to decorate a table in the corner with flowers and candles. Of course her being in awe, I told her it was our special date to celebrate the start of our relationship. The waiter brought us the 'Special Menus' with hers starting the question off, 'Will U' and the rest of the staff holding the remainder of the question in hearts 'Marry', 'Me', '?'. Of course, she said yes! And here we are as we begin writing a new chapter in our love story of becoming one.
From the Bride: (briefly tell us about your wedding experience and how you felt on your big day)
Every bit of AMAZING maybe even magical. I can absolutely say that our day was everything that I had dreamed of and more. After countless days of planning leading up to the big day, I never imagined anything more beautiful than what was before me. The excitement of getting ready, to putting on my dress, to our First Look, to walking down the aisle to my awaiting groom was all an absolute dream come true and to have my mom/dad there made the day all the more special.
From the Groom: (briefly tell us about your wedding experience and how you felt on your big day)
Aside from the heat, my wedding experience was a day to remember, as everything was so beautiful. I was amazed with both the set-up of the ceremony and reception spaces. My bride and her planning team really did a fantastic job to ensure that the entire wedding day would be one to remember for a lifetime.
What makes your love special?
What makes our love special is that it is REAL and that we are true SOULMATES! For us, our love is genuine in that we respect each other and are the best of friends, lovers and partners. We cheer each other on in our best moments, we hold each other in our worst moments and we cherish all of the in between moments. Key factors of being in such a wonderful place of loving each other as much as we do is being able to understanding/compromise, communicate and listen to one another but most of all being able to believe in GOD and to pray together.
Your best/most memorable moment:
Our most memorable moments were the entire wedding venue, seeing my beautiful bride walk down the aisle and when we said our 'I Dos', in addition to, our guests still talking about how amazing everything turned out to be.
Wedding song, explain choice for song:
Bride – "When I say I Do" by Kenny Lattimore and Chante Moore
Groom – "Crazy" by India Arie
Our First Dance – Perfect Duet by Ed Sheeran/Beyoncé
Favorite wedding detail:
Everything was amazing thanks to our wonderful planning team; however, aside from walking down the aisle our favorite wedding details were seeing our family and friends, the introductions, our first dance, the entire venue, the cake and food.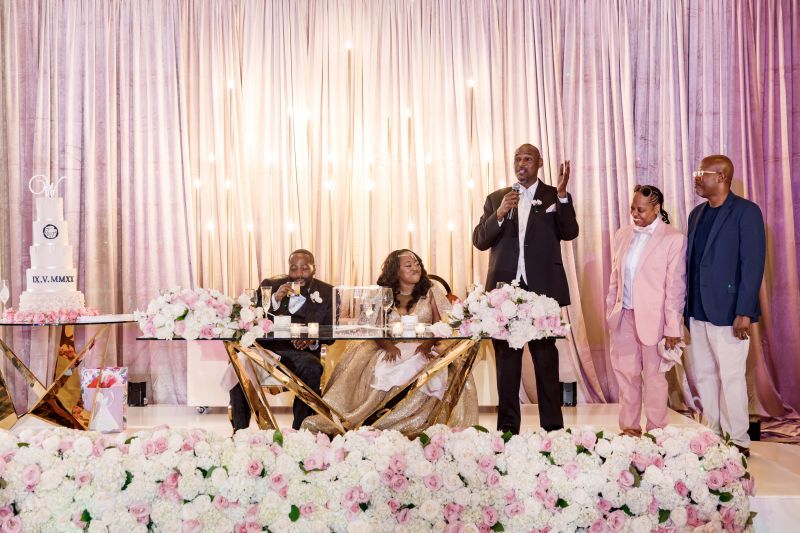 What are y
ou most looking forward to as a married couple?
Spending the rest of our lives together, raising a huge family and prospering as a couple.
Advice for a Bride/Groom on their wedding day:
The day will move quite fast; therefore, prepare for the unexpected. Just when you think you have everything in order something will fall out of place be it small or big. Brides, please make sure that you have a team in place to assist you on this day because as things are moving so quickly, you will not have time to think about what you need to do next.
Please feel free to include any other interesting anecdotes from your big day!
From start to finish, Kortney and her team from Elle Audrey New York are hands down the best in the event planning business. As we are planning for our future, she and her team will definitely be a part of every event that we plan moving forward.
Congratulations to the happy couple! We wish them a fruitful marriage and many years of wedded bliss!
Sources
Amy Anaiz|Kortney Rankin with Elle Audrey New York|Westin Lake Las Vegas|Float Media|Daughters of Nonyelum Atelier|Daughters of Nonyelum Atelier|Dolce & Gabbana|Las Vegas Custom Cakes|DJ Ricky Bonds of Pulse Sounds|Event City LA|Events by Bliss, LLC|Tyra's Hair Experience|Petals, Flowers, and Events|Penn and Paperie|Meldeen Ink