The very first time Waithira and Freeman met was in 2011 at a social gathering. Freeman tried to strike up a conversation with Waithira which was only met with a polite smile as she walked away to join her friends. Fast forward six years later to November 2017 when the two ran into each other again at another social gathering; only this encounter was completely different. Freeman won Waithira over with his charm and amazing smile. They exchanged numbers that night and a few days later went on their first date. The sparks flew and the couple have been together now for two years. Read more about their love story and check out their beautiful engagement session captured by Dorn Long Photography.
Bride: Waithira Koine, 31, Data Consultant
Groom: Freeman Gihaga, 33, Data Consultant
Place of residence: Charlotte, North Carolina
Engagement Shoot Location: Sophia's Lounge at The Ivey's Hotel and Merchant and Trade at Kimpton Hotel
Wedding date: April 24, 2021
Engagement story:
In October 2019, Freeman asked if he could take me to dinner at North Harbor Club on Lake Norman. On previous dates and outings, I would always look for signs to see if this was the moment he would pop the question and this date was no different. Freeman was very calm, and I couldn't tell if he had a ring box in his pocket so I assumed it was a regular date. We continued the evening enjoying our food and each other's company with beautiful lake views.
Towards the end of the night, he told me that his former employer's office was around the corner and would love to take me on a walk after dinner to show me around. I had a bad cold and wanted to go to bed immediately afterwards, but decided to take Freeman up on his offer. As we strolled alongside the lake, we came upon a lovely arrangement of rose petals and candles. Still very oblivious, I assumed the setup was for another couple nearby until Freeman took my hand and drew me closer to the display. At that very moment, Freeman dropped down on one knee and asked, "Will you marry me?" Through an ugly cry of joy, I shouted "Yes!"
For the Groom: Walk us through the behind the scenes of creating this special day
I bought the engagement ring in September and immediately told Waithira's sister that I was going to propose. She was ecstatic and ready to help me make the proposal unforgettable. A few days before the special day, I went to see Waithira's parents to ask for their blessings. They were both extremely excited! Waithira's sister and a friend of mine set up the arrangement of the flower petals and candles by the lake. Once we walked up to the display and I saw the joy on Waithira's face, I knew it was perfect!
What makes your love special?
We always attribute the success of our relationship to God's timing. We both agree that if we had started dating when we met back in 2011, our relationship would not exist today. As cliché as it may sound, we truly bring balance to one another and genuinely enjoy each other's company.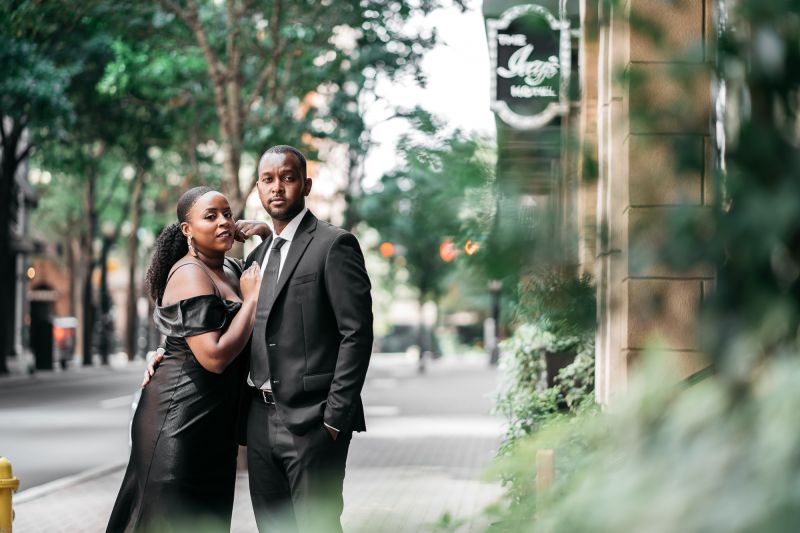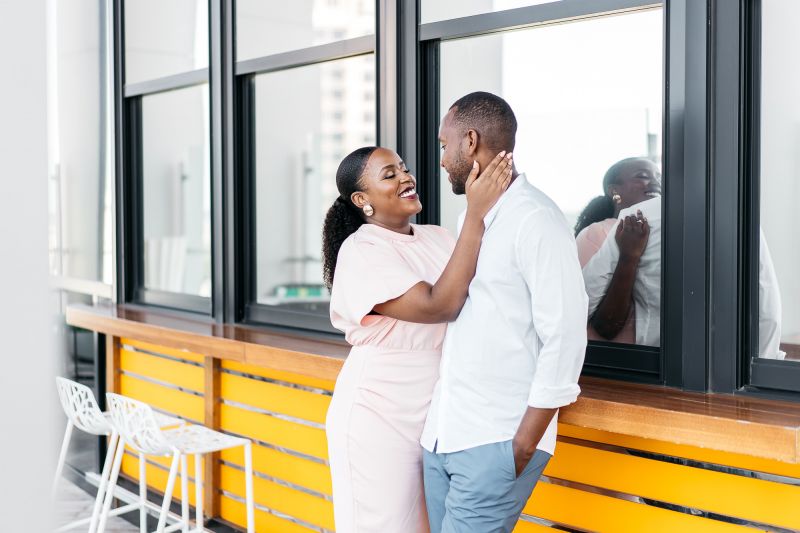 What was the theme of your shoot?
The theme of the shoot was old French charm with a big city feel.
Were there any memorable moments during the shoot?
Freeman and I are both playful people and taking engagement pictures can sometimes put a sense of seriousness on the experience. Our photographer really helped us feel comfortable in being ourselves and fully embracing the moment.
What are you most looking forward to about your wedding?
Freeman is originally from Burundi and my family is from Kenya. With that being said, we are really looking forward to integrating our cultural wedding traditions on our special day. We are also looking forward to celebrating our beautiful union with the special people in our lives. Oh, and we can't wait to dance the night away!
Have you started planning your wedding?
Yes! Fortunately, we picked our venue and April 2021 wedding date before the pandemic started which gave us plenty of time to pick up where we left off once businesses opened again. We also are blessed to work with our planner Emore Campbell, who listens to our ideas and effectively communicates with us during this crazy wedding planning.
Congratulations to the happy couple! We wish them a fruitful marriage and many years of wedded bliss!
Sources
Dorn Long Photography|Whitney Elise Beauty|Emore Campbell Events|Kimpton Tryon Park Hotel|Sophia's Lounge at Ivey Hotel