Stephanie and Newton met through mutual friends and co-workers in 2017. That meeting led to the beginning of a beautiful love story. After dating for over two years, Stephanie and Newton tied the knot in a stunning, fairy tale ceremony in New Orleans, Louisiana. Check out the photos from their gorgeous day captured by Silverloop Studios.
Bride: Stephanie Jackson-Thomas, 49- Owner/Director- AAA Care, LLC
Groom: Newton Thomas, 60- Owner/Director- Inspiration House Care Providers
Photography by: Cameron Johnson, Silverloop Studios
Place of residence: New Orleans, Louisiana
Wedding date: November 16, 2019
Wedding location: New Orleans Museum of Art, New Orleans, LA
Wedding theme/motif/inspiration: Elegant, Fairy tale Affair
Honeymoon Destination: Riviera De Maya, Cancun
Engagement story:
While celebrating Stephanie's 48th birthday at the Ritz-Carlton hotel, the manager jumped on stage and said, "I'm looking for Newton Thomas!". Stephanie thought he was going to sing Happy Birthday to her in a room full of people. Newton walked on stage with three white bags and took the mic. He called Stephanie to the stage and began to open each bag. The first bag had an apple to symbolize her being the apple of his eye. The second bag had pens because Stephanie loves to write notes. The third bag had Tylenol- because of the headaches he's caused her. Finally, the last bag had a box with a 3.3 carat ring inside. Stephanie thought she was going to pass out! It was definitely a night to remember.
From the Bride:
My wedding experience was phenomenal, no nervousness, just cool, calm, and collective thanks to my planner from Lavishly Chic Events, Delia King.
From the Groom:
I felt great on my big day! I felt empowered to love and accept love.
Your best/most memorable moment:
Seeing our reception venue for the first time; Oh my goodness, a dream! Also, looking into each other's eyes while saying our vows.
Wedding song, explain choice for song:
Daniel Caesar's "Get You"; we wanted a special, intimate song that was a representation of our love journey.
Favorite wedding detail:
During our first dance we thought we would dance to the recorded version of Daniel Caesar as we have so many times before. Little did we know, we would dance to a live serenade by T-Ray (Violinist)- as a surprise wedding gift from our wedding planner.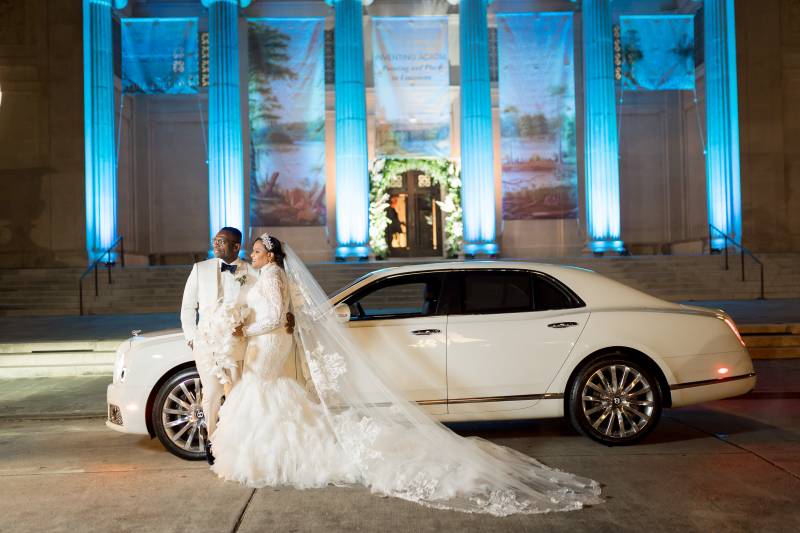 What are you most looking forward to as a married couple?
Always keep God first, and aim for love, peace, and happiness for the rest of your lives and it will be fabulous.
Advice for a Bride/Groom on their wedding day:
Enjoy the moment and every detail because it happens so fast and lastly enjoy the magic.
Congratulations to the happy couple! We wish you many years of wedded bliss!
Sources
Cameron Johnson (Silverloop Studios)|Delia King (Lavishly Chic Events)|New Orleans Museum of Art|B Bryant Films|Crystal Floral & Decor|Firefly Ambiance|Chair Couture|Party Rentals Delivered|Chasing Wang|Body Werk Jewels|Papier de Luxe|Tracie Turner (Face by Trace)|Michelle Newsham|Chanell Malott|Jamila Hazel (J. Coleman Designs)|Faces of Virtue|Stephen Goudeau|Pedram Couture|Fellow Menswear|Phodat Booths|DJ Captain Charles|Christien Bold|T-Ray The Violinist|Free Agents Brass Band|Freezy Street|BBJ LInens|SEL Catering|Ursula's Boutique