What do you get when you mix Fitness with Relationships and Love? You get NYC Agape, the first couples only fitness company globally, founded by Mike Brown. Mike Brown comes into the fitness world with a diverse personal training experience that includes a wealth of time invested in strength and conditioning, weight training and peak performance through his football background. Mike gained a personal interest in functional movement including strength, endurance, stability, and flexibility as he prepared for his career as a Division One football player at the University of Virginia. After his college football career, Mike pursued an NFL career before tearing his Achilles tendon which was documented in the film Declaring Destiny. In 2009, Mike enrolled in CAL U OF PA's grad program in Exercise Science. Through hard work and dedication as well as having a true understanding of how to achieve peak performance from his body, in 2011 he obtained a physical training internship with the NFL Combine class of 2012 at Test Football Academy in New Jersey. Mike is also a personal trainer to high profile clients in downtown New York at various exclusive gyms. Check out our interview with Mike Below!
Name: MIKE BROWN
Industry: FITNESS
Location: NEW YORK, NY (WEST VILLAGE)
Specialty: COUPLES FITNESS
1. Tell us about NYC Agape? How is this fitness experience different from others?
NYC AGAPE is the first couples only fitness company globally. This fitness experience is different from others because our focus is not only to promote healthy living but communication between you and your partner. Our program is tailor made with exercises like boxing and functional movement that create parody between couples.
2. How did you come up with the idea of couple's fitness?
I came up with NYC AGAPE because it was a niche market in fitness not tapped into. As a trainer , I am a therapist during the workouts, clients talk to me about their wife or boyfriend and lack of communication or not enough time spent together. NYC AGAPE promotes communication and our hour session gives the couples something new to do.
3. What services do you offer couples?
We offer couples a 3-session program, which is one hour each session. We also offer a 5 week program which includes 10 one- hour sessions, 2 Nike Fuel Bands, 2 Pair of Boxing Gloves and a pre and post assessment by our in house sports psychologist.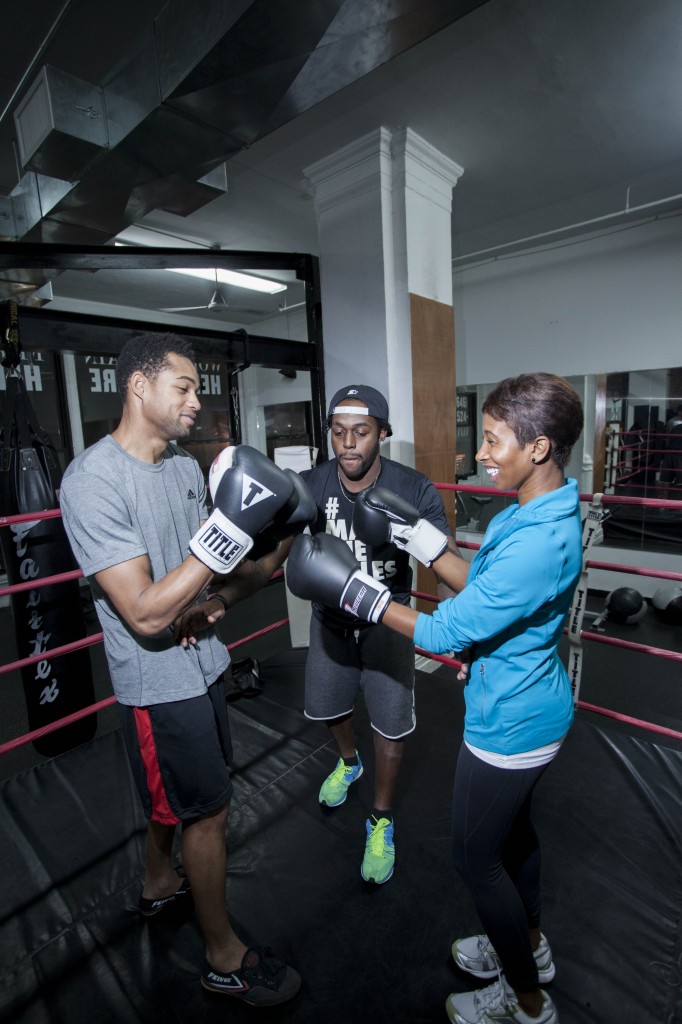 4. What are some of the benefits of couples working out together?
NYC AGAPE started with the idea that couples could workout together stimulating communication, accountability and constant interaction. These traits in any relationship old or new create comradery, which is the basis for all relationships. After studying linguistic Anthropology and being a personal trainer I fused agape with passion and functionality. The program is uniquely designed with verbal commands and communication cues, which recruit a very interactive form of body and verbal communication.
5. Can you give us some tips on how couples should approach a joint fitness program?
Approach our couples fitness program with an open heart, open mind and set goals not only as a couple but individually.
6. Do you have a work out plan that is fit for a couple at different fitness levels? If so what are some of the details.
The workouts are uniquely designed based on a program of parody exercises that both men and women could do together such as boxing and functional movement training. We tear down the stereo types of gender based training which makes it difficult for couples to work out together and make the experience fun, challenging and interactive giving the hour session as a cohesive experience sure to not only improve the mind but the body in a date experience unlike anything ever.
7. What tips can you offer engaged couples that would like to get into shape for their wedding?
Come in for our 5-week program!!!! We also have launched our bridal boot camp to get bridal parties in shape starting 3 months before the wedding date.
8. Do you have a nutritional aspect of your fitness programs? If so, what nutrition tips can you offer to a bride and groom who want to maintain a healthier diet? What are some of the best foods to eat during this crunch time?
Yes we have tailored made nutritional regimens for our clients. Grass-produced meats, fish/seafood, fresh fruits and veggies(not frozen), eggs, nuts and seeds, healthful oils( olive, walnut, avocado, coconut, flaxseed).
9. What are some common mistakes made by dieting couples before the wedding?
1) Crash dieting before a wedding
2) not working out 3 months before the wedding and only dieting.
3) Not signing up for NYC AGAPE.
Stay in touch with Mike Brown at NYC Agape by visiting www.nycagape.com and chat with him on twitter @nycagape! Black Bride readers can use NYCAGAPE143 for a $10 discount off the $35 bridal training sessions. Email NYC Agape at [email protected] with the subject "NYCagape143" to get your discount! Want to win a free session with Mike Brown? Enter to win a free Bridal Bootcamp session with NYC Agape and Black Bride Here!

Interview by our Wedding Features Editor, C.K. Alexander. C.K is the owner and founder of Love Ink. Keep up with C.K. on Twitter here: @Love_Ink