Love birds Michael Jai White and Gillian Waters are officially off the market. The pair exchanged wedding vows on Friday July 3rd at the multi-acre riverfront estate of their good friend and film producer, Michael Selby surrounded by their children, family and friends. According to BET the ceremony was described as "an intimate but extravagant" ceremony.
The happy couple pictured here relaxing in Thailand while taking a break from shooting Never Back Down 3, where the two will star in the film together. We can't wait to see them on the big screen together.
Gillian looked like a goddess in a custom gown she designed by Milan Bangkok, while the groom looked mighty dapper in a silk white suit.
Earlier this year White penned an apology letter to his ex-girlfriends apologizing for his behavior while dating them. Here's an excerpt from the letter – "I believed all women were crazy and the only choice a man had was to decide exactly how much crazy he's willing to deal with to sustain a relationship. It's crazy to think I, as a man, would ever want to spend every waking moment with a woman, to be all-up-on each other constantly, to talk endlessly about 'every-damned-thing' and see each other "every-damned-day!" Click here to read the full letter on Michael's Facebook page.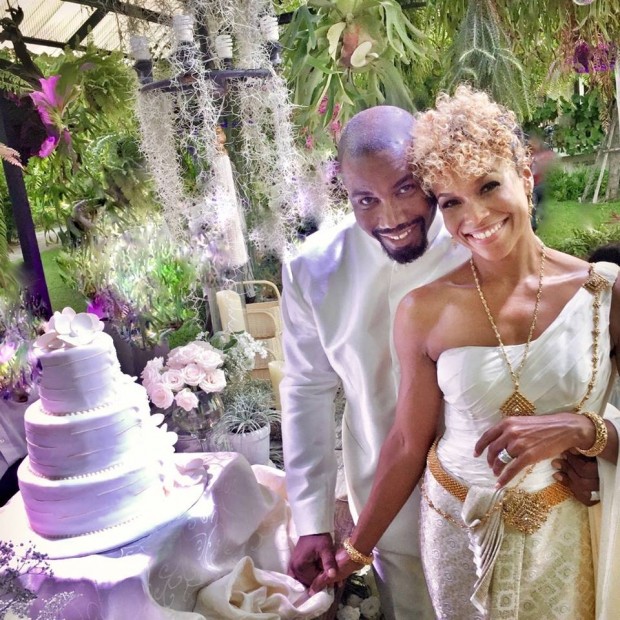 After reading the letter Micheal wrote to his ex's, it's good to see that he finally found true love and happiness which he credits Gillian for helping him figure out what true love is all about. We wish the happy couple all the best for a happy married life as they journey into marriage.
Photos: Michael Selby and White's Facebook page
We would love to hear from you. Feel free to join us in wishing Michael and Gillian all the best! Leave your comment below.