Despite attending the same college – the University of Illinois, Shenesia and Stephen's paths didn't cross until much later in 2013. After meeting through mutual friends, the pair hit it off and never looked back. Their first date was at a comedy show in the House of Blues Chicago. They laughed the entire night. And since Shenesia and Stephen enjoyed a blissful five years of love, adventure and romance, they finally decided to get hitched. Take a look at their colorful and elegant engagement session, captured by Olu Jr. Photography.
Bride's full name, age and occupation: Shenesia Benniefield, 35, Senior Project Manager
Groom's full name, age and occupation: Dr. Stephen Watson, 33, Ophthalmologist
Place of residence: Chicago, Illinois
Engagement Shoot Location: River West, Chicago, Illinois
Wedding date: September 9, 2017
Engagement story:
Our engagement took place while in Havana, Cuba during March 2017, in the historical square – Plaza de Vieja. It was the weekend of our four-year anniversary, and we spent time sightseeing and learning so many wonderful things about the Cuban culture and architecture. My most memorable moment was peering down at the fish in the fountain and looking up only to find Stephen kneeling behind me, ring in hand. It was such an unexpected and beautiful surprise that rendered me speechless. I was overjoyed that I was able to share the moment with my closest friends who joined us on the trip and we were able to capture some "in the moment" pictures. After the proposal, we made a quick stop by a Havana Club restaurant which was bustling with live music and dancing. Once the band found out about our engagement, they brought us on stage to perform a celebration song. It was simply awesome!
For the Groom: Walk us through the behind the scenes of creating this special day:
Although I had brought the engagement ring with me to Havana, I did not have a specific plan for the proposal. I carried the ring everywhere I went for the first couple days of our trip, never really finding the perfect moment. The group then decided to take a horse and carriage ride around Havana. We stopped at a few places along the tour, yet I still did not feel like I'd seen the perfect place. Next, we stopped at the Plaza de Vieja, where we saw a beautiful fountain. Immediately, I knew this was the place, but now, most of our group had wandered off. I quickly called everyone back to do a "group photo" near the fountain, but in reality, I knew it was the perfect moment and place. And the rest is history…
What makes your love special?
We share the same passions for food, humor, and travel – which is the perfect combination. We are a very easy-going couple and base our love on communication, trust and enjoyment. A key element of our relationship is the focus we have on our "love languages," which help us to keep our connection strong and thriving.
What was the theme of your shoot?
We wanted a vibrant, urban chic theme which represented the city we are from and love – Chicago.
Were there any memorable moments during the shoot?
There were quite a few memorable moments. We had a scene where we danced freely in front of the graffiti wall mural to soulful R&B songs. We really enjoyed the freedom to do whatever came naturally to us. I also had the opportunity to smash an entire donut in his face after delicately feeding him a few small pieces, which made for some funny pictures.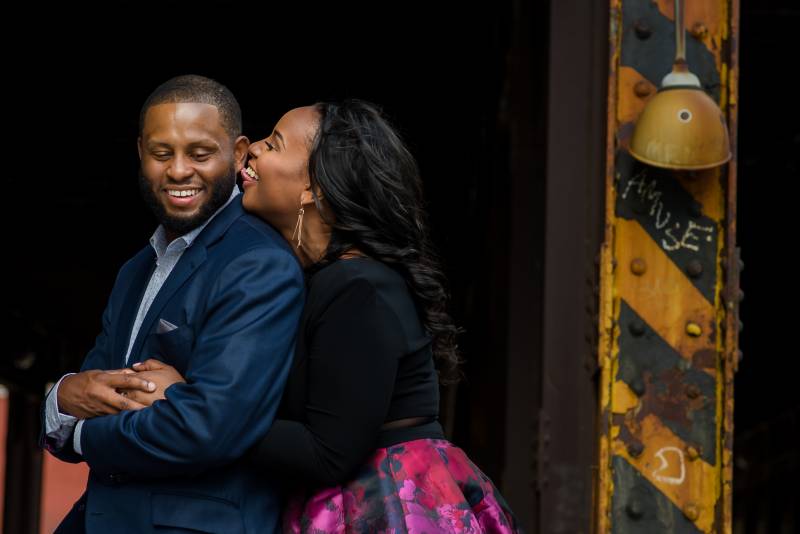 What are you most looking forward to about your wedding?
We looked forward to the party! We love music and dancing, so we couldn't wait to hit the dance floor as husband and wife. We were also looking forward to a moment of silence and giving thanks to our parents that were unable to celebrate this joyous occasion with us.
Have you started planning your wedding?
Yes, our wedding planning was in full effect. Initially, it seemed to be a daunting task, but with all the modern technology, we had all our resources at a click of a button. We chose a beautiful and historic venue – The Museum of Science and Industry, located in south side of Chicago. We had a live band and a DJ, plus we expected about 200 guests. The ceremony was held outdoors, adjacent to the lagoon, and the reception was held indoors in the Rotunda.
Congratulations to the happy couple! We wish you a fruitful wedding and marriage.
Sources