Shequera and Glenn met on August 13, 2013 in Freeport, Bahamas, where they both live. Glenn and the Collage Entertainment group came from Nassau, Bahamas to debut their first movie "Get Charlie." Shequera was the reigning Miss Grand Bahama Beauty Queen at the time and used her credentials meet the team of Collage. " There was one person that I wanted to meet in particular – Glenn. After several years of secretly admiring him, we finally met at RND Cinemas in Freeport. After the movie premiere, Glenn returned to Nassau and in spite of the distance we kept in contact and three short months later, Glenn did the sweetest thing; he called me and asked if I would be his girlfriend and of course I accepted," said Shequera. After 10 months of dating, Glenn asked Shequera to be his wife. Check out their romantic engagement session captured by Lyndah Wells Photography!
Bride: Shequera Sherman, 27, Student and Associate Wedding Planner
Groom: Glenn Sherman Jr, 27, Videographer
Place of residence: Freeport, Grand Bahama Island, The Bahamas
Engagement Shoot Location: Downtown Freeport
Wedding date: 1/2/16
Engagement story:
Our engagement took place on the rooftop of Del Frisco's Grille in Downtown Dallas, Texas. I was patiently waiting for my cousin Britney to get off. She disappeared for a while before finally coming down from the second floor to where I was. She then asked me to come upstairs with her so I went. She opened the doors to the upstairs patio and said "Your chariot awaits!" and laughed. Confused I stepped onto the patio only to find my fiancé standing by the fire pit with a bouquet of roses. I walked over to him and as I scanned my surroundings, I saw a trail of rose petals and two glasses of champagne. Glenn is a romantic and loves to surprise me so my first thought was we're having a romantic dinner on the roof top! It was only until I took my roses and he began to speak that I realized that he was about to propose. I was in such disbelief that I just began jumping up and down saying, "Oh my gosh. Oh my gosh. Oh my gosh." I promise you the only words I heard was "Shequera King, will you be my wife?" and I said YES. Immediately after, I asked him if he had asked my parents and he said yes. My parents gave him their approval two months prior. I was completely amazed that my family was able to keep such a big secret for such a long period of time but I am glad that they did.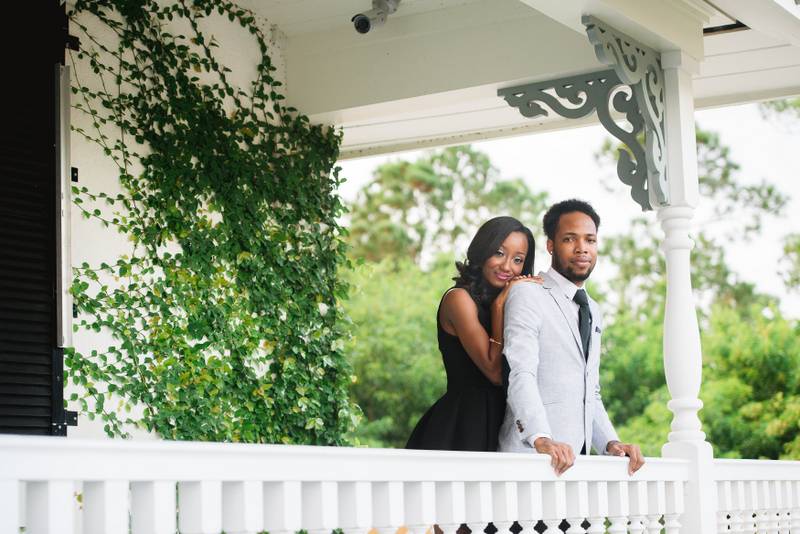 From the Groom: Walk us through the behind the scenes of creating this special day.
When I went to Texas to Shequera, the purpose of the trip was to ask her to be my wife. I did not know when or how I was going to do it so I first spoke with Shequera's eldest sister Shandell. She was working at the Texas State Fair and during the fair they would have a mini show. Shandell said that she would coordinate with her coworkers to call us up on stage and there I could pop the big question. Unfortunately, Shequera fell sick and although she still built up the strength to go to the fair, I knew that it was not the right time. After that night, I asked her cousin Britney if there were any romantic places in the city that I could use to pop the question and she suggested the rooftop of Del Frisco's next to their fire pit. So later that day, Shequera called me to find out where I was and I told her that I was at Walmart while all along I was sitting right across the street waiting for the perfect time. Britney later sneaked me through the back entrance, up the stairs and on to the rooftop patio. We spread rose petals on the floor and poured champagne as I nervously awaited my love. She came to the roof and walked over and I don't think she had realized as yet what was happening. She came up the stairs and I began my little speech but by the 4th word I had already begun to cry. The only thing I remember is her saying was "yes" and "did you ask my parents?"
What makes your love special?
A part of what makes our love special is learning after the fact that while I secretly admired Glenn, he also secretly admired me. We were friends on Facebook for about two years before we met. I had even messaged him one time to tell him how much I enjoyed Collage's videos. At that point he was interested but did not think he stood a chance with me; however, when the opportunity presented itself again, he was determined not to let me get away. I think deep down intrinsically we felt the pull of love but it was all about timing. Moreover, what makes our love special is that we conquered the distance that kept us apart for most of our relationship. Many persons shy away from long distance relationships and believe that it's just impossible for them to work but we were determined to make ours work. Truthfully, as hard as it was, the distance became our ally because it forced us to truly get to know each other beyond the surface of who we were and in that we realized that everything we prayed for and was looking for in a life partner, we had it in each other.
What was the theme of your shoot?
Island chic romance
Were there any memorable moments
during the shoot?
The engagement shoot itself was memorable because we had to wait such a long time after being engaged to do it because of the distance. During the shoot we were just beaming with love really, as it hit home for us that the day we were so highly anticipating was quickly approaching – we would start the beginning of our happily ever after together, not having to leave one another again and that was special for us.
Congratulations to the newlyweds Shequera and Glenn! We wish you many more years of wedded bliss.
Vendors:
Photographer: Lyndah Wells Photography
Shequera's Stylist: Fayeneisha Beneby
MUA: Sherone