Pamella and Prince met at a mutual friend's house party on Saturday, November 1, 2014. Ironically, neither one of them were supposed to be there that day. Prince was supposed to go to a football game at Notre Dame and Pamella was planning to go home to pick up her son. However, as fate would have it, they both were in the right place, at the right time. "Pamella caught my eye while at the party and we carried on a conversation throughout the night. After that night, we continued to talk, eventually began dating, and the rest, well, is history," said Prince. Check out their winery themed engagement session, captured by Janelle C. Photography.
Bride: Pamella Chandler, 32, Factory Supervisor
Groom: Prince Lowe, 32, Mathematics Teacher
Place of residence: Matteson, IL
Engagement Shoot Location: Coopers Hawk Restaurant and Winery, Naperville, IL
Wedding date: November 5, 2017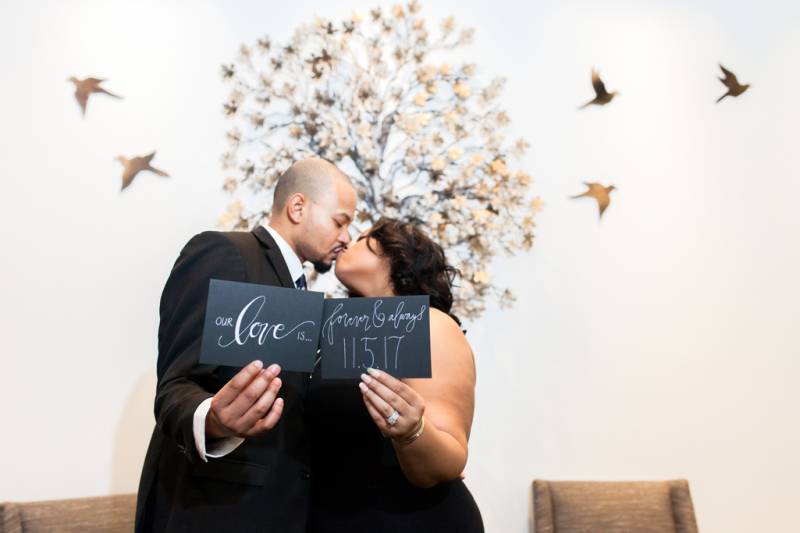 Engagement story
The engagement proposal was a great evening, although it didn't have as much of a surprise factor. Originally, it was packaged as a birthday dinner for Pamella's mother. People from both of our sides were there, including my mom and dad, brother, best friends, etc. There was a staging to everything leading to the proposal. However, as I started to realize that Pamella has begun to figure out what was going on, I decided to jump right in and propose marriage to her. The most memorable moment was the incredible smile on her face and the brightness of Pamella's eyes when she saw the ring and said "Yes!"
From the Groom: Walk us through the behind the scenes of creating this special day.
The behind-the-scenes look for creating this day were fairly simple. Earlier in June 2016, I asked Pamella's mom and dad for permission to marry her daughter. At the time that I had asked, I had already begun paying for the engagement right. With the help of numerous members of Pamella's family (mom, sisters, friends, etc.), I was able to pick a place for the special event-ultimately being Coopers Hawk. For me, I am meticulous in terms of making everything have a meaning. Therefore, I chose June 29 because it was two months and two days after my adopted mom's birthday (whom has already passed) and I felt that my adoption gave me a chance to truly have a life and now I was going to embrace the next phase of my life with the woman who makes it worth living.
What makes your love special?
Our love is special because it is rooted in caring for one another and to putting God first. We both allow our passion for being the best man and woman for God and allowing that to manifest itself into how we treat each other and how we are there for each other. Pamella and I concentrate on being both best friends, as well as lovers, spouses, etc.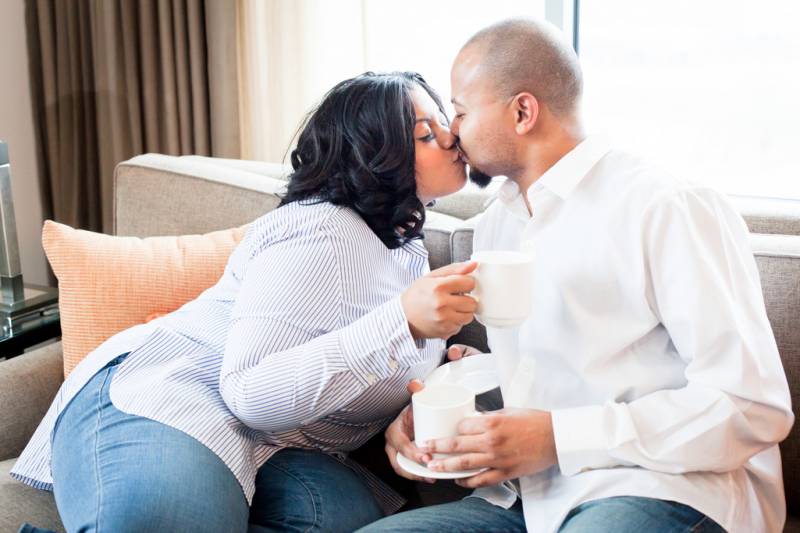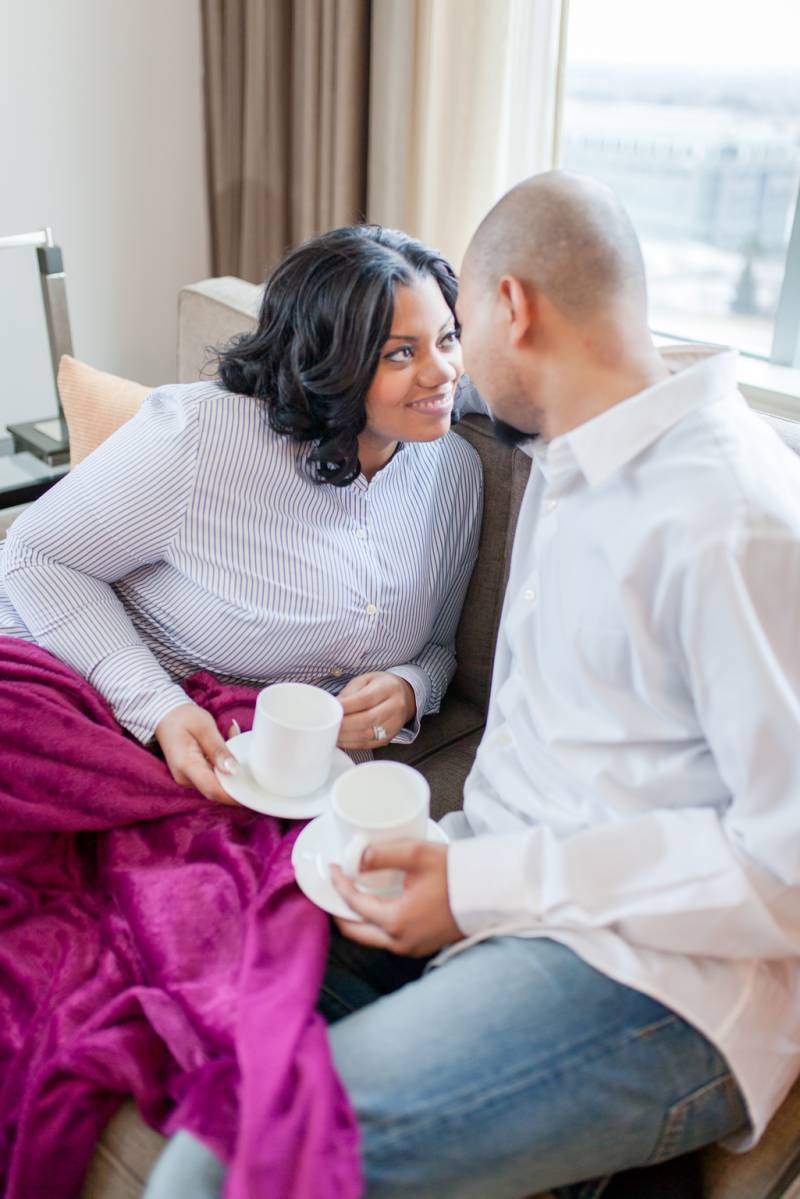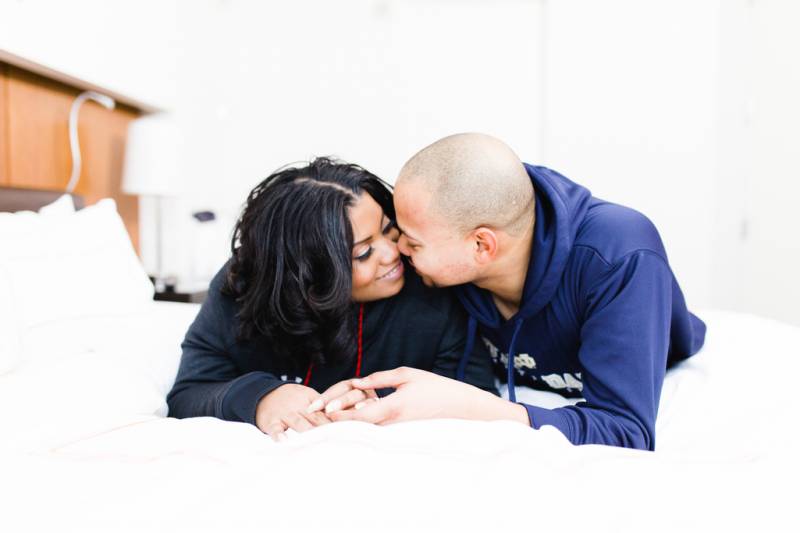 What was the theme of your shoot?
Our engagement shoot theme was two-fold. The first half was designed to exude the royal, regal feel that we plan to have for the wedding itself-formal dress, etc. The second half was more laid-back and synonymous with our relaxed nature with each other.
Were there any memorable moments during the shoot?
Through the shoot as a whole, the most memorable moments was the amount of intimate moments that we were able to share with one another. At Coopers Hawk, I felt that was an intense passion for the two of us just being together. For the second half of the shoot at Hotel Arista, it was simply memorable just being able to incorporate our son into the shoot-having family shots and playing UNO? within the shoot. It was really inclusive of the family element of the three of us.
What are you most looking forward to about your wedding?
I believe that we are both looking forward to the pageantry and stateliness of the wedding. Personally, I am looking forward to seeing the woman that God has blessed me to care for and committing to love for the rest of my life. In addition, we both look forward to sharing our happiness with our family and friends.
Have you started planning your wedding?
Planning has been underway since about September 2016. We wanted to have enough time to pull everything together and do have a wonderful wedding planner, Mrs. Keosha Chandler, who has been helping us through every steps of the process. At the calendar has rolled into the spring, we have gotten to some of the more interesting elements of the wedding plans-guests lists, invites, tastings, décor, etc. Therefore, we are really excited for what is to come.
Congratulations to the happy couple! We wish you and wonderful wedding and marriage.
Vendors:
Planning by Keosha Chandler, Eventual Concepts
Photography by Janelle C. Photography
Stationary by Jenkins Rose
Macaroons by Penthouse Sweets Chicago
Makeup by Danielle Rochon
Sources