High school sweethearts Keisha and Terrence met in the 10th grade in 2001. The two dated off and on through high school and college and have known each other for almost 15 years. Keisha and Terrence are planning a romantic Fall wedding this year at The Country Club at Woodmore in Mitchellville, MD. Check out their fun outdoor engagement shoot, captured by Nikki Cee of NCee Photography.
Bride: Keisha Makle, 30, Budget Analyst
Groom: Terrence Jenkins, 29, Sharepoint Developer
Place of residence: Clinton, MD
Engagement Shoot Location: Bowie, MD
Wedding date: 10/02/2015
Wedding location: The Country Club at Woodmore, Mitchellville, MD
Wedding theme: Classic Romance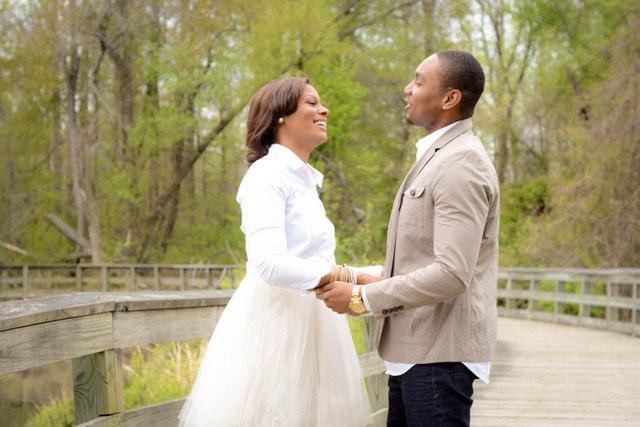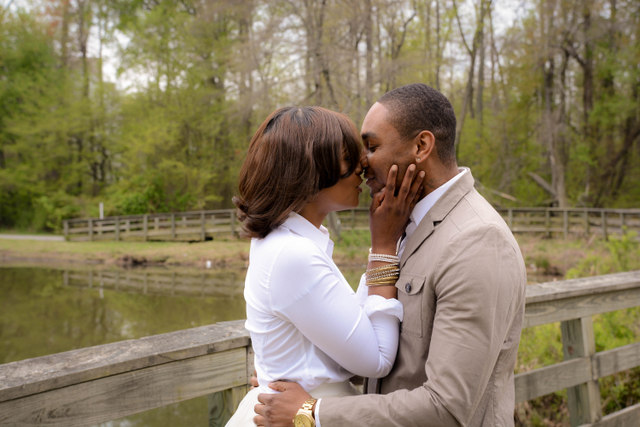 Engagement story from the bride-to-be:
He proposed to me after the perfect dinner on NYE in 2013. He asked me about my goals for the New Year in a post-dinner conversation and the ring was brought out with dessert! Everyone in the restaurant cheered and we celebrated with champagne. I went into 2014 with one goal scratched off my list!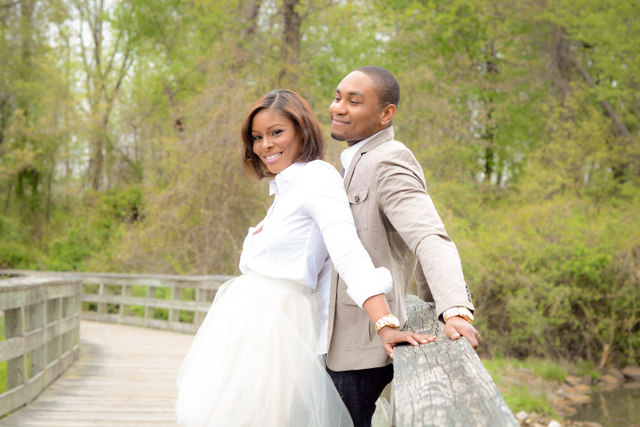 For the Groom: Walk us through the behind the scenes of creating this special day:
I purchased the ring before Christmas of that year but decided that a NYE proposal was a better look. Going out to dinner is our thing so I knew that I wanted us to do that. I told her we should get dressed up and go out for a nice dinner for NYE. I spent time researching to find just the right restaurant in the city (Washington, DC). Narrowed it down, made a reservation and told them about the proposal. I slipped the server the ring when I went to the bathroom. The words just came to me when it was time.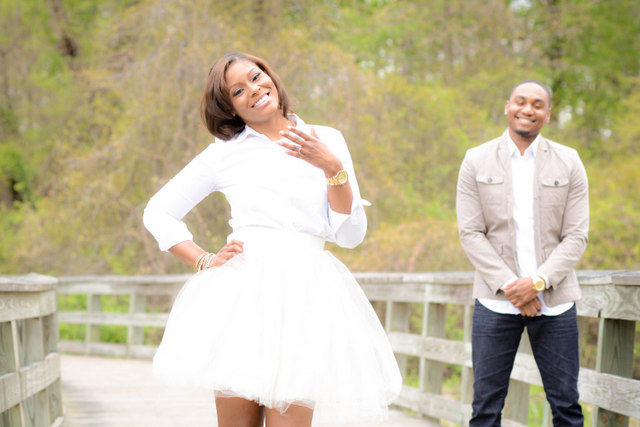 What makes your love special?
It's REAL..lasting love that never gets old!
What are you most looking forward to about your wedding?
We share a 4 year old son and we are excited to make our family official! Looking forward to celebrating our big day with him, family and close friends.
Have you started planning your wedding?
Intimate, evening, country club wedding and reception with a modern, yet classic look.
Congrats to the happy couple Keisha and Terrence! We wish you a wonderful wedding and marriage.
Photographer: Nikki Cee of NCee Photography
Curated by our Wedding Features Editor, C.K. Alexander. C.K. is the owner and founder of Love Ink and Brownstone Bridal. Keep up with C.K. on Twitter here: @Love_Ink