Diana and O'Neil met in 2005 at The University of North Carolina at Greensboro. "We met in passing while O'Neil was visiting UNC Greensboro with some friends. Although, we attended schools in separate cities, we managed to develop a friendship that is still very strong today," said Diana. After attempting to date long distance for a few months, the two went their separate ways but frequently checked in on each other. In 2013, Diana and O'Neil found their way back to each other and reconnected. The happy couple will be celebrating their union with fall nuptials in Charlotte, North Carolina. Check our their romantic engagement session, captured by Cynthia Ndelo Photography.
Bride: Diana Williams, 28, Financial Analyst
Groom: O'Neil Walker, 29, Transitional Living Program Manager/Clinical Therapist
Place of residence: Charlotte, NC
Engagement Shoot Location: Uptown Charlotte, NC
Wedding date: 10/9/16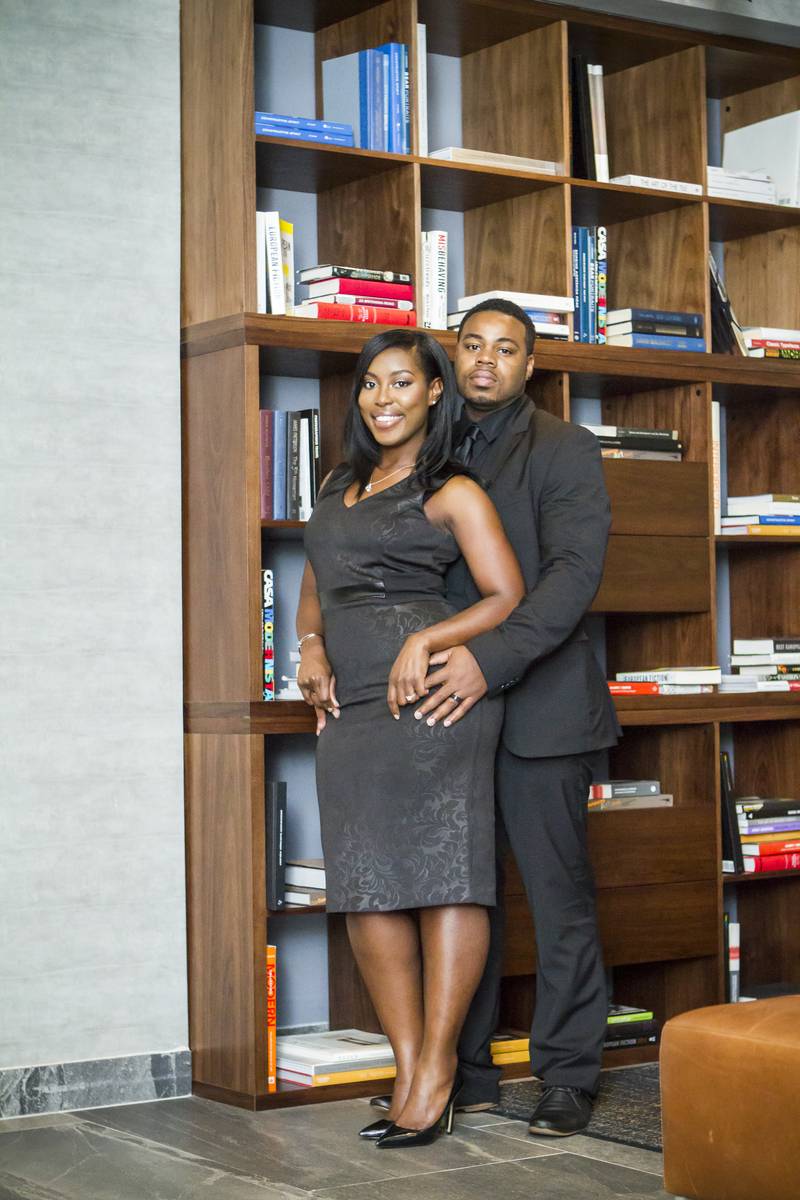 Engagement story:
After a nice dinner at Del Frisco's Steak House and being surprised with tickets to the Patriots vs. Panthers football game on my birthday, O'Neil surprised me with a "birthday" dinner the day after (August 29th). My only plans that day was to go to the shooting range with him and my dad early in the day and hang out with my cousin, Ebony, that evening. Apparently, I had agreed to attend a "retirement dinner" with my friend, Yolanda, so when she called to remind me I was confused and figured I mixed up the dates. Yolanda suggested that Ebony join us and we could just do something together afterwards. Ebony arrives to my house and immediately begins rushing me to get my clothes together so we could go to her room, meet Yolanda, and get dressed. After trying to relax for 15 more minutes, Ebony yells… "Go get your red dress and lets go!!" My response was, "How did you know I had a red dress?" I was supposed to wear this particular dress on my birthday, the night before, but O'Neil suggested I choose another outfit, which didn't leave me too happy but it all made sense afterwards. Fast forward to riding in the car on the way to the "retirement dinner"… Yolanda blurts out, "Girl, the dinner is at Del Frisco's!" I was excited about being able to try something different on the menu (don't judge…I'm a foodie lol)! We arrive at the restaurant and begin walking downstairs to the private party area. Annoyed because Yolanda and her long legs were walking fast and ahead of me, I walked through the doors and people screamed SUPRISE!!! I don't think I have ever cried so fast in my life!! And I have never had a surprise party before so, of course, I knew this was probably not going to be a regular surprise birthday party. My parents, close friends, and family from both sides were there. The most memorable moment happened after dinner and a very nice lengthy speech from my Father giving his blessing to O'Neil. My dessert came out along with a ring box, and the Love of My Life got on one knee and asked me to marry him!! I really wish I could experience that entire weekend all over again!! Everything was so perfect!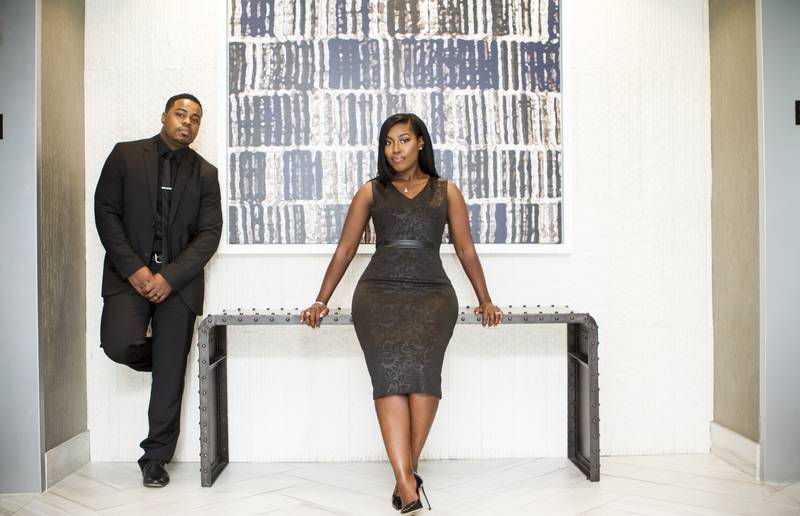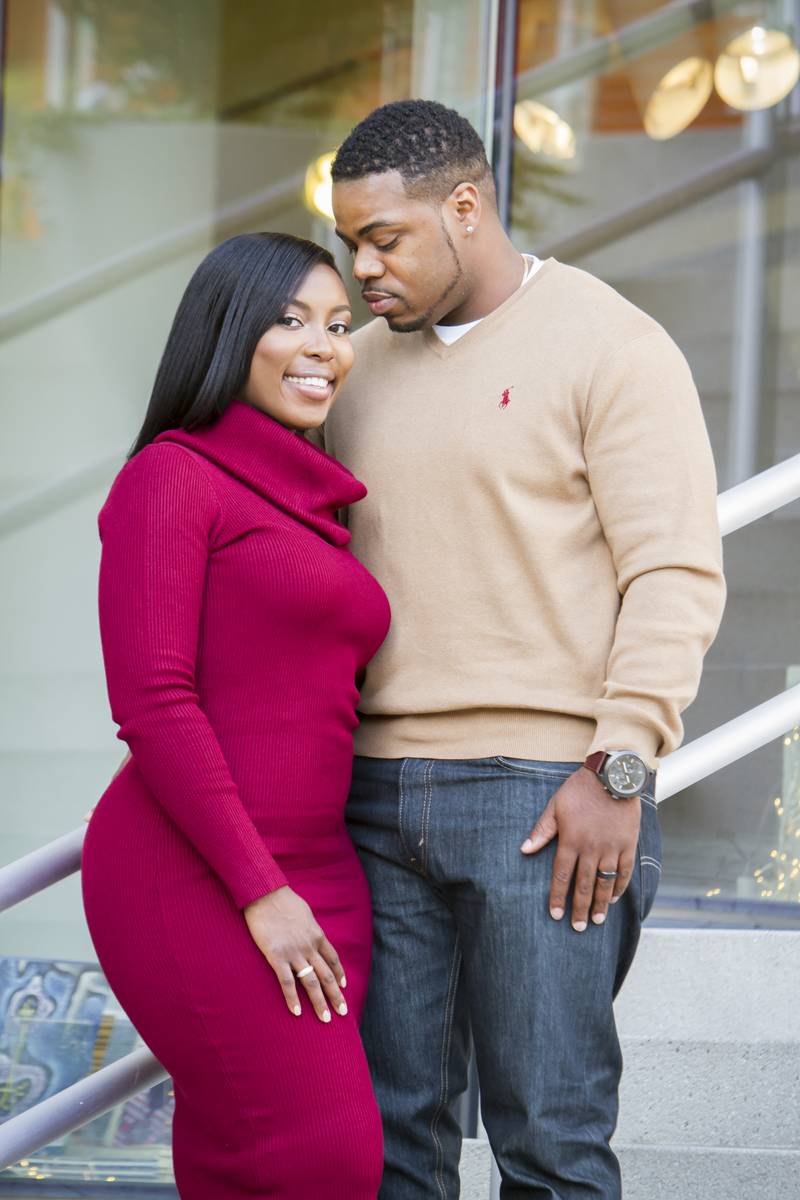 For the Groom: Walk us through the behind the scenes of creating this special day.
Plans for the proposal began in May. Diana's cousin, Ebony, and her friend, Yolanda, helped me a lot! After figuring out who would be invited, the most difficult thing was making sure time and date worked for everyone AND making sure everyone kept it a secret. To my knowledge, Diana never suspected anything and by going all out on her actual birthday I was able to take her attention off expecting more throughout the weekend. On the actual day of the proposal, everything went as planned until Ebony and Yolanda had issues with getting Diana out of the house. She can be a little stubborn and inquisitive. I heard she was asking a lot of questions. Meanwhile, my God-Brother was supposed to meet me at our house so we basically had to drive around in circles until Diana left. Afterwards, I was in constant contact with Yolanda so I was able to keep track of them and still make the final touches with Del Frisco's staff.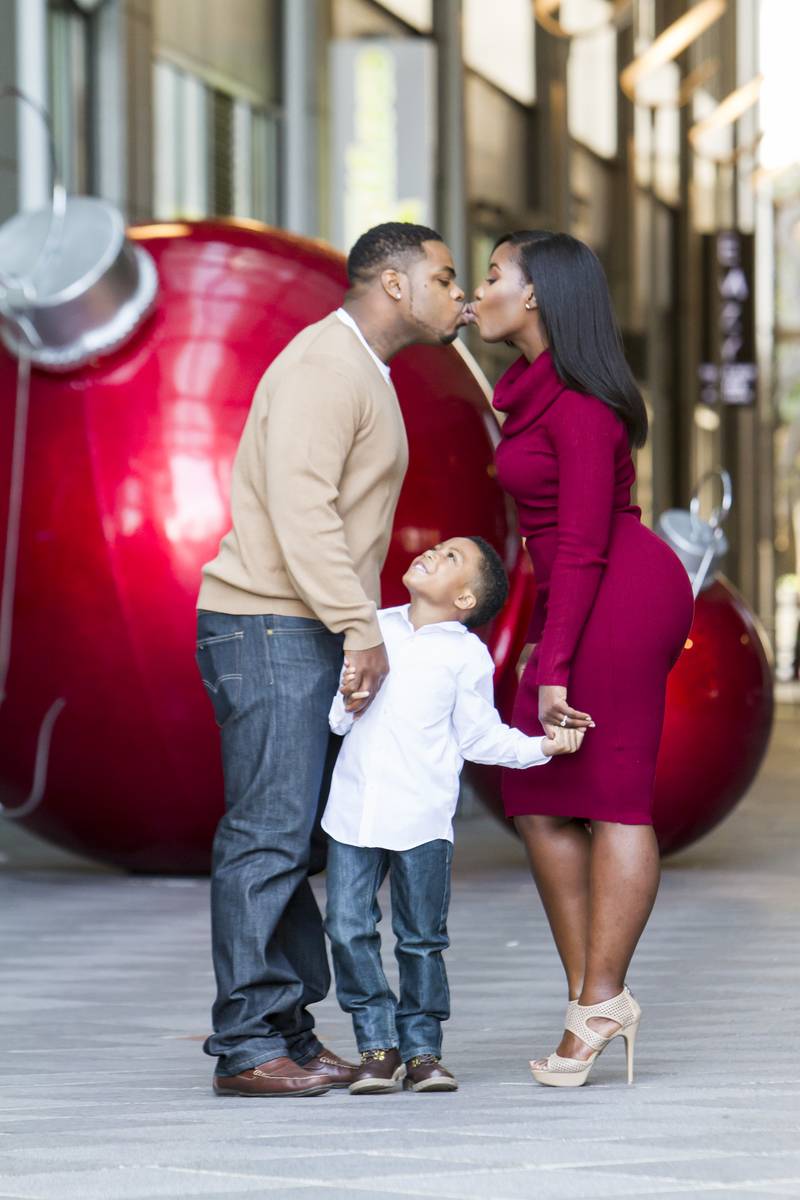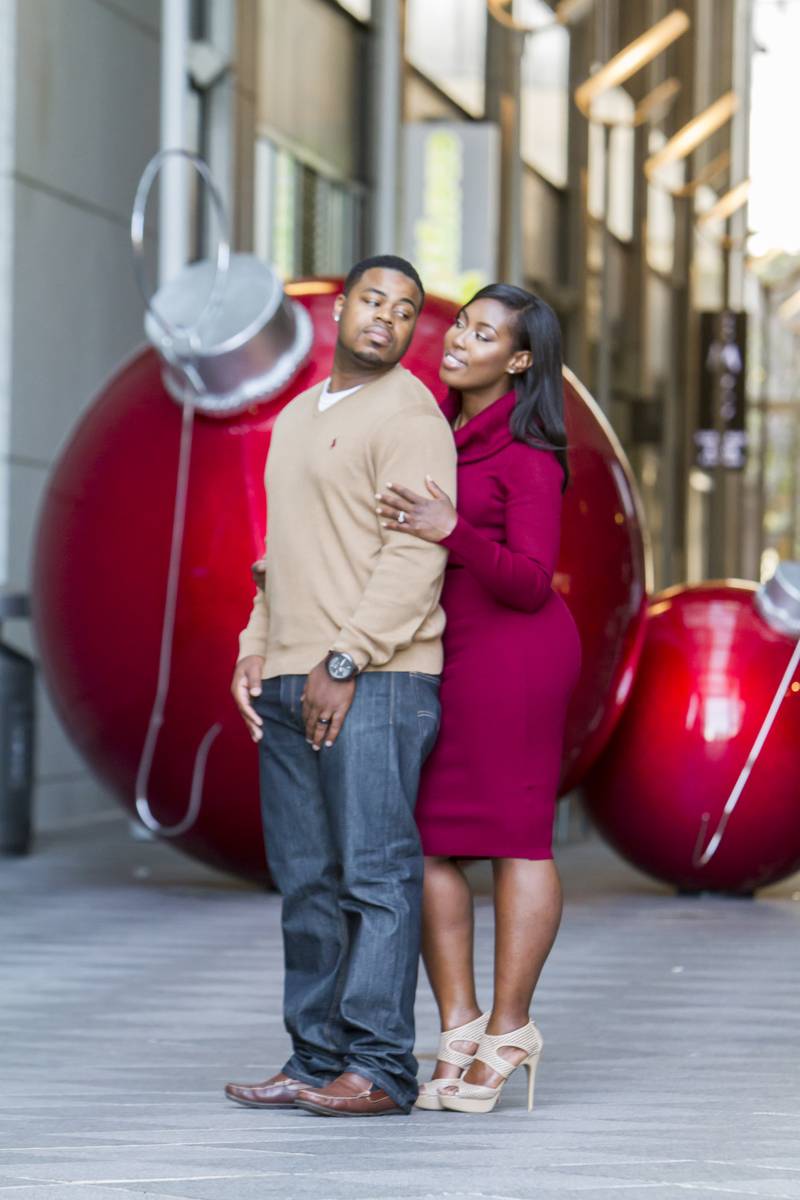 What makes your love special?
Knowing someone over the course of 10 years (especially during early 20s) and attempting to re-establish a relationship with them can have its pros and cons. Fortunately, we took the risk and focused on the people we became after experiencing life a little. Our love has truly lasted through some ups and downs, great times and not so great, and we are sure there is more to come. Nevertheless, we are BFFs, we have fun, and we support each other no matter what. We are looking forward to our love continuing to grow and persevere.
What was the theme of your shoot?
We did not have a theme (outside of the football segment) for our session. We really just wanted our session to capture the love and passion we have for each other, as well as, show that we enjoy having fun. We really love football so game days get really interesting at our house since we are clearly divided, as far as the teams we love. After sending our photographer, Cynthia Ndelo, pictures of our outfits and pictures of shoots we liked from other engagement sessions, she just told us where to meet her. We trusted her judgment and vision and, ultimately, everything turned out great!!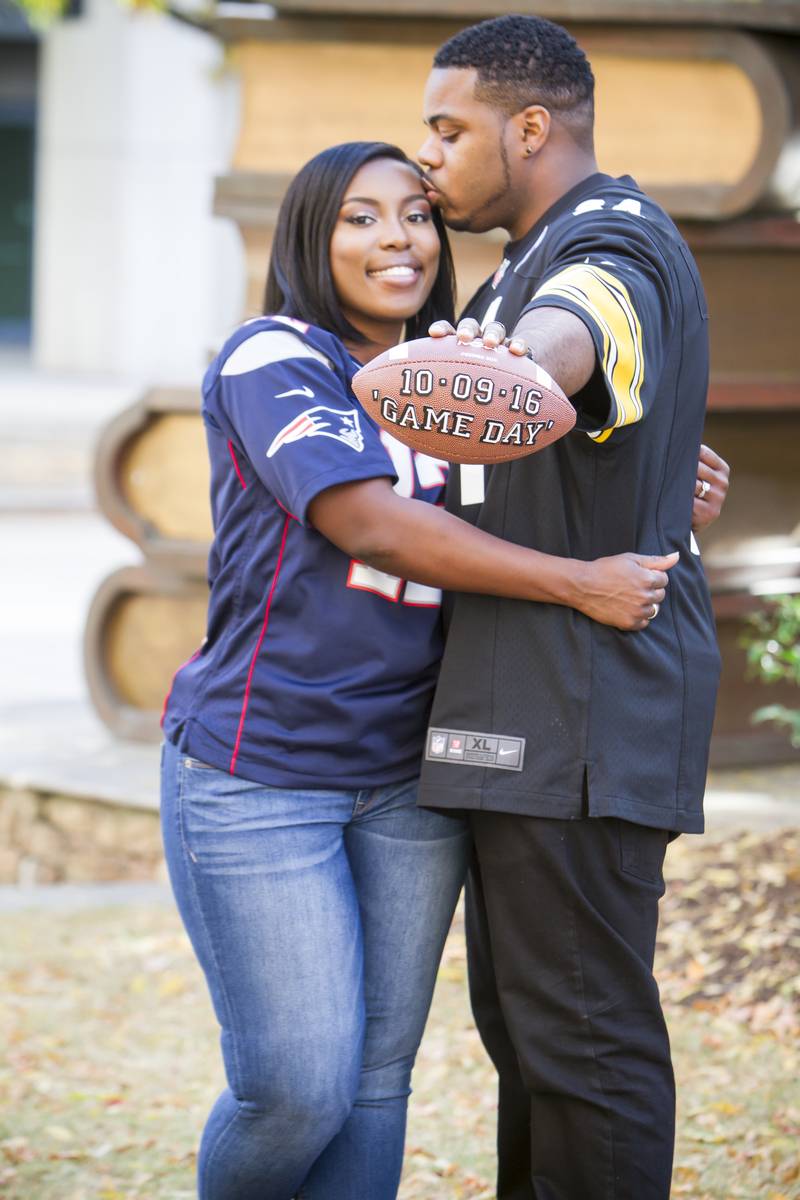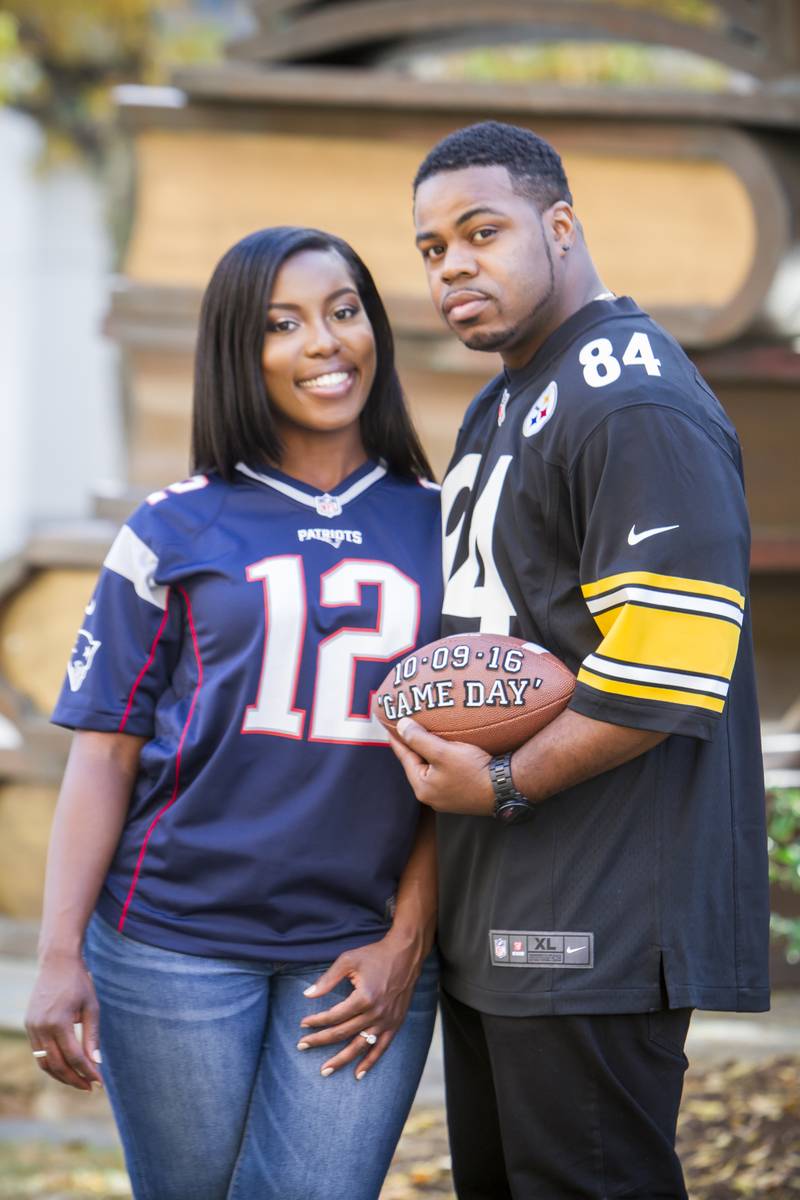 Were there any memorable moments during the shoot?
We had a blast during our engagement session! Other than the weather being absolutely gorgeous and warmer than usual for December
, being able to include O'Neil's son in our shoot was indeed one of the highlights. He is 6 years old and full of personality!! It is impossible to not enjoy yourself, laugh uncontrollably, and have fun when he is around.
What are you most looking forward to about your wedding?
Of course, we are looking forward to seeing each other, but we are definitely looking forward to seeing our families and friends interact with each other and watching everyone have fun helping us celebrate our union.
Have you started planning your wedding?
Wedding planning is in full effect and has actually been a smooth process thus far. With the assistance of our planner, Crystal Brisbon (Distinction Events & Designs in Greensboro, NC), we are tackling one task at a time. Stress levels are low at the moment and we hope to keep it that way.
Congrats to the happy couple Diana and O'Neil. We wish you a wonderful wedding and marriage.
Vendors:
Photographer: Cynthia Ndelo
Makeup Artist: Alyssa Green