For Christina and Derek, their college experience would be more than football games, homecomings and great parties. These two college co-eds would also find true love in the historic halls of Howard University. Christina and Derek met in 2005 while they were both students at Howard University in Washington, D.C. Check out their "Vintage Glam" themed wedding in Atlanta, GA, captured by Katie Snyder Photography!

Bride: Christina Abimbola Popoola, 30, Occupational Therapist
Groom: Derek Anthony Butts, 27, Actuary
Place of residence: Houston, TX
Wedding date: 4/27/13
Honeymoon Destination: Dubai
Engagement story:
It took Derek three tries to propose to me. Every time he attempted to propose, he would either forget the ring or I would be busy doing something. He must have been nervous! So, he gave up with his grand romantic plan for something simpler. He had just come from a work event and decided to stop by my apartment. I was there relaxing on the couch, as usual, watching television. He sat on my lap trying to get my attention off the TV. Derek was acting sorta weird; he said, "You know I love you. Do you love me?" I answered, "Yes." I saw him touch his right pocket and asked him "what are you doing?" He brushed off my question and just continued to babble on about our relationship. I really wasn't listening because one of my shows was on and then he slipped the ring out of his pocket and asked me to marry him. I could not stop laughing and asking him if he was serious. Of course, I said, "Yes!"
From the Groom:
I didn't realize at the reception we would have to do so much. I had a great time though.
From the Bride:
The wedding was perfect. It was supposed to rain that day and the sun was shining bright. My wedding day is my mother's birthday so she was there with me the whole time. I was so calm that day. Everything fell right into place.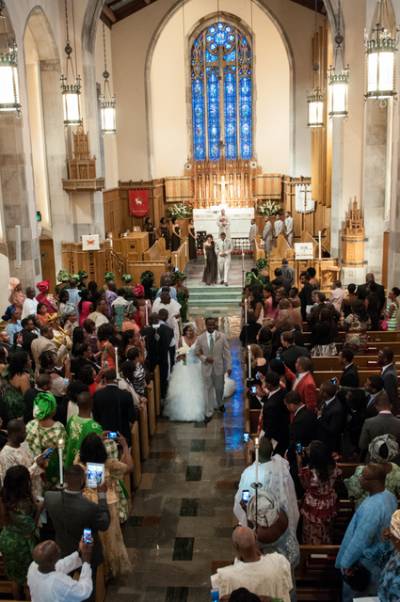 What makes your love special?
We were best friends before even thinking about spending our lives together as a couple. We were each other's support system in school.
What are you most looking forward to as a married couple?
Success, awesome adventures, growing together and living happily ever after.
Wedding song:
If This World Were Mine by Luther Vandross: I picked the song because Luther has great love songs. I grew up listening to him and he is my mother's favorite singer.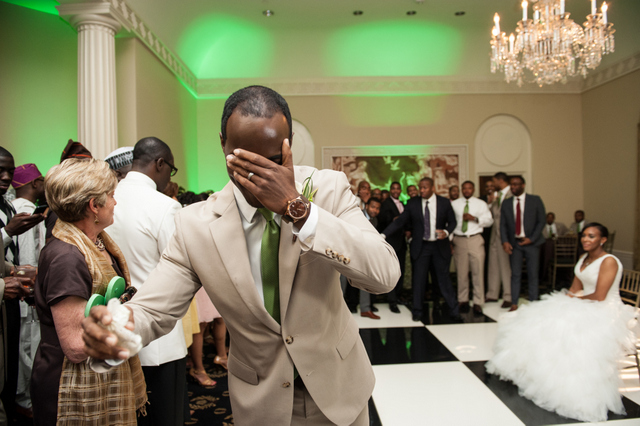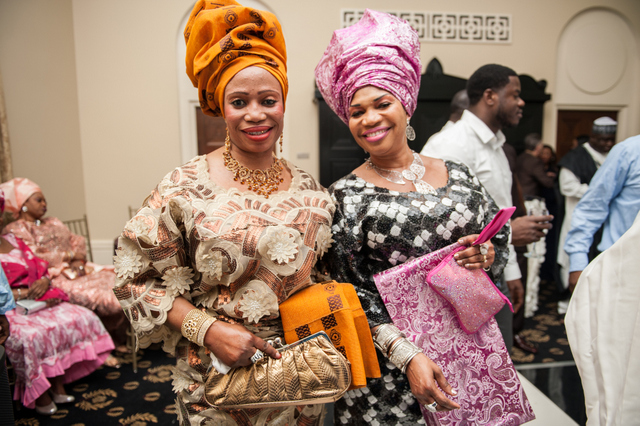 Advice for a Bride/Groom on their wedding day:
Plan your wedding within your means. Don't put yourself in debt to have your dream wedding. There are many creative inexpensive ways to have your dream wedding. Have fun planning your special day.
Congratulations to Newlyweds Christina and Derek! We wish you many more years of wedded bliss!
Vendors:
Photographer: Katie Snyder; Katiesnyder.com
Ceremony location: Lutheran Church of Redeemer
Reception location: Historic Academy of Medicine
Bridal gown: Maggie Sotero, Weddings by Debbie
Bridal party attire: Bill Levkoff, Weddings by Debbie
Groom's tux: Jos A Bank
Cake: Gabriel's Desserts
Caterer: Proof of Pudding; http://www.proofpudding.com
Favors: Flip flops from Old Navy, Hangover Kits-cookies by gabriel's desserts
Wedding planner: Michelle Harrison, My Dreamz Eventz
http://www.facebook.com/MyDreamzEventz
Music: Mark Adams, One sound entertainment
Hair and makeup: Tomara Watkins (makeup) [email protected],
Nikkia Nelson (hair) pressed natural hair care; http://pressednaturalhaircare.com/
Flowers: Buckhead Blooms; [email protected]
Stationery: Elegant Custom Invitations; www.elegantcustominvitations.com
Peachtree tents; http://peachtreetentsandevents.com
Photo Booth: Capture the image; http://www.capturetheimage.com/
Curated by our Wedding Features Editor, C.K. Alexander. C.K is the owner and founder of Love Ink. Keep up with C.K. on Twitter here: @Love_Ink