Sometime love is just a friend request away! Kiah and Brian met in 2005 on Facebook when they were both in college. However, they didn't have their first date until 2007. The two college co-eds enjoyed a movie date and kept in contact, but didn't make their relationship official until the following year when Brian was home from his first year of playing professional basketball overseas in Norway. Brian invited Kiah to hang out and as they say in the movies "the rest is history!" Ever since then, the two love birds have been "connected at the hip." After five years, Kiah and Brian celebrated their union at the Georgian Terrace Hotel in Atlanta, Georgia. Check out their lovely nuptials captured by Christoper Brock of Christoper Brock Photography!
Bride: Kiah Latasha Harper, 26, Registered Nurse
Groom: Brian Jeremy Harper, 28, Professional Basketball Player
Place of residence: Atlanta, Georgia
Wedding date: 6/30/13
Honeymoon Destination: Dominican Republic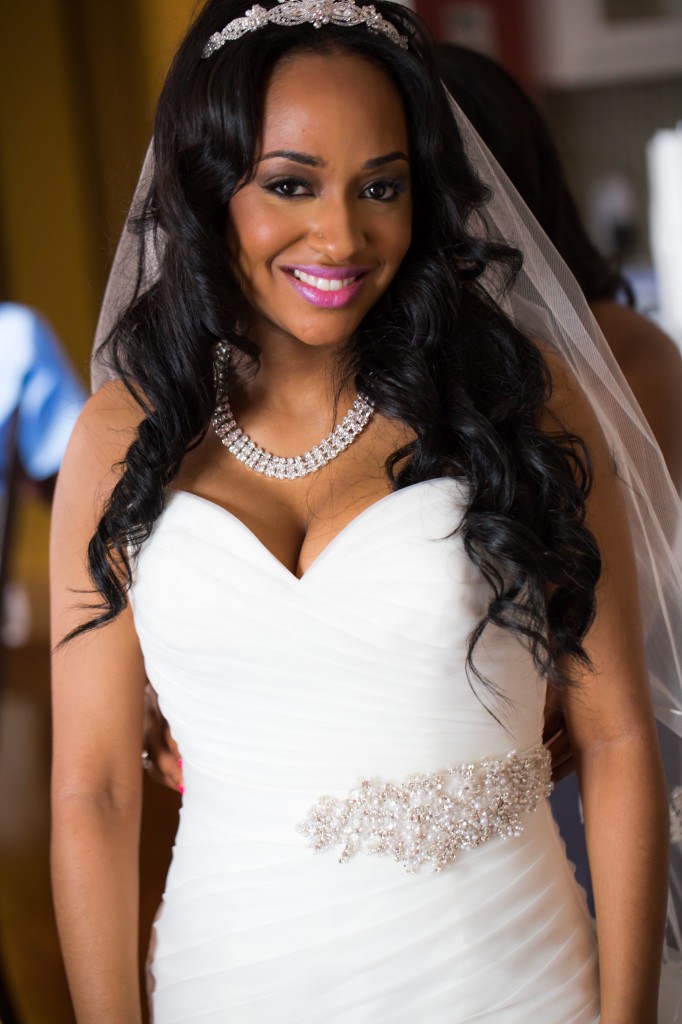 Engagement story (From the bride):
It was a Tuesday and I remember that we said we were going to go hang out and go to the movies which is one of our favorite things to do. We went to a movie theater that we usually do not go to which I was complaining about! We went to see the movie Snow White and the Huntsman. After the tickets were bought it was only us and another guy in the movie theater which wasn't weird because it was the middle of the day on a Tuesday. After we sat down, the previews started rolling. A couple of previews that I noticed came on and I started telling Brian about the movies I wanted to go see. Then another preview came on, about a guy who was trying to find the words to tell his woman how much she meant to him. At the end of the preview, it was my husband on the big screen! "Marry Me" by Coltrane was playing in the background and on the preview he threw up some leaves and when it came down it said "Marry Me!" So the tears started rolling now! A camera crew came in and my husband got on one knee and asked me to marry him! Of course I said yes and flowers and champagne followed. We have it all on DVD and the movie theater even wrote on their marquee "Congratulations Brian and Kiah Harper." One of the best days of my life!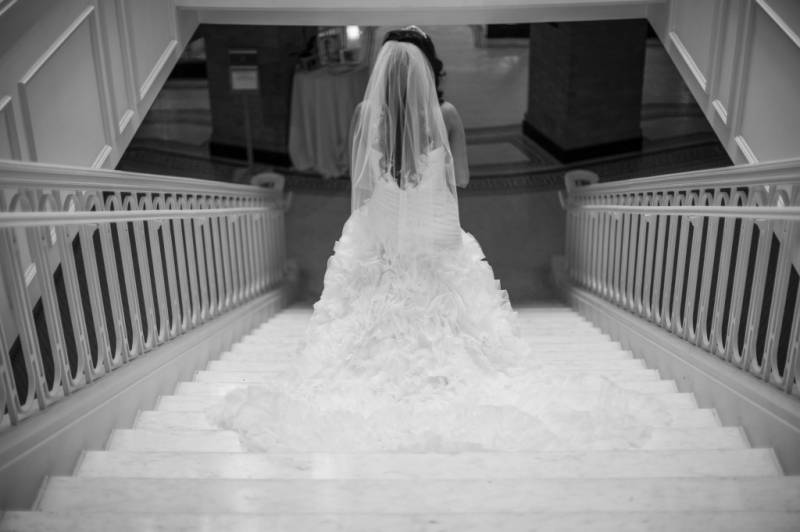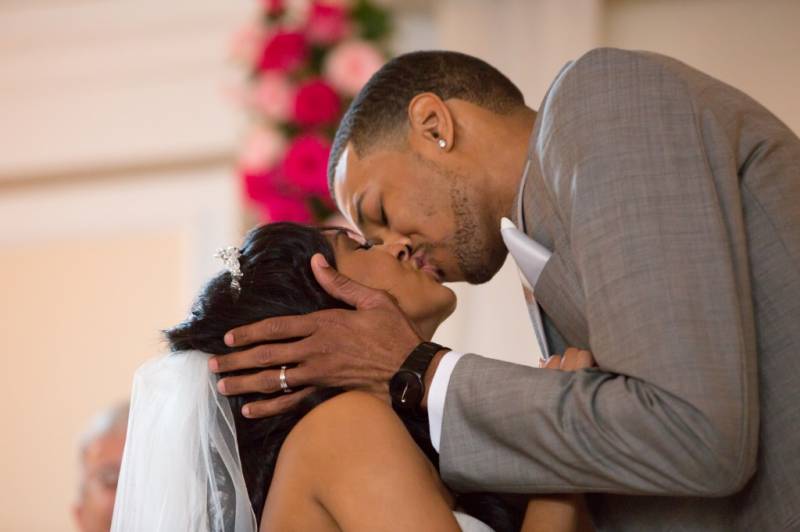 From the Bride:
My wedding experience was awesome, stressful, tiring, all of the above! I did all of my planning while I was in Germany and our wedding was in Atlanta! I got all of my vendors together and booked our venue before I left. Skype, email, and the internet were my lifelines! I also had an amazing wedding coordinator, Cassandra Mathis who helped me out tremendously! I had an amazing maid of honor and matron of Honor Porscha Armour and Kimberly Mayfield who did everything I couldn't do because I was out of the country. I was not nervous until the weekend of my wedding! I couldn't eat I couldn't sleep I was bouncing off the walls! I cried right before I walked down the aisle when my brothers came out to get me! I couldn't have asked for a better wedding and everyone continues to say how it was the best wedding they ever went to!
Your best/most memorable moment:
My most memorable moment was when the doors opened and my two brothers escorted me down aisle and I saw my husband standing there for the first time. I have never felt as much emotion in that moment as any time before.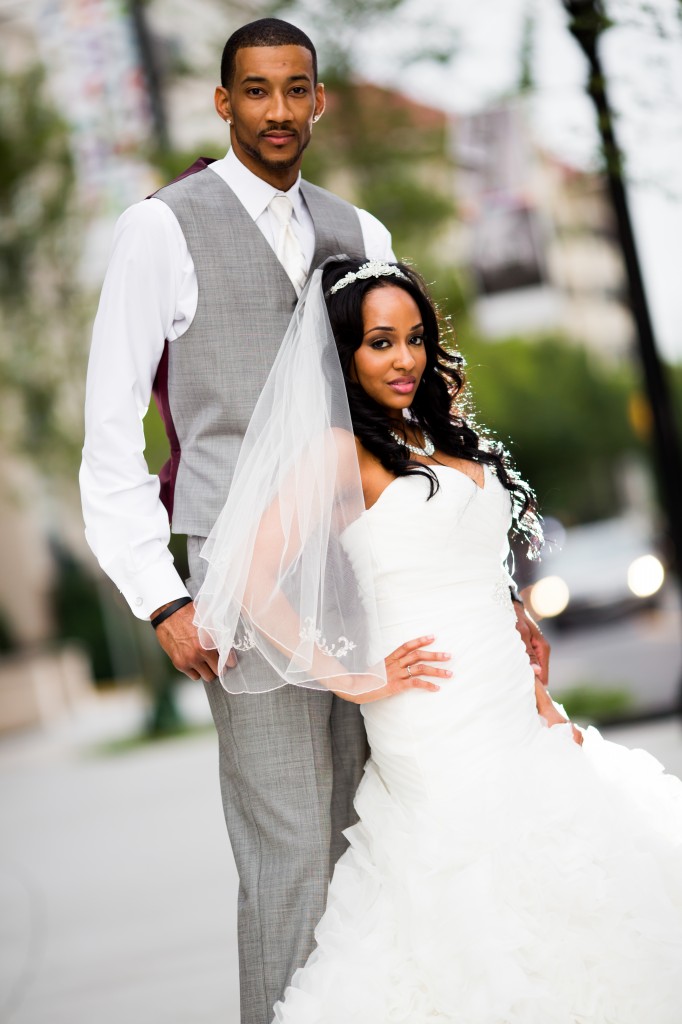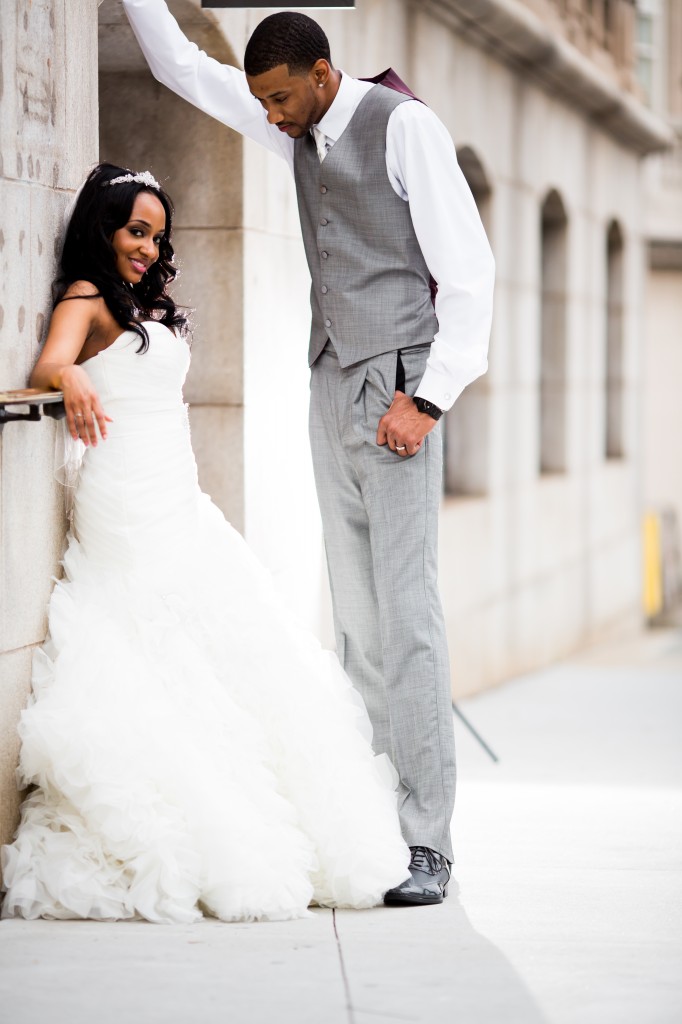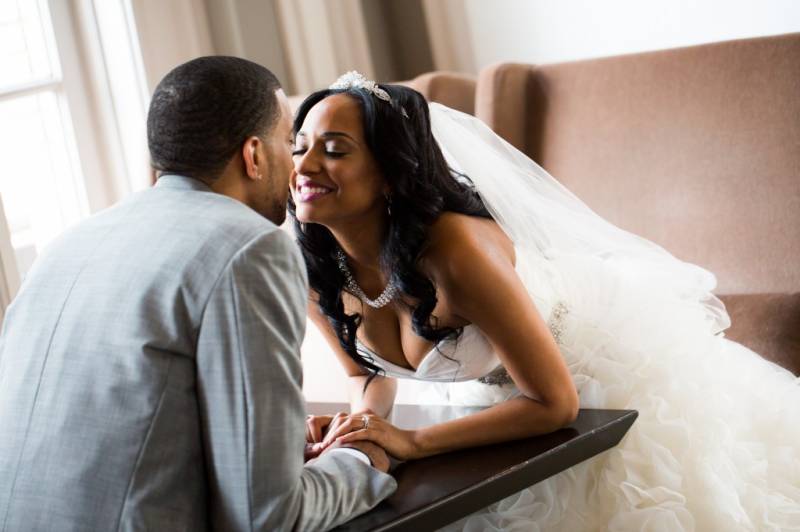 What makes your love special?
I believe our love is like no other. Our love endured 3 years of a long distance relationship, across continents. When Brian and I got together, he was already in his career and that led him to play basketball overseas. I was still in nursing school so it was impossible for us to be together. After I graduated, I wanted to get started in my career while he was in his, and this went on for 3 years. In 2012, we decided that we could not be apart from each other any longer and I was going to come overseas with him for the season. This took a huge leap of faith from the both of us, because I was uprooting myself from everything I knew. I am a very independent woman who likes to make her own money and to put my livelihood in the hands of someone else is something I said I would never do. But we both prayed on it and decided it would be the best thing for us to do. Our love conquers all fears, doubts, and hesitations that may arise.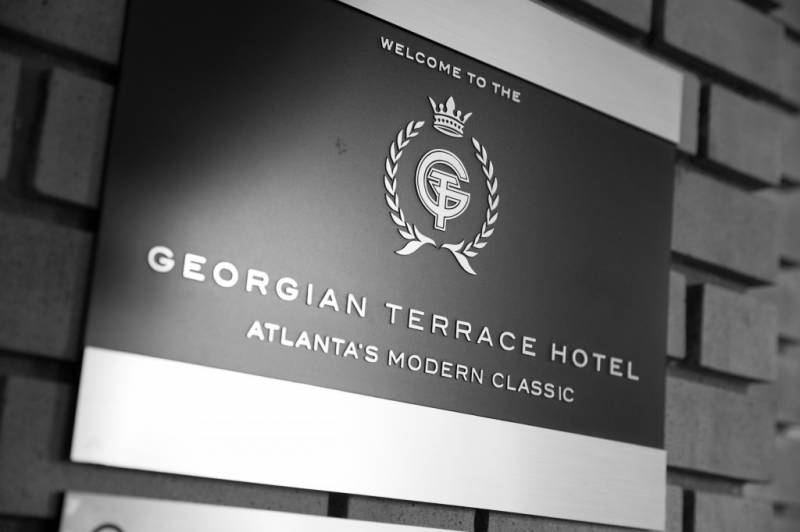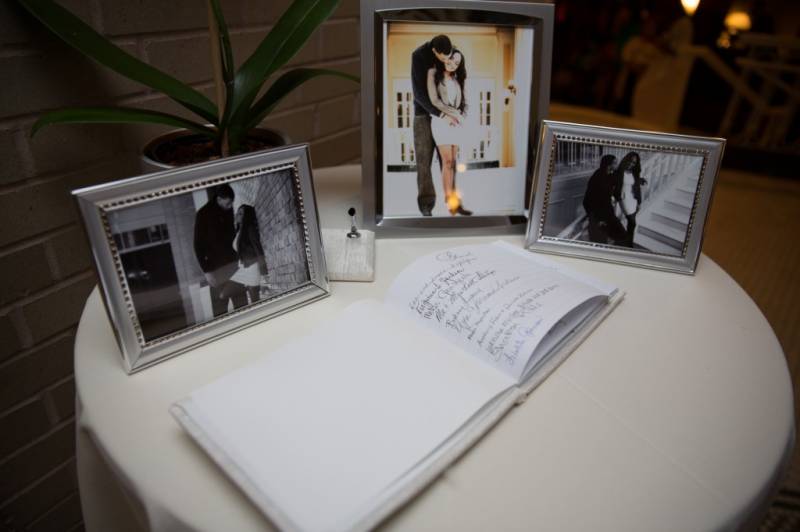 Wedding song:
"Spend my Life with You," by Eric Benet and Tamia. This song just explains what we want to do with each other. There is nothing better in the world then spending your life with the one you love.
What are you most looking forward to as a married couple?
We are most looking forward to experiencing all of what God has in store for us together as a married couple. We can't wait to start a family and build our lives together.
Check out more fun photos from Kiah and Brian's reception in the gallery below!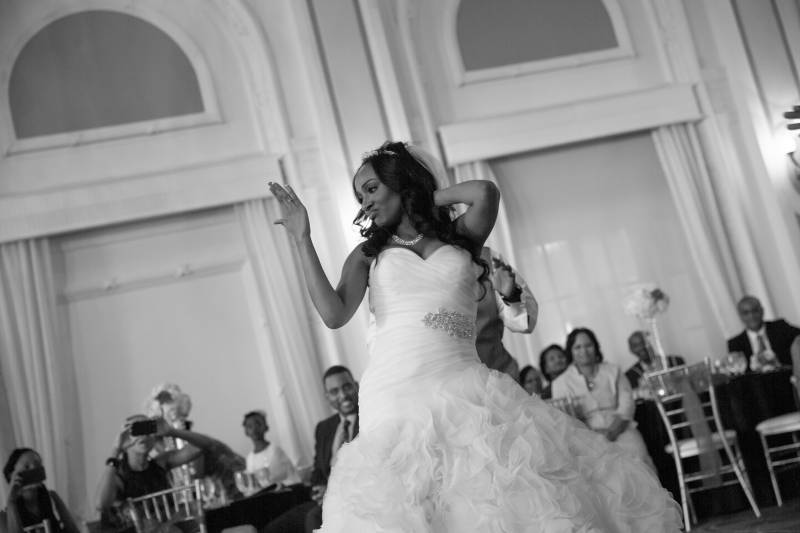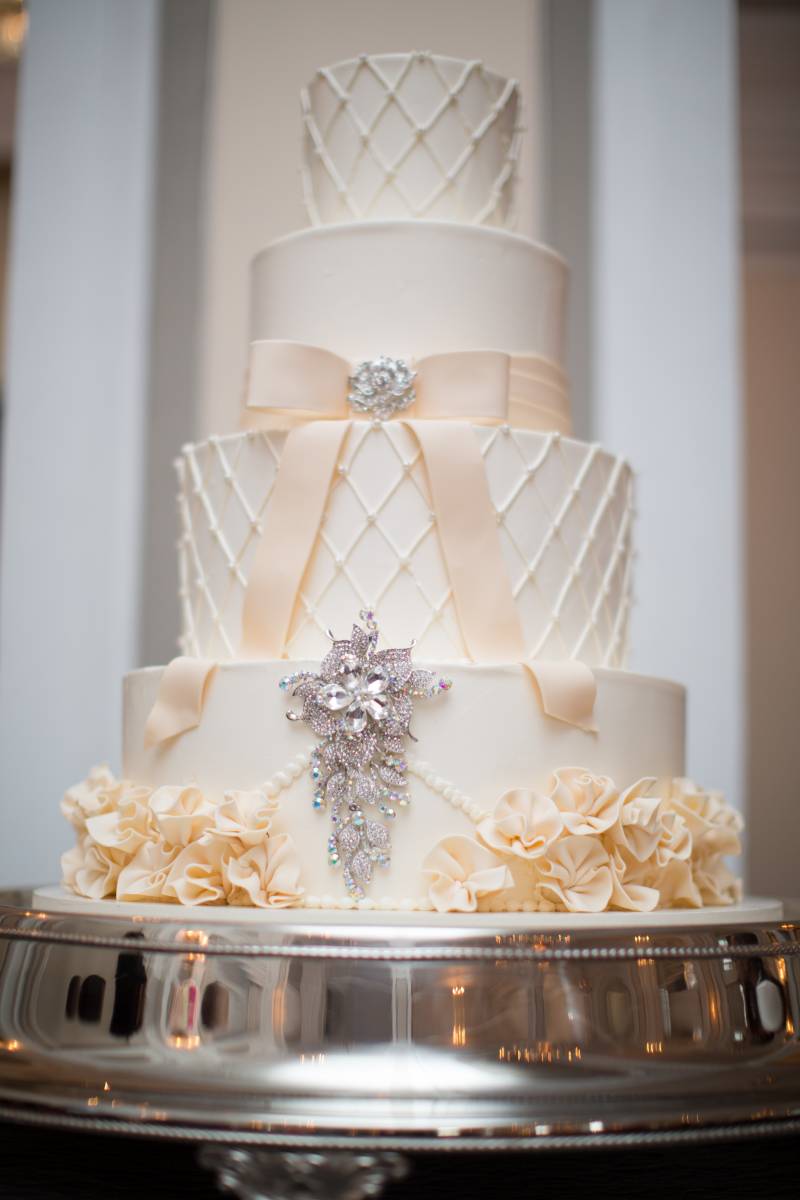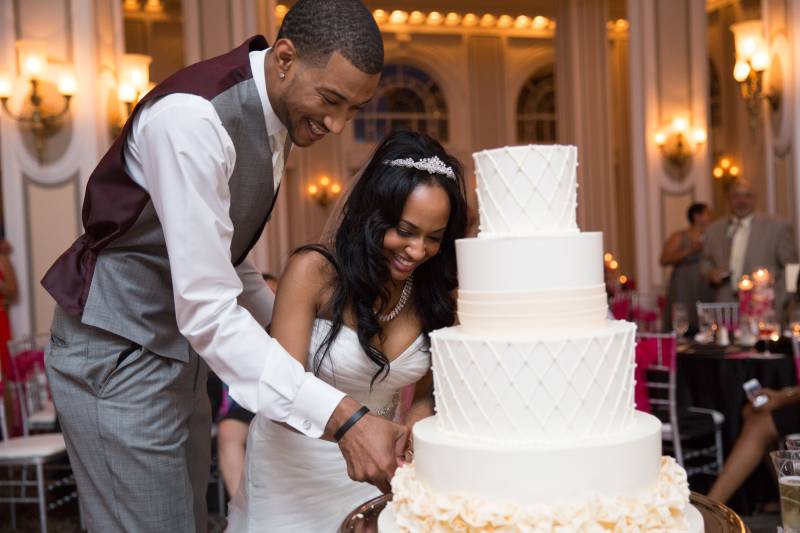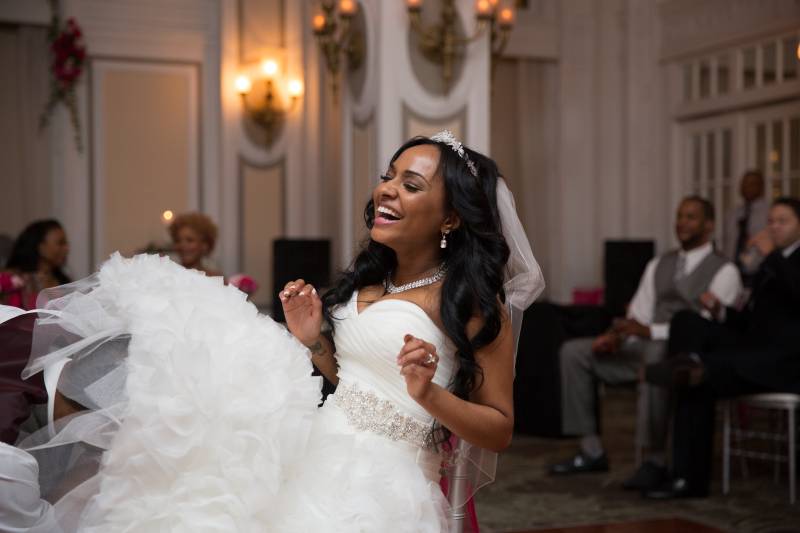 Advice for a Bride & Groom on their wedding day:
Groom: My advice would be try to relax and enjoy yourself! After all of the effort, time, and money you put into it, the only thing you should do on your wedding day is have fun!
Bride: My advice is to have positive people around you who can take your mind off things! My bridesmaids and I had a suite at the hotel where the wedding was held and my mom, aunt, and cousins came up and were with us the whole day! I loved that they were all around me, trying to relax me!
Congratulations to you both! We wish you a happy life and a happy marriage!
Vendors:
Photographer: Christoper Brock http://chrisbrock.org/
Ceremony and reception location: Georgian Terrace Hotel www.thegeorgianterrace.com
Bridal gown: Bride Beautiful www.bridebeautifulinc.com/
Bridal party attire: Savvi Formal Wear www.savviformalwear.com/
Groom's tux : Savvi Formal Wear www.savviformalwear.com/
Cake: Frosted Pumpkin www.frostedpumpkin.com
Caterer: The Georgian Terrace caterers
Favors: Shutterbooth www.shutterbooth.com
Wedding planners: Cassandra Mathis, Atlanta, GA
Music: DJ Chino Red, Atlanta, GA
Hair and makeup: Hair-Lynetta Paschal, Make Me over Hair Bar, Atlanta GA Makeup- Sophie West, Atlanta GA http://sophiemua.blogspot.com/
Stationery: Magnet Street www.magnetstreet.com
Curated by our Wedding Features Editor, C.K. Alexander. C.K is the owner and founder of Love Ink. Keep up with C.K. on Twitter here: @Love_Ink