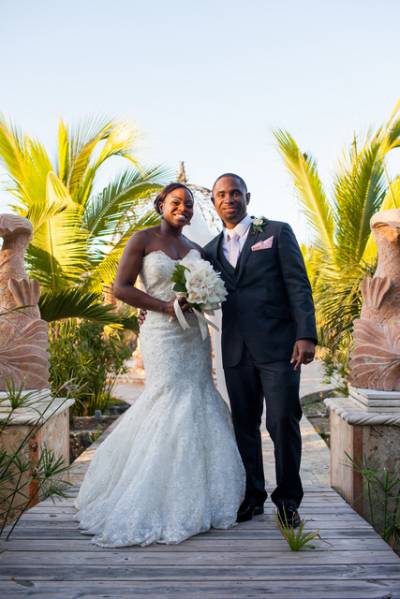 Britt and Keith met in high school in 1994 at St. Johns College High School, a private school in Nassau, Bahamas. The two school mates started dating in September, 1999 and have been together ever since. Check out their elegant blush pink themed wedding on the beautiful island of Nassau, Bahamas, captured by Dede Brown.
Bride: Britt Colebrook, 31, Accountant
Groom: Keith McKay, 32, Banker
Place of residence: Aventura, FL
Wedding date: 2/15/2014
Honeymoon Destination: Las Vegas, NV
Engagement story:
Keith proposed on Britt's birthday (December 25, 2012). We spent the day with Britt's family and then went to dinner at Avila Restaurant on Tiger's Woods' Albany Resort in Nassau, Bahamas. The table was strategically set on the beachfront side of the restaurant for ambiance. A bottle of Rose Imperial Moet was set on the table coinciding with Lobster tails and Sea Bass prepared by local (and soon to be international) celebrity Chef Kwivan Miller. After dinner and light conversation we took a walk on the beautiful southern waterfront of Nassau, Bahamas and when we returned, a small gift box was set in the middle of the table surrounded by candlelight. I sat down and started to open the box. Meanwhile, Keith takes one knee and asks me to marry him. I said Yes!!
From the Bride:
Happy! There were no words to depict the happiness I felt on that day. I was completely surprised by the décor, entertainment and food. My mother and aunt we're my professional wedding planners. They completed the project in excellent fashion. It was an amazing day! I married the love of my life. Life doesn't get any better than this!
From the Groom:
It was an extremely breathtaking day. My wife couldn't cease smiling and that overwhelmed my emotional content. I was overjoyed to reach a milestone in my life that most people dream of. The day went unblemished and I was ecstatic the entire time!
Favorite wedding detail:
Everything was amazing!
Wedding song:
All of Me- John Legend; we both love the song. It was the wedding song the minute we heard it.
Your best/most memorable moment:
The performance by the world renowned "Valley Boys" Junkanoo Group. Junkanoo is a native artistry in the form of a 'cultural rush out/dance' which displays vibrant and colorful costumes of all sizes and forms. Additionally we we're blessed with the voice of local celebrity talent/singer Veronica Bishop.
What are you most looking forward to as a married couple?
We are most excited about spending each and every day together. For a number of years our relationship was predominantly long distance and at this juncture we will be enjoying every day, closer and stronger in union.
Advice for a Bride/Groom on their wedding day:
To all Brides/Grooms, please enjoy every minute of your special day. The day will definitely fly by and before you know it, it's all over. Your special day belongs to you both, so make it about your husband/wife and not about the hype of the day. We would also suggest that every couple have a videographer to ensure the day remains with you forever.
Congratulations to newlyweds Britt and Keith! We wish you many more years of wedded bliss.
Vendors:
Photographer: Dede Brown, http://www.dedebrown.com
Ceremony location: St. Agnes Anglican Church Nassau, Bahamas
Reception location: Sapodilla (5 Star) Restaurant Nassau, Bahamas
Bridal gown: 1st dress -Jossie's Couture,
Coral Gables, FL and 2nd dress- Zola Keller, Ft. Lauderdale, FL
Bridal party attire: Daisy Tarsi, daisytarsi.com
Groom's tux: Austin Burke, Miami, FL
Cake: Simply Sweet, Nassau, Bahamas
Caterer: Sapodilla Restaurant Nassau, Bahamas
Favors: Personalizationmall.com and Etsy.com
Wedding planners: Buena Wright and Susan Cargill
(Mother of the Bride/Aunt of the Bride)
Music: The Rhythms Band/DJ Beatz Nassau, Bahamas
Hair and makeup: Khandise Smith of Fab Faces, Kendra Rolle Nassau, Bahamas
Flowers: Symone's Basket of Happiness, Nassau, Bahamas
Stationery: Invitations: Creative Wedding Coral Gables, FL & Programs
Menu Cards: Yolantha Yallop of Just Print, Nassau, Bahamas
Decor: Erlin "Bubba" Smith Nassau, Bahamas
Curated by our Wedding Features Editor, C.K. Alexander. C.K. is the owner and founder of Love Ink and Brownstone Bridal. Keep up with C.K. on Twitter here: @Love_Ink