Shatarah and Kamal met in December 2004 and officially started dating on January 1, 2005. The couple spent most of their 10 year relationship living apart. Shatarah lived in the Bahamas and Kamal lived in Florida. Despite enduring years of a long distance relationship, the two found true love and celebrated their union with an elegant island theme wedding at the Pelican Bay Resort in Freeport, Bahamas. Check out their special day beautifully captured by Lyndah Wells Photography.
Ceremony & Reception location:
Bride: Shatarah Cooper, 27, Attorney-at-Law
Groom: Kamal Cooper, 32, Project Manager
Place of residence: Jacksonville, FL
Wedding date: 6/21/14
Wedding location: Freeport, Grand Bahama, Bahamas
Wedding theme: Elegant Island
Honeymoon Destination: Rome & Florence, Italy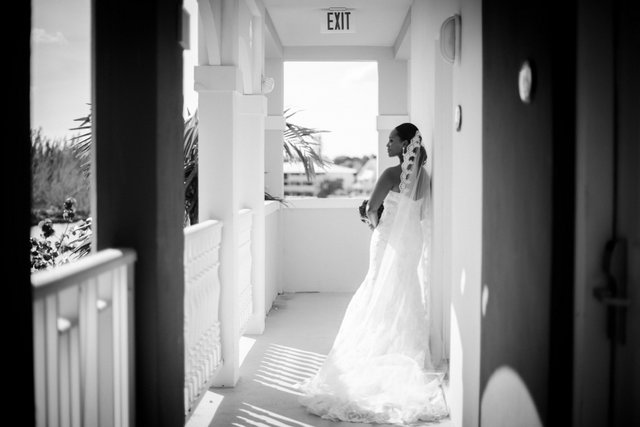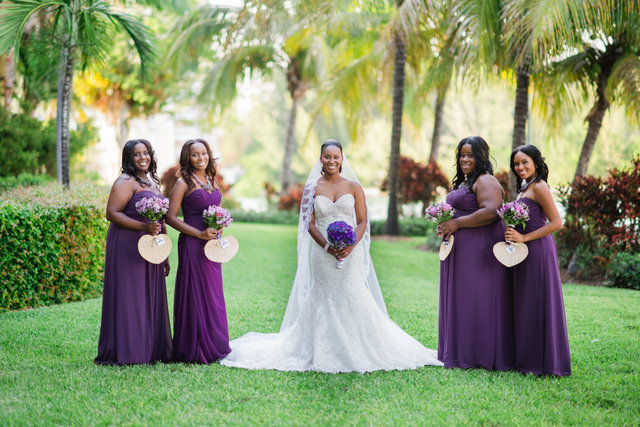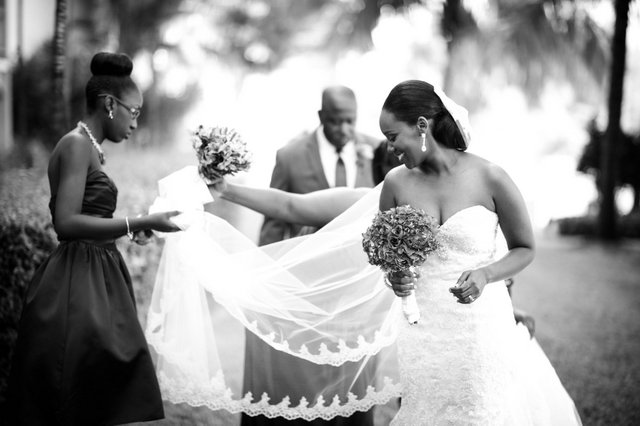 Engagement story:
We went out to a very nice dinner and decided to take a midnight stroll on the beach. The air was cool and breezy and the moonlight was bright. As we walked the boardwalk of Taino Beach in Freeport, we stopped walking and Kamal started to tell me how much he loved me. Before I knew it, he was down on one knee showing me this beautiful ring asking me to marry him. I looked at him and started screaming, hugging him and then asked him if this meant that we were engaged. He responded to me; well only if you say yes. I had forgotten to say yes.
Favorite wedding detail:
My favorite wedding detail was the wedding ceremony arbor. My dad actually built the arbor 2 days before the wedding, so it was very special to us.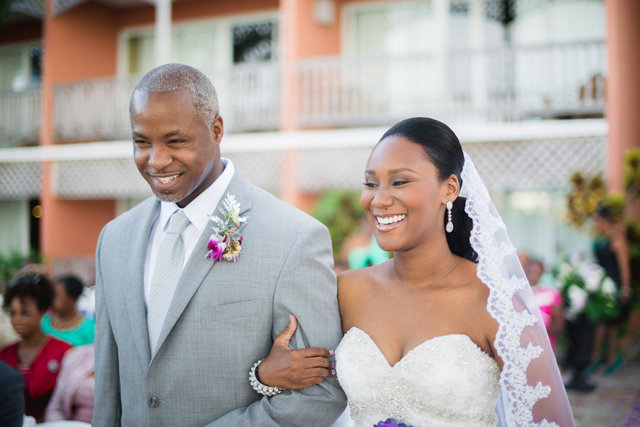 From the Bride:
It was a little difficult planning the wedding in a place where neither of us resided. I lived in Nassau; he in Jacksonville. However, we had a lot of support from family and friends living on the Island, so it made the experience not as difficult as it could have been. I was a little nervous on that day. I confess I am a bit of a perfectionist. It might be the reason why I preferred to plan the wedding myself, as opposed to hiring a wedding planner. So my mind was overwhelmed with ensuring that all of the little details were in place.
From the Groom:

On the morning of my wedding, surprisingly I felt normal, eerily comfortable. You see, I was never afraid to get married and I was confident in my future with Shatarah. However, my state of mind would be challenged greatly when the wedding ceremony began. I stood at the altar and waited for Shatarah to enter and even though I was only there for a few minutes, it felt like years were passing me by, and despite being surrounded by dozens of friends and family…I felt alone. This would all chang when the doors slowly swung open and magically the greatest manifestation of God's love began to walk through the doors toward me. At that moment the whole world stopped and I realized that the world's most beautiful creation was walking towards me, and had chosen me. The attempt to put that feeling in words would only devalue its worth.
What makes your love special?
Our entire 10 year relationship has been long distance, and our love has been able to flourish in spite of such a great obstacle.
The couples most memorable moment:
My most memorable moment might have been at the reception when Kamal gave the response on behalf of us both. I truly saw at that moment, put into words, the true extent of his feelings for me, and it left me speechless.
What are you most looking
forward to as a married couple?
I'm looking forward to most Valentine's Day 2015. Well, all of those special holidays. We've never spent a Valentine's Day together, so I'm hoping that it will be very special.
Advice for a Bride/Groom on their wedding day:
It sounds a bit of a cliché, but try to enjoy the day as much as possible. Unless there is a big catastrophe, everything is pretty much done. So don't sweat the small stuff.
Congratulations to the newlyweds Shatarah and Kamal! We wish you many more years of wedded bliss.
Vendors:
Photographer: Lyndah Wells Photography
Ceremony & Reception location: Pelican Bay Resort
Bridal gown: Allure Bridals/Leggenda Bridal, Coral Gables, Fl
Bridal party attire: Maid of Honor gown/ Leggenda Bridal;
Bridesmaids/ David's Bridal
Groomsmen Suits: Buttons Bridal Boutique, Nassau, Bahamas
Groom's tux: Jones New York/Men's Warehouse
Cake: Take the Cake Bakery, Freeport, Bahamas
Favors: My Wedding Favors / Jenly Favors / Sugarman Candy
Hair and makeup: Hair- Revee Wallace; Makeup- Anika Benson
Flowers: Sunshine Florist, Freeport, Bahamas
Stationery: Minted /Save the Date Cards & Wedding Invitations;
Menu Cards/Vista Print
Curated by our Wedding Features Editor, C.K. Alexander. C.K. is the owner and founder of Love Ink and Brownstone Bridal. Keep up with C.K. on Twitter here: @Love_Ink