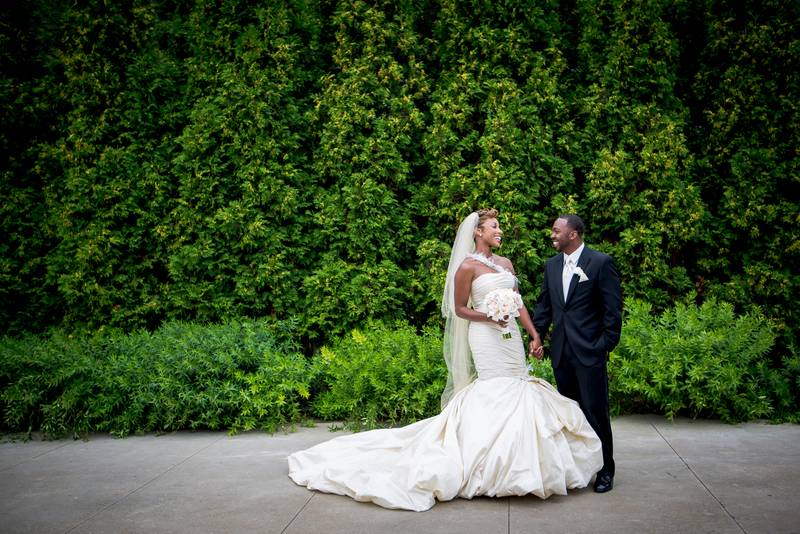 Rachel met Milton in 2010 in Memphis, through a mutual friend who set them up on a blind date. "I was hesitant about going on a blind date, but I was familiar with his family and friends, so I thought I would give it a try," said Rachel. On their first date, Rachel and Milton had an instant connection. "He made me laugh the whole night and I knew then that he was definitely someone special and someone that I wanted in my life," said Rachel. The two dated for almost a year before deciding to end their relationship. However, as fate would have it that would not be the end of Rachel and Milton's love story. After their break up, they spent a little over a year apart before finding each other again. The happy couple has been inseparable ever since. Check out their special day captured by Ingrid Bonne Photography.
Bride: Rachel Sojourner Dickerson, 27, Attorney
Groom: Milton Amis Dickerson, 31, Physical Therapist
Place of residence: Chicago, IL
Wedding date: 8/8/15
Wedding location: Thompson, Chicago
Honeymoon Destination: Negril, Jamaica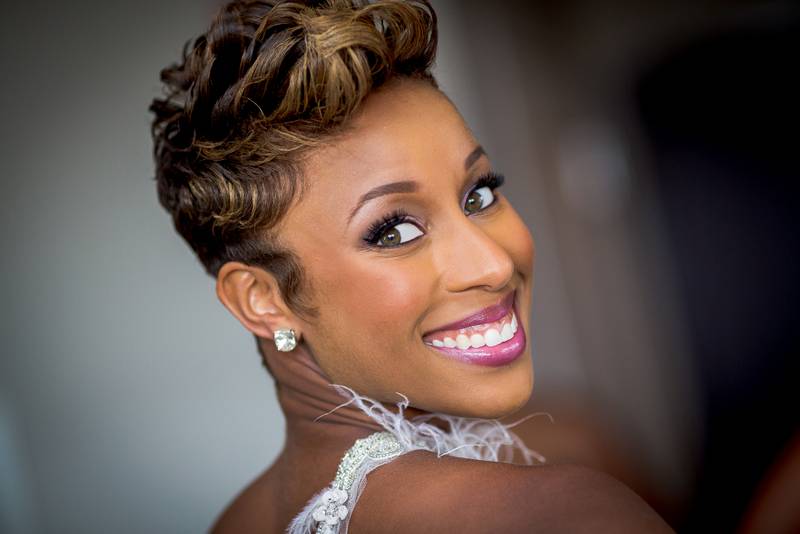 Engagement story:
On the day that we got engaged, I was moving into my apartment in Chicago. He surprised me by flying to Chicago. He was able to get my best friends in on the surprise. My friends made me dress up because they told me that we were going to a Fashion Show. After putting up a fuss, I reluctantly got dressed to go to the fashion show. Once it was time to go, my friend called to tell me that she needed to come up to my apartment for a quick second. When I opened to let my friend in, there Milton stood in a suit and I knew exactly why he was there. Once I finally calmed down he asked me to marry him. I said yes and he told me to get my things because we had dinner reservations. It was a beautiful night.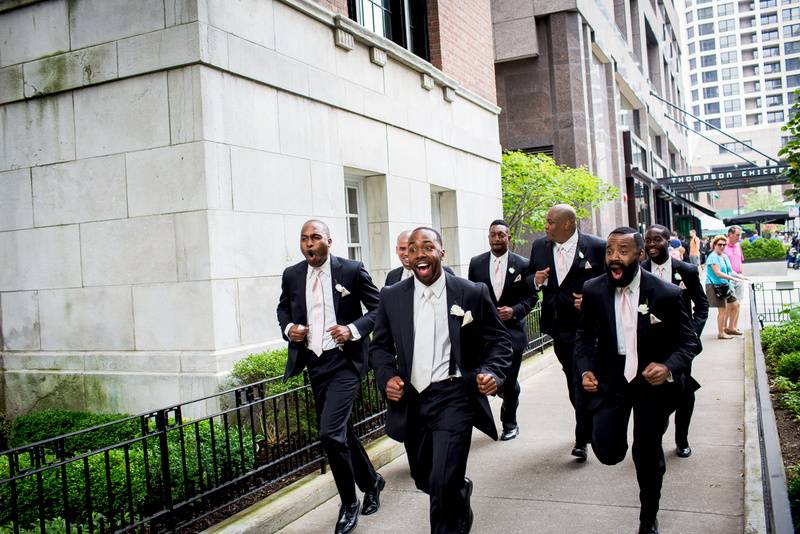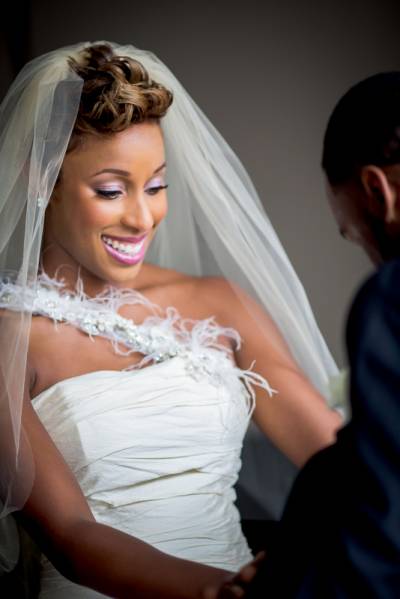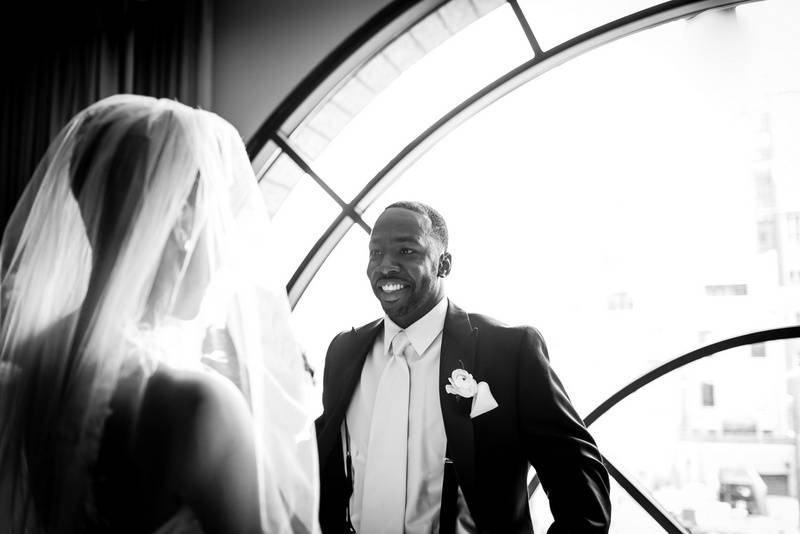 From the Groom:
My wedding day started with me catching a cab to spend some quality time with my father, mother, and grandmother at their hotel. I left the hotel headed to the barber shop next. A fresh haircut makes me feel like a million bucks, and I wanted to have one the morning of my big day. I left the barber shop with swagger as I headed back to the hotel to get dressed with my groomsmen to prepare for pictures before the wedding. Before the wedding party left to take pictures around downtown Chicago, I had the first look with my future wife. The first look was very intimate. It consisted of Rachel, the photographer, videographer, and myself. She was absolutely breathtaking. Once I saw her, all the jitters of the anticipation of the day were gone. I was calm and ready for the wedding, and from that moment I was all smiles! I had so much fun celebrating our union with our family and friends. That night was one to remember.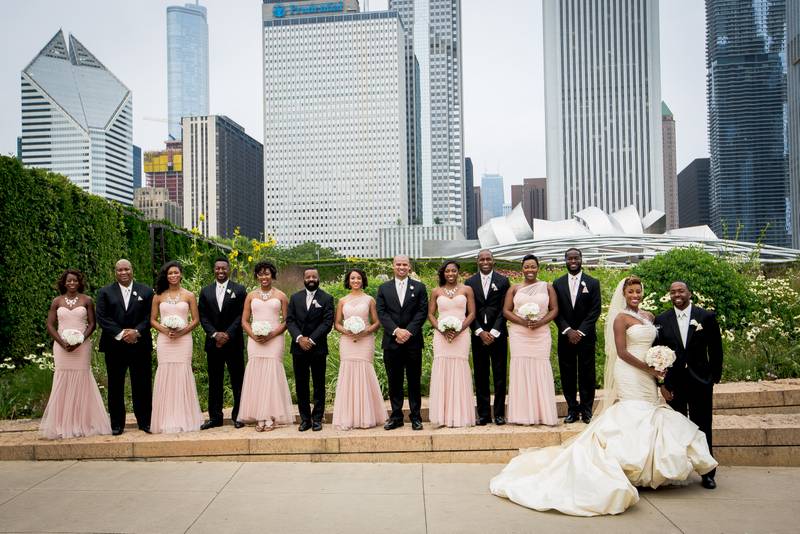 From the Bride:
People often describe their wedding day as a blur, a rushed experience or as a dramatic or stressful time. My wedding day could never be described as any of those things, The day I married my husband was one of the most cherished days of my life. There was so much love and excitement in the air, it really allowed me to be calm and stress-free. I knew God could not have sent me a better husband, and I was ready to celebrate this moment with my loved ones. And that is exactly what we did! The night was truly magical!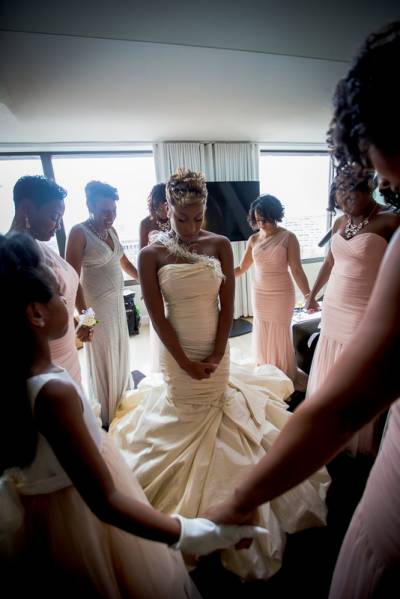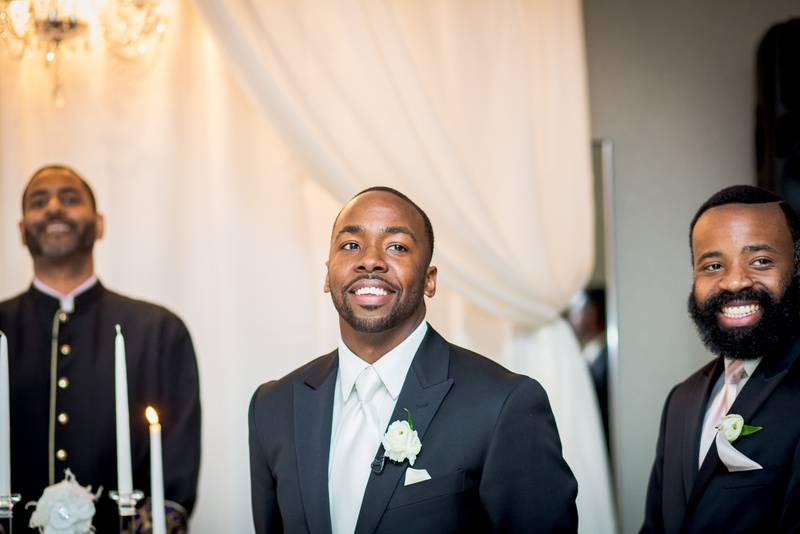 Most memorable moments:
One of my favorite moments of the day was the introduction of the bridal party, and my husband and I at the reception. I believe this moment truly set the tone for the rest of the reception. We allowed our bridal party to pick a song to be introduced to at the reception that best described them. As each couple of the bridal party came out to their songs and danced, our guests began to have such a good time because the mood was light and fun. The bridal party came into the reception to songs like, "Blessed" by Big Sean, "Back that thang up" by Juvenile and "Back to Back" by Drake. It was truly a fun moment that I will always thank my bridal party for giving me. By the time the bridal party had all been introduced, my husband and I were ready for our grand introduction! AND IT WAS A HIT! The song we chose to enter the reception to was "Public Service Announcement" by Jay -z. The song starts off by saying, "Allow me to reintroduce myself, my name is . . . . ." We came in jamming! My husband and I were so excited. We were on cloud 9. Our bridal party and guests joined in with our excitement and we could feel their energy. It was truly an amazing moment that I will never forget for the rest of my life.
Wedding song:
We mixed two songs together for our wedding song. The first was "Simply Beautiful" by Al Green and the second was "Sure Thing" by Miguel. We chose "Simply Beautiful" because my husband introduced me to this song the first time we dated and I fell in love with the soulful song the first time I heard it. "Sure Thing" by Miguel came out when we first started dating and it was a song that we always sang together and it became our song.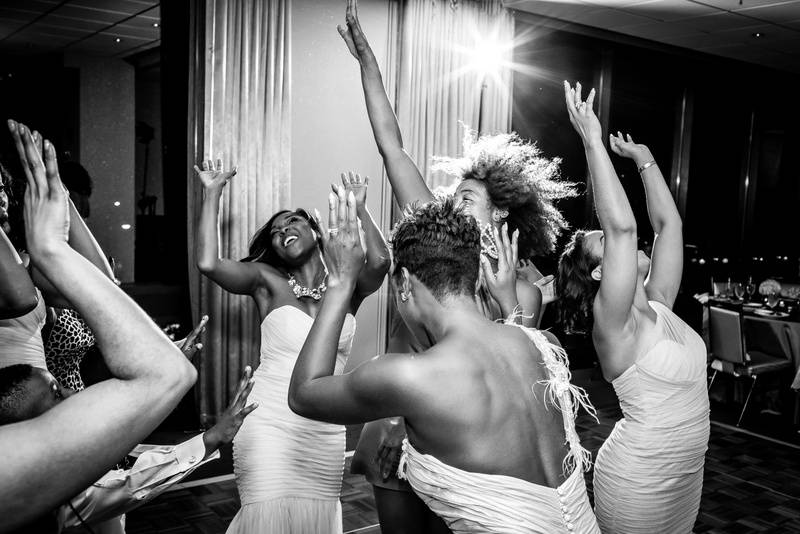 Favorite wedding detail:
My favorite wedding detail was our dinner menus. My stationer personalized each menu by putting the guests name and their meal selection on the menu. I thought it was the perfect way to make my guests feel welcome.
What are you most looking forward to as a married couple?
I am looking forward to having Milton as my life partner. We will journey through life's up's and down's, encouraging each other to give our absolute best.
Advice for a Bride/Groom on their wedding day:
Have fun and enjoy the day. Start off doing all the things that allow you to be calm. For me, it was listening to my favorite songs and having breakfast and mimosas with my girls. This will set the tone for the rest of the day. Yes, something will go wrong or not as planned, take it all in stride. Don't let anything overshadow the reason you and your husband have come together on that day.
Congratulations to the newlyweds Rachel and Milton. We wish you many more years of wedded bliss.
Vendors:
Photographer: Ingrid Bonne Photography
Ceremony & reception location: Thompson Hotel Chicago
Bridal gown: Ines Di Santo
Bridal party attire: Amsale, Bella Bridesmaids Chicago
Groom's tux: Men's Wharehouse
Wedding planners: Kerrie Gallagher of City Girl Weddings
Music: DJ Kel-Win
Hair: Linda Mikke Faine
Makeup: StacyFaces
Flowers: Stemline Creative
Stationery: Adorable Designs By Candice