Jeremy and Roderick met in December 2007. "A mutual friend hosted a graduation party at Rod's apartment. I happened to be asleep when my phone rang. It was her sister, my best friend at the time called to invite me to the party," recalled Jeremy. Upon arriving, Jeremy immediately noticed a cute guy across the room. She did her best to ignore him, but they kept running into each other. "Ultimately he won me over after the entire party went out to an open mic night and literally danced like no one was watching…except I was. I remember mentioning to our mutual bestie that I would marry him," said Jeremy. 11 days after their first meeting, the two started dating. And now 7 years later they celebrated their union with glamorous garden themed wedding in Florida, captured by Landon Hendrick Photography.
Bride: Jeremy Alexis Magruder, 28, Civil Engineering Doctoral Candidate
Groom: Roderick Omar Waisome, 29, Aircraft Rescue Firefighter/ Paramedic
Place of residence: Orlando, FL and Gainesville, FL
(we're long distance until graduation!)
Wedding date: 05/24/2015
Wedding location: Mission Inn Resort & Club
Wedding theme: Garden Glamour
Engagement story:
Roderick can be very impulsive. So that Monday he woke up and decided he was going to buy a ring, drive to Gainesville from Orlando and ask me to be his wife. He grabbed a friend and hit the road. Meanwhile, I was in the lab doing work when I got a text inviting me to a friend's going away party. Roderick and his friend walked in and awkwardly crashed the party. Rod announced himself and began talking about our relationship, but my friends weren't paying attention. So he decided to get on one knee, and we all lost it. I cried like a baby, and the rest of the group was screaming. The whole time no one realized his friend was holding a video camera and recorded the entire thing. Later, we also found out that they went to the wrong building and the wrong door twice despite my friend texting them the whole time! So much for having an inside (Wo)man.
From the Groom:
Having been so heavily involved in the planning process, it was hard not to micromanage everything that was going on. I felt like it was worse for me, because I had too much time to think; seriously though, getting ready when you are excited takes no time at all. Despite having contingencies for rain, I really wanted the weather to chill out a bit, so I can be married under the pergola my father and I built from scratch. I knew that she was somewhere nearby watching the weather as well, stressing out, and I didn't want that. Once I saw her smiling face during our first look, nothing else mattered. Rain or shine we were going make things work, and it was indicative of our relationship and future together. Prayer works, and God always comes through.
From the Bride:
Though I'd been calm leading up to the wedding, I was absolutely nervous on our wedding day. I admit, I am a control freak, so I was hoping and praying that every aspect I planned would come to fruition. As we were arriving, I could see a thunderstorm rolling towards us. I prayed for it to bypass us. From my honeymoon suite, I could see it getting closer and closer. And then it started to pour. But this is Florida, and rain can come for 5 minutes and be gone! It actually rained for closer to 45 minutes but stopped in time for our ceremony to start. My plan fell apart, but God's perfect plan remained intact. Roderick and I were married in one of the most beautiful locations in Florida, outside, on a gorgeous spring afternoon. The sun even made an appearance as I walked down the aisle! It was magical. The rest of the evening I was an absolute dream. It was better than anything I could have imagined and the absolute best day of my life, so far.
What makes your love special?
Our love is special because God is at the center of our relationship. Without Him, we wouldn't have made it to this point. We are very alike, yet very different. But our values and goals are in line. We are constantly pushing each other to be our very best.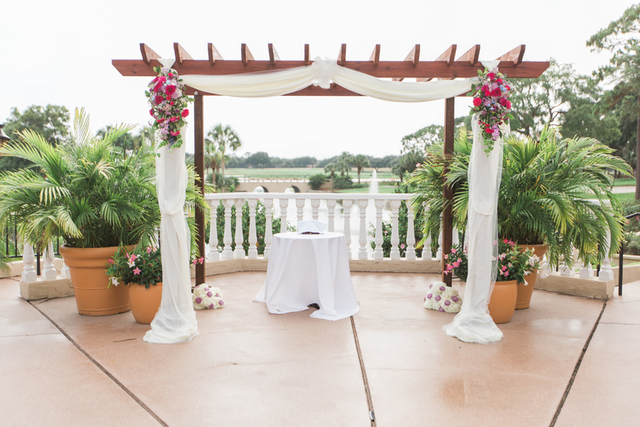 What are you most looking forward to as a married couple?
Living in the same place after all of these years of being apart. We're also looking forward to traveling the world together and starting our family.
Advice for a Bride/Groom on their wedding day:
Enjoy every moment, because it's over in a flash! Also, spend the extra money on a great photographer/videographer so you can relive your best day ever again and again.
Congrats to the newlyweds Jeremy and Roderick! We wish you many more years of wedded bliss.
Vendors:
Photographer: Landon Hendrick Photography
Ceremony and reception location: Mission Inn Resort & Club-Plaza de la Fontana
Bridal gown: Sottero and Midgley
Bridal party attire: Pretty Maids, A Bridal Boutique
Groom's tux: Perry Ellis
Cake: Le Petit Sweet
Caterer: Mission Inn Resort & Club
Favors: Macarons from Le Petit Sweet
Wedding planners: Bride and Groom
Music: Mr. Magnum Music
Hair: Shari Robinson
Makeup: Sarai "The Misses" MUA, Sarai Rodriguez
Flowers: Peddles, Vicki McCullough
Stationery: creativemarket.com