Telia and Courtney met in 2010, at Bethune Cookman University, when Telia needed help in biology and Courtney was the tutor. "There was an immediate attraction and we became friends. However, after Courtney graduated and I transferred we stayed connected for a while before losing contact…four years later," said Teila. "Courtney sent me a message on Facebook, we Skyped, he asked me into a courtship, and the rest is history." We've been together for eighteen months but got engaged a year into our courtship. Check out Teila and Courtney's classic chic wedding, captured by Leo Creary.
Bride: Telia Burrows, 24, Student
Groom: Courtney JnBaptiste, 28, Student
Place of residence: Boston, MA
Wedding date: 7/23/15
Wedding location: The Crystal Ballroom Casselberry
Wedding theme: Simple, chic, and classic.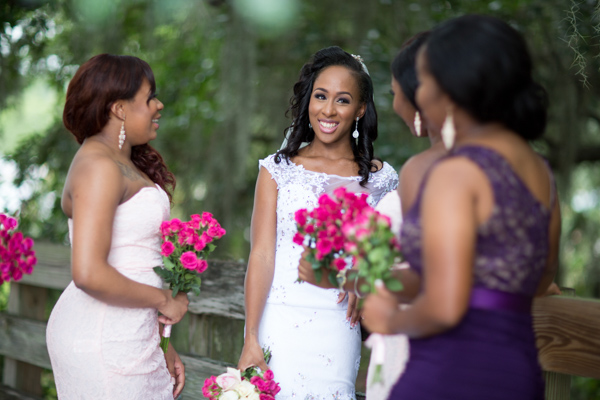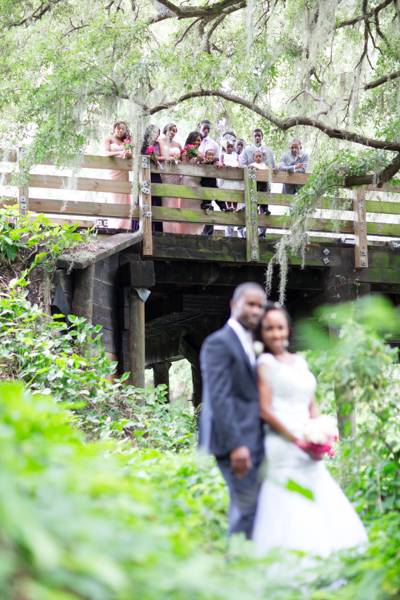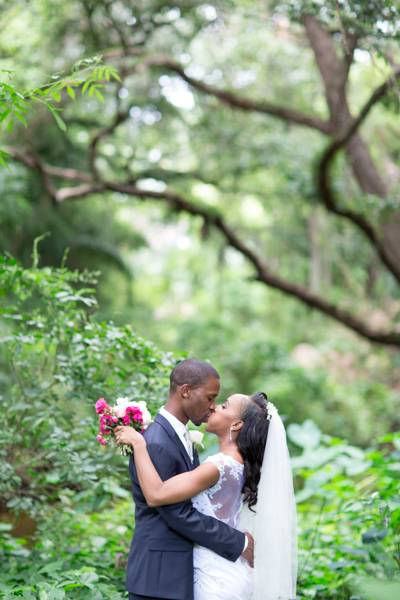 Engagement story:
Courtney proposed on December 20th, 2014 in Nassau, Bahamas. He was coming to spend Christmas with my family and I. December 16th was also our one year anniversary so I wanted to celebrate the occasion with a professional photoshoot. I planned the entire shoot but Courtney had secretly contacted the photographer and let her in on his plan. I picked him up from the airport and we went right over to the location for the shoot. We went through the entire shoot and when we got to the last location they had me walk in front of him for a 'special' pose and then told me to, very slowly, turn to him…when I did, he was on his knee with the most beautiful ring and he asked me to be his wife.
What makes your love special?
To us, our love is special because it was God ordained. Christ brought us together spiritually yet, we were still apart physically. Our love has stood the test of distance (Courtney, originally from St. Lucia, was in Boston & Telia in The Bahamas). We both believe that we do not complete each other but that Christ had already completed us before we came together and that love is a choice. We were two complete persons who decided to love one another through the distance, time, good and bad.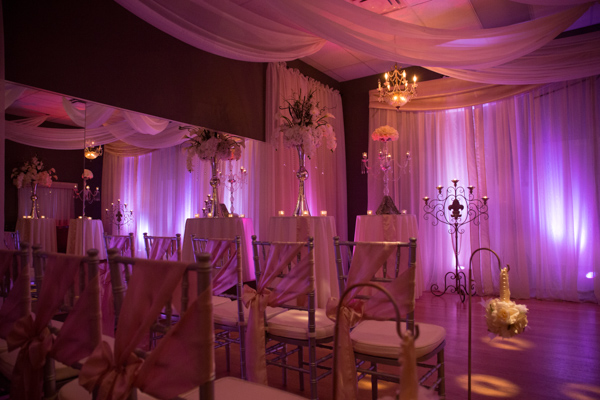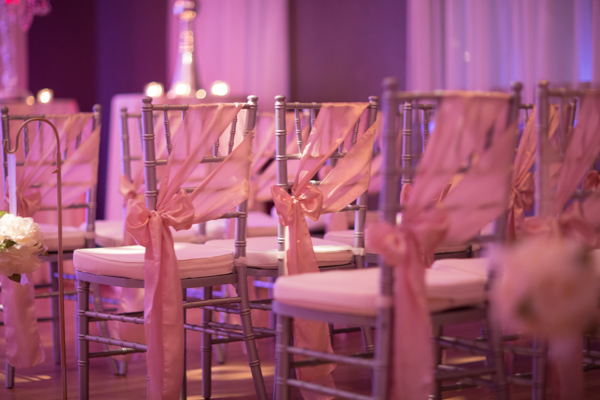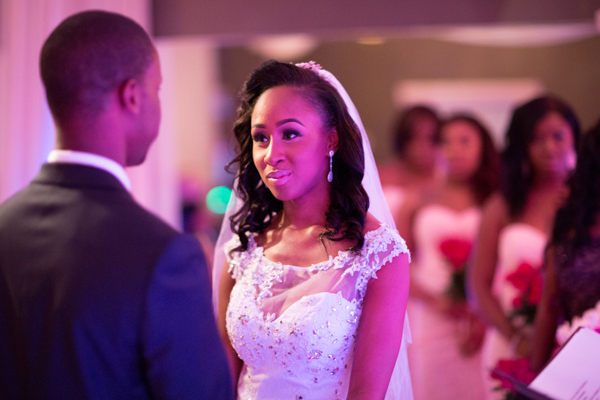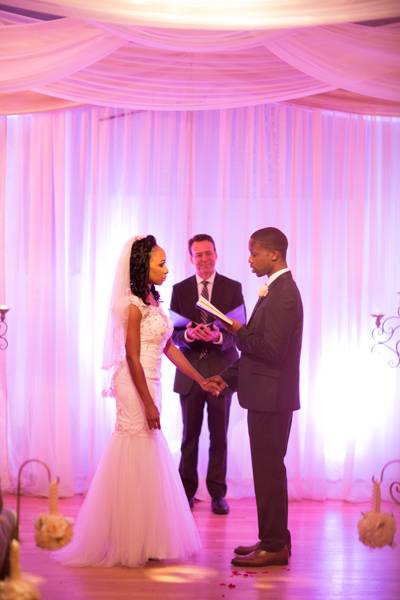 From the Groom:
My wedding experience was one I will never forget, but also one that I'm happy I never have to do again. What my bride wanted was fine with me but she kept me in the loop and asked my opinion about everything. I was extremely excited to see her in the "secret dress."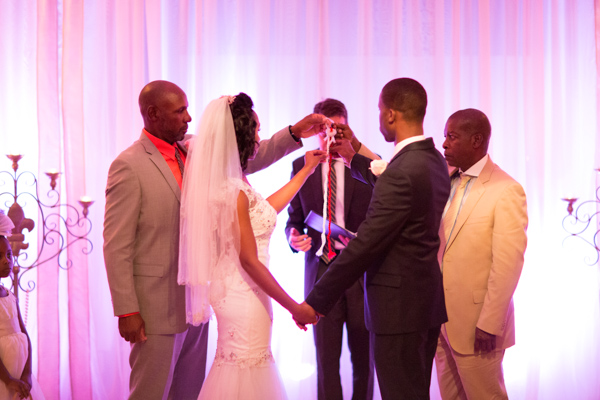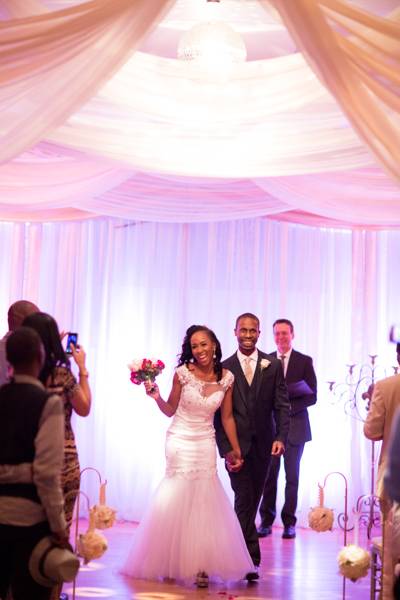 From the Bride:
For me, I just wanted to look good for Courtney. I truly underestimated the time and attention to detail that went into planning a wedding. Honestly, I hated talking or even thinking about it because I got irritated and it gave me a headache. Eventually, I pulled it together and with the help of Courtney, my friend Terrenique and family, it all came together. On the day of my wedding I felt amazing! After all the stress and tears, our day had finally arrived and it was everything I imagined it would be.
Favorite wedding detail:
Our favorite wedding detail was communion and the braiding of the threefold cord. Displaying our faith and making the presence of Jesus known was #1 for us.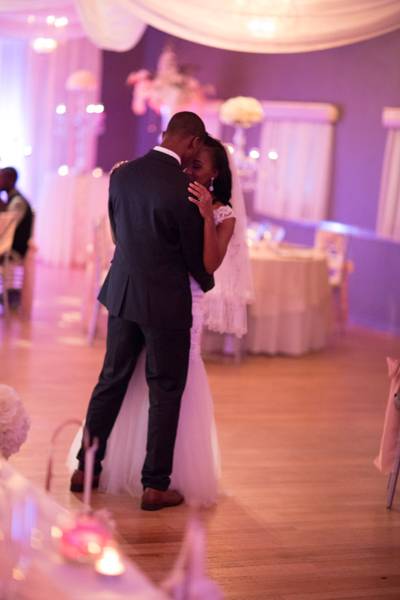 Wedding song:
Our wedding song was 'thinking out loud' by Ed Sheeran. After "finding" love in two different countries, we conquered distance…now, we take on time!
Most memorable moment:
The entire weekend was our best and most memorable moment. Our family and friends flew in from London, The Bahamas, St. Lucia and Boston to celebrate with us. People always tell you that you have their support but it is another feeling to see that support.
What are you most looking forward to as a married couple?
As simple as it may be, we are both looking forward to seeing and touching each other everyday and to pursuing our God given purpose as Husband and Wife.
Advice for a Bride/Groom on their wedding day:
Stay true to you! Know your financial limitations, set a budget and stick to it. Remember, there is life after the wedding but have fun and embrace the journey. It is truly a once in a lifetime experience.
Congrats to the newlyweds Telia and Courtney! We wish you many more years of wedded bliss.
Vendors:
Photographer: Leo Creary
Ceremony and reception location: The Crystal Ballroom Casselberry
Bridal gown: Jazmine's Bridal
Bridal party atti
re: David's Bridal and Macy's
Groom's tux: Macy's
Cake: Olympia Catering
Music: Leo Decave
Wedding Favors: Fonteas Herbal
Curated by our Wedding Features Editor, C.K. Alexander. C.K. is the creator of the Single Bride Blog and the owner and founder of Love Ink and Brownstone Bridal. Keep up with C.K. on Twitter here: @Love_Ink