Victoria and Charles have been together for five years. Their paths initially crossed in 2007 as undergraduates at Loyola University New Orleans. However, the two college coeds didn't start dating until 2009, when Victoria moved downtown to an apartment one block away from the building where Charles lived. "Our paths crossed several times in the neighborhood, eventually resulting in a first date that never ended! We went out for drinks and ended up walking the streets of the French Quarter well past midnight, eventually watching the sunrise over Jackson Square. We've been inseparable ever since," said Victoria. Check out their special day captured by Jonathan Scott of JSPStudio.
Bride: Victoria Adams Phipps, 27, Executive Producer of New Orleans Entrepreneur Week
Groom: Charles Ezekiel Joshua Phipps, 28, Student at Tulane University Law School
Place of residence: New Orleans, LA
Wedding date: 8/1/15
Wedding location: The Biltmore, Coral Gables, FL
Wedding theme: Classic Elegance
Honeymoon Destination: Playa del Carmen, Mexico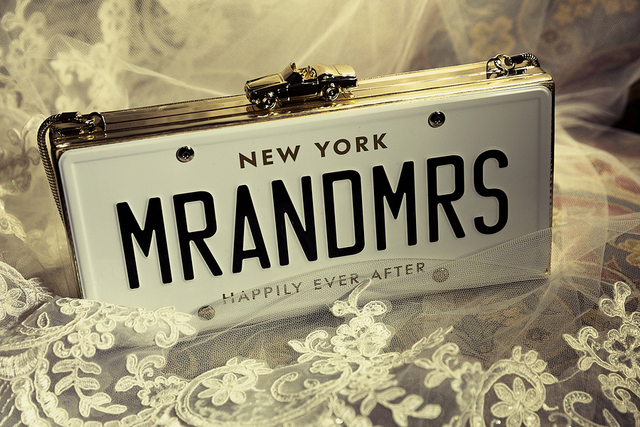 Engagement story:
Our engagement story begins six months before I would actually ask Victoria to marry me. We were enjoying New Orleans culture and weather while walking through the French Quarter when a painting caught Victoria's eye. After much debate, we decided that it wasn't the right time to make the purchase. Secretly the plot to ask for Victoria's hand in marriage began. The next week I purchased the painting and had the tall order of hiding it. Fast forward to April, I invited Victoria to a fictional educational gala, of which "I was invited but was still gathering all of the details." Victoria being a stickler for details decided to Google the gala with the made up details I had given one evening. Thankfully, there happened to be an educational gala happening that day with all of the details I had made up minus the location, which Victoria chalked up to my lack of details. I picked her up from work and drove to the historic Gallier Hall. I insisted Victoria accompany me inside as the "tickets" to the gala were waiting for us. Upon getting inside, a string trio, personal chef, and four-course lunch were waiting for us. As we ate what was truly a wonderful meal and listened to music from the world's greatest composers, Victoria was on edge, as she had to be wondering "is he going to propose." Prolonging what I knew to be the inevitable I told her that this was my way of bringing a vacation to us as we were both bogged down with work and couldn't travel. All the while the real reason for why we were there was next door. After enjoying Chef Henry's reimagined peach cobbler, I told Victoria there was an artist displaying some of his newest works next door and that we could have a sneak peak. Low and behold what was waiting for her was the painting she fell in love with months earlier. It was at that time, that I got on one knee and asked her to be my wife!
From the Groom:
The wedding experience was tough for me as I didn't want to be the fiancé that sat back and let his bride do all the work, but I didn't want to throw tradition out the window either. What resulted was a lesson in affirmation. I knew I was marrying a dynamic woman but seeing her manage expectations, vendors, the high points and the low points was amazing. Additionally, our belief that anything is possible when God is at the center of every decision was and still is the foundation for our relationship. Those two factors working in unison gave me a confidence that our wedding day would be perfect, and it was! Some were expecting tears while I waited at the altar. What they saw was pure joy and excitement to be marrying the love of my life. I'll never get enough of that feeling!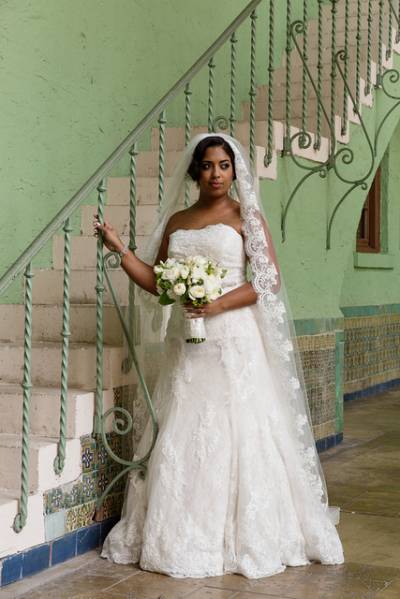 From the Bride:
Wedding planning was extremely stressful! I'm a bit of a perfectionist; I wanted to ensure that every detail was correct. The entire week before the wedding, it felt like I was scrambling just to get everything done. But the day of the wedding, there was this amazing sense of calm. Even when a large oak tree fell in the middle of the street, blocking the route to The Biltmore, I stayed cool, calm, and collected. Getting ready went by so quickly, before I knew it, it was time to walk down the aisle. From the moment I joined Charles at the altar to the end of the night; I don't think I stopped smiling. My wedding day was the most magical day of my life. Everything was beautiful, more beautiful than I could have imagined. There were plenty of things that weren't perfect, but I knew that I had married my soul mate, the most perfect man for me and that in and of itself was enough!
What makes your love special?
We are incredibly honest with each other. We've opened up about facets of ourselves that no one else will ever know. Our love is special because we know the best and worst about each other, and through it all, we're still in love.
Favorite wedding detail:
Our favorite detail of the wedding was music! Our band, Suga, was AMAZING! They were able to capture the old school, new school, and everything in between. All of our guests are still talking about them! But even more exciting, we were able to capture so many elements of our cultural backgrounds and who we are as a couple through the music. We're both classically trained musicians. It was awesome to incorporate classical music via a brass quintet during the ceremony. Charles and I both have Caribbean backgrounds. Charles' father is from St. Kitts and his mother is Puerto Rican. My grandmother was from the Bahamas. We had a Bahamian Junkanoo group swing through the reception to get the party started. We've lived in New Orleans for the past ten years. We had an authentic brass band from New Orleans close the reception in a major way! I don't think The Biltmore will ever forget the sound of a tuba blasting out across the terrace. From reggae to Motown, hip-hop to 1970's funk—we covered it! And it was quintessentially Victoria and Charles.
Wedding song:
We danced to two songs at the reception. We entered the reception to "Show Me What Ya Got" by Jay-Z, played by our live band, Suga. This song embodied so much of what we wanted to display at our wedding – great energy, upbeat, and true to us. Our first dance was to No Other Love by John Legend ft. Estelle. This has been "our song" for a few years now. It always brings us back to a happy place at the beginning of our relationship.
Most memorable moment:
My most memorable moment was our exit! We brought in an authentic brass band from New Orleans to send us out. Our guests lined the stairs with sparklers and we boogied our way down the steps and into married life.
Most memorable moment:
My most memorable moment was our exit! We brought in an authentic brass band from New Orleans to send us out. Our guests lined the stairs with sparklers and we boogied our way down the steps and into married life.
What are you most looking forward to as a married couple?
The adventures! We kicked off our marriage heading to Mexico for some relaxation, romance, and a little adventure. We went snorkeling in an underground cave, climbed to the top of the highest Mayan temple in Mexico, and went swimming with whale sharks! We're both looking forward to the great memories we'll gather around the world together.
Advice for a Bride/Groom on their wedding day:
Focus on each other. Don't let anything or anyone distract you from what really matters, the person you're marrying.
Congrats to the newlyweds Victoria and Charles! We wish you many more years of wedded bliss.
Vendors:
Photographer: Jonathan Scott of JSPStudio
Ceremony and reception location: The Biltmore
Bridal gown: Oleg Cassini, David's Bridal
Bridal party attire: Jenny Yoo, BHLDN
Groom's tux: The Black Tux
Cake: Elegant Temptations
Favors: The Knot
Wedding planners: Jackie Bressler Events
Music: Ceremony Music: Miami's Top Brass
Reception Music: Band and DJ – Suga
HairL Shakita Hollis, Hair by Shakita|
Barber – Cedric Kent, Team Hairbenders
Makeup – Judy Irizarry, Makeup Mob
Flowers: Petal Productions
Entertainment: The Bahamas Junkanoo Shakers