Jamonica and Reggie met in 2012 through a mutual friend that they had both worked with. "She kept telling me that she had someone that she wanted me to meet, and she was telling him the same thing," said Jamonica. Their mutual friend finally introduced them through via their work email. Shortly after, the two exchanged numbers and began to talk on the phone for hours every day. They finally met in person and went on a date about a month after they began talking on the phone. The two dated for about 2 years before getting engaged. Check out their romantic wedding at the Eagles Landing Country Club, captured by Paris Mountain Photography.
Engagement story:
We had our first kiss at Three Sheets Lounge in Atlanta, GA. We had not been back to this place since that first kiss. So I spoke with the manager and setup a romantic night on Sept. 26, 2014 at the exact table we sat at previously. However, Jamonica was travelling back into town and was running late so we couldn't get that table but the manager (who knew what the occasion was) set us up with a nice romantic area upstairs on the patio. We always play this game called 'I love you more than' where we alternate turns. For example, "I love you more than a chubby kid loves cake". So around 9:20pm, I started the game and I would not let her get her turn. I basically spoke from my heart and told her how much I love her, what she means to me AND how I am a better man because of her. To her surprise, I pull out beautiful diamond ring (her words J) that blinded her :-). I asked her will she spend the rest of her life with me and she said 'YES'
From the Groom:
After stressing through Atlanta traffic in the morning and finally making it to the venue that day; I WAS READY. It was VERY hot and it was not my nerves. The air conditioner was not working to the standards it needed to for a large wedding. I was excited and praying everything went well and for my wife to be because I knew she was very nervous. It was kind of like 'The Big Game' was here and you are in the locker room; anxious to play or in this instance anxious for the Pastor to say 'I now pronounce you husband and wife'
From the Bride:
Grateful. So very grateful. I literally couldn't believe that I was really getting married. We had an evening wedding so I had all day to get ready. My bridesmaids were absolutely awesome! They took care of everything, and did it all on time. They made sure I had everything I needed, and I was calm. I truly enjoyed the preparation because I had the opportunity to just have "girl time" with the women who have been there for me throughout my life. Once I got the text from Reginald saying he was at the venue, I knew everything would be alright. I really couldn't have asked God for anything more. It was a beautiful experience.
What makes your love special?
I think what makes our love truly special is that it is unconditional and grounded by God. We accepted each other fully with all of faults and past mistakes. We complement each other perfectly. We share old school morals and beliefs on the roles of the husband and wife in a marriage! We inspire each other to want more, do more, achieve more. Most importantly, we try to align our marriage with the scripture and how GOD intended marriage to be carried out.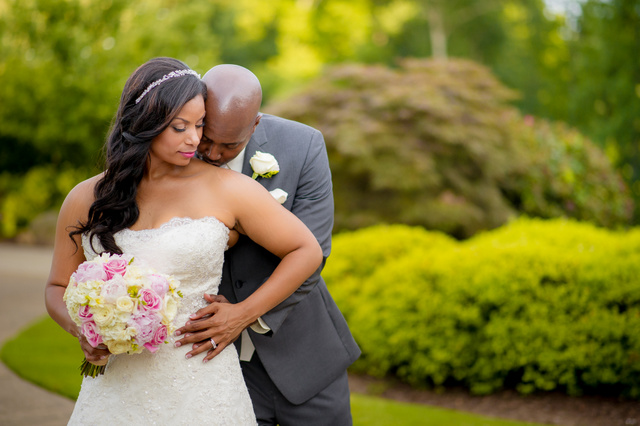 Most memorable moment:
From the Bride: I will never forget when I was sitting all by myself waiting for the wedding to start. My bridesmaids were lining up, and my father was downstairs. I was fully dressed and ready to go, and I was so nervous that my hands were shaking. When it was time for me to walk in, my planner came to get me, and my dad was standing at the bottom of the steps smiling. He told me that I didn't have to worry about anything because he was with me J I walked into a room full of people with smiling faces who were genuinely happy for us…and then I saw Reginald smiling down the aisle at me…and I couldn't wait to
say "I DO."
From the Groom: I would say I had two memorable moments:
Watching Jamonica come down the aisle with her dad knowing she is becoming my wife.
When the minister said 'I now pronounce you husband and wife, you may kiss your bride.
Wedding song:
Our wedding song was 'Every Time I Close My Eyes' by Babyface. It was the perfect song for us because we're both in our mid-thirties, and although we both believed in marriage & wanted to be married one day, neither of us had been married before. So when we listened to the words of this song again, it seemed like Babyface had completely read out minds J The words explain exactly how we feel about each, and since our wedding was June 20th, it really did feel like Christmas in June.
What are you most looking forward to as a married couple?
Everything! Continuing to grow together in Christ. Integrating our separate lives into one life. Becoming parents together, raising our children and watching them grow and live their own lives. Traveling the world and experiencing new things together. However when it all boils down to it, we're just looking forward to growing old together and sitting on the front porch drinking some ice tea while talking about things going on in the world and how we're living the good life.
Advice for a Bride/Groom on their wedding day:
Advice from the Bride: Do what makes YOU happy, and take all the time you need to figure it out. Disregard the unsolicited opinions of everyone else. At the end of the day, it's YOUR day, and everything will work out! Most importantly, remember that all you need is God, the man of your dreams and the minister, and you'll be married to the love of your life.
Advice for the Groom: Learn how to walk and hold a dress, stretch/massage your jaw muscles that morning because you will take a total of 871,463 pictures that day, evening, and night. Be mindful of when you get ready to grab the garter from your wife's leg, that her mom and dad are watching. Make sure you enjoy the wedding day morning and BREATHE because the entire day is going to go by so fast where you can't even catch your breath sometimes. Make sure you thank GOD for sending you your wife to be and building you up to be able and ready to accept her. When you feel like you are so stressed and your wife to be is so stressed, even if everything that can go wrong is going wrong that day, REMEMBER THIS-The woman you love is in the other room getting all beautified and ready to become ONE with you!
Congrats to the newlyweds Jamonica and Reggie. We wish you many more years of wedded bliss!
Vendors:
Photographer: Paris Mountain Photography
Videographer: Bob's Eye View Weddings
Ceremony & Reception location:
Bridal gown: Bravura Bridal
Bridal party attire: Bridals by Lori
Groom's tux: Men's Wearhouse
Cake: Bliss Cake Boutique
Caterer: Eagles Landing Country Club
Favors: David's Bridal
Wedding planners:
Color Me Beautiful Wedding Planning & Event Design
Music: DJ Tay Productions
Hair: Scoobie West & Company
Makeup: Makeup by Alicia
Stationery: Invitation Creations, LLC
Transportation: Optimum Limousine
Curated by our Wedding Features Editor, C.K. Alexander. C.K. is the creator of the Single Bride Blog and the owner and founder of Love Ink and Brownstone Bridal. Keep up with C.K. on Twitter here: @Love_Ink