Deidre and Wyndell's love story began at a local nightclub in the year 2010, where they danced into each others hearts and have been together ever since. "I always thought that was funny because I never imagined I would meet my husband at a nightclub! He actually approached me and a few of my girlfriends that were with me celebrating my birthday. It turned out that he had attended college with us and knew some of the same people that we knew. My friend, Rhonda, vetted him for me and gave me the "ok" to talk to him," recalled Deidre. The happy couple celebrated their union with an elegant fall wedding at The Parador, in Houston, TX, captured by Motley Melange.
Bride: Diedre Phipps, 38, Accounting Manager
Groom: Wyndell Phipps, 37, Project Manager
Place of residence:Houston, TX
Wedding date: 9/26/14
Honeymoon Destination: St. Lucia
Favorite wedding detail:
My favorite wedding detail was my bouquet. It was made by NaTasha at Blinged Bouquet. It was gorgeous! It was made of silk flowers (cream and rose colored) and beautiful brooches. Most importantly, she was able to attach my grandmother's ring as an embellishment. My grandmother passed away in 2010 and it was a way to ensure that she was a part of the wedding.
Engagement story:
It was Christmas morning and we decided to exchange gifts. After he opened his gifts, he gave me a tattered box with an old diamond stud earring that he used to wear. I knew this was some kind of joke, right?? After giving him the side-eye, he pulled the ring from his pocket, got down on one knee and asked me to spend the rest of my life with him.
From the Groom:
I was excited and nervous for most of the day. I knew for sure that Diedre was the only woman that I wanted to spend my life with. My brothers (groomsmen) kept me in good spirits. When I saw my daughter come down the aisle as a junior bridesmaid, I began to get emotional. When Diedre came down the aisle, I couldn't hold it together any longer. She was a gorgeous sight. The reception was great! We had a great DJ and we danced all night.
From the Bride:
I was not nervous at all that day. I had the best wedding planner in the business, Sabrina Patrick of Chic Soiree Events, getting everything together for me. My bridesmaids were keeping me laughing, as usual, at the hotel while we were getting our makeup done. I didn't get a little nervous until they started the procession and I saw Wyndell head down the aisle. Then, I knew I was really about to commit my life to him. It was the best night of my life! Not only did I marry my life partner, but we had so much fun at the reception celebrating with our family and friends. I didn't want the night to end.
What makes your love special?
Our love is special because we accept each other as we are. We laugh together and we don't argue – we have lively debates! We have traveled in the same circles for most of our lives, but had never met. If we had met earlier in life, it wouldn't have worked out because we weren't ready for each other. We met at a time that God knew we would be the perfect match for each other.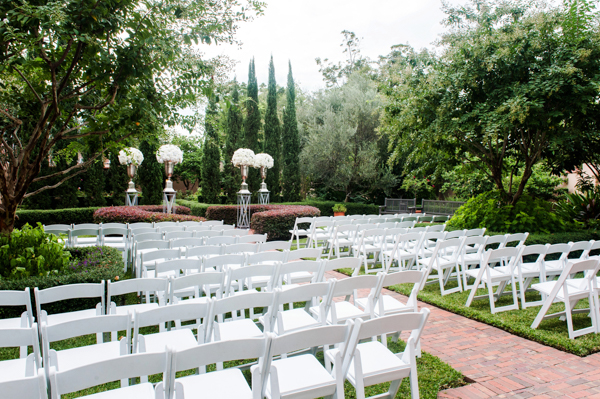 Your best/most memorable moment:
The most memorable moment was seeing each other as I (the bride) came down the aisle. I'm naturally a crier, so I had started crying before I even started the walk. But Wyndell, who never cries, had tears streaming down his face as soon as he saw me.
What are you most looking forward to as a married couple?
We are most looking forward to having children. We have a daughter (from a previous relationship) and we'd love to add to our family.
Wedding song:
The groom, groomsmen and bridesmaids walked to Falling For You by Leela James – this just really explained how I felt about getting married. I had never imagined that I would fall and trust someone to catch me. I walked to All of Me by John Legend. This was Wyndell's choice. He felt that it explained how he felt about me and our relationship, so I thought it was important to walk to him while that song was playing.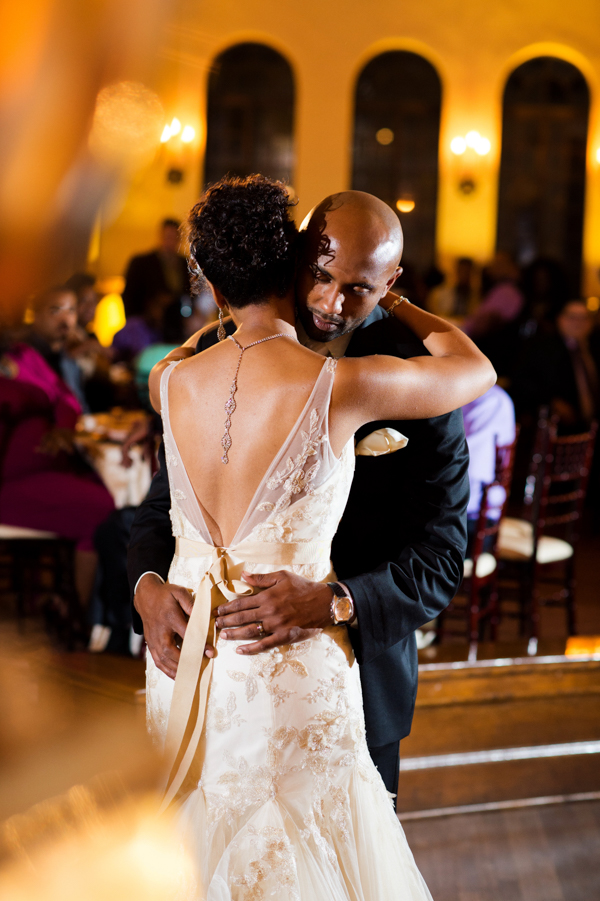 Advice for a Bride/Groom on their wedding day:
My biggest piece of advice is to get a wedding planner!! I could not have created such a beautiful space without Sabrina. She also led me to most of my vendors and they were all wonderful and reliable. I was able to relax on my wedding day and was not at all concerned about the wedding or reception details because I knew that she had it all covered. Also, if you're on a budget, you can skip the videographer and get an excellent photographer. When you get a great photographer (like Kori at Motley Melange), they have enough help and expertise and they capture everything for you. I don't even miss not seeing a video of the wedding because she captured so many great moments.
Congrats to the newlyweds Mr. and Mrs. Phipps! We wish you many more years of wedded bliss!
Vendors:
Photographer: Motley Melange
Ceremony & reception location: The Parador
Bridal gown: Maggie Sottero/Brickhouse Bridal
Wedding party attire:
Bridesmaids: Bill Levkoff/Brickhouse Bridal
Groomsmen: BLACK by Vera Wang/Mens Wearhouse
Groom's tux : BLACK by Vera Wang/Mens Wearhouse
Cake: Sweet Moments by V
Caterer: Behind the Bash
Favors: Sweet Moments by V
Wedding planner: Sabrina Patrick/Chic Soiree
Music: Rob G. (the General – 97.9 the Box)
Makeup: Simply Flawless by Brandi
Hair: Tiffany at The Beauty Bar
Flowers: Darryl & Co.
Stationery: Invitation Solutions
Bouquet: Blinged Bouquet
Curated by our Wedding Features Editor, C.K. Alexander. C.K. is the owner and founder of Love Ink and Brownstone Bridal. Keep up with C.K. on Twitter here: @Love_Ink