Noel and Jean- Pierre met when they both attended Morgan State University in the early 90's. However, their love story didn't begin until years later when they reconnected on Facebook in 2009 and began dating shortly after. Three years later, Noel and Jean-Pierre celebrated their happy ending with a classic movie themed wedding, captured by AMDLD Photography.
Bride: Noel Deneen Zephir, 40, Equipment Financing
Groom: Jean-Pierre Zephir, 40, Online Marketing
Place of residence: Owings Mills, MD
Wedding date: 8/10/2013
Honeymoon Destination: Montego Bay, Jamaica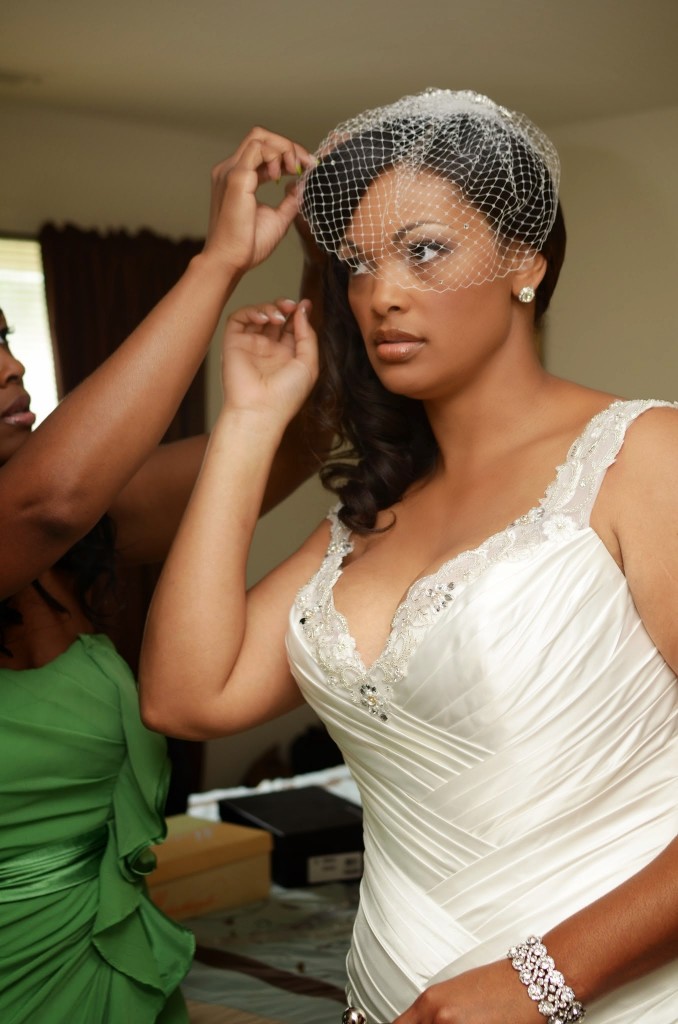 Engagement story: ( From Jean-Pierre)
We planned a trip to Vegas for Noel's birthday with family and friends. One night when we all went to dinner together, I had my best man take the ring to the chef so he could have the waiter bring it out in a desert tray. The waiter brought the tray out with several deserts on it and had the ring sitting on top of a strawberry. The funny thing is we didn't see it at first because there were other deserts on the tray. But once she saw it that's when I got on one knee and proposed.
From the Groom:
I was calm yet excited when I woke up that morning. I took my time getting myself together as I reflected on all Noel and I have been through to this point. It was nothing but joy that day. When I saw her walk down the aisle, I almost lost it. She looked gorgeous and I was ready.
From the Bride:
On the day of my wedding I was so overwhelmed, not with wedding details but with happiness. I was marrying the man of my dreams and I felt like I deserved him. Our day went off without a hitch. No drama, no craziness, no lateness. Everyone was where they were supposed to be when they were supposed to be there. The entire morning before the wedding I just kept wondering how Jean would feel when he saw me…would he cry…would he like my dress? My wedding experience was magical; I wish I could rewind time and experience those feelings all over again.
What makes your love special?
When we first started dating we were living in 2 different states. For 3 years we both commuted back and forth between NY and Baltimore. Since we only saw each other twice a month, we actually dated for those three years and cherished each hour we had. Having a strong love and deep trust was important living so far apart, we made it work because we were in love.
What are you most looking forward to as a married couple?
(Noel) What I most look forward to is continuing to get to know one another and building on the friendship we already have. Having that strong foundation and also knowing that God brought us together will allow us to get through anything life throws at us.
Favorite wedding detail:
Our favors were "soundtracks" of our love.. CD's with coordinating wedding color cases. The place cards were designed as movie tickets and named the table to sit at which was not a number but a name of a movie. The movie titles were "wedding movies" and our save the date looked like a movie poster.
Advice for a Bride/Groom on their wedding day: (Noel)
My advice would be to plan for everything way in advance so you can relax the day before and to have dependable people by your side that will ensure that even if something goes wrong, you will never know about it.
Congratulations to Noel and Jean-Pierre! We wish you many more years of wedded bliss!
Vendors:
Photographer: AMDLD Photography www.amdldphoto.com
Ceremony location: Union Bethel AME Church, Randallstown, MD www.unionbethelamec.org
Reception location: Martin's West www.martinscaterers.com/locations/west
Bridal gown: Gown by Sophia Tolli "Vincia" purchased at Grace Bridal & Tuxedo, www.gracebridaltuxedo.com
Bridal party attire: dresses by David's Bridal www.davidsbridal.com
Cake: Yia Yia's Bakery www.yiayiasbakery.com
Hair and makeup: Make by Michele McNeal
Flowers: flowers by Flower's by Louise
Stationery: Soiree-Event Design http://soiree-eventdesign.com/
Curated by our Wedding Features Editor, C.K. Alexander. C.K is the owner and founder of Love Ink. Keep up with C.K. on Twitter here: @Love_Ink