Elicia and George met in August of 2007 while working at Calvin College. Their first interactions began while they were hanging out with a group of mutual friends for happy hours and "what am I doing with my life" dinner conversations, all the while never taking much interest in each another. At some point, George's interest in Elicia grew and he decided to act on his new found interest in her. However, after a few inappropriate jokes, cheap wine (George's confession), not so subtle hints and several failed attempts of George trying to ask Elicia out- George gave up. Later that year George moved on to take a new position at another university. As fate would have it, the two reconnected at a mutual friend's wedding and two weeks later a random text from Elicia turned into George's opportunity to properly ask her out on a date. Their first date was September 9, 2010, which they count as their official anniversary, even though they didn't officially become a couple until December 10, 2010. Check out their preppy-chic nuptials captured by Bryan and Mae!
Bride: Elicia Asako (Arai) Davis, 30, Academic Advisor & Instructor
Groom: George Wilson Davis III, 30, Associate Director of Admissions
Place of Residence: Grand Rapids, MI
Wedding Date: 7/5/13
Honeymoon Pt. 1: Southern Excursion (Columbus, Louisville, Nashville)
Honeymoon Pt. 2: Tokyo and Osaka, Japan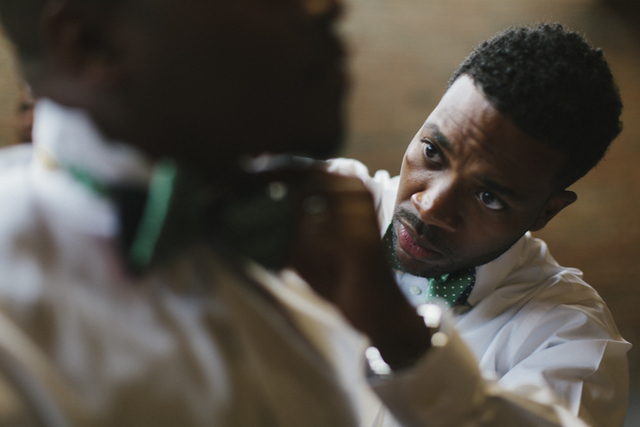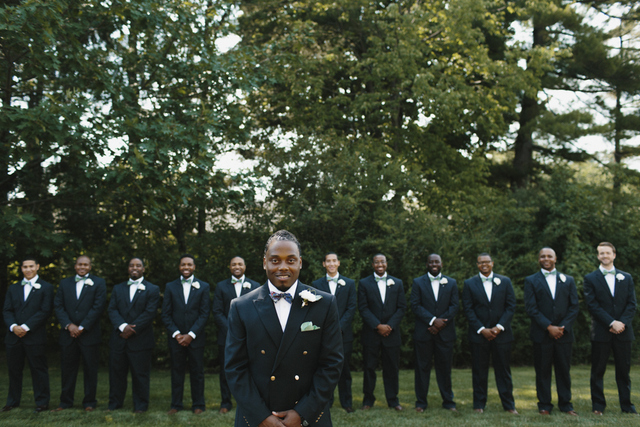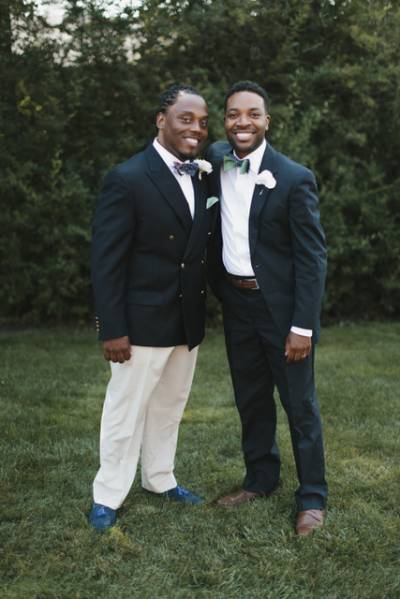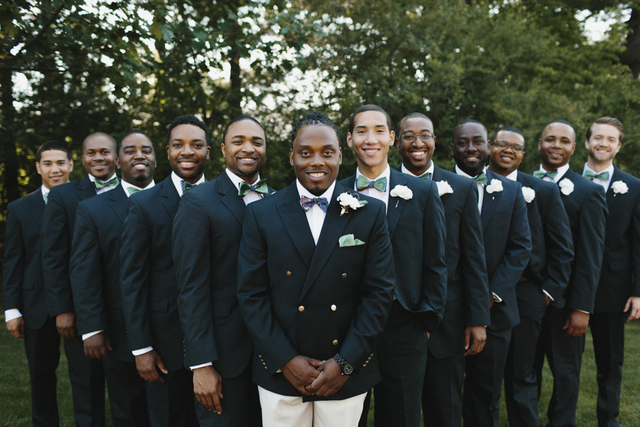 Engagement Story:
George coordinated with Elicia's BFF's to pick her up from work and take her out for happy hour and a make-up makeover after work on January 10, 2013. While away, George and his close friends set up the engagement scene (rose petal trail, lined with vanilla votive candles) outside the Calvin College chapel. When Elicia and friend's returned to campus to retrieve her vehicle she was met by George's best friend who escorted her to the upper patio/courtyard of the chapel. George sang "Forever" by PJ Morton accompanied on guitar by a close mutual friend. He got down on one-knee and popped the question, "Will you marry me, better yet will you have my babies?"
Flowers are Fashion
For the bridesmaids, flowers act as the final accessory to pull the look together, they are the amazing clutch to an evening gown. We chose all white nosegay bouquets with alstroemeria blooms, white roses and baby's breath. Most guys are funny about flowers in general so why not have fun with a boutonniere. Instead of flowers, we decided to upgrade the style of our guys with a floral lapel pin. We purchased white satin fabric and lapel pins and commissioned one of our friends to stitch the petals to the pin. They turned out amazing! Now our groomsmen had a new accessory as well.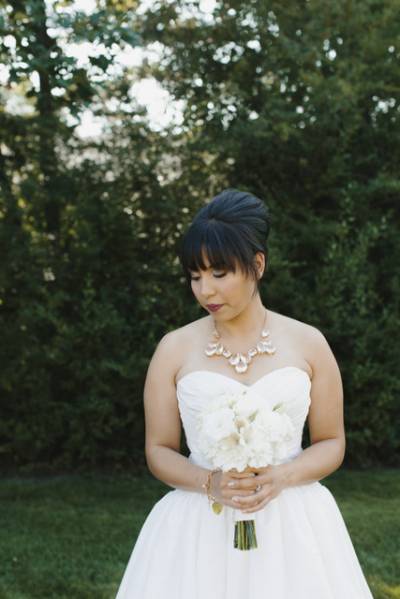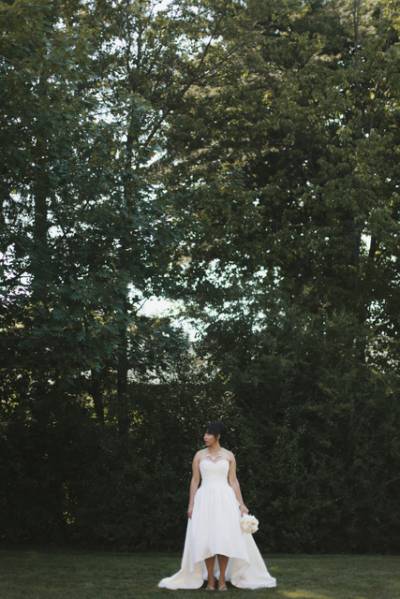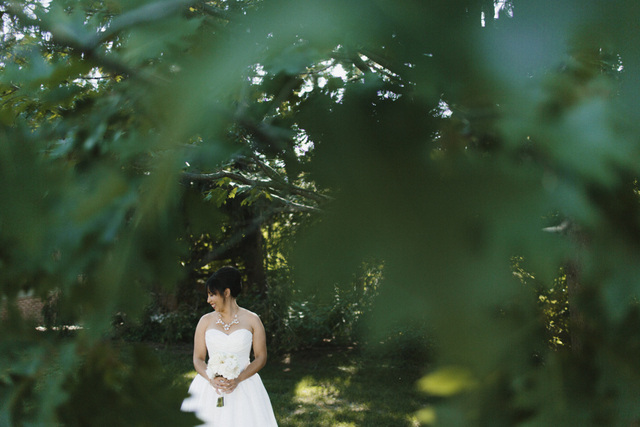 From the Bride:
When you're marrying a personal stylist in the making then all you can think about is "I wish he just styled me!" I spent months trying not to obsess over my wedding look, but I wanted to make sure that I blew the man right off his feet. I did a few hustles in the basement of the chapel before slipping into my dress to help calm my nerves and warm me up for the dance floor.
I was overcome with emotion as I walked up the stairs with my parents by my side that I could barely look up. I walked all the perimeter of the chapel sobbing and squeezing tightly to my parents that I didn't even look up at George before I got to the main aisle of the chapel. It was then that it all felt real.
Having our parents pray and speak blessings over us was the perfect way to honor their roles in our lives. I remember the feeling of being surrounded on all four sides of the chapel by people we loved us and people who poured their lives into ours. It was amazing. Other than that, I think as we were lighting the candles I looked over at him and asked him about the designer of his bow tie. That's us in the most classic and natural form. We're fun and we love to feed one each others passions.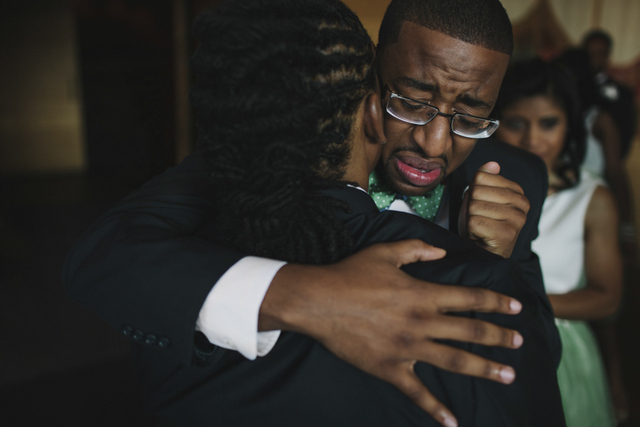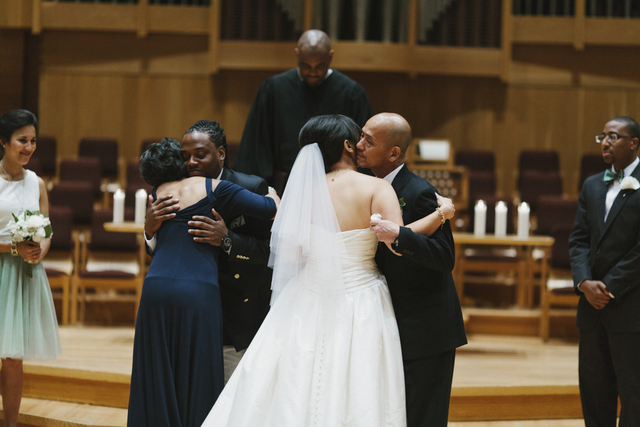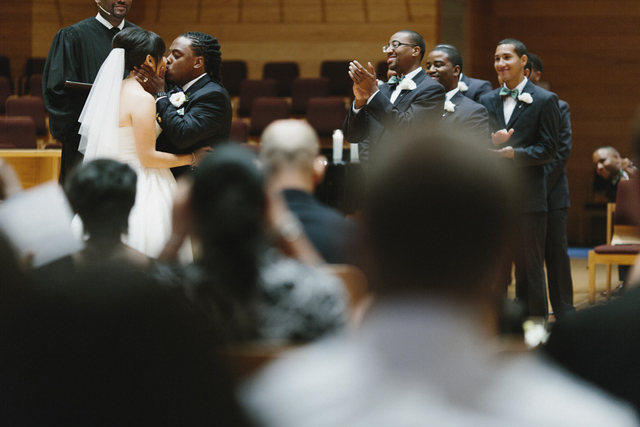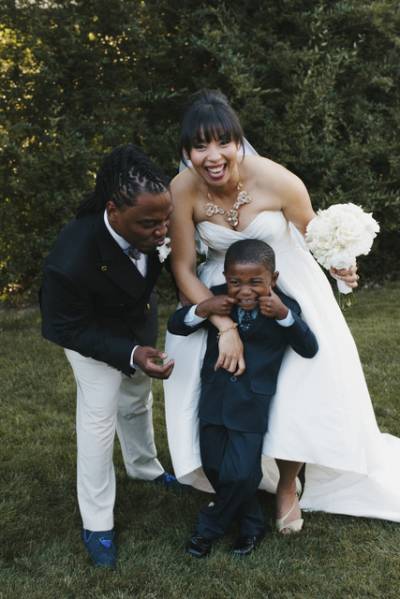 From the Groom:
The entire process of planning our wedding was somewhat stressful given the six month window between our engagement and wedding date. We decided on 4th July weekend to accommodate family and friends traveling from out of town and wanted even the days leading up to the wedding to capture the blending of our families. The week included our rehearsal dinner, cocktail party, 4th of July BBQ and the wedding and reception itself. The BIG DAY was absolutely surreal, I remember waking up and feeling completely confused and disorientated by the realty that I was getting married. It wasn't until the groomsmen showed up at my house for an impromptu bow tie tying lesson that it became REAL, and even more REAL when I signed the marriage certificate. It was all laughs while getting dressed and taking pictures and it truly gave me the greatest sense of peace to be surrounded by my village, my brothers who'd loved, cared, challenged and prayed for me to this point and decision in my life.
It was very important for us to include our family in the ceremony, our Mom's read scriptures. Just after lighting the unity candle and being pronounced, our parents collectively shared words of blessing as a charge to us and prayed over us. It was by far the highest most profound moment of the wedding ceremony.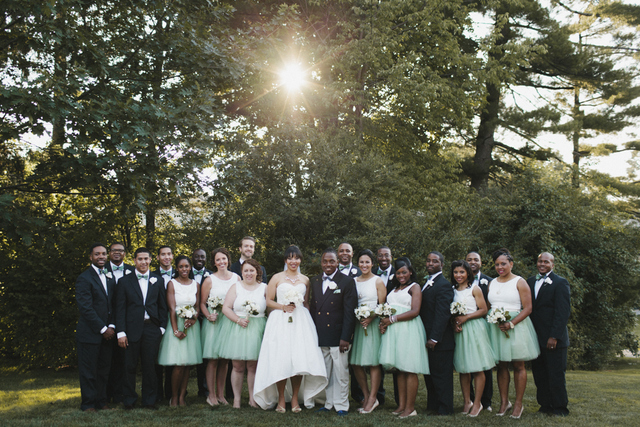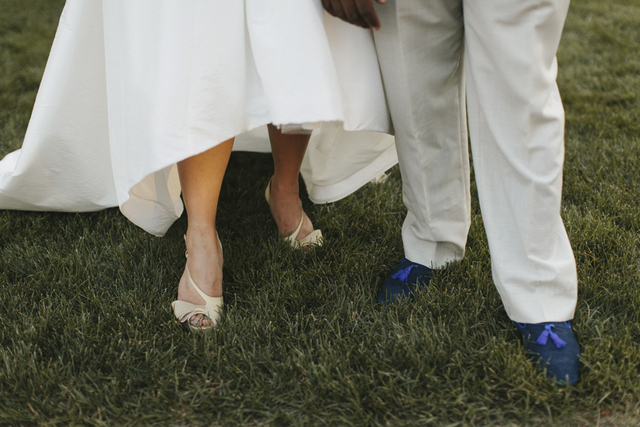 Fashion: Timeless no fuss flirty meets cool and collected
Selecting bridesmaid's dresses out of a David's Bridal catalog is lame. Go Custom! We designed tulle skirts for the bridesmaids. We chose mint colored tulle and used ivory satin for the waistband. For a top my wife and I scrounged every JC Penny from here to Atlanta for ivory boat neck blouses that also happened to be peplum. Odd one might think, but peplum is classic and hot and looks good on just about every female shape. Thus the seam on the blouse where the peplum begins pulls every girl in and gives her a classic waistline especially when tucked into the skirt. We finished this look with pendant necklaces and nude heels…they work every time.
Tuxedos are too hot for July. Enter tailored navy poplin suits! (courtesy of Jos. A. Banks) We decided to keep the look cool and clean with plain white shirts. The wildcard was a multicolored bow ties that were mint on one side and navy on the other. This gave the guys dimension and complemented the bridesmaid's classic look very well. Topping off the look, cognac oxfords and the floral lapel pins. Now, the bridal party has new outfits in their closets fitting for any occasion.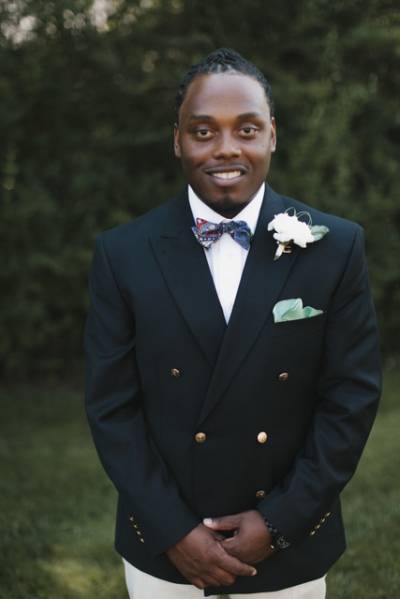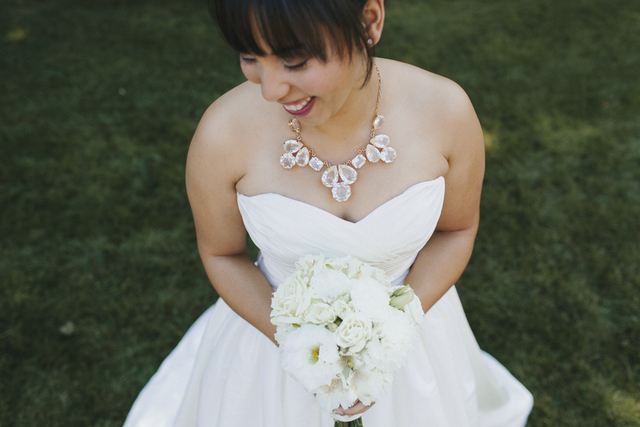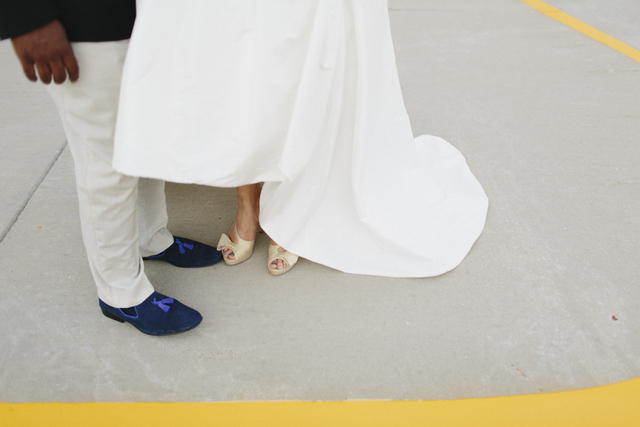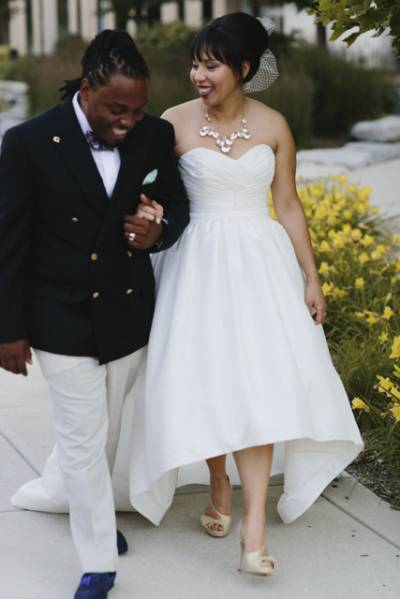 Music: It takes a village
Because George sings, he has a great network of musician friends who are ridiculously talented. Our friend plays every instrument under the sun and played the chapel's massive pipe organ as prelude music while guest were seated. Once the wedding started he transitioned to the piano to create more intimacy. Two other friends sang a medley of hymns and served as soloist during the bridal party and brides processionals.
Songs: "Did you know" by BeBe Winans– I've loved this song for ages it seem to tell the perfect story and hope for our marriage.
"The One He Kept for Me" By Maurette Brown Clark– Yet another song that spoke to the heart of our faith and union.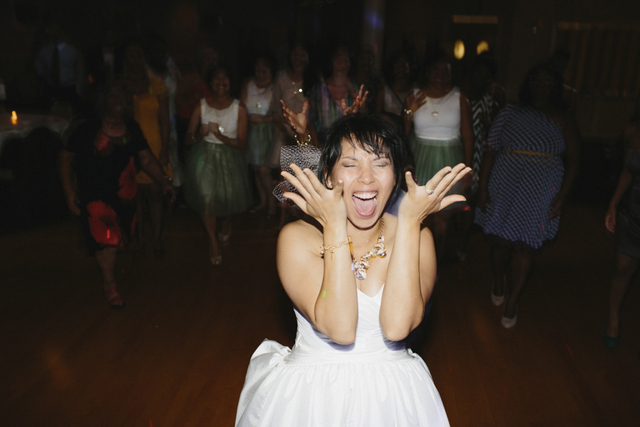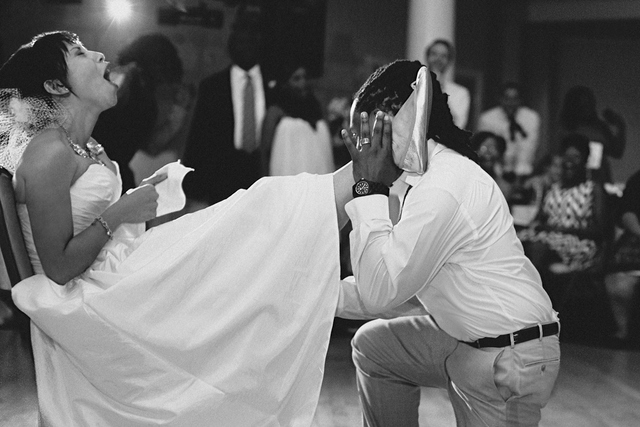 Congratulations to newlyweds Elicia and George. We wish you many more years of wedded bliss!
Vendors:
Photographer: Bryan and Mae
Ceremony Location: Calvin College Chapel
http://www.calvin.edu/map/chapel/
Reception Location: St George's Banquet and Conference Center
http://www.stgeorgebanquetcenter.com/
Florist: Renee Morris, Colleague and Florist friend of Elicia
Transportation: Classic American Luxury-Diamond White Cadillac CTS4
Cake: Sweet Melissa's
http://www.sweetmellisascupcakes.com/
Favors:popcorn from local business Dorothy & Tony's
http://www.dorothyandtonys.com/
Hand designed chopsticks (in honor of Elicia's Korean and Japanese heritage)
Hair and Makeup
Stationery : Jackie Rice
http://jackiericedesigns.com/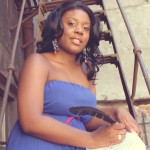 Curated by our Wedding Features Editor, C.K. Alexander. C.K. is the owner and founder of Love Ink and Brownstone Bridal. Keep up with C.K. on Twitter here: @Love_Ink