The beginning of Charney and Rasheem's love story is a familiar one. They were good friends from neighboring towns who became life partners. They were teenagers when they met in 2003. Although they had an undeniable bond, the two decided to remain just friends. However, things changed in 2006 when Charney and Rasheem officially decided to start dating. Over the years their bond grew stronger, and on the last day of 2013, they were engaged. The childhood friends celebrated their union with an elegant wedding with an African flair. "We wanted to incorporate details that gave a nod to culture and blend it with our New Jersey roots by hosting it in our hometown among our closest family and friends," said Charney and Rasheem. Check out their special day captured by Foster Ambitions Photography!
Bride: Charney Robinson-Williams, 27, International Event Manager
Groom: Rasheem Williams, 31, Mechanic
Place of residence: Baltimore, MD
Wedding date: 3/28/15
Wedding location: The Mansion on Main Street, Voorhees NJ
Honeymoon Destination: Punta Cana, DR
Engagement story:
The morning air was crisp and cold on New Year's Eve, December 31, 2013. We 'decided' to travel to New Jersey to spend the afternoon with family and bring in New Years with friends as we usually did. I did not know that Rasheem had purchased the ring in November and had planned with my mother a big surprise proposal on New Year's Eve. We planned to 'have lunch' first and then meet up with his best friend for a NYE Party. When we arrived in New Jersey, it seemed that everyone was acting weird towards me because I said no to lunch. Finally, I agreed to a late lunch as I was hungry and everyone was relieved. We arrived at the restaurant in his hometown promptly at 3 p.m. as planned and all of our family and friends were waiting for them. It was a complete surprise! Rasheem began to tell me how much I meant to him and how he hoped that our love would continue to grow forever. He got down on one knee and asked me to marry him. I was smiling from ear to ear, I was so happy, and of course, I said YES!
From the Groom:
I was excited and a little nervous. But, I was ready and couldn't wait to make this thing official!
The couple's most memorable moment:
My wedding day was everything! I had the most fun doing the "Tasting of the Elements" my girl Dr. Kaia Shivers spoke some very deep words. And the look on my groom's face when he tasted the kola nut was priceless!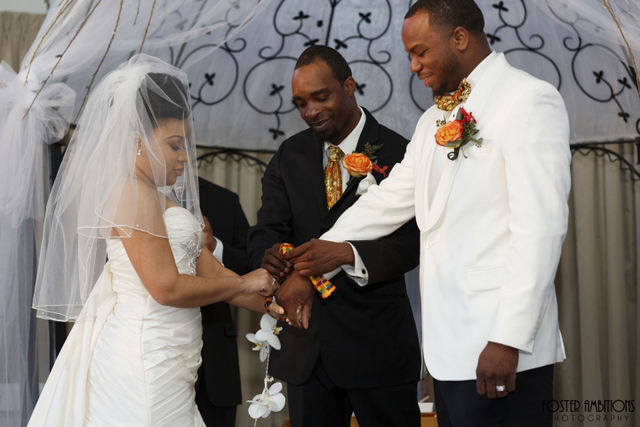 From the Bride:
Oddly, I was extremely calm. My bridesmaids kept asking me like "at what point are you going to freak out?" Everyone included myself was surprised at my calm demeanor but, I was at peace about everything. I had stayed up the night before making some last minute adjustments, the morning of the steamer did not work, oh and my mom was running around like a mad woman getting things done.. It was organized chaos I guess! Walking down the aisle felt like the world just stopped just for me. I was so happy to see my hubby beaming; he brings me so much joy.
Favorite wedding detail:
I would have to say my cake since it was custom made courtesy of the amazing wedding cake designer Karen Baxter. It matched my dress with my custom Ankara fabric. Not to mention the handmade flowers! Also, my wedding programs/mini magazines were created by Unlike Juliet. They were a hit! Everyone loved them and none of my guests had ever seen something like that used as a program before.
DIY Bride:
My wedding was DIY from beginning to end. My elementary school art teacher designed everything from hand: Linda Shelley of Parishell Studios in Hi-Nella, NJ. She was super awesome and helped me achieve my goals within my budget.
Wedding song, explain choice for song:
Walked Down the Aisle to: Chrissette Michelle "A Couple of Forevers." The title is self explanatory. It encompassed all of my feelings as I walked down the aisle.
We Walked into the Reception to: Jay Z and Beyonce's "Crazy In Love" because quite frankly that's what we are!
We Danced to Sam Smith's Acoustic version of "Latch". Odd choice I know. But, if you really listen to the words the song is pretty awesome. Sam Smith sings: "You lift my heart up when the rest of me is down/You, you enchant me even when you're not around/If there are boundaries, I will try to knock them down/I'm latching on, babe, now I know what I have found."
What are you most looking forward to as a married couple?
I'm looking forward to growing our family and getting old together.
Advice for a Bride/Groom on their wedding day:
Don't sweat the small stuff. Soak it all in, it all happens so fast.
Congrats to the newlyweds Charney and Rasheem! We wish you many more years of wedded bliss!
Vendors:
Photography: Foster Ambitions Photography
Wedding Decor: Parishell Studios, Linda Shelley
Custom Wedding Cake: Karen Baxter
Wedding Coordinator: Catherine Brooks
Assistant Coordinator: Lucia Brooks
Bride MUA: Courtney Singleton, MAC
Bridal Party MUA: makeupbychristalys
Hair: Amavi Salon
Bridal Hanger: Two Broads Design
Here Comes the Bride Sign: 4 Love Polka Dots
Wedding Programs/Mini Mags: Unlike Juliet
Bridal Shoes: Gucci
Bridal Gown: Blue By Enzoani (Brides Against Breast Cancer)
Veil: Windfall Bridal, Toronto, Canada
Bridesmaid Dresses: Style the Aisle
Groom Dinner Jacket: Jos A. Bank
Groomsmen Tux: Vera Wang Black, Men's Warehouse
Bridal Reception Dress: Renee France Designs
Bridesmaid Custom Tribal Belts: Renee France Designs
Groom & Groomsmen Custom Bow Ties: Renee France Designs
Music: DJ PutOn
Stationery: Carl Gabriel
Curated by our Wedding Features Editor, C.K. Alexander. C.K. is the creator of the Single Bride Blog and the owner and founder of Love Ink and Brownstone Bridal. Keep up with C.K. on Twitter here: @Love_Ink