What started as a teenage love affair soon became a full blown adult romance as Nicole and Charles journeyed through life from teens to adults together. Their love affair began when Charles asked Nicole out on April 22, 2001, while they were both in high school. Charles spotted Nicole walking her dog Sparky, while he was driving by with his cousin John who happened to attend the same high school as Nicole. Charles was smitten and wasted no time getting Nicole's email address from his cousin. Nicole and Charles started off virtually with frequent emails and instant messages, which led to phone calls, and finally their first date. 12 years later the two survived the many woes of an adolescent love affair and sealed the deal with a romantic wedding captured by New York based photographer Giovanni Viscariello. Check out their special day below!
Bride: Nicole J. Bennett, 26, Speech-Language Pathologist
Groom: Charles Bennett Jr, 28, NY Law Enforcement
Place of residence: Westchester, NY
Wedding date: 5/3/13
Wedding location: The Fountainhead, New Rochelle, NY
Wedding theme: Love Letters/Long Distance Love
Honeymoon Destination: Aruba in August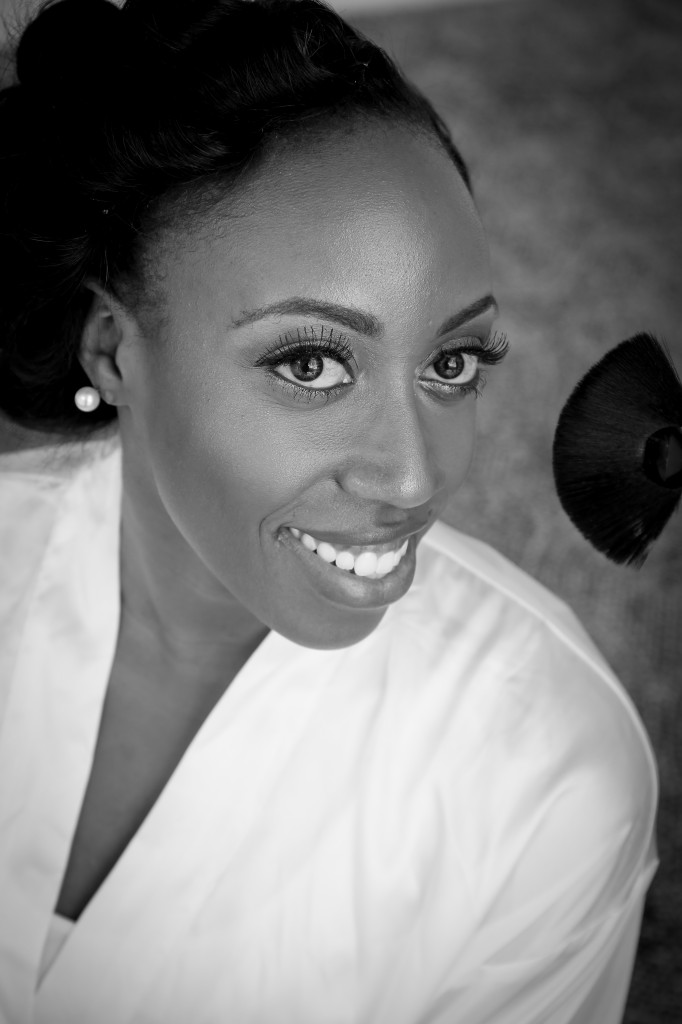 Engagement story:
On April 10, 2012, just days short of our 11 year anniversary, Charles asked me to be his wife. We had already picked out my ring and I knew it had been delivered to him. In true fashion, I had been nagging him about how much longer he was going to wait before he popped the big question (I repeat, 11 years…). Little did I know, he was planning a romantic dinner and proposal for the end of the week, but my buzzing in his ear got the best of him.
He came over one afternoon and began casually watching TV in my room while I prepared Easter egg baskets for a belated hunt with his nieces. When he stood up and came to where I had been sitting on the bed, I immediately knew what was happening and suddenly freaked. Full of nerves, I snapped at him, "Why are you hovering all over me?" as he silently took the Easter egg basket out of my lap and stood me up.
After waiting 11 years, suddenly I wasn't ready and wanted the moment to last forever so I moved forward and hugged him tightly so he wouldn't be able to kneel. We held each other for a moment of two, our foreheads and noses touching, both knowing what would happen next. As we separated, he bent down on one knee, told me how much I meant to him, and asked me if I would do him the honor of becoming his wife. Of course I said "Yes", he slipped the ring on my finger, and wedding planning immediately began!
From the Groom:
Honestly, my experience was stressful. My line of work is stressful by itself, but planning the rest of your life in a matter of months is even more overwhelming. On the big day, I was a little nervous in front of so many people, but in the end, it was all worth it, because my wife was happy.
Your best/most memorable moment:
Bride: My most memorable moment from the wedding was when we recited our vows to one another. I was just so happy knowing that in just a few minutes I'd be Charles' wife and I wanted to say the words just right so that he and everyone else would know my heart was his.
Groom: My best moment from the wedding was watching my wife-to-be come down that aisle. Not only did she look stunning in her off-white dress, but the way she couldn't contain herself, laughing all the way down the aisle, made me relax and forget about the hundreds of eyes that were on me. At that moment I was eager to start a new chapter in our relationship.
What makes your love special?
Our love is special and unique because of our devotion to one another. Over the past 12 years, we have been through so many ups and downs, but our love has been everlasting. As we have matured, our love too has grown and developed and through it all, we have remained side by side. The connection we share is one that has survived both distance and time and it is stronger than ever before.
From the Bride:
The wedding experience was the most stressful time of my life. If not for my mother, I probably would have lost my mind. Nevertheless, planning the wedding overwhelmed my life. I think it was mostly due to having dreamed of the day so long and my determination that everything to be just so. On the actual wedding day, I was surprisingly calm, because I knew no matter what, Charles would be my husband by the end of the night.
What are you most looking forward to as a married couple?
We are most looking forward to purchasing a house and expanding our family when we have children (hopefully after a few years of newlywed bliss!)
Advice for a Bride/Groom on their wedding day:
Bride: My advice for a Bride on her wedding day is to let the little things go. Not everything will go perfectly no matter how much planning you do, but everything will go as it is meant to. At the end of the day, all that matters is you marrying the one you love.
Groom: My advice for a Groom is to just relax, but also to savor each moment because those 5 to 6 hours fly by very quickly.
Congratulations to the lovely couple! We wish you many more years of wedded bliss!
Vendors:
Photographer: Giovanni Viscariello
Ceremony & Reception location: The Fountainhead, New Rochelle, NY
Bridal gown: Matthew Christopher from Designer Loft
Bridal party attire: Bridesmaids: Jordan- RK Bridal
Groomsmen: Calvin Klein- Men's Wearhouse
Groom's tux: Vera Wang- Men's Wearhouse
Cake Bakery: (Love Letter Strips & Hpnotiq bottle Groom's cake) Nanette Ingrao Conners of Pelham Provisions Bake Shop
Favors: Letter Openers with Stamps- Staples and United States Post Office
Hair: Stacy Ann Campbell at Meeka T, Inc. Unisex Salon Bronx, NY
Makeup: Oniedge Solomon Instagram: TouchedbyOnieridge /[email protected]
Flowers: Carl Weinberg of Bed Of Roses, Yonkers, NY
Stationery: Beth Cote of bdesignsinvitations
Article curated by our Wedding Features Editor, C.K. Alexander. C.K is the owner and founder of Love Ink. Keep up with C.K. on Twitter here: @Love_Ink