Janelle and Kenneth met through their mutual friends who also happened to be married. It was in April of 2016, Janelle was living in Chicago while Kenneth was stationed in Abilene, Texas. Their friends secretly thought Janelle and Kenneth would make a good couple. So a month prior to Janelle's visit to Texas at the end of February 2016, their friends encouraged them to exchange numbers and get to know each other before hanging out. Their first phone conversation ended up being over two hours long! A month later, Janelle went down for her visit and ended up spending the entire trip with Kenneth. The pair were inseparable for a whole year before deciding to tie the knot. Check out this beautiful couple's amazing travel-themed wedding at the Parmsans Station in Tinley Park, Illinois, captured by Jen Jinkens Photography.
Bride: Janelle Reid, 29, Wedding Photographer
Groom: Kenneth Reid, 29, U.S. Airforce Occupational Safety Technician
Place of Residency: Dover, Delaware
Wedding Date: October 14, 2017
Wedding Location: Parmesan Station Tinley Park, Illinois
Wedding Theme: Our wedding theme and the theme of our entire relationship is #TheAdventuresOfKenAndNelli. From the day we met, we have been pretty adventurous and traveled quite a bit so we are always up for an outing. We incorporated our theme in our venue, being that it was a train station. Our tables were named after places we have been together, and our wedding favors were bottle openers shaped like planes.
Honeymoon: It is still TBD. I moved to a whole new state right after the wedding so we opted to have a big one-year anniversary trip instead.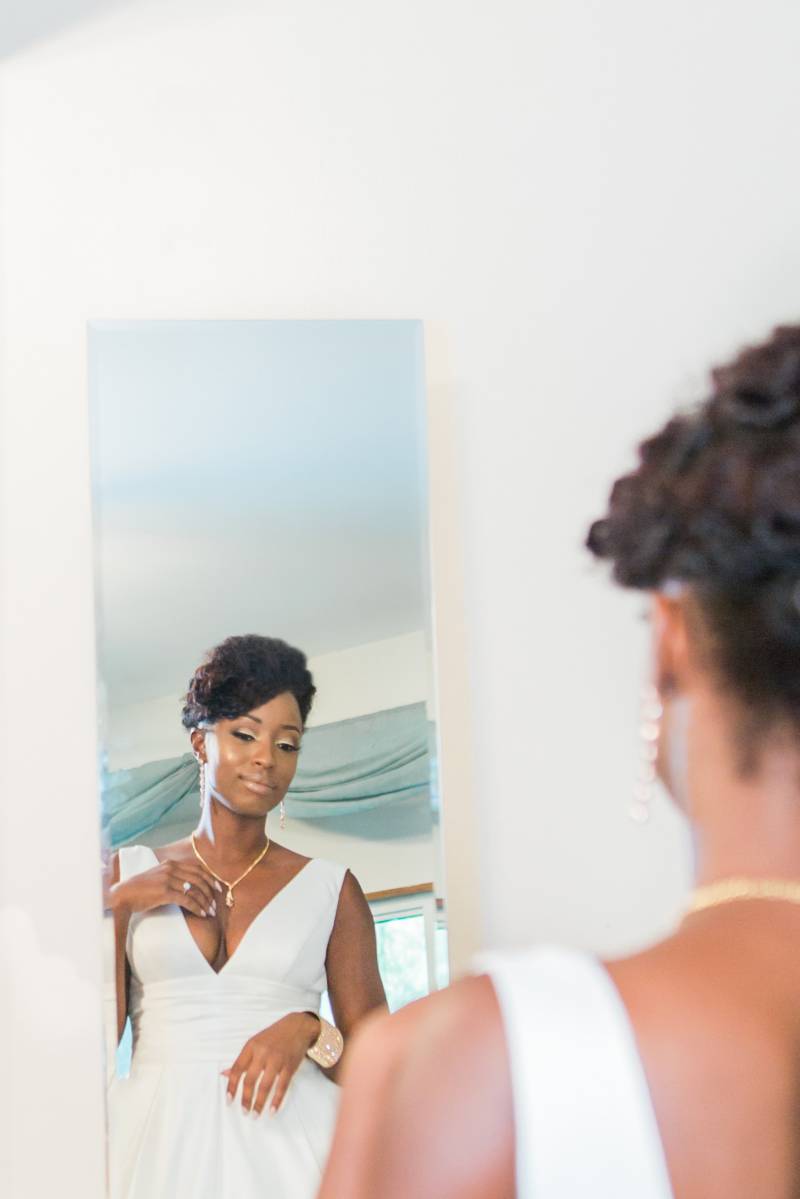 Engagement story:
Our engagement story is a funny one. About a year into dating, I knew the proposal was coming soon. In fact, a couple of my family members accidentally leaked a few hints. For my birthday Kenneth planned a trip to come to Chicago to celebrate with me. After a long weekend of celebrating on my actual birthday with friends and family, later that night he handed me an envelope with a card and a boarding pass to Montego Bay, Jamaica. The boarding pass was for a flight that was nearly hours later. I had no doubt that the proposal was going to happen in Jamaica, so I packed accordingly. When we arrived, he tells me he planned a surprise photo shoot in the rainforest. So I was even more convinced it is about to happen! At one point during the photo shoot, he even asks me if I was sure I wanted to marry him. And then… nothing. I was confused and a little disappointed but I decided to enjoy the rest of his company before he flew back home. Before we left I told him how cruel it was to mention marriage during a photo shoot in Jamaica and not actually propose.
We spent a few more days together and then I took him to the airport, said my goodbyes and went straight to my sister's graduation. Later that night I come back home to a surprise birthday party. I was confused considering Ken had left town already and my birthday was actually the week before, but I proceeded to enjoy everything my family and friends planned out. All of a sudden my mom insists on blindfolding me to give me what she called 'an overdue birthday gift.' After being blindfolded for about 5 minutes, someone grabs my hand and pulled off my blindfold. It was of course Kenneth! I was super surprised because I thought he had already left town. He proposed to me right there in front of everyone. The perfect surprise for a nosey girlfriend like me.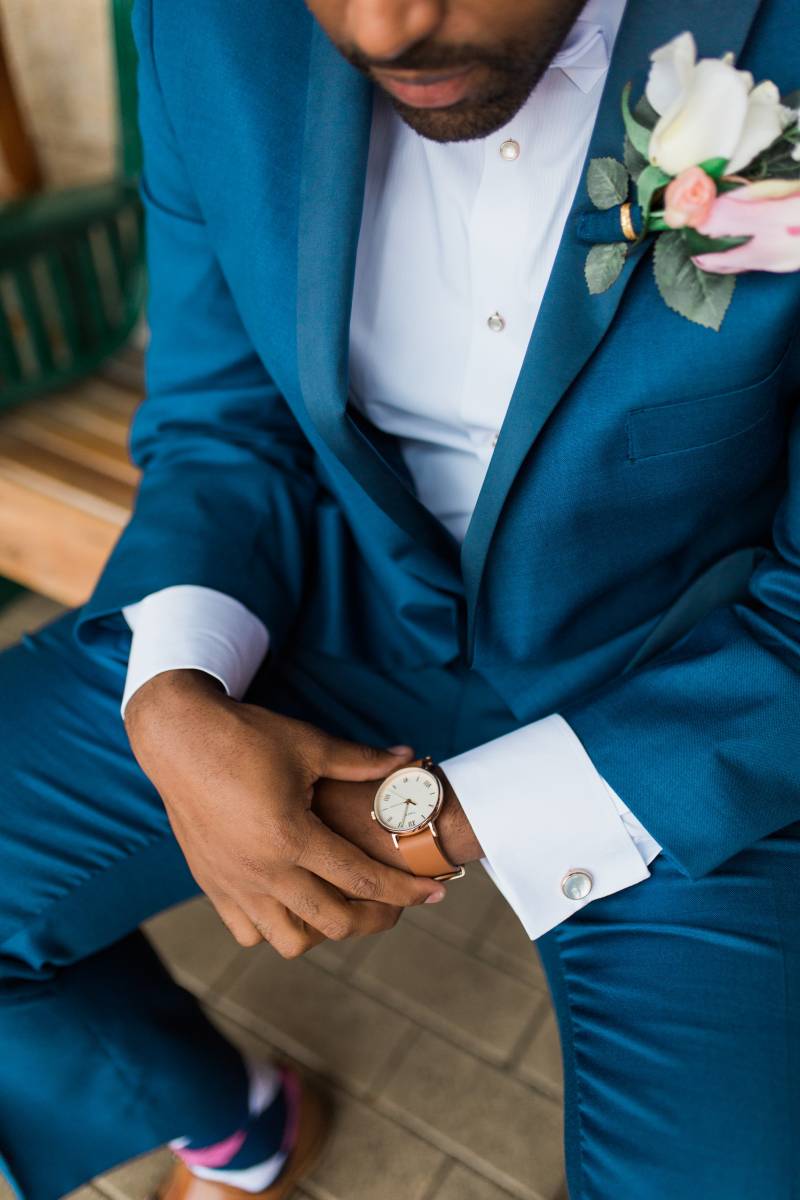 What makes your love special?
God is the reason we are together. A couple weeks prior to our first conversation, we were both in prayer about what we desired in a spouse. Kenneth asked god for a spiritually led woman and I made a very detailed list (it had like 20 different details on it) that started with a god-fearing man. Within a week of our first phone conversation, we were praying together daily. On our first trip to meet each other we went to church together on Sunday. God is the author of our love story and that is what makes us special.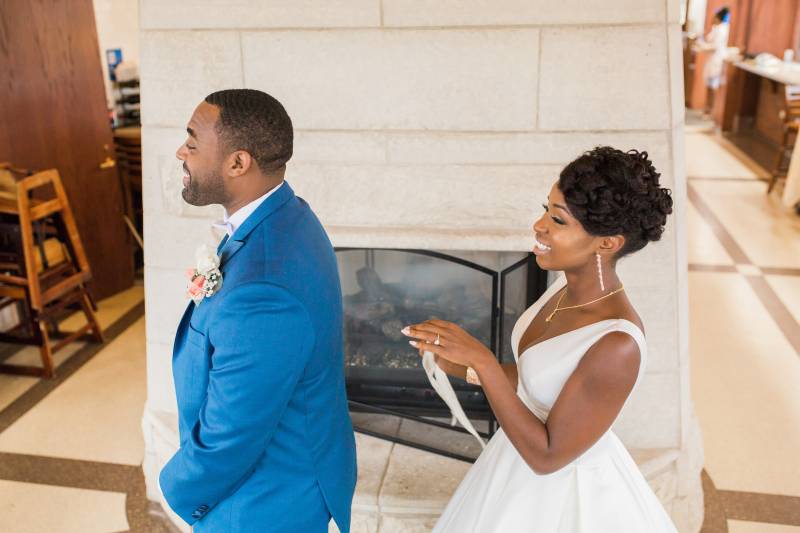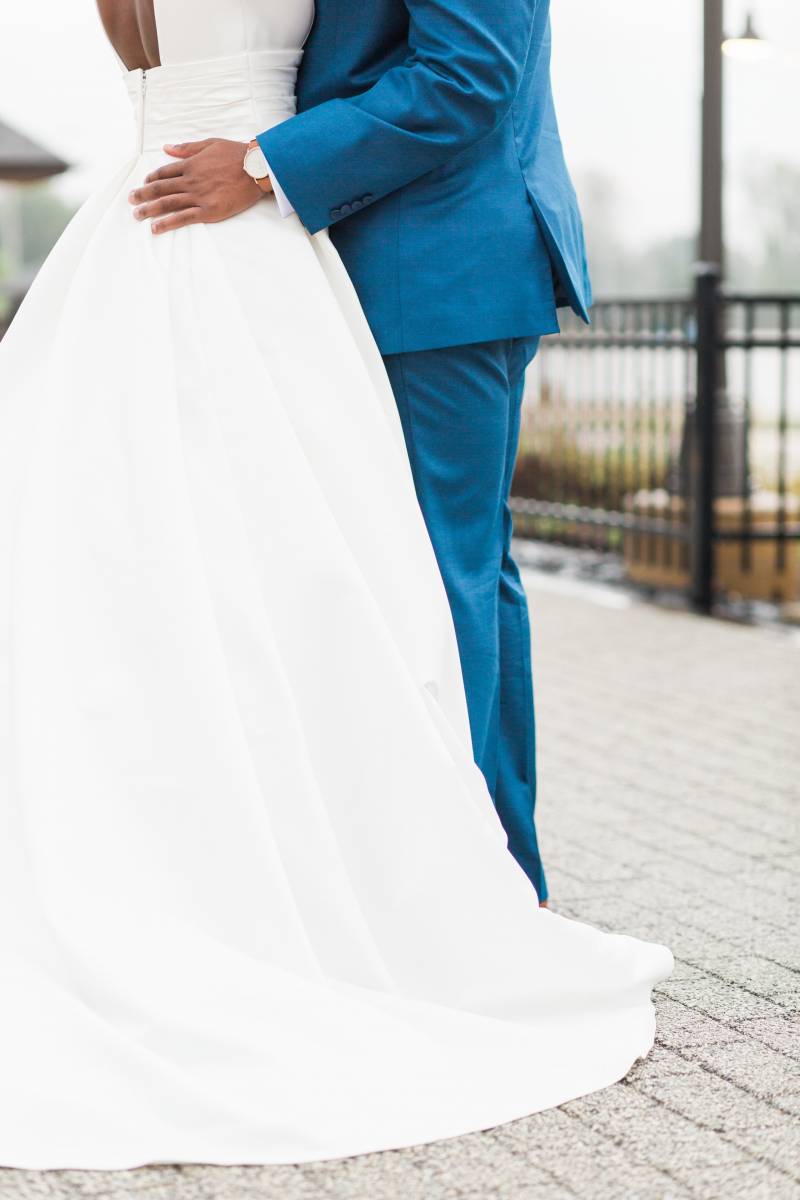 From the Bride:
My wedding day was amazing. But it did not go as planned. Our outdoor ceremony had to be moved inside last minute because it was predicted to rain ALL DAY. We also had to text our guest the night before to change the time and location (everything had to move to our reception venue). But it was perfect. I did not let the changes affect my excite
ment. It was small and intimate with about 70 people. The rain let up just long enough for us to get the outdoors pictures I was dying to take. And my god showed me how much he loves me by giving me such an amazing, thoughtful, loving husband. I would not have changed one thing.
From the Groom:
Our wedding day was a really relaxed and smooth day. It was exciting and blissful. I got to share it with the people I love the most. I was nervous but as soon I saw my bride it all became real. All I can say was thank you god for what you are doing. I could see the fruits of my prayers and patience in allowing god to provide the woman he had for me instead of trying to do it on my own. There is not a moment I take for granted.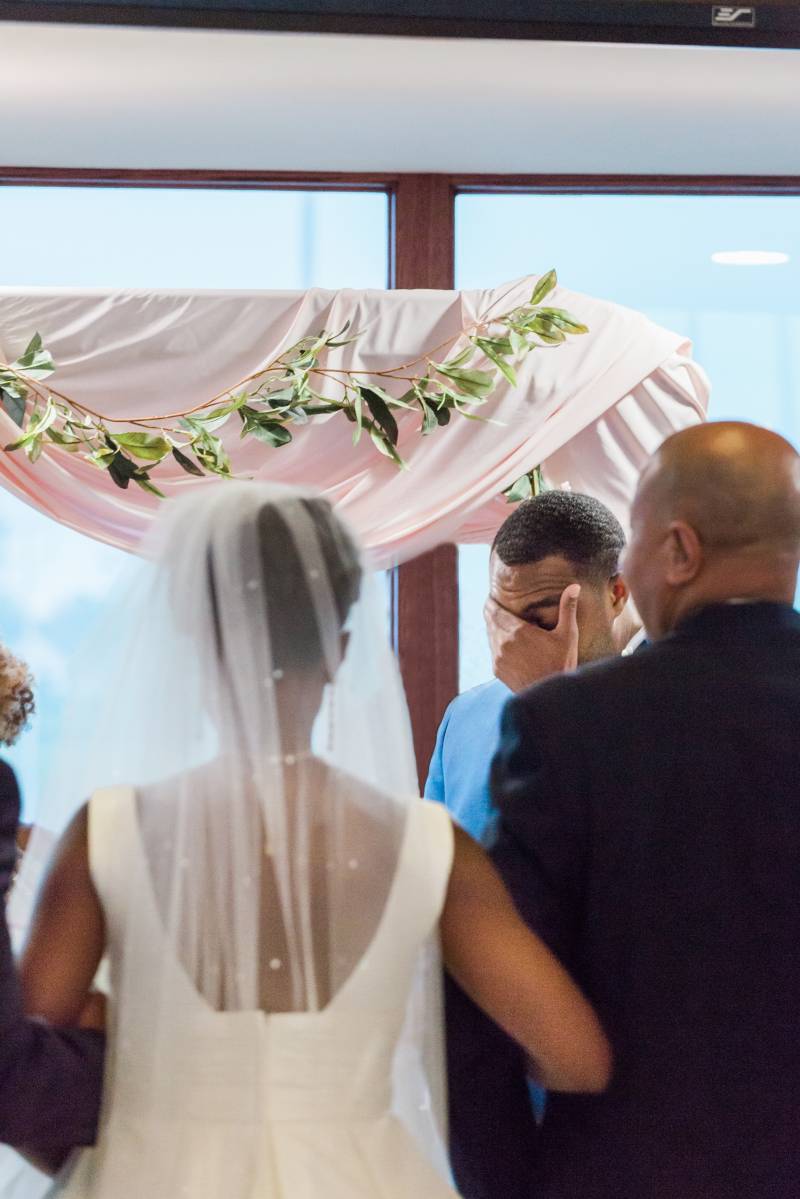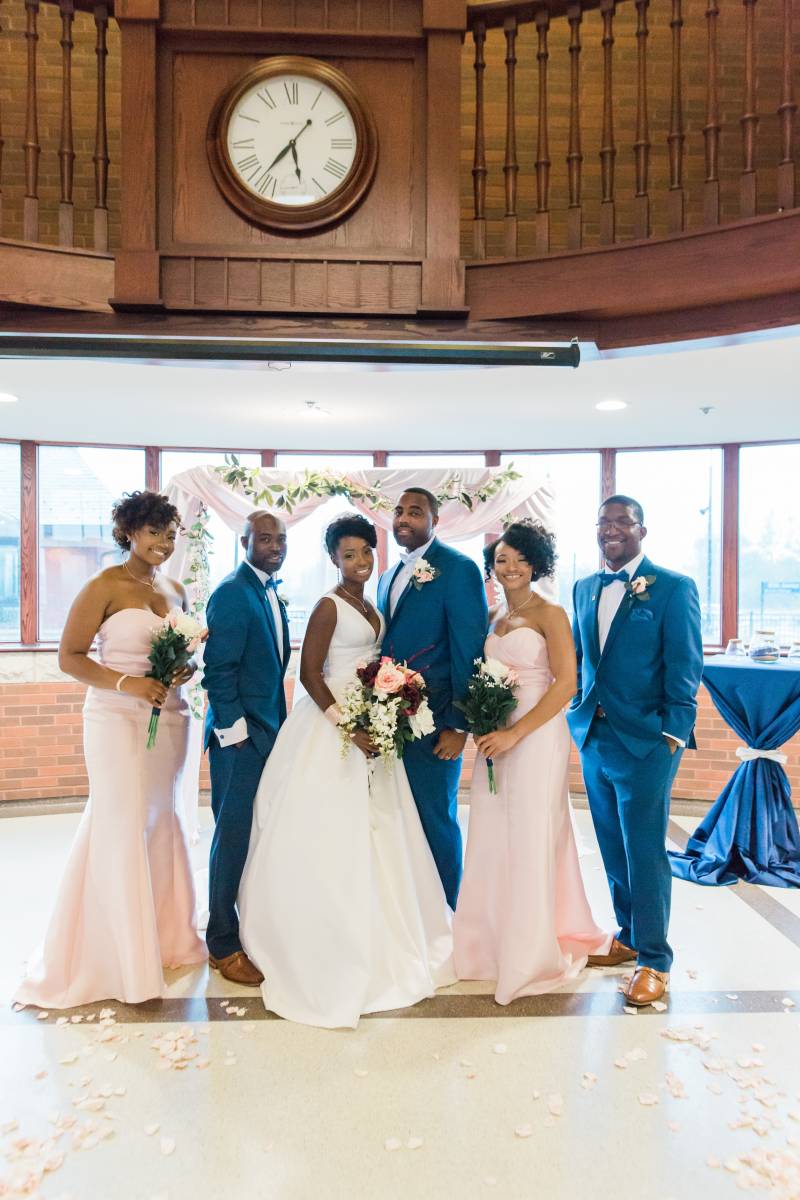 Your most memorable moment:
For both of us, the most memorable moment had to be when I walked down the aisle. Kenneth says seeing me walking down to meet him was an emotional moment. I was surprised when I saw the tears in his eyes. He is not an emotional guy so to see him cry meant a lot to me.
Wedding song:
Our wedding song and first dance were to Anthony Hamilton's "Giving You The Best of Me." Kenneth actually writes songs, and when we first started dating, he rewrote that song for me. We choose it because it will always be our song.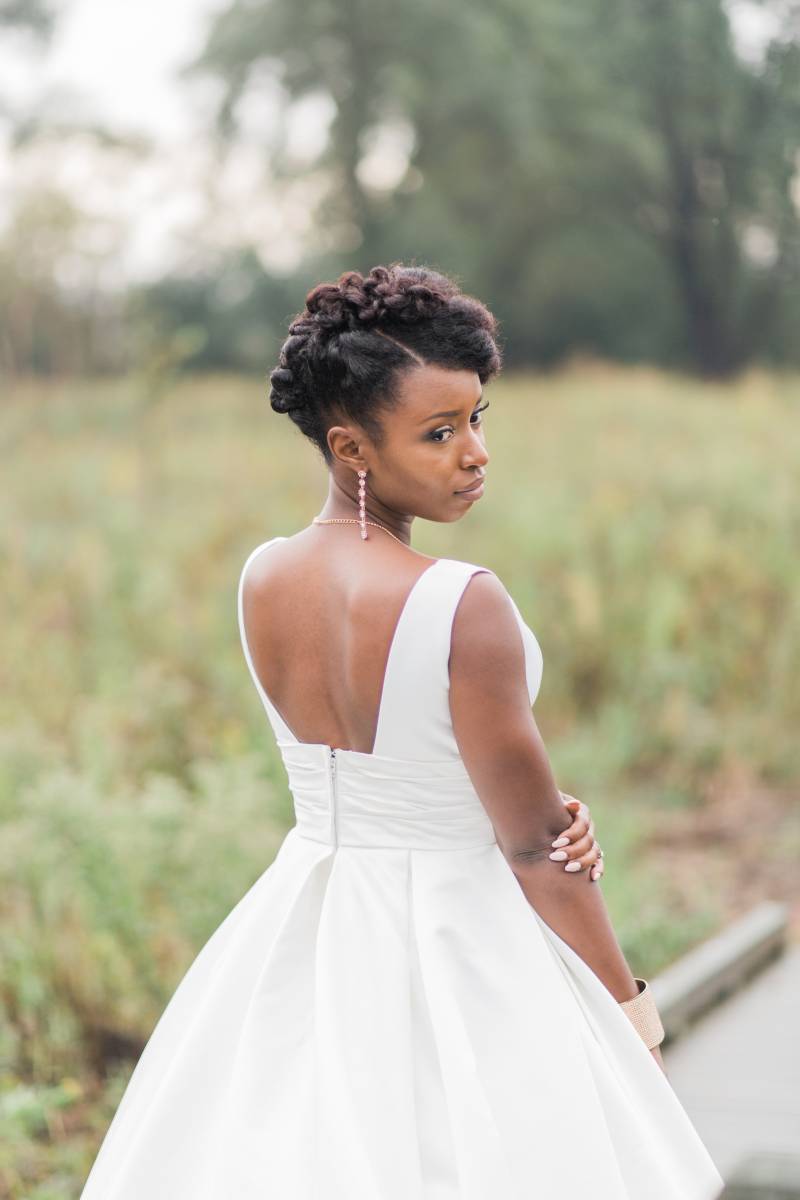 Favorite wedding detail:
Definitely our table settings and decor. We planned our wedding in just 3 months. It was a little shaky for a minute because planning a wedding on short notice gets a little crazy. The last month is when it all finally started coming together. But with my mom coordinating everything and my sister's decorating skills it all turned out gorgeous.
What are you most looking forward to as a married couple?
What we look forward to the most is really growing as individuals and together with god by our side. I believe our marriage is also attached to a purpose bigger than ourselves. We intend to allow god to use our marriage as an example of his love. We also cant wait to start a family together.
Advice for a Bride and Groom on their wedding day:
Your wedding day goes by really fast so don't forget to enjoy it and be in the moment with your new spouse. Do not let any mishaps (because there will be mishaps) take away from what the day is really about, the beginning of your new marriage.
Please feel free to include any other interesting anecdotes from your big day!
One thing that was really special was that our wedding was all DYI. My family (especially my mom who coordinated and my sister who decorated) and friends did everything to help us pull it together in 3 months. They truly were an amazing blessing. My mom was even the officiant which meant the world to me. This was the best wedding day ever!
Congratulations to the happy couple! We wish you many years of wedded bliss!
Sources
Jen Jinkens Photography|Parmesan Station|Brittany Mac|Davids Bridal|Davids Bridal|K&G Men's Store|Penthouse Sweets Chicago|Felisha Orchid|Candace Carson|Nova Studios|DYI by my event planner