By Binta Fondwi
TAHITI is the heart and soul of the South Pacific, offering captivating views, endless romance, and deep tradition. Your tropical dream wedding is always in season on Tahiti, as the temperature never dips below 75 degrees. This island of endless summer receives approximately eight hours of vibrant sunshine a day, making it a perfect setting for your 'I Do.'
Being an eight-hour flight away from Los Angeles, these islands are perfectly sandwiched between California and Australia. The juxtaposition of daring waterfalls amidst shady hiking trails and serene beaches with calm flowing waters make Tahiti one of the most diverse and alluring locations for a wedding.
Where to Wed:
The InterContinental Tahiti Resort & Spa specializes in making marital dreams come true. Start your dreaming with several different ceremony options ranging from the traditional to royal and everything in between.
On the Motu Iti
The Traditional Ceremony transports you and your wedding party back decades in French Polynesian history for a unique experience complete with traditional music, dress, and practices. The ceremony takes place on the Motu Iti (small island), which is one of several ceremony venue options. You and your groom will arrive at Motu dressed in traditional Tahitian costumes and will be greeted by the sound of the Pu (conch shell), along with Polynesian traditions and wedding symbols. Flower crowns and leis (flower necklaces) are exchanged in lieu of vows, and you are each given a unique Polynesian name. At the end of the ceremony, you will be wrapped with a traditional Tifaifai (Polynesian wedding quilt), which symbolizes your union. The service concludes with a special Polynesian dance show performed in your honor, and a Mai Tai served in a coconut shell.
On the Main Motu
The Royal Ceremony is as intimate as it is beautiful and takes place on the main Motu (main island) facing the sister island of Moorea. You are both invited to dress in a white Pareo (a piece of cloth worn wrapped around the body), which is the traditional wedding outfit of the French Polynesians. Once you exchange the flowers and leis as a symbol of your vows, your hands will be joined together with an Auti leaf (used for spiritual protection, purification, and healing) and blessed with coconut water. You'll be baptized with Polynesian names, and then wrapped in a Tifaifai. The ceremony concludes with you and your Mr. being introduced to a Tahitian dance.
Where to Unwind:
Deep Nature Spa
Relaxation knows no bounds at the Spa and Wellness Centre of the Intercontinental Tahiti Resort & Spa. The Deep Nature Spa is tucked away in a 300-square-meter tropical garden oasis that showcases a variety of relaxing and rejuvenating treatments. The Spa, by Algotherm, specializes in marine cosmetics that tap into the nutrients found in the waters of the South Pacific. A few of the Deep Nature Spa signature treatments include:
The Tahitian Wave is a relaxation technique inspired by the turquoise seas.
The Bora Bora Bliss Massage is reminiscent of the old Tahitian massage.
The Polynesian Taurumi Massage promotes harmony between the body and spirit.
Where to Dine:
Le Coco's
Is located in Punaauia and serves a variety of cuisine, including French, European, and of course Polynesian. Guests can choose from three original menus, each featuring a different theme and unique flavors.
Vaitohi Restaurant
This restaurant is in the Manava Suite Resort and serves a range of French, European and Polynesian delicacies. This exceptional dining experience showcases a modern twist on traditional island cuisine in an elegant setting.
Le Carre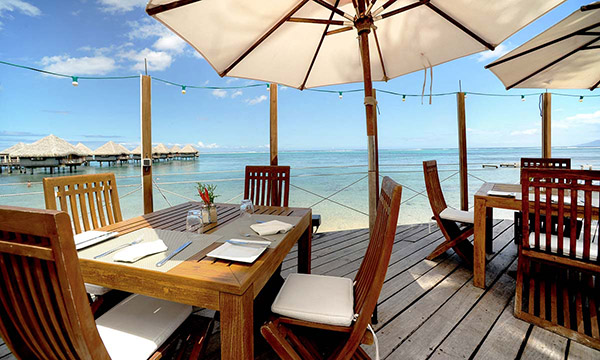 Allows you to dine with breathtaking views of the lagoon. It's known as one of Tahiti's most unique dining concepts and specializes in culinary creativity that shouldn't be missed.
Le Belvedere
Known for its sensational views, handcrafted dishes, and wine cellar, Le Belvedere is situated 600 meters up in the hills above Pape'ete. You'll fall in love with the stunning landscape of Moorea island and the lagoon of Tahiti.
Where to Explore:
Outrigger Canoe Breakfast
Experience room service like never before as a traditional outrigger canoe paddles up to your private villa deck to serve you a delicious meal at sunrise. Enjoy this breakfast on your very own terrace facing the tranquil lagoon.
Tahitian Cultured Pearls
Pearls are the largest export and a local specialty of the islands. Explore the black pearl farms and watch the grafting of the black-lipped oysters. Then stop by the Tahiti Black Pearl Museum where you'll learn how to judge the value of a pearl. The last step, buy your own pearls to take back with you as an everlasting souvenir.
Swim with Sealife
One of the more popular activities on the island is swimming with sharks and other marine life. Go snorkeling as you watch the docile reef shark and stingrays swim below for a truly once in a lifetime experience.
Tiare Apetahi Flower
Hike up the mountain peak of the sacred island of Raiatea where you will find the Tiare Apetahi Flower. This rare and exotic flower can only be found in one place in the entire world: Tahiti. The petals of this gorgeous bloom close every night and open at daybreak. The hike is a few hours long, but it's worth it to find something as rare as your love!
Visit tahiti.intercontinental.com for more information.
Binta is a Luxury Travel Concierge and owner of Elise Travel. She is passionate about traveling and is on a mission to provide memorable experiences for her clients.
Sources
Photography Courtesy of Intercontinental Tahiti Resort & Spa|Tahiti.com|Manava Tahiti Resort|Tahiti.com|Polynesia Booking|JC Penney|Welcome-Tahiti.com