Source: The African-American Bride via Pinterest
How can you possibly say "Yes" to the bridesmaids dress with so many opinionated ladies, a range of dress sizes, and endless styles? This season the abstract bridesmaid dress is a hot new trend. No more blase dresses of the same color, cut, and style. The bridesmaid dress has made a beautiful comeback with loads of color and plenty of fashionable twists that will accentuate every woman's size, complexion, and taste. The 2013 bridesmaid wedding day style is all about boldness of color, romantic silhouettes, and different textures. You can absolutely mix and match great dresses whether they are two-toned, monochrome, neutral, or vintage and wow your guest. Your bridal party is much more than just an attendant, they are your closest anchors who will be in the spotlight as well. These are just a few ideas to spruce up your bridal party for a fabulous wedding with effortless style.
The Perfect Silhouette
This probably the most important factor to consider when selecting your bridesmaids dresses. It is not easy to feat to satisfy one woman let alone several of them, so to make everyone feel comfortable and look fabulous chose a variety of shapes for each bridesmaid. You can keep each dress design cohesive with similar necklines and the same length hemline or allow more individuality with a variety of hemlines in the same fabric. Remember your want your bridal party to have a modern and effortless look, so keeping the same fabric and texture of the garment regardless of what style or length is key. Caution yourself not to become over zealous or talked into so much individuality that your bridal party looks all over the place.
Source: www.elegantbridalexpos.com
Source: Bridesmaids Dresses via Pinterest
Surce: mikeandmariyakidd.blogspot.com
The Perfect Palette
Spring has arrived and summer is just a few degrees away which means we are on color overload. The color of your bridal party sets the mood, translates your theme, and essentially is one of the most memorable aspects of your wedding. There is nothing like a wedding with an awful color splash all over the venue and the wedding party. There is no rule that say everyone must wear the same color, in fact trends are showing same toned color stories now even mixed with prints that compliment a certain palette family. From romantic pastels to vibrant carribbean hues a brilliant color story will translate the perfect wedding story for all your guest. Feeling a little overwhelmed in the selection process take a look at these ideas to better understand color creativity.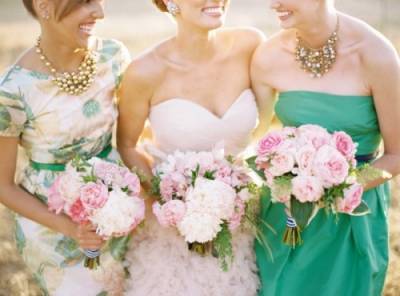 Source: www.weddingomania.com
Souce: www.onewed.com
Source: www.bellethemagazine.com
The Perfect Accents
The right accessories always adds character and glamorizes any ensemble. Allow each bridal member to further personalized her look with a few selections of great accessories or even custom bouquets. This is also a great idea to add if you prefer the bridal party to have the same color or dress. Jewelry, sashes, flowers, and hair accessories can all add individuality to each bridesmaid while still maintaining the overall theme of the wedding.
Source: www.weddingtonway.com
Source: www.lovemydress.net
Source: iloveswmag.com