Kasaan and Shawn met after they created online dating accounts, but neither of them really had interest in finding love "online" in the first place. Kasaan pledged to go on one more date before deleting her account, and that's when she was first introduced to Shawn. Their first date took place in 2014 at a restaurant in the Takoma neighborhood of Washington D.C. Three years later and this happy couple tied the knot on the Spanish Steps of their home city. Check out their wedding photos captured by Nick Tettey at JB Elliott Photography.
Bride: Kasaan Holmes, 34, Psychologist
Groom: Shawn Davis, 41, Software Developer
Place of residence: Washington, D.C.
Wedding date: March 25, 2017
Wedding location: Spanish Steps, Washington, DC
Wedding: Simplistic Chic
Honeymoon: TBD. We bought our first home one week prior to the wedding, and moved in five days after the wedding. We're in the process of planning a Caribbean honeymoon in the fall.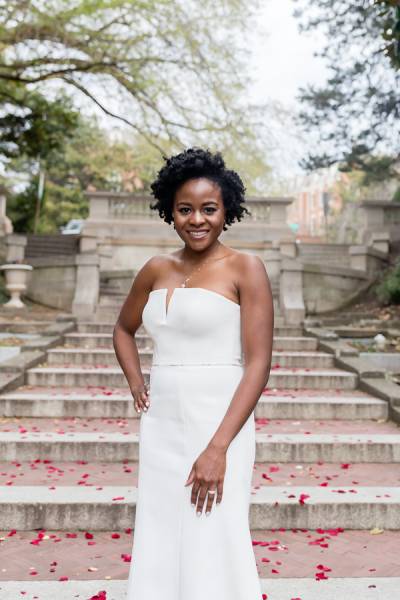 Engagement story:
Shawn prearranged our balcony with string lights, daisies, and champagne. After having dinner at the restaurant where we first met, we returned home I was shocked to see the balcony all decked out, but I was happy to see it was fit for a proposal.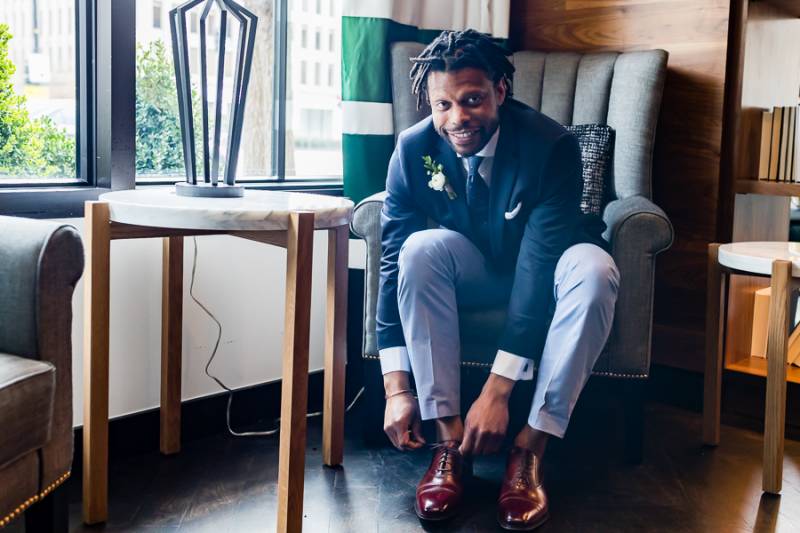 What makes your love special?
We're both pretty simple, but equally complex at the same time. Our relationship started organically and we just fit together, sort of like a jigsaw puzzle.
From the Bride:
I was never the type to dream about a wedding as a young girl. I didn't know what to expect when I started planning, but I was taken aback by how special the day felt. Mostly, it was just really fun!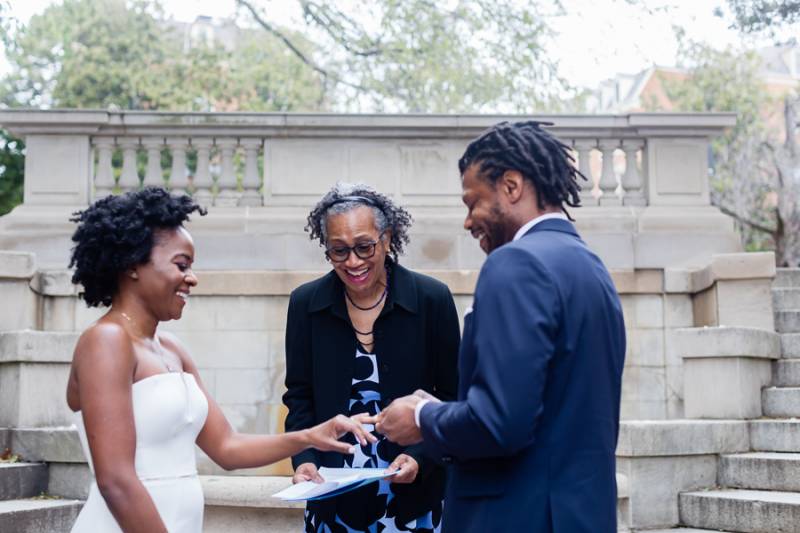 From the Groom:
My wedding experience was just how I had hoped it would be. We were with our closest friends and family. It was simple but elegant. We entered the day acknowledging that most things would go as planned, and anything that didn't wouldn't be bigger than our day.
Your most memorable moment:
After jumping the broom, we walked down a long set of Spanish Steps while our guests tossed rose petals above us. That was truly our most memorable moment.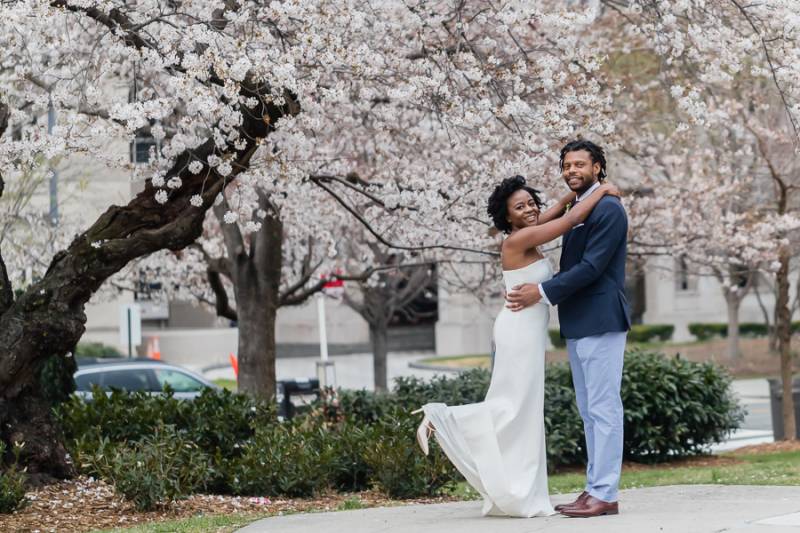 Wedding song:
We chose John Legend's "Start" which was on the soundtrack to the movie Southside With You. We loved the lyrics, so it only made sense that we chose it for our wedding day.
Favorite wedding detail:
One of our friends sang Ave Maria as our processional. Her voice was stunning and set the tone for our special day. It's something we'll remember for a long time.
What are you most looking forward to as a married couple?
Having a true life partner and best friend to share life's small joys, milestones, and best memories with.
Advice for a bride and groom on their wedding day:
Don't sweat the small stuff and focus on having fun.
Congratulations to the newlyweds! We wish you many more years of wedded bliss.
Sources