DeShana and Darryl met in 2007, which was the summer before their freshman year of college. They both attended an engineering summer bridge program at the University of Oklahoma. Darryl loves to tell people that DeShana was the first girl he laid eyes on and he knew from that moment on that she'd be the one. The pair dated for most of their college years, but took a break here and there after graduating. However, their love rekindled once they both lived in Houston. They always maintained their friendship no matter what. In 2017, they took the next step in their friendship as husband and wife with an elegant and classic Texas wedding. Take a journey back in time to see DeShana and Darryl's special day, captured by Pharris Photos.
Bride's full name, age, and occupation: DeShana Blackburn, 29, Computer Engineer – Information Technology
Groom's full name, age, and occupation: Darryl Blackburn, 28, Petroleum Engineer
Place of residence: Houston, Texas
Wedding date: November 11, 2017
Wedding location: The Bowden Events & Weddings, Keller, Texas
Wedding theme: Elegant & Classic
Honeymoon Destination: St. Lucia at the Ladera Resort and Sandals Grande St. Lucian. We stayed in the new over-water bungalows and it was amazing!
Engagement story:
It was my birthday, Dec. 28, 2016. I always celebrate my birthday, but this birthday was special because it was my "golden birthday" where I turned 28 on the twenty-eighth! Darryl planned to take me out to dinner for my birthday which wasn't really a surprise because that's how we celebrated most years. I came home after work and started getting dressed. He got dressed before me and was acting a little anxious, but I just figured it was his way of rushing me so we wouldn't be late, so I picked up my pace.
I walked out into the living room and he told me to go over to the Christmas tree to open my birthday present before we went to dinner. I still had no idea, because this was also a gesture that wasn't out of the ordinary. It was a medium-sized box, so I assumed it was shoes. As I started opening it, there was another smaller box inside. Then the next box also had a smaller box in it. I started getting the hint at this point but still wasn't sure. After opening at least five boxes, I finally got to a tiny red box. By this time, he started playing the song that I always told him would be our wedding song, "Amazed" by Boyz II Men. He took the tiny red box out of my hand and got down on one knee and proposed! Of course, I said yes! He then walked over to his phone and showed me that he'd recorded the whole thing from the kitchen so he could send the video to my parents and sister! It was such a perfect moment shared just between the two of us, which is exactly how I would've planned it.
After dinner, we headed back home and as we pulled in the driveway I see a huge sign on the garage door that said "Congratulations!" I was so confused and thought, "There's more?" I walk into the house and to my surprise, my closest friends and family were there to celebrate our engagement. It was such a special night and I'll never forget the love and joy I felt! It was a great birthday surprise and a wonderful way to end 2016.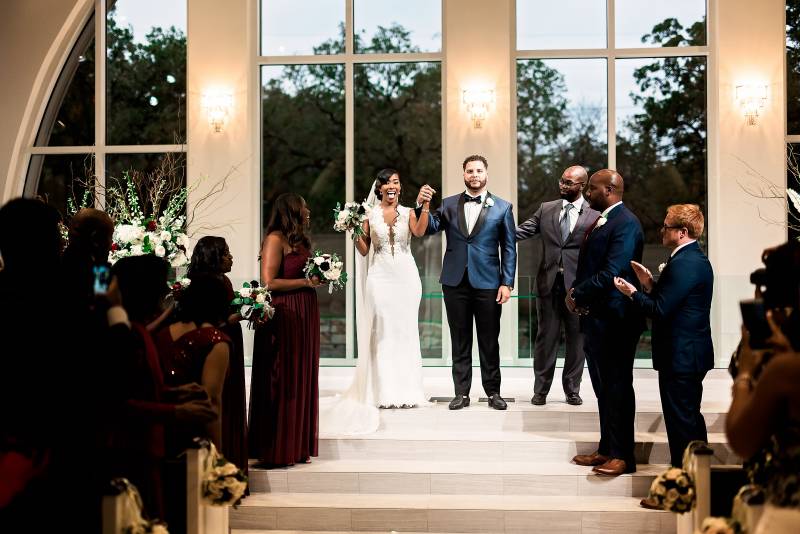 From the Bride:
My day was awesome! My bridesmaids and I all stayed in a hotel suite together the night before. I woke up before everyone and took some time to pray and reflect before the day began. Most of the day was spent on everyone getting their hair and makeup done. I read through my vows and made sure I articulated everything I wanted to say. My bridesmaids and I sang and laughed the day away while drinking mimosas. Everyone kept saying I was so calm and relaxed, and I really was. One piece of advice that I kept receiving was to really take in each moment on the day of because it goes by so fast. I was never nervous, just anxious to see Darryl and celebrate with all our family and friends. Our planners had everything taken care of and were so organized so I never felt stressed! Everything just transitioned so smoothly for me. I'm glad I was able to spend the day surrounded by the love of my closest family and friends. It's truly a memory I'll cherish forever!
From the Groom:
I had been waiting my entire adult life to see that woman walk towards me in that dress. I was together, for the most part, through the procession and of the party. But when it was time for her, I lost it; the anticipation was too much and I was overcome before the doors even opened, and then there she was. She was perfect. I'll always remember how collected she was, and I could tell she was trying to take it all in. The ceremony was so personal and organic, as if it were only us in that chapel. The day was perfect. I remember throughout the reception, I just kept checking to see if she was having fun. All I cared about was if she was enjoying it. I don't think there's anything we'd change. It was for the ages.
What makes your love special?
Honestly, our friendship is what makes our love special. At the end of the day, we're best friends. You know you're with the right one when you can sit in the same room for hours with no distractions and just truly enjoy each other's company. We're both ambitious and align on the goals we have set forth for our future. We complement one another in many ways which provides a good balance. We really just enjoy doing life together and learning new things along the way!
Your most memorable moment:
The vows we shared between one another was our most memorable moment. As Darryl began to read his vows, he really got choked up and couldn't get a word out. His mom shouted out, "Man up boy!" And everyone laughed so hard. It allowed for some comic relief and helped him to relax. Our ceremony was full of laughter and tears as we expressed our love for one another. Our pastor shared many encouraging words and provided some humor as well. We still have friends and family tell us how much they enjoyed our ceremony!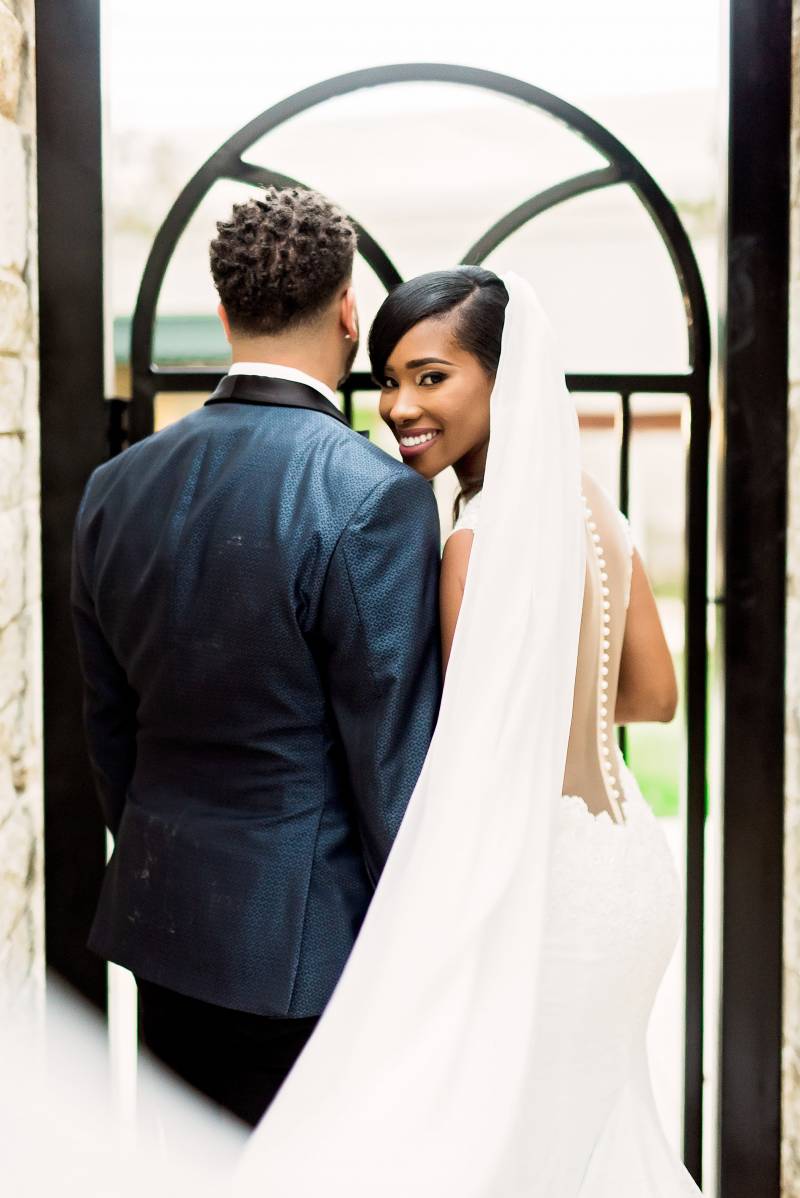 Wedding song:
Iur wedding song was "Amazed" by Boyz II Men. This song was originally recorded by Lonestar in the 90s. But I first heard the Boyz II Men remake while listening to Pandora back in college. If you know me, then you know I love Boyz II Men and their rendition of this song is just so perfect, and the lyrics just really speak to me. My favorite line is, "I've never been this close to anyone or anything, I can hear your thoughts, I can see your dreams." It just perfectly describes how in tune we are and like the song also says, "…and it just keeps getting better!"
Favorite wedding detail:
Our acrylic white dance floor with our initials monogrammed on it in gold. This was one thing that we faced a few roadblocks on, but my planners did everything in their power to make sure I had it. They worked tirelessly to get it set up on the day of the wedding and I absolutely love how it turned out. It was the staple of the room!
What are you most looking forward to as a married couple?
Sharing adventures. We both love to travel and laugh. We're great travel partners. Side note: To all couples thinking you've found the one, you'll never know until you travel to a new place together – to an uncomfortable place. That's when you really get to know someone).
For this stage of our marriage, we just want to enjoy each other, and enjoy new experiences together.
Advice for a Bride and Groom on their wedding day:
It's your day. No one else's. Put someone you trust, and you know has a good attitude, who's outside of your wedding party to be a runner. They can be in coordination with your planners, and handle things outside of your knowledge to limit the stress on you. Preferably someone who's married, who's been there, and has your best interests at heart – and then when your day is done, be that for someone else.
Congratulations to the happy couple! We wish you many years of wedded bliss!
Sources
Pharris Photos|The Bowden Events & Weddings|Ines di Santo|David's Bridal|Festari for Men|Creme de la Creme Cake Company|FnG Catering|9 oz. monogrammed stemless wine glasses|Jane Deux Event Management|Crystal Sowah|DJ View|Miesha McDade|Double Dutch Inc|Root + Bloom Floral Design|Minted