Wedding season is here, and celebs are clearly feeling the love! With many recent star-studded engagements, Wedding Paper Divas experts handpicked some invitation designs as a preview of what they expect to see from some of our favorite celebrity couples and their upcoming nuptials. Check out the celebrity inspired invites below.
Amber Heard and Johnny Depp
Wearing a girl's engagement ring isn't the strangest thing we've seen on Johnny Depp, and we predict his upcoming wedding to model Amber Heard will be an affair as unique as they are. For their invitation design, we see them going for something similar to this simply stated gold foil design. Metallics are a hot trend, perfect for that couple looking to add a touch of drama to any design.
Mila Kunis and Ashton Kutcher
After keeping their engagement (and pregnancy!) a secret for some time, Mila Kunis is finally sharing all the joyous news and we can't wait to see what the bride-to-be and her actor fiancé Ashton Kutcher are planning for their big day. This design would be perfect for the couple, who is famous for their laid back style. It adds a touch of elegance and romance, but is still fun and playful.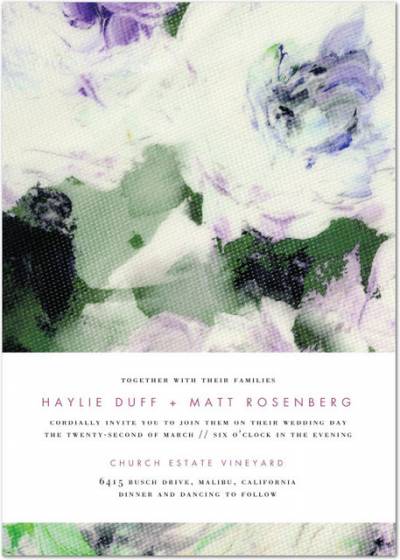 Haylie Duff and Matt Rosenberg
This design from the new Marchesa collection, available exclusively at Wedding Paper Divas, is simply chic like the actress, singer and blogger, Haylie Duff. It's sweet and feminine, but the dark undertones will also appeal to her entrepreneur fiancé, Matt Rosenberg. Whether it's an outdoor summer wedding or an intimate wintertime affair, this design is perfect for any season.
George Clooney and Amal Alamuddin
The shock that one of our favorite bachelors is off the market is still wearing off, but we're already looking forward to what is sure to be a wedding to remember. We're swooning over the emerald cut rock that the actor gave his British human rights attorney, Amal Alamuddin, and if it's any indication, the nuptials will feel as stunning and classic as this powerhouse couple is.
Ashlee Simpson and Evan Ross
If we take a cue from their lavish engagement party and her one-of-a-kind ring, we're thinking Ashlee Simpson's wedding to Evan Ross will be a vintage affair. This design perfectly illustrates the Modern Vintage trend, featuring classic shapes and patterns reinvented.
Let us know which celebrity style is your favorite in the comments below. Visit Wedding Paper Divas to find wedding stationery that matches your style!