Photo Credit: Amazon.com
Planning a wedding around the the winter holidays is hectic enough. And although winter is a gorgeous time of the year for a white wedding, finding the perfect colors to fit your winter wedding theme can be just as daunting. Many brides try to stick to tradition when it comes to wedding colors. But it is very important to remember that this is your special day so be sure to incorporate as much of your own personal touch when it comes to colors and style.
If you are still in need of colors and fashion inspiration check out our winter wonderland wedding inspiration to help jumpstart your creative planning.
Red, White & Green
When you think of red, white and green as a color scheme you may automatically think of Christmas. While these colors may be a standard when it comes to a Christmas theme they also work beautifully as colors for a winter themed wedding. When using red consider darker shades of red such as burgundy or wine. Utilize the same idea when choosing your shades of green. Darker shades of green to consider are forest green, emerald green and hunter green. Darker shades of red and green will go with your winter theme perfectly. Be sure to add hints of white throughout and maybe a little gold or silver as well.
Photo Credit: Knotsvilla.com
Photo Credit: Christian Louboutin
Photo Credit: Sealed with a dress (Etsy)
Photo Credit: City Girl Cakes
Black & Gold
For those who are looking for a winter theme but not so much a holiday theme, black and gold is a very popular combination for a more sophisticated, low-key wedding. Black and gold is a beautiful winter wedding combination that is versatile, easy to incorporate and can be used just about everywhere in the wedding. This combination is a great pick for a seductive evening wedding or a masquerade themed wedding.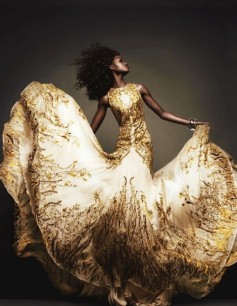 Photo Credit: Alexander McQueen Wedding Gown
Photo Credit: Cake Central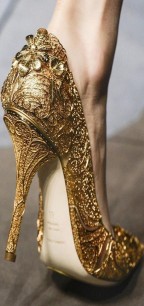 Photo Credit: Dolce & Gabbana
Photo Credit: Ruffled Blog
Photo Credit: Style Me Pretty
Photo Credit: Ruffled Blog
Pale Grays & Browns
You may think of spring when you hear pale shades such as pale pink, purple and green. But when matched together with hints of browns and grays, the pale colors work very well together to give an amazing winter feel to your wedding. Adding the brown, gray or even navy blue to your color arrangement will help tone the lighter colors down and give a more soothing, rustic feeling to your wedding theme.
Photo Credit: Weddbook.com
Photo Credit: The Sweetest Occasion
Photo Credit: Teapots & Tartan
Photo Credit: Brides.com
Do you love winter weddings? Share your comments below or on social media @blackbride1998
Credits