The vibrant city charm of Baltimore's historic Mt. Vernon district boasts a luxurious gem. The Ivy hotel, which opened mid-2015 is one of the only two Forbes Travel Guide Four-Star properties in the city and is the Mount Vernon neighborhood's only luxury hotel. Gorgeous, romantic and welcoming, perfect for local staycationers and out-of-town guests. The Ivy is the first highly-inclusive urban hotel, with a nightly room rate that includes accommodations, breakfast, internet, a mini-bar, wine, spirits, delicious snacks, daily afternoon tea, and exceptional car service. It doesn't get any better than all-inclusive at The Ivy!
The magical indulgence begins when guests are first greeted at the lower level door, where they are then ushered to the private elevator that goes up to the first room seen in The Ivy Hotel, The Conservatory. The Conservatory is a social space centered around an oversized fireplace that radiates warmth along with a beautifully restored piano that belongs to the heirs of the original owners. Floor-to-ceiling windows overlooking the hotel's courtyard and always-flowing Champagne are offered while guests head to check-in. Check-in is one-on-one and seamlessly includes a tour and history lesson of the hotel.
Take comfort with a relaxing and delicious Afternoon Tea served daily downstairs in the well-appointed comfortable tea room. Relax and enjoy a good book or engage in great conversation with your companion or guest. And begin your evening with a cocktail at The Mansion Bar before heading out to dine at a local restaurant or stay on the property and dine at conveniently located downstairs Magdalena Restaurant.
Take in the architecture of the woodwork and the mesmerizing pineapple etched chandelier as you head upstairs to retire for the night in one of 18 impeccable dreamy rooms and suites. In case you didn't know, in the hotel industry, the pineapple is the universal symbol of welcome and hospitality. Which, of course, should truly embody the way you make people feel. Welcomed. Invited. Appreciated. Important. Valued. The Ivy Hotel is certainly where you'll indulge in a refined, luxurious and hospitable experience.
The Urban Oasis offers nine suites and nine rooms, each uniquely designed and ranging in size from 285 square feet to 985 square feet. Every room has a fireplace, a private, oversized bathroom, a one-of-a-kind armoire designed by a local artist, tall windows, and is equipped with state-of-the-art technology with large flatscreen TVs and high-end lighting. Some rooms have balconies, four-poster king beds, and others easy access to The Ivy Spa. Oversized soaking tubs, showers, heated stone floors, and double vanities beckon guests into the spa-like bathroom.
Before you're sure to pick up the phone to order room service for breakfast or dine in, with only a few steps downstairs, you're led to the Magdelana Restaurant. We highly recommend The Ivy's famous breakfast with the Lemon Soufflé Pancakes. They are fluffy and scrumptious!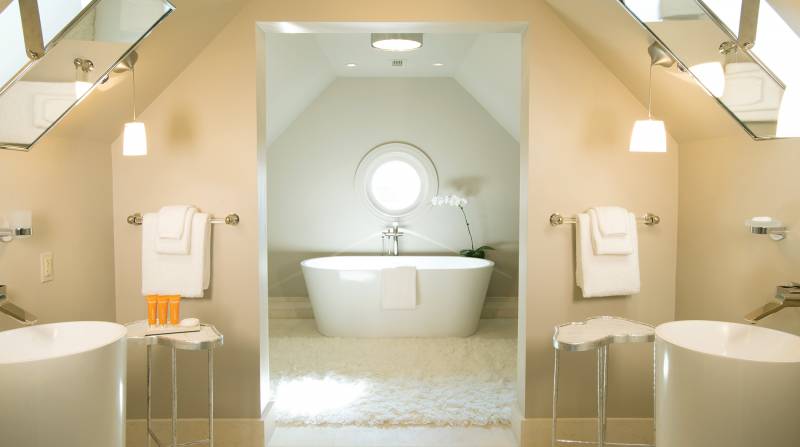 The Ivy's flowering courtyard is perfect for intimate celebrations like an intimate wedding. With a capacity that can hold up to 60 guests, it's the perfect place for an engagement party, bridal brunch, rehearsal dinner and reception. Celebrations are very much welcome with so many amazing intimate areas inside the hotel.
The Ivy is also ideal for intimate board meetings and corporate events in spaces like the Conservatory and Tea Room to the outdoor courtyard to Magdalena's wine cellar. Rooms are available for rent and catering as needed and can be done on-site via Magdalena. The property can be exclusively bought out in its entirety and cater to executive retreats and events that require the facility to be in a fully private capacity.
The Ivy Hotel is co-black-owned by Eddie C. and C. Sylvia Brown. The restoration and creation of various furnishings for the hotel help local artisans, a well-known interior designer, and numerous architects, who came together to create a masterpiece. It was such an honor to visit the hotel during Black History month. During our stay, we met with the philanthropic couple's daughter, Jennifer, who is real gem. We laughed and talked the night away!
Visit theivybaltimore.com for more information.
Sources