It was June 2019 when Yolanda and Darrell first met in Fort Bragg, NC. The two active duty Army Officers were attending a ceremonial event for a mutual friend and mentor who actually tried to introduce them days before. Drawn to her energy and smile, Darrell approached Yolanda after the event. He was fairly new to the area and was trying to get integrated into the community as he was selected to become the president of a local mentorship organization. They exchanged numbers and made plans to chat over dinner that night.
Yolanda had a late day at work and texted Darrell, "Hey! Would your feelings be hurt if I took a raincheck for tonight? I'm still at work and exhausted." His response was, "My feelings would absolutely be hurt. I'll see you tonight." They met for dinner, and now they are preparing to tie the knot this summer! Get inspired by their breathtakingly gorgeous engagement session captured by Reem Photography, and previously featured in the Summer 2022 Issue of Black Bride Magazine.
Bride: Yolanda Benson, 37, US Army – Medical Service Corps Officer
Groom: LaDarrell Willis, 39, US Army – Engineer Corps Officer
Place of residence: Honolulu, Hawaii
Engagement Shoot Location: Salt Lake City, Utah
Wedding date: July 1, 2022
Engagement Story
Two months after we met, I was relocated to Texas for work. Darrell and I made a commitment to continue physical and virtual date nights to ensure our long-distance relationship kept its fire.
In February 2021, we had a photoshoot in an art museum in NC that I planned several months in advance. During the outdoor portion of the photoshoot, Darrell asked me if I needed to use the comb he stashed away for me in his coat pocket since my hair was becoming frizzy from the light rain. I turned around to check my hair in the reflection of the window and saw Darrell drop to one knee behind me. I slowly turned around to make sure he wasn't just tying his shoes, but he was indeed on one knee with a ring! The photographer also had no idea that he was proposing, so she was just as shocked as I was and was able to capture it all.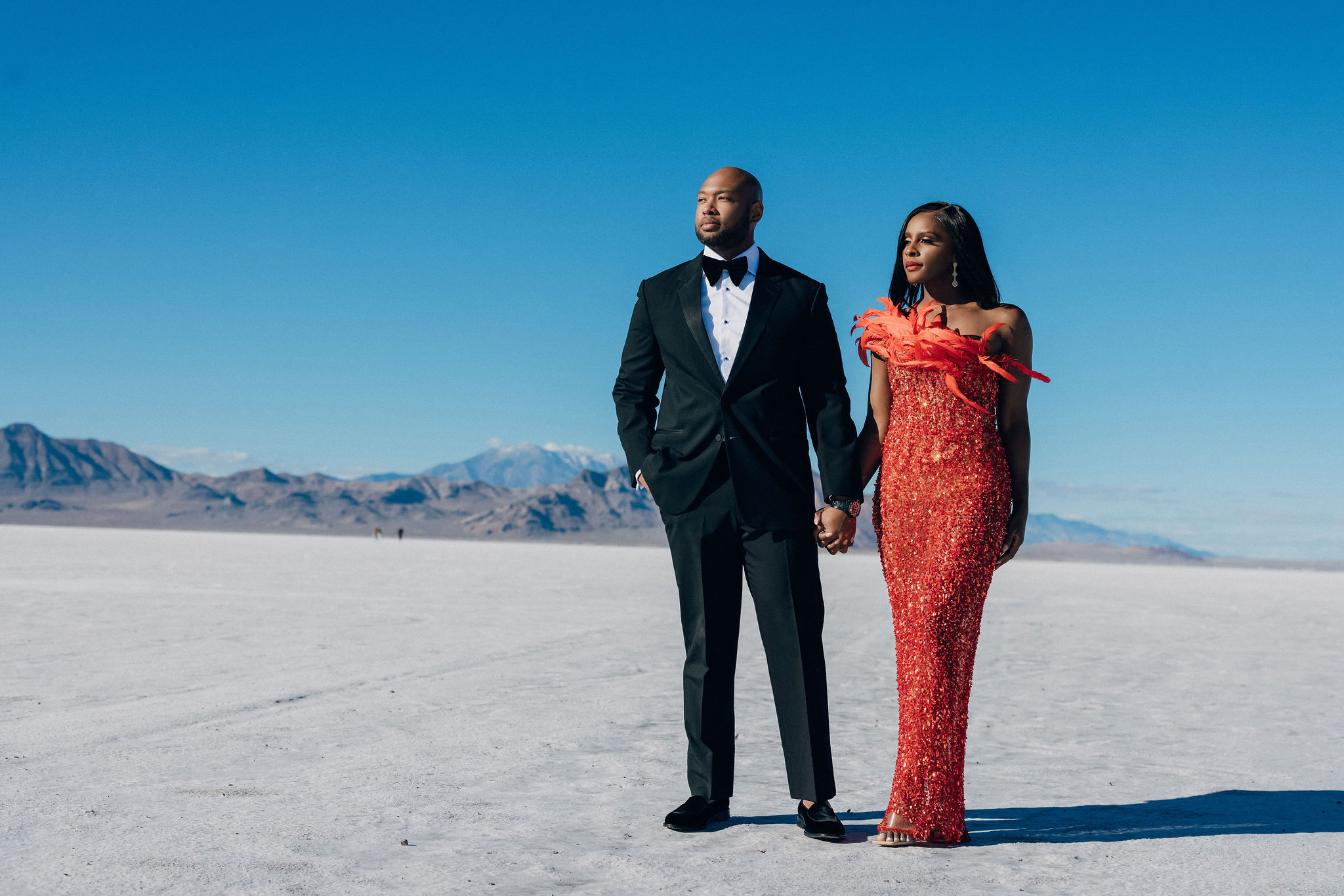 For the Groom: Walk us through the behind the scenes of creating this special day.
Leading up to the proposal, Yolanda and I did some ring shopping months prior via FaceTime. I secured the ring without Yolanda knowing because we lived roughly 1,500 miles apart. Since she is not one for being the center of attention, I knew that the proposal had to be an intimate, meaningful one.
The perfect opportunity presented when Yolanda scheduled a photoshoot for one of our Valentine's Day weekend events. I knew I wouldn't ask the big question until the end of our session just in case she started to cry. I told no one of my plans, so even the photographer was shocked when I dropped to one knee. It was such a genuine and intimate moment that reflected our love for one another in the most perfect way.
Were there any memorable moments during the shoot?
We are an adventurous couple, so we preferred a location that would provide adventure and great sightseeing as we were both coming from our homes in Texas and Hawaii. Our photographer recommended Bonneville Salt Flats in Salt Lake City, Utah, and without hesitation, we agreed.
The salt flat provided a white blanket ground with the most symmetrical imperfections. The mountains were a pristine blue, so our brown skin was a perfect addition to the canvas. There was so much creative space for the photographer and videographer to just work their magic, and that's exactly what they did. The energy was so perfect!
What are you most looking forward to about your wedding?
We are looking forward to celebrating our union and the merging of our families' cultures. I am Nigerian, and Darrell is from Louisiana, so the cultural displays of music, dance, food, and energy will be the best parts of the wedding.
Additional Event Information
We've featured the below wedding pros, but we don't know much about them yet. Featured below? Click here to get started.