Azundra and Keithtrick met in January of 2018. He was with a few of his friends, and caught Azundra's eye. She decided to approach him and asked to smoke his hookah. Shortly after, it dawned on him that he had been following her on Instagram for a while and was pleasantly surprised that Azundra spoke to him. After exchanging direct messages, the two became good friends. In August of 2019, they officially became a couple and have been together ever since. Share in the joy of their gorgeous, intimate wedding ceremony in St. Lucia captured by Jelani Le'bourne.
Bride: Azundra Denson, 34, Event Planner
Groom: Keithtrick Denson, 35, Entrepreneur
Photography by: Jelani Le'Bourne
Place of residence: Houston, Texas
Wedding date: June 25, 2022
Wedding location: Sandals Grande St. Lucian, Gros Islet, St. Lucia
Wedding theme/motif/inspiration: All white, modern, and intimate
Honeymoon Destination: Gros Islet, St. Lucia
Engagement story
January 26, 2021, we decided we would have date night, but something was different about this day. We started at the mall because Keith wanted to buy me something nice to wear.  I put this dress on and it was perfect, I felt so beautiful, so he insisted we get it. While we're at the register he picked out a bracelet for me to compliment my dress. Keith would always say; "before you get a ring I will gift you with three things, earrings, a necklace, and a bracelet." Little did I know this was it! 
Later that day, we headed down to the lobby of our residence and as I turned the corner to my surprise my entire family, his entire family, and all our friends were just standing there. Before I knew it, Keith was down on one knee asking me to marry him. I was shaking! My soulmate was asking me to marry him! How could I not say YES! To be able to share that moment with him, our son, and our family was such a blessing.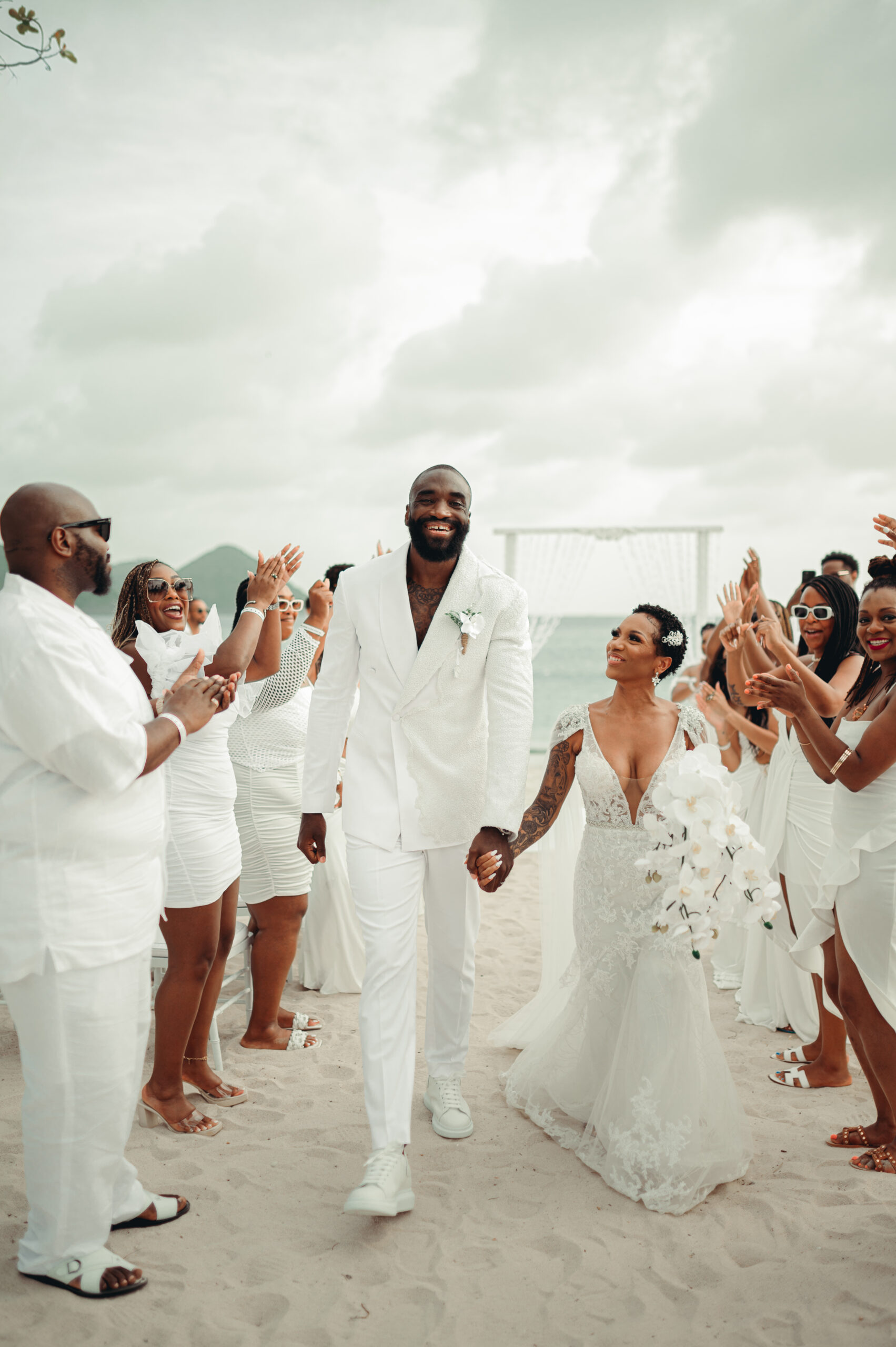 From the Bride: I was very calm and at peace the day of the wedding. I remember feeling so blessed and just ready to walk down the aisle. The ceremony was beautiful and having our close friends and family there to support us was even more beautiful.
From the Groom: The whole experience was nothing short of amazing for me. Many were asking if I was nervous or did I have jitters and as I told them, I've been acting and moving as a husband our whole relationship so in my mind I was already married to AZ. This day was just to make it official!
Your best/most memorable moment: My most memorable moment was after the ceremony, before we were about to do our first dance, my husband burst into tears and in that moment, I knew it hit him. I was his and he was mine. He's always been really good at holding back his emotions in front of others, but on our wedding day he couldn't hold them back.
Wedding song, explain choice for song: "Love Me Now" by John Legend. We chose this song because it speaks to us. With everything going on in the world, every day is not promised but as long as we have each other there will be light around us.
What are you most looking forward to as a married couple? Growing together and thriving with our family and our business. Being able to leave a legacy for our family is the ultimate goal. Looking forward to traveling the world and making memories that will last a lifetime.
Advice for a Bride/Groom on their wedding day: Stay grounded and breathe. Take in every moment and really appreciate the love that you both have for each other. 
Additional Event Information
We've featured the below wedding pros, but we don't know much about them yet. Featured below? Click here to get started.