And the Best Luxury Hair Companies to Purchase Them From
Photo Courtesy of She's Happy Hair
Up do? Sleek low bun? Glam waves? Selecting a hairstyle for your wedding day may be one of the most challenging choices pertaining to your bridal look. There is so much to consider, from what will best complement your dress, to what will withstand the projected temperature and weather. And with most brides wanting their wedding day hair to be longer, fuller, or even a different texture than their natural hair, selecting the most suitable hair extensions is also a choice that can have a tremendous impact on the outcome of your bridal hair look.
Using quality hair extensions can help your stylist achieve your dream style with ease, as most bridal styles have an exaggerated look that might not be possible with natural hair alone. Although some may be in intimidated by the idea of installing "faux hair" hair extensions are now available in different variations such as tape -ins, wefted hair, or full units so you can add a little to a lot of additional hair to a style as desired. Hair companies now also offer diverse textures, such as straight, wavy, and kinky so that extensions can be seamlessly blended with all types of hair. So when considering hair extensions for your wedding be sure to consult with your hair stylist to decide what type of extensions will best meet your comfort level and bridal styling needs.
Still not sure what type of hair extensions to choose for your wedding day do? We've curated a list of popular hair styles bride's love and paired them with the best hair extensions to use to re-create the exact look. Don't forget the quality of your hair extensions can also make or break the look of your bridal hair. We've partnered with Johann's Virgin Hair and She's Happy Hair to provide you with luxurious hair extension options that will not disappoint. Shop our list below!
Loose Wave for Glam Waves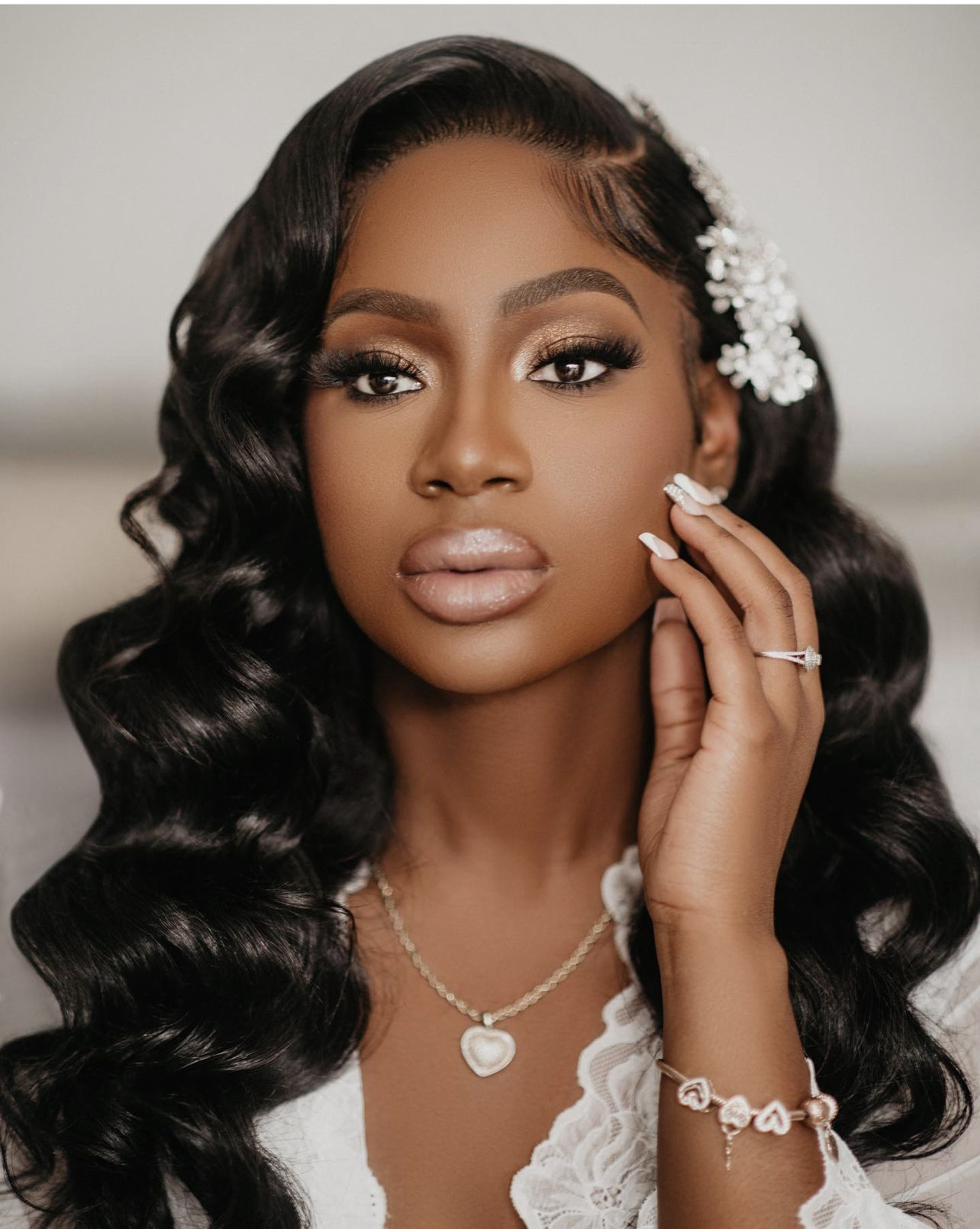 Image Courtesy of PD Photography
Glam waves is one of the most requested hairstyles by brides in recent years and for good reason. The style made famous by the superstars of Old Hollywood, offers a dramatic look while remaining soft and elegant. Glam waves also work for hair at short, medium, or long lengths. However, the intricacy of executing this style has been mastered by few as the technique to mold and set the hair into the wave-like pattern. Extensions are sometimes needed to get the voluminous glamour effect. Using body wave textured extensions is a great option for this style due to the hair's slight wave pattern, which not only adds volume but assists the hair with holding the waves set with a curling iron for an extended period of time.
Johann's Virgin Hair Indian Wavy
Raw hair sourced from one donor, making it low maintenance and easy to style. These extensions look great in a curled or natural state.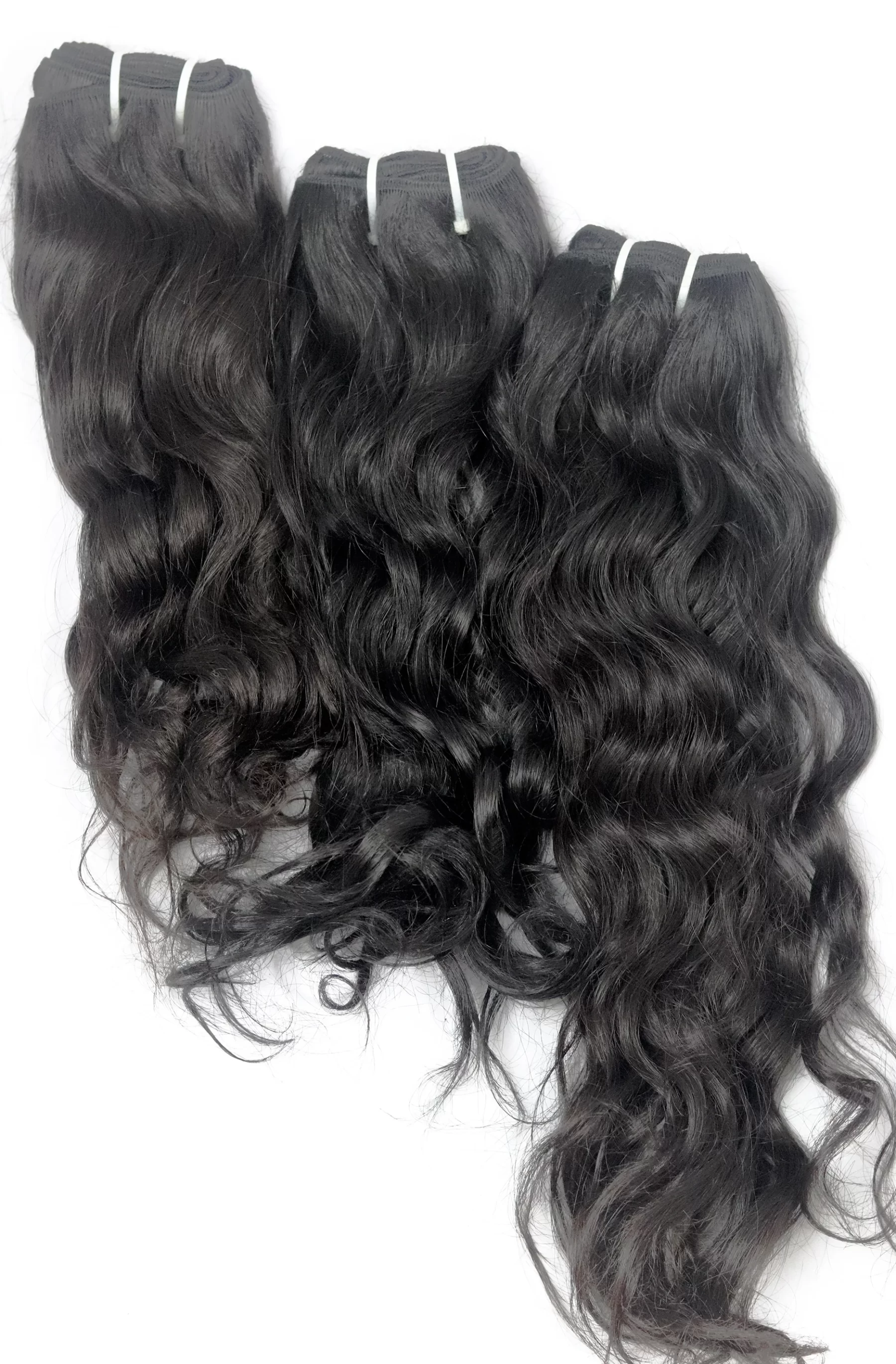 Kinky for Natural Curls
Image Courtesy of PD Photography
As Black Women become more empowered to wear their natural hair styles for all moments of their life, natural bridal styling is becoming not only increasingly accepted but amplified by Black Brides. Dispelling the beliefs that hair has to be styled in a relaxed or straight like texture to be seen as "formal". One positive result of this movement is the availability of natural textured extensions, to meet the needs of Women wanting to add length or volume to their natural hair too! Kinky straight extensions are perfect for the bride who may want the glam waves but without the silky appearance.
Johann's Virgin Hair Kinky Curly
These kinky curly extensions can be manipulated with product and twisting methods to achieve a twist out or braid out look. Install, wash, and style with the LOC method for a seamless blend with your natural curls.
Johann's Virgin Hair Kinky Straight
The kinky straight mimics the texture of natural hair when blown out. These extensions work well for stretched styles such as glam waves or up-dos without compromising texture.
Deep Wave/Curly for Bohemian Braids
Image Courtesy of Pinterest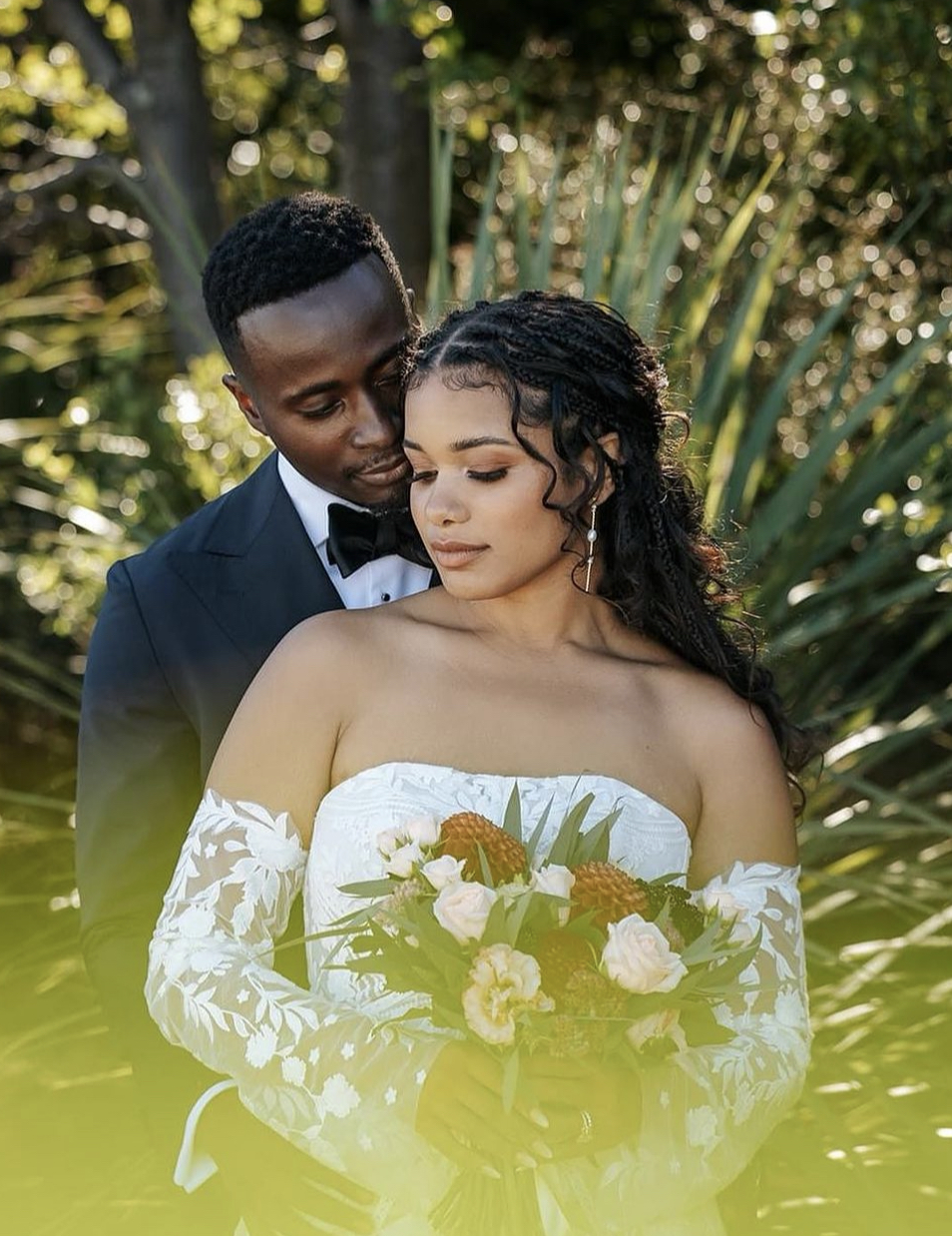 Image Courtesy of @awaywithbae
Bohemian individual braids, a style once reserved for vacations and protective style, are now becoming a sought out style for bridal hair. Because why can't braids be bridal too?? The beauty of braids for a wedding option that offers minimal manipulation to natural hair, style longevity, and a regal yet modern look. This can cut down a lot of prep time and needs for touch ups so you can spend more time enjoying your day with friends and family without worrying if your hair look is till in tact. This could be extremely helpful or Brides getting more in warmer weather where heat can alter the style of the hair quickl or destination weddings where hair stylists might not be as accessible. Individual braids can also be styled in a multitiude of ways to mimic the design of other bridal styles. One thing can also increase the of they style is using human hair for braiding in the curly accent pieces to prevent frizzing and tangling. A deep wave or hair
Brazilian Deepwave
Whether wanting to curls along the length or at the end of your individual braids, using raw deepwave hair will give you this cute curly look without having to worry about the matting that can occur with synthetic braiding hair.
Straight for Sleek Bobs
Image Courtesy of Stanlo Photography
The bob reigns as the ultimate hair style choice for the chic bride. The style is effortless, yet edgy which can add a touch of modern bridal energy to any bridal look. The secret to the perfect bob is the short shape. Straight hair extensions are commonly thinner in density, making it easier to get a precise cut.
She's Happy Hair Peruvian Straight
These extensions are most recommended for bob because of it's soft, feather light, and silky texture. This combination of qualities makes for a bob that's light-weight with lots of body and shine.
Body Wave for Up-Dos
Image Courtesy of Amy Anaiz Photography
The Up-do is a hair style that will forever stand as a go-to style for the classic bride. Hair swept up towards the top of the head, bringing more attention to the brides beauty tends to exudes a sense of grace and sophistication. Up- dos are also an ideal choice when wearing a wedding gown that features a high neckline or detailed back, having hair off of the shoulders not to interrupt the design of the dress. Extensions are commonly used to add needed length and shape to the style. Body wave hair is great option because of its versatility. The texture can be easily curled or straightened with heat into the desired style, whether you're considering a tousled up-do or something more sleek.
She's Happy Hair Peruvian Bodywave
The bodywave texture stands as a favorite amongst extension wearers due to its ability to be easily transformed in multiple styles. This texture will wear beautifully on your wedding day and beyond.
Written by Fashion and Beauty Editor Dara Adams