Image by Brookklyn Photo.
"Beautiful, timeless, and simple". These are the words Bride Ciarra Blackwell used to describe the bridal gown she wore on her wedding day but it also coincidentally depicts the overall essence of the Blackwell's Fall 2022 wedding celebration.
What's most interesting about weddings is the various ways couples choose to share their sacred unions with the world. How their interests, values, and cultural traditions impact how they believe their wedding experience show look and feel. Ciarra speaks to the underlying intention of her wedding concept by saying, "African Americans were always taught to walk out the house presentable as sort of a respectability politics. I think some of that still resonates with our generation today. I like to think we wanted a black-tie affair because that's what we are into as a couple, but maybe deep down we wanted to show that Black people can get together at an upscale wedding venue and belong there. We definitely belonged there and looked good!"
For centuries, fashion has played a distinct part in the display of black love through the ceremonialism of marriage. The selection of wedding attire usually represents the personalities of the couple, legacy of the family, and trends of the times. Whether looking back at the treasured historic images of weddings past or the viral content of weddings present, one thing thoughtful execution of Black love through style has never waivered
For many women and men, their wedding day serves as their life's ultimate style moment; a series of dreams realized to compose their love story through the magic of clothing. And whether you prefer a classic white gown and dapper tux or create your own style tradition, the choice in how to articulate your love in the form of fashion is truly up to you and your partner.
Image by Brookklyn Photo.
Newlyweds Chase and Ciarra Blackwell took this mindset with them when it came to planning their wedding fashion. The two, who met on their first days at work for the Arizona Diamondbacks, called their momentous event a "black tie" affair as the two partnered together in making fashion the centerpiece for their special day. Ciarra shares, "Chase and I really subscribe to, "If you look good, you feel good! and we wanted all of our guests to look amazing! There hasn't been a wedding for awhile in both of our families–in large part due to COVID 19–so we knew our people wanted a reason to pull out all the stops." And that they did.
As the evening began, and guests began to pour in donning all-black tie attire, it was clear this was going to be a fashion-forward wedding for the ages. The bride and groom's separate parties and family members each came down the aisle one by one in epically laced fashions. Shockingly, not much monitoring happened when it came to styling their bridal party and immediate family. Bride Ciarra gave her bridesmaids the minimal confines of "black and floor-length", while groom Chase shared, "It was important for my groomsmen to be a part of the process in selecting what they wore. I wanted them to feel comfortable in their outfits and in pictures. I sent over multiple options and they selected the one they liked."
This sentiment of ease carried over also into styling their parents' looks. Despite the parents of the couple of the bride looking as if they had just left an epic Vanity Fair Oscars Party, the couple chose to let them each pick their own outfits for the occasion, simply supplying them with a vision board for inspiration. "Each of them bought or rented their looks and we were not with them when they did. We gave everyone the task of selecting anything black or white and they nailed it. Chase's mom went with an old Hollywood vibe by pairing her dress with long theater gloves and my mom wore pearl accents in her hair to compliment my pearl veil and accessories. Everything just came together so naturally. We were all on the same page." Ciarra shared.
And when it came down to each of their individual looks, the process was personal for each of them. The groom, who wore a custom suit by Grayscale and suede Christian Louboutin dress shoes, said, "It was important to me to have a "one of one" look, something that I knew no one else would have on or have seen anyone else in." He went in with a plan before finding the tuxedo of his dreams, noting he wanted "a double breasted crushed velvet look. With the wedding set for November I wanted a winter look and I'm a fan of crushed velvet." He continued, "I wanted something that wasn't too flashy but also allowed me to stand out as the groom. With the dress code set as black and white it would have been easy for me to blend in with the rest of the party. Grayscale allowed me to get creative with the design but also keep it simple and sleek. Christian Louboutin is my favorite shoe designer so of course I had my red bottoms on display. It's all about the small details that make a big difference." In the details, Chase also added a gold brooch to his suit lapel, a dapper watch and custom cuff links to accent his look.
Image by Brookklyn Photo.
Images by Brookklyn Photo.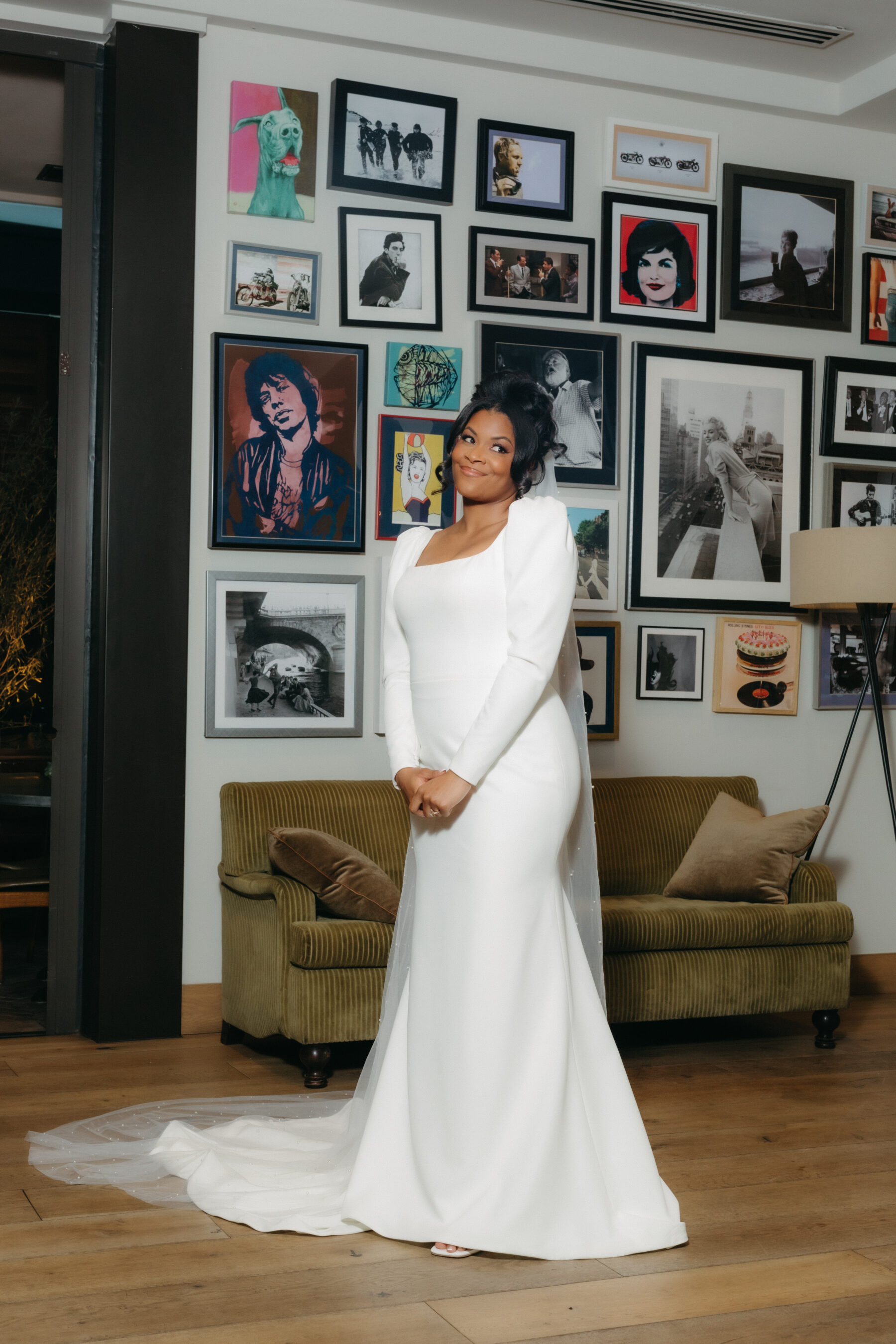 Ciarra shared the same attitude and focused on the details of her look as well, sharing with us that contrary to most modern brides of today, she wanted, "a 'simple' dress, "no lace, bling,.. and I learned that those kinds of dresses are called 'timeless'. So, I went on the hunt for the perfect timeless dress." She found her perfect dress in February of 2022—10 months before the big day—and had her mother, sister and [then] future mother-in-law there for the ride. The dress she ultimately said "yes" to, a classic column silhouetted gown with a slightly flared skirt and puffed sleeves, Ciarra says was "exactly" what she had in mind when going in to shop. "Beautiful, timeless and simple" are the words she used to describe her wedding gown also noting that "comfort was something I didn't think about until trying on dresses. The dress I chose fit so well and was very comfortable to wear throughout the night." As for styling, the bride opted to keep it simple with a chic, curled updo, glowing glam for makeup, dainty pearl earrings and a perfectly manicured nail set. As she went onto later dance the night away in the gown of her dreams, it was clear she was the belle of the ball.
Images by Brookklyn Photo.
The power fashion played in the glorious love of the Blackwell's didn't stop on their wedding night. Ciarra, who argues that her husband is more of the fashion person in the relationship says she continues to learn from Chase about the power of fashion, citing she's learned from him, "To always put yourself together no matter what the occasion is. In addition to looking good for your own confidence, perception is really important in life and your appearance and style help create the ideas people have about you whether good or bad. It's always a good idea to step out putting your best foot forward!".
As for advice they'd give to couples looking to seamlessly navigate incorporating epic fashions into their special day, Chase shares, "Do what you like, what your relationship style is, don't try and compete or be like what the internet force feeds you." And Ciarra added a similar message saying, "BE YOURSELF! Truly do what makes you happy because it's going to translate on your wedding day. Chase and I stayed true to what we like and what really reflects us as a couple and I really believe that is what contributed to being a great wedding day for us."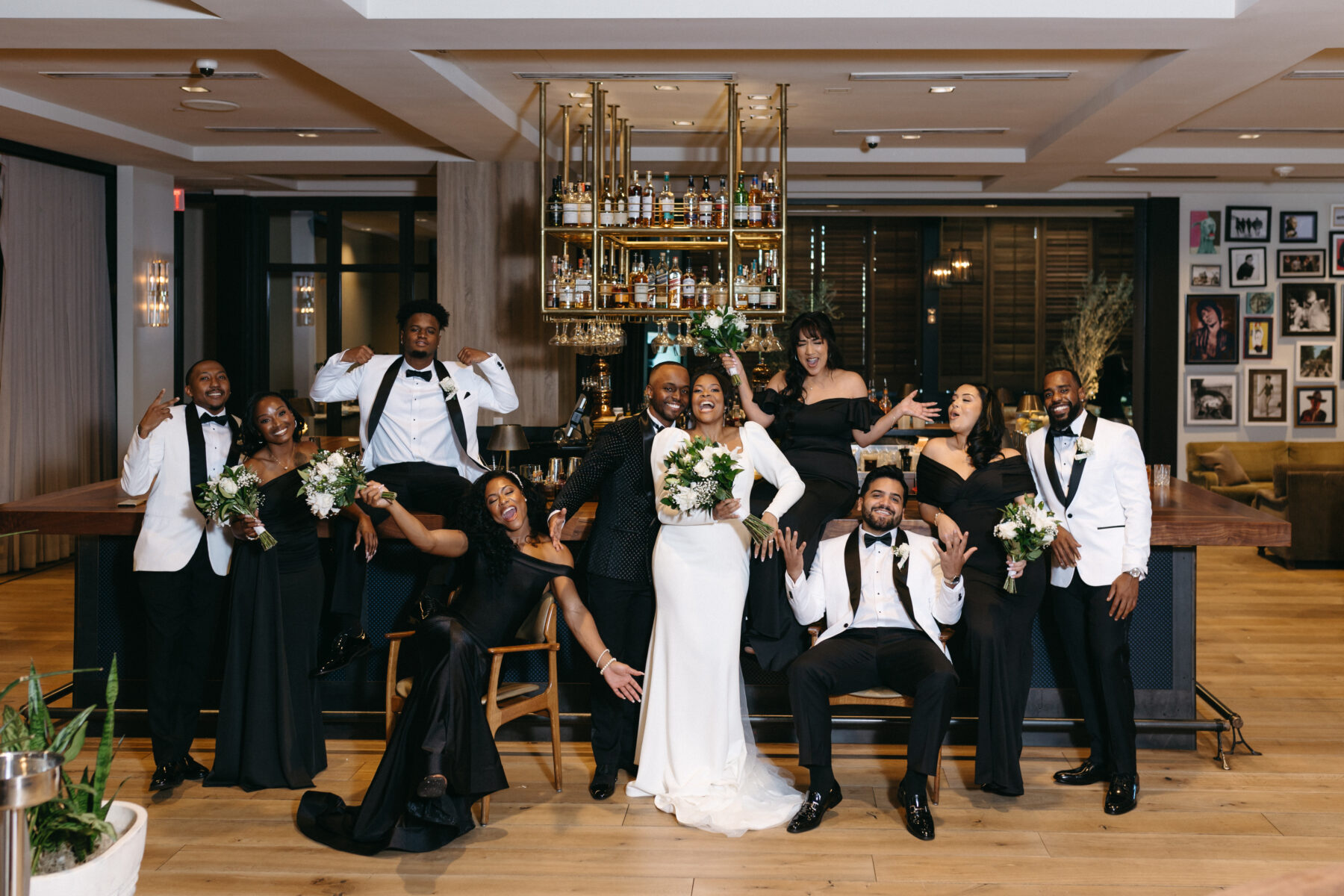 Image by Brookklyn Photo.
Black Love done well is sharing a sense of belonging with someone. It's in the sacred inside-jokes shared in your wedding vows that only you and your partner understand and it's especially in the attention to detail made in your wedding day fashions.
Groom and bridal fashions are one of the most intimate and glorious ways to honor the love you have for your spouse on arguably the most special day of your relationship. Wedding day style presents the chance for you to dress up in your even more elevated "Sunday Best" to show the love of your life an example of just how much effort you are promising to put into your new covenant daily; a visual showing of a deep-rooted love for one's self and the one you love. And while there are many traditions pertinent to the Western tradition of the expression of love as we see it in all its various forms, there is arguably nothing more powerful and timeless than that of fashion.
The power of fashion continues to reign supreme and the once in a lifetime chance it gives its participants to showcase the care, love, admiration and respect for one's partner in a potent and visible way is something that is rarely able to be duplicated. From carefully crafted first date outfits to fun wedding reception looks; every love story is designed with common threads of style weaved into it—whether realized or not. And any opportunity to display Black Love done well is an opportunity that is always worth saying "yes" to.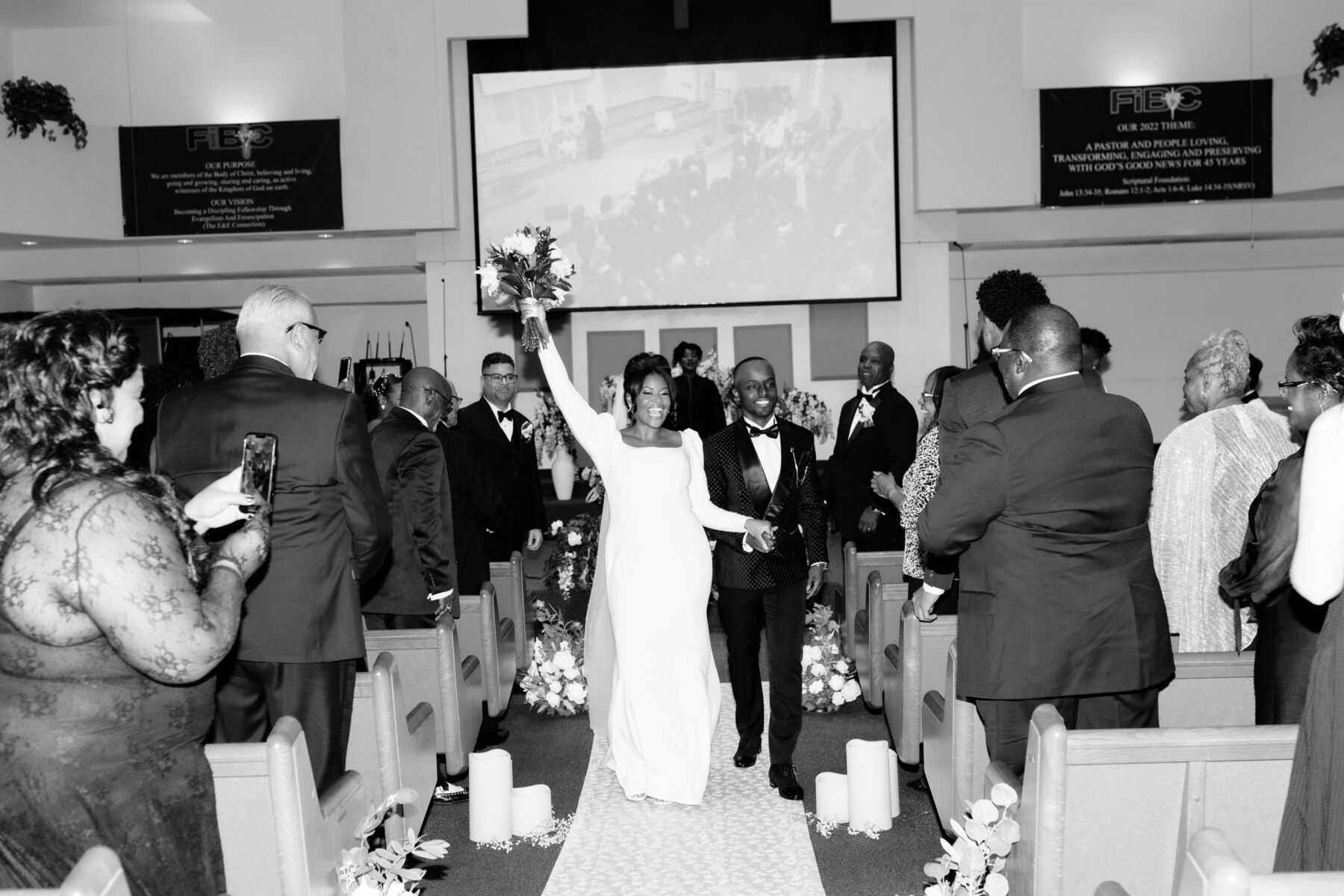 Image by Brookklyn Photo.
Written by Fashion Writer, Kennedi LéShea.