It might be a year since the release of "Black Panther," but we can't deny that Wakanda is where we want to be. However, there was one thing we hadn't seen in theaters that inspired our curiosity. We're talking about a Wakanda wedding, of course! That's why we've brought this beauty styled shoot that's filled with black excellence to you. Check out these beautiful bridal portraits, captured by Alanna Yu of Interstellar Image.
A team of talented vendors joined forces to bring this superhero black bride to life in the heart of Los Angeles. Here is what Hair Stylist and Creative Director LaChanda Gaston had to say about this beauty focused styled shoot.
"What we are now experiencing in the wedding industry for women of color since the release of the 2018 Marvel hit film, "Black Panther," is something we'd like to call the 'Celestial Bride of Wakanda.' She is out of this world. She represents the love of the universe and the heart of black excellence. She takes you into her magical world and shines like a rare gem. A bride of this style represents just how exemplary a woman of color can be."
Shoot location: Los Angeles, California
Shoot theme: Celestial in Wakanda
Color combinations: Gold and White
Favorite detail: The shoot's ethereal aesthetic.
Cosmic Bride (Fringe Jacket)
Bride of the Universe (Lengha Set)
Decor Details:
Bridal Attire:
The model was styled with an assortment of boho styled bridal outfits, including a fringe jacket and maxi skirt, an Indian inspired lengha choli and skirt with an emboidered veil, a striking golden gown, and an edgy bustier and accented cape with an optional veil.
Jewelry:
This shoot.utilized an assortment of antique pieces, including bridal crowns, earrings, bracelets and rings, which provided a Wakanda-worthy aesthetic.
Hair Style:
The first hairstyle involves a textured and free afro with a braided fringe swept to the side. This style can be enhanced with flowers or a regal crown.
The second hairstyle has the model's tresses pulled back into a Bantu knot-like fauxhawk. Add a touch of flair with a wired crown or a diamond hairpiece and traditional veil.
Makeup:
For this shoot, we made sure to enhance her bronze glow with a
Flowers:
We used baby's-breath to accentuate the model's fro in one of her looks.
Solar Eclipse Bride (Gold Dress)
Galaxy Bride (Cape & Headpiece)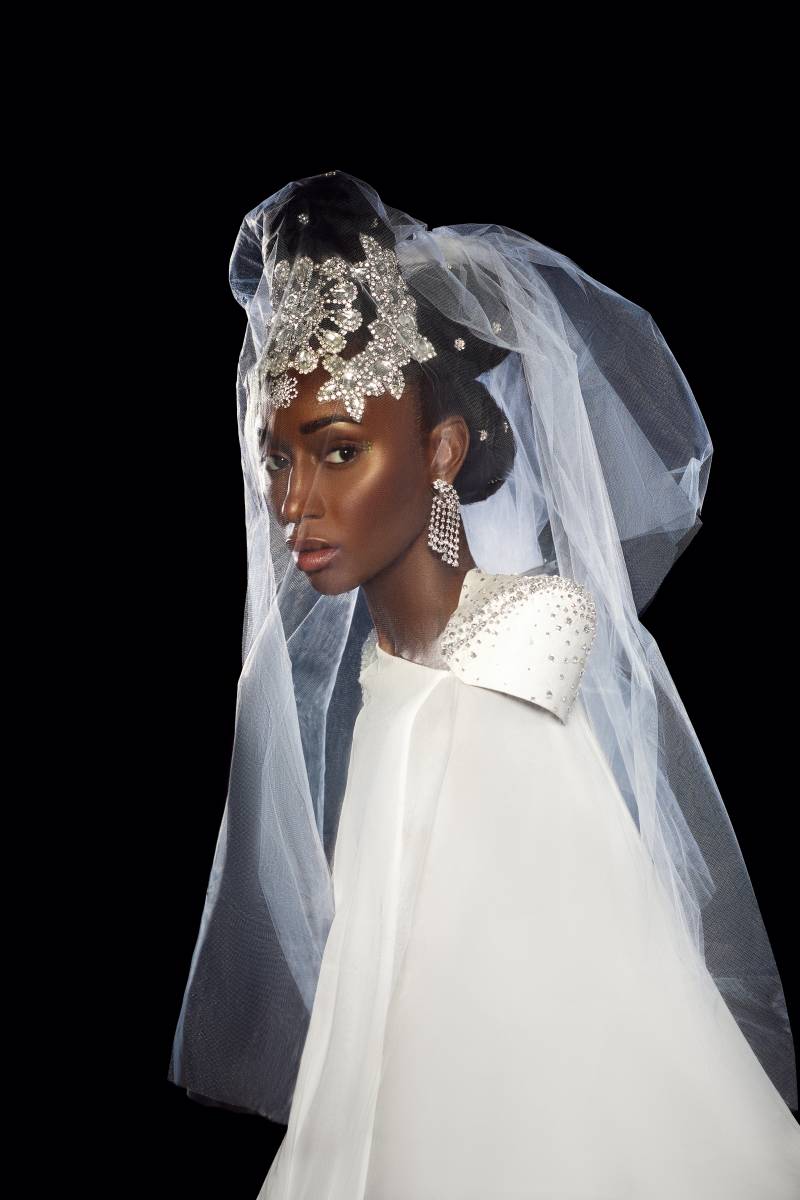 We can't get enough of this gorgeous, hair- and fashion-focused styled shoot. Share your favorite details in the comments below.
Sources
Alanna Yu|Galina Trush|LaChanda Gatson|Rebecca Rouge|FD Photo Studio|Styled by Ambika|Coop|Gold Sequin Dress: Lena Kasparian|Retro Honey|Retro Honey|I am the Wild Card|JLuxLabel|Ricky Brazil|Manish Malhotra|Tanzila Rab Designs|Uniquely Wired|France Luxe|Curio Cottage|Cole Woods