Image by Raymond Liu.
Over the course of cinematic history, there have been a legion of beautiful wedding moments captured on film and tv and many that stand out as fan favorites.
From Thelma Evans' crowning bridal look on Good Times to Carrie Bradshaw's epicaly over the top Vivienne Westwood gown in the Sex & The City film; to capture both timlessness while remaining true to the times is a hard feat for costume designers and television and film stylists alike to create into a culturally iconic moment for their viewers.
But there's always a few who get it right, and ones who got it right have earned their positions in our Top 10 List for Best TV & Films Brides of All Time.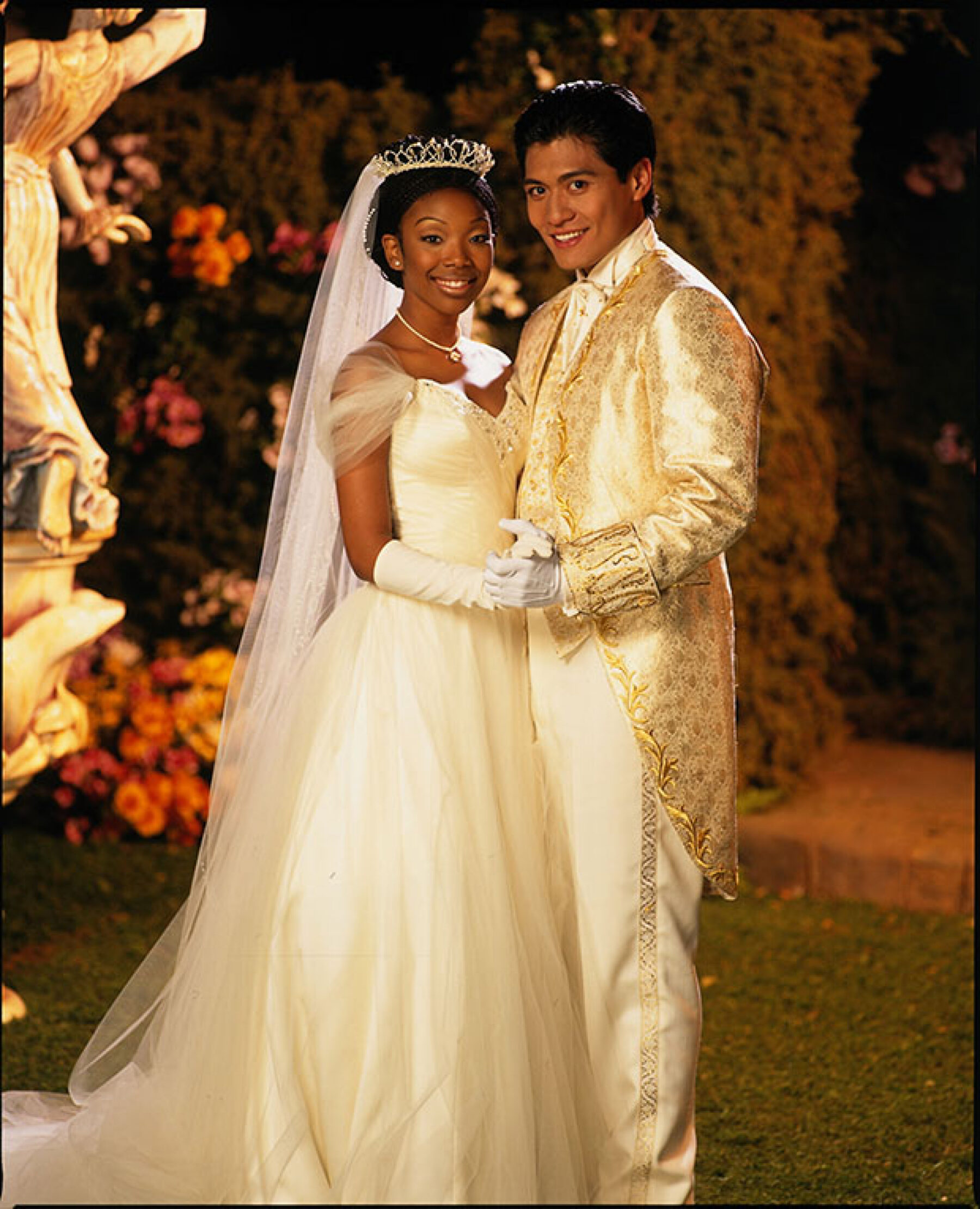 10. Cinderella in Rodger & Hammerstein's Cinderella
Designed by Ellen Mirojnick, Cinderella's classic blue ball gown was seemingly transformed into a classically revamped wedding dress fit perfect for a princess. Featuring hints of tulle overlay throughout the gown's design in the perfectly complementary off-white hue to align with her groom's outfit, Brandy brought tears to all of our eyes when she was magically dressed in this iconic number to finally receive her fairytale ending.
Image by ABC.
9. Lisa Wilkes in The Fresh Prince of Bel-Air
It was traditional in skirt silhouette while remaining modern for the times in bodice. With the large 3d floral appliqués creating an off the shoulder neckline. Not surprising, as Fresh Prince has been recognized as one of the most fashionable sitcoms of all time. Nia Long stunned in this look as Lisa Wilkes (almost Smith) despite the two characters never actually tying the knot.
Image by NBC.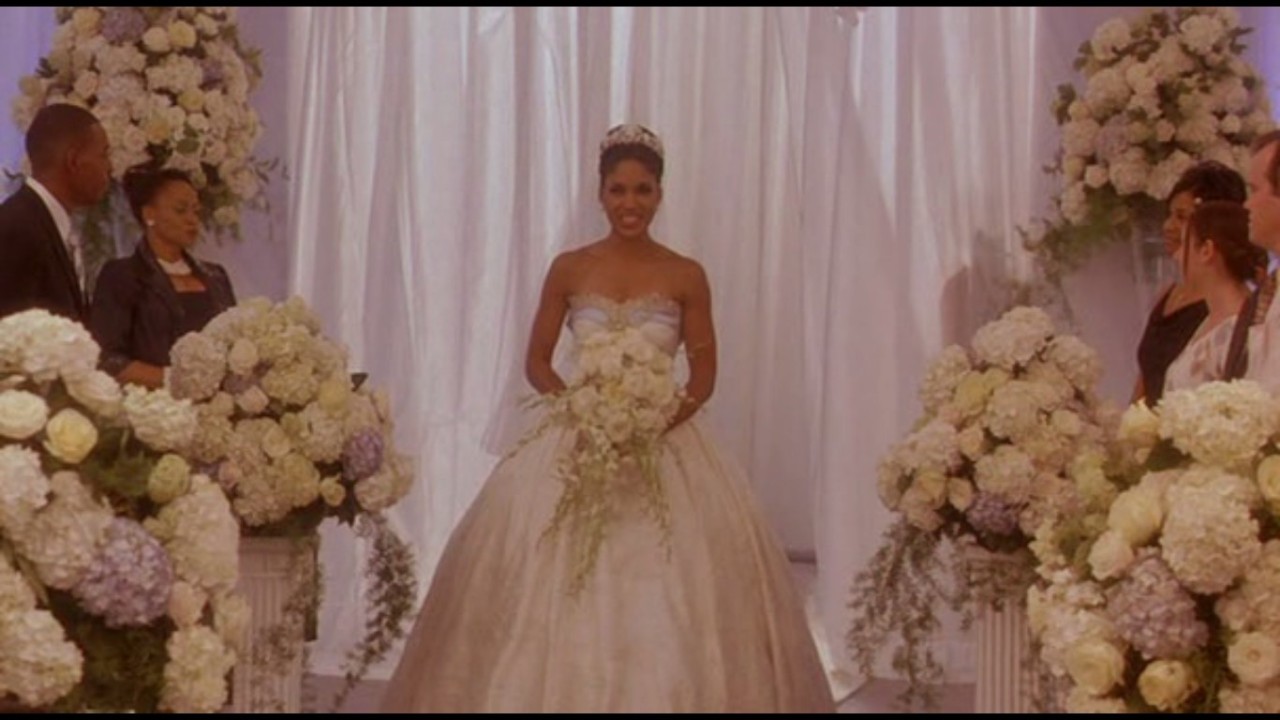 8. Vanessa Breaux in Madea's Family Reunion
Featuring an opaque tulle skirt and perfectly corseted bodice with stunning lace detailing and a pop of satin lavender lining, this wedding look was one for the books. Both Southern and Parisian in design, this dress was poignantly familiar to times of old while still fitting like a glove on actress Lisa Arrindell Anderson's glorious frame.
Image by Tyler Perry Studios.
7. Jo Stockton in Funny Face
Although arguably the most simple in design and styling among our list, this dress worn graciously by pop culture and global fashion icon Audrey Hepburn had to be added. With it's shocking midi-length, tulle skirt, and short capped sleeves, the dress, complete with a vibrant red lip was both intentional and timeless. A chic cultural touchstone for all brides that love simple yet dynamic fashion.
Image by Paramount Studios.
6. Deepti Vampati in Love Is Blind
Although a reality show, there was something stunningly fantastical about Deepti Vampati's wedding look on hit Netflix show Love Is Blind. She looked absolutely royal and regal in this outright incredible bridal design by Falguni Shane Peacock that was complete with a two-piece top and skirt combo with feathers adorning the bottom and jewels hand beaded at every turn. We also loved the representation of non-western wedding traditions.
Image by Netflix.
5. Araminta in Crazy Rich Asians
While fashion was a primary character throughout the course of the entire blockbuster hit Crazy Rich Asians, we can all agree that the show-stealing moment of the whole film was the wedding scene between Araminta (played by) and her groom. As classic love song "Can't Help Falling In Love" covered by Kina Grannis plays whimsically in the background, this dress took center stage with it's transparent and intricately gold flaked bodice along with its multi-tiered, voluptuous skirt and became an instant classic amongst film & tv bridal style.
Image by Warner Bros.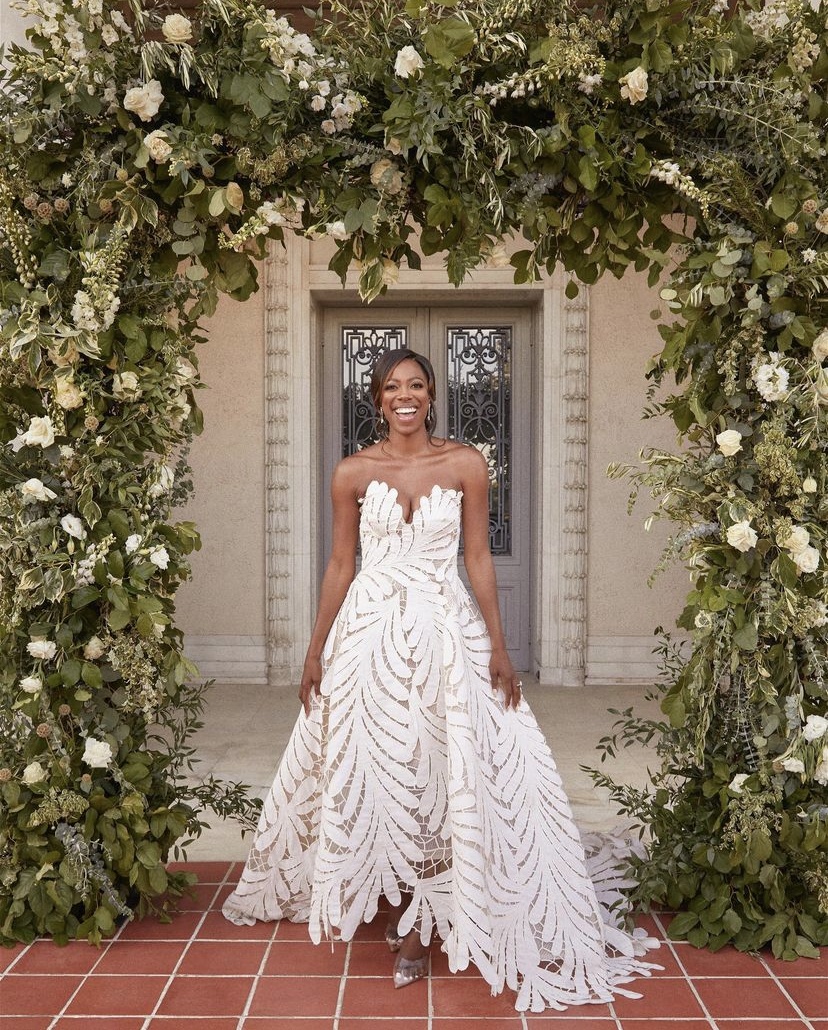 4. Molly Carter in Insecure
I think it's safe to say we all lost our breath when those doors opened to reveal Yvonne Orji as the beloved Molly Carter looking as ravishing as ever in an Oscar de la Renta gown styled by Insecure's costume designer and stylist, Shiona Turini. Fresh in aesthetic and forward-thinking in fabrication, this gown seemingly fit like a glove on Yvonne and with the perfect updo and her bright smile on display as her greatest accessory, Molly's long-awaited nuptials became instantly cemented as one of the greatest bridal looks of all time.
Image by Raymond Liu, HBO.
3. Carrie Bradshaw in Sex & The City
Carrie Bradshaw's dress was so incredibly Carrie Bradshaw which is what is making it hold its rank so high on our list. Despite not being as well-received at the time, the feather hair accessory along with that edgy yet ever-so feminine Vivienne Westwood gown, all the details of her bridal look worked together to create a bridal look none of us will ever forget.
Image by Everett Collection.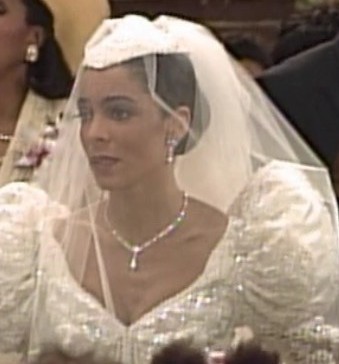 2. Whitley Gilbert in A Different World
With Southern ancestry running rampant through her veins and style aesthetic, we experienced no shock when we saw the incomparable and extremely lovable Whitley Gilbert step out onto that garden walkway in this obnoxiously over-the-top gown. Featuring voluminous sleeves that spoke to its 80's era and sparkling detailing and a wide V-neck, this bridal look was absolutely sublime.
Image by NBC.
1. Lisa McDowell in Coming to America
This 80's cult classic film featuring an array of Hollywood superstars was filled with iconic fashion moments but the sure standout was the vibrant and robust, pink wedding gown Shari Headley wore as Lisa McDowell to marry Prince Akeem in. Despite being seemingly an unusual choice of color for a wedding gown to some, the magic of its hue is rooted in the origin of the color. Long before white became synonymous with sentiments of pureness, pink was the color that coincided with all things purity, hence why early portraits of the Madonna and Baby Christ Jesus, He was dressed in pink. Lisa's look was bold yet timeless and striking yet elegant making the dress a cultural touchstone for the ages and filling our coveted #1 spot.
Image by Warner Bros.
Written by contributing fashion writer, Kennedi LéShea.