Bianka and Deion met on Facebook through mutual friends in 2011. They began dating in 2013 but only for a month. In 2014, the timing was right and the two reconnected. Seven years later, Bianka and Deion walked down the aisle in a modern wedding ceremony in San Diego, California. Share in the love of their joyous affair captured by Noah Gilman Photography.
Bride: Bianka Alexus Brown Stratton, 26, Visual Stylist
Groom: Deion Edward Stratton, 26, Lead Merchandiser, Assistant Football Coach
Photography by: Noah Gilman Photography
Place of residence: San Diego, CA
Wedding date: February 27,2021
Wedding location: Encore Event Center, San Diego, CA
Wedding theme/motif/inspiration: Modern with a splash of jewel tones, we wanted simple but still elegant.
Honeymoon Destination: Marina, California Sanctuary Beach Resort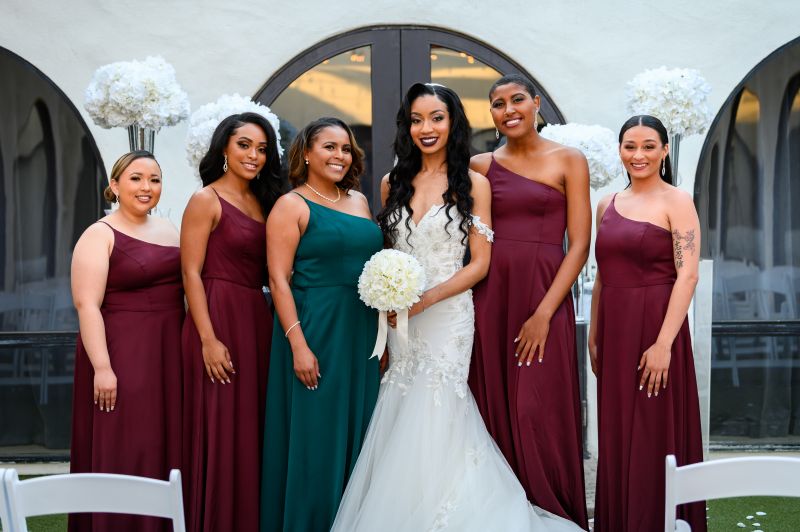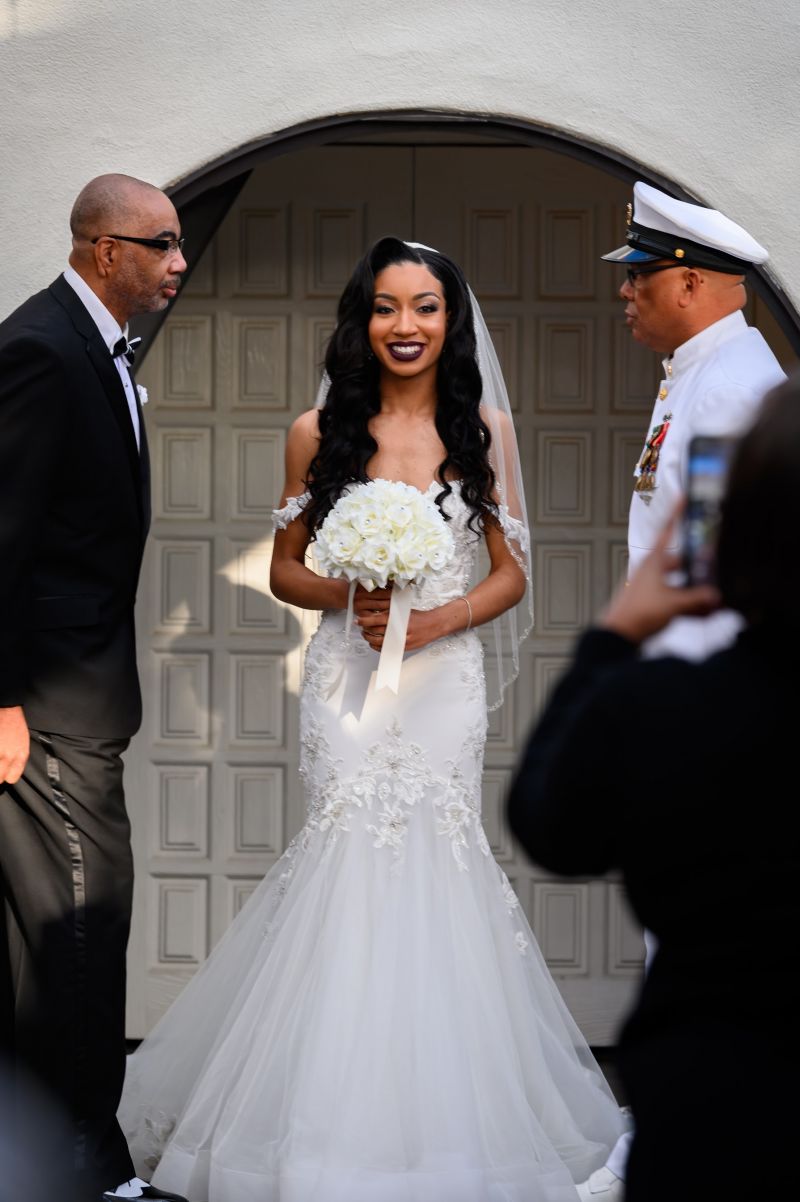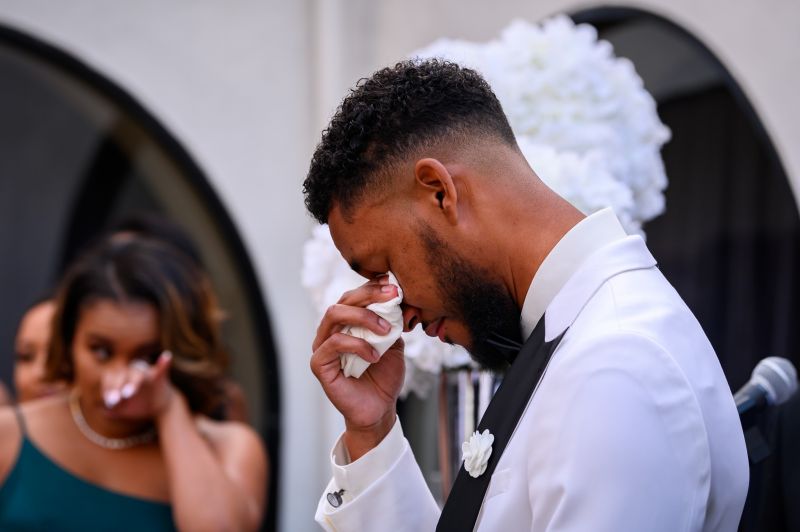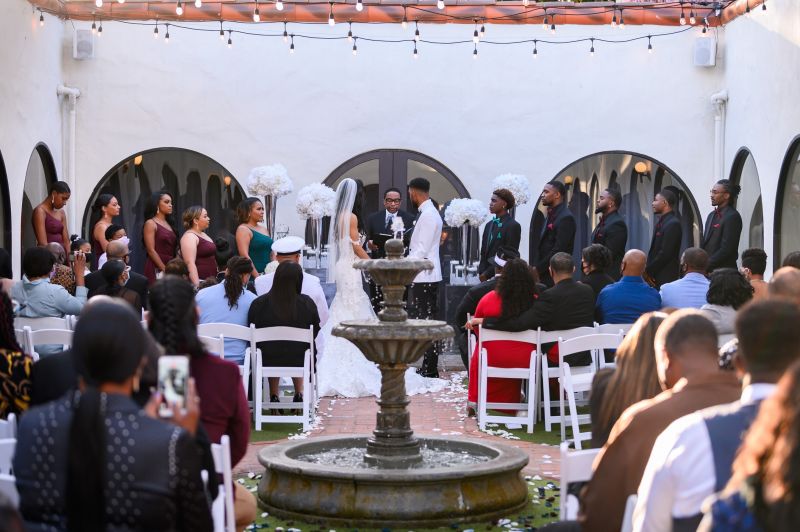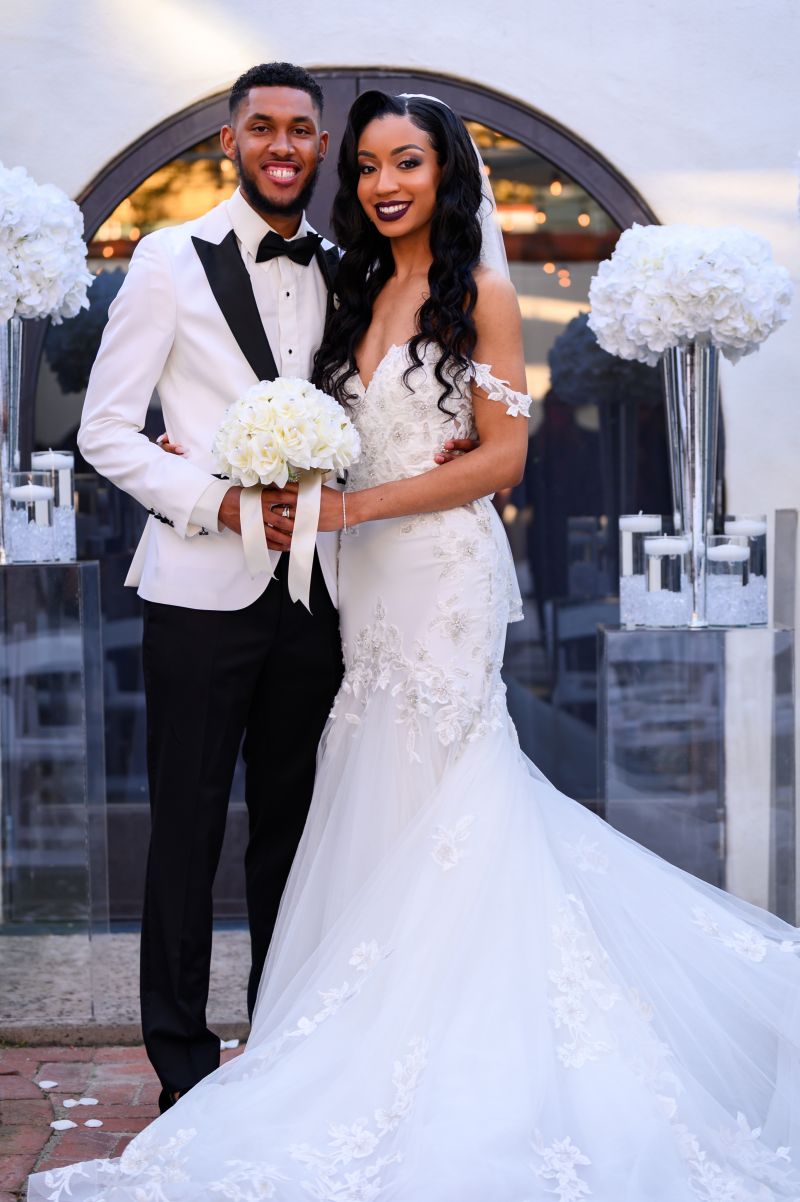 What makes your love special?
What makes our love special is that we really honor the friendship between the two of us. We are each other's biggest supporters and value enjoying life and creating memorable moments together which to us is the greatest recipe for everlasting love!
Engagement story (please tell us the story of your engagement proposal):
Deion planned a big New Years Eve proposal with 25 of our immediate family members. He made sure that my nails, hair and a new outfit were all taken care of for this special night along with our good friend and photographer Noah to capture the entire thing. New Year's parties are the norm at Deion's big sister, Danielle's house so I thought nothing of it going over there all dressed up that night and seeing familiar faces when walking in. It wasn't until he took my hand and led me into the dining area with "Best Part" by H.E.R featuring Daniel Cesar starting to play that I was surprised by all my family hiding in the entertainment area with their cameras and phones as I now stood in front of a beautiful set up with balloons and fresh rose petal hearts picked and shaped by Deion holding up the black box my amazing engagement ring sat in!
From the Bride: (briefly tell us about your wedding experience and how you felt on your big day):
My wedding experience was the best mainly because my husband was part of every little thing so I never felt like I was on my own to make a decision, plus, my mom is a wedding coordinator, Little Whyte Dress Wedding Concierge, so I grew up seeing all that goes into planning a wedding so I was very calm during the process (COVID caused a couple melt downs but we stayed strong !) and myself being a visual stylist I knew exactly what I wanted and how to make it happen! The morning of my bridesmaid's made sure I was relaxed, fed and well taken care of so that I had no choice but to be a happy calm Bride! I was on Cloud-9 the whole wedding day and just very anxious to finally see my husband at the altar!
From the Groom: (briefly tell us about your wedding experience and how you felt on your big day):
I was very excited and happy to go through the planning process with my wife for our wedding. The morning of the wedding I went to visit my grandfather who we both anticipated on being there for our big day but unfortunately passed a couple months prior. My wife gifted me custom cufflinks with his picture on one link and "Always By Your Side- I Love You Papa" on the other. After visiting him I knew everyone who wasn't with us that day made sure we were protected and loved so that the day would be special and everything my wife and I envisioned! I want to give a special thanks to my brothers for taking care of me on my wedding day as they prepared me to see my beautiful bride! The room was definitely filled with love!
Your best/most memorable moment:
Knowing that we finally made it to February 27th 2021!!! We have been dating and loving each other for almost 7 years as if we were already married so to finally stand in front of each other at the altar with Bianka's godfather marrying us was more than we could ever ask for.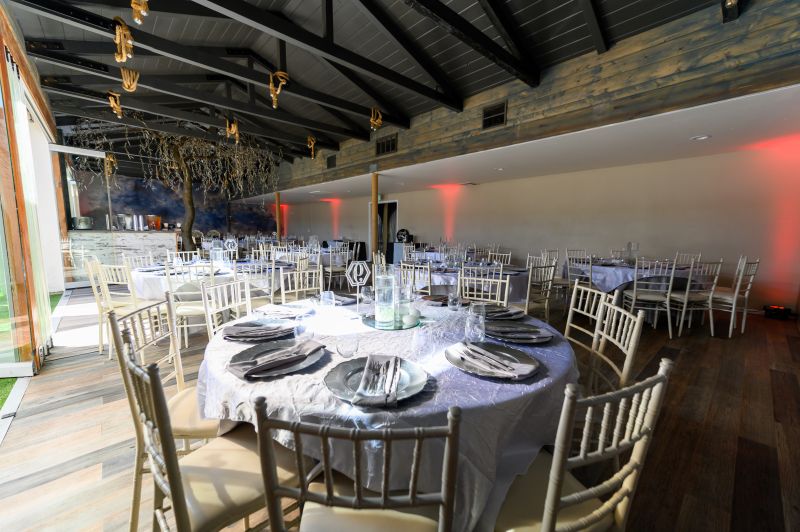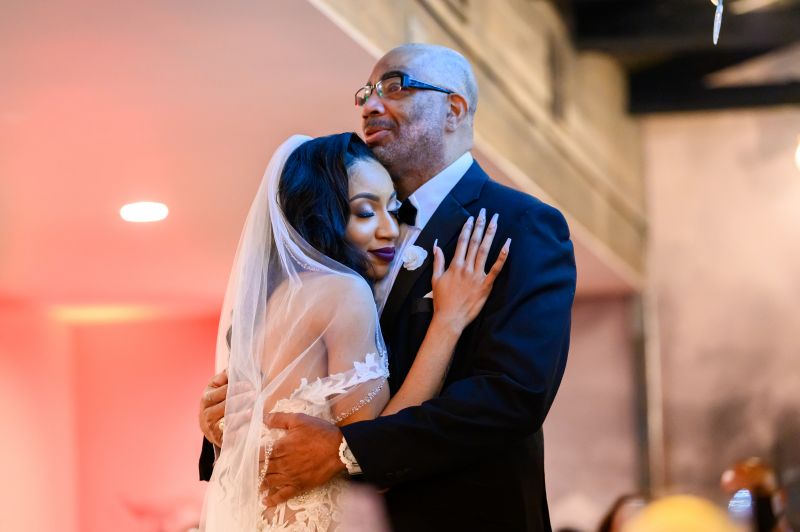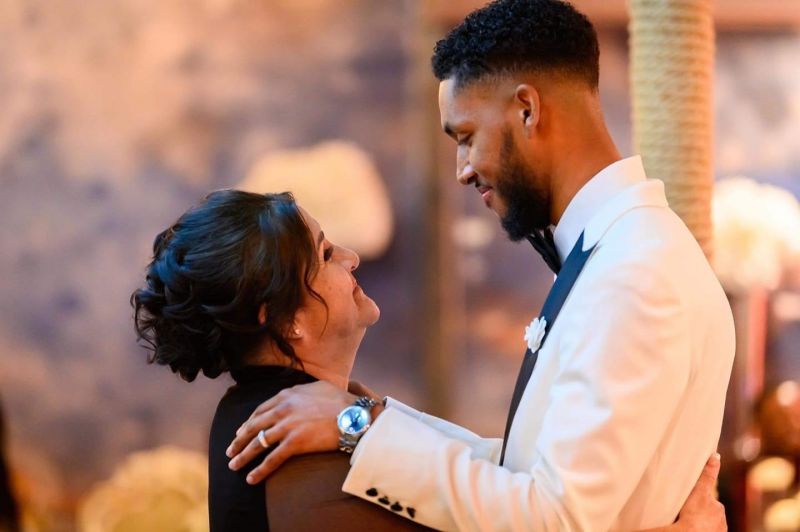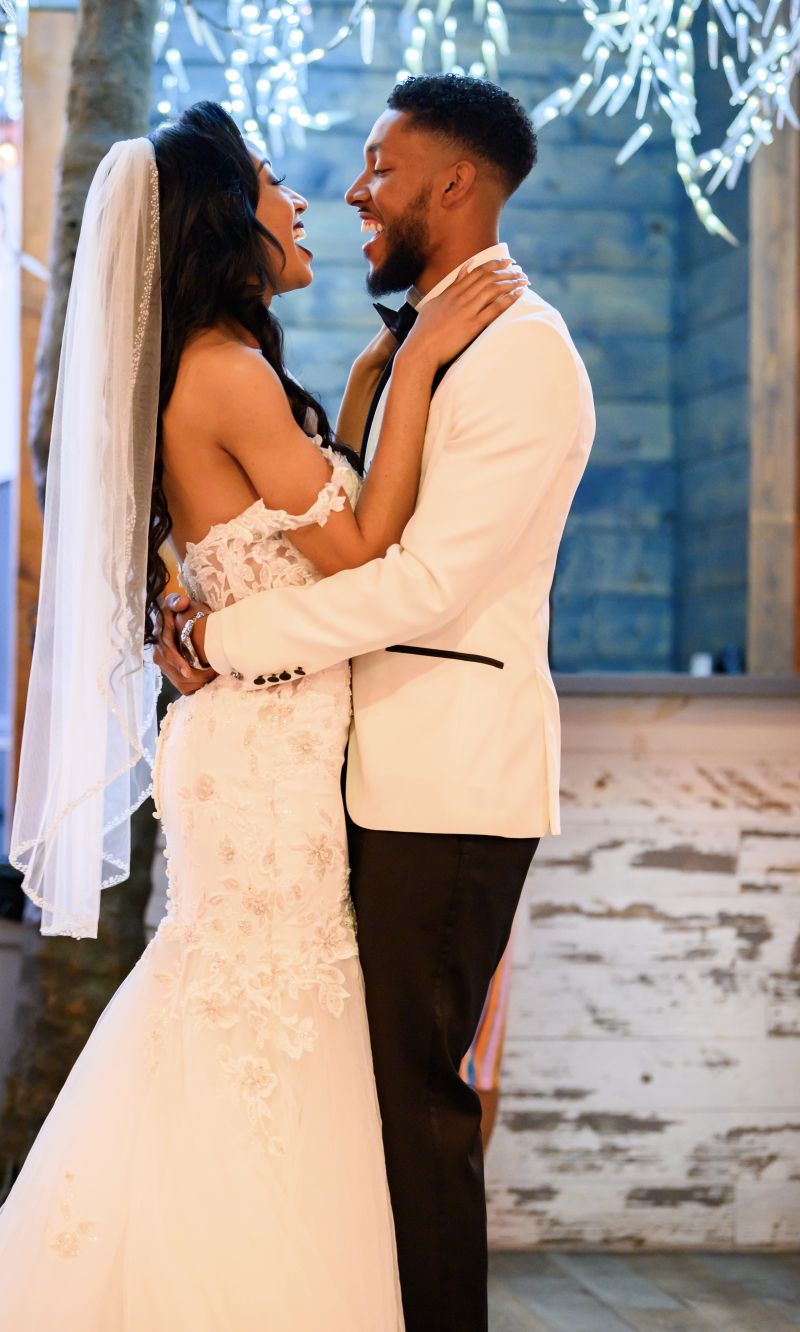 Wedding song, explain choice for song:
"Best Part" by H.E.R featuring Daniel Caesar. Any time it comes on, no matter where we are we stop and look at each other with this giddy look like "its our song!"
Favorite wedding detail (favors, cake, food, band, etc.):
There are actually three favorite wedding details, the first was a poem my grandma wrote for us that we had Deion's big sister Sabrina read as we did the unity sand ceremony. Second, was having both my dad and step dad give me away to Deion! Third, was the unique personalized touches we incorporated. Instead of bouquets for my bridesmaids I ordered clear acrylic clutches with their names on it and put 3 faux white roses inside. It doubled as their bridal party gift and they used it to hold their belongings at the reception!
What are you most looking forward to as a married couple?
We are looking forward to continuing to date each other while married and travel to new places as husband and wife! We also are really excited to start a family, we both can't wait to have a mini version of us to raise and love !
Advice for a Bride/Groom on their wedding day:
THE MARRIAGE ITSELF IS THE MOST IMPORTANT THING! Don't get so caught up on the wedding itself. Things don't always go as planned and you may run into small issues, but at the end of the day everything will be beautiful and all that truly matters is the love and happiness between you and your now husband/wife!
Congratulations to the happy couple! We wish them a fruitful marriage and many years of wedded bliss!