Ama and Gary have a very unconventional love story. One that began in two separate countries, continued in separate cities and reached the pinnacle on the Good Morning America show on January 13, 2015. Ama and Gary, who had been together for 9 years, were selected to compete on a live couple's competition in promotion of the movie the Wedding Ringer starring Kevin Hart. Ama had entered the contest without Gary knowing. "I thought it would be a fun and unique experience to celebrate our nuptials in an unconventional way. I didn't expect the show's producer to call 2 hours after I submitted the online form," said Ama. Gary had proposed to Ama just 7 weeks prior to their national TV debut as husband and wife. "In a matter of 1 day, we went from a newly engaged couple to preparing to be married on the nationally televised Good Morning America show to compete against another couple for a chance to have an "Insta-Wedding" on the spot." Although Ama and Gary lost the competition, they decided to get married on the Good Morning America set anyway. The newlyweds wanted to include their friends and family into their celebration and decided to plan a reception in Brooklyn on July 3, 2015. We got a chance to chat with Ama and Gary about their prime time nuptials and recent reception. See more from their Good Morning America wedding and Brooklyn reception below.
Bride: Ama Gordon, 30 Brand Manager
Groom: Gary Perodin, 34, Director, Lenox Hill Neurosciences
Place of residence: Westbury, Long Island
Wedding date: 1/13/15 on GMA, 7/3/15 Wedding reception
Wedding location: Wedding-On GMA, Reception- in Brooklyn Brownstone
Reception theme: Vintage Brooklyn Theme
Honeymoon Destination: Martinique
How did you meet:
The summer we met was the most time we ever spent together in the same city at the same time. We were introduced by mutual friends at Ama's home, the summer of 2006. Ama had just accepted a job in France and Gary had just been accepted into a graduate program in Florida. Upon meeting each other Gary wasn't Ama's type, he didn't talk much and didn't seem friendly. Somehow, they ended up seeing each other at a cookout the next day and then somehow went on date, lol. They ended up seeing each other a few times after and Ama started to admire his calm demeanor and smart swag. Gary suggested they take advantage of the short time they were to have together "accelerate" the relationship and make time to see each other every day, which they did until the end of that summer. It was at that time that Gary moved to Florida and Ama moved to France.
Despite the distance, they kept in touch through phone, email and video chat. While Ama was learning the French language she discovered there wasn't a term for someone who wasn't quite a boyfriend but more than a friend which in the states was called "someone you're talking to". As a result, Ama boldy told Gary that in France she was calling him mon copain which means my boyfriend, then she said "do as you may in the States but that's what I'm doing in Europe!" Gary replied, "is that your way of asking me out? "And that was the beginning of their official relationship.
Gary says he knew Ama was the one before they moved away from each other during the summer they met. Ama was booking a flight to come visit Gary in Florida a few days before Ama left for France and he gave her his personal credit card information. That's when he knew Ama was the one because he trusted her.
Engagement story :
We got engaged on November 14, 2014. Gary made dinner reservations (side note from Ama: which he never does, so I knew something unusual was going on) at a roof top restaurant of a 5-star hotel near Ama's apartment in Miami. Gary called the restaurant ahead of time to make a plan and orchestrate each moment down to the smallest details with the waitstaff. He ordered Ama's favorite champagne and had a wonderful dinner. Ama's favorite part of every meal is dessert. When "dessert time" came the waiter moved the couple over to seating by a beautiful fire pit which worked out perfectly because Ama began to shiver from being cold towards the end of dinner. Gary began to reminisce about how they met and how much they had both grown so much together. The waiter brought out Ama's favorite dessert, cheesecake! And written on the plate in gold syrup was "Will you marry me?"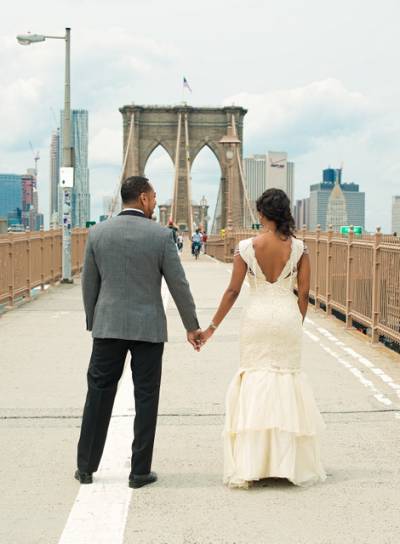 What was the best part of getting married on GMA?
The non-traditional and unconventional spontaneity, and instant gratification that we were married.
What was the reaction from family and friends once they saw you get married on the show?
All of our family and friends were not too surprised at me (because of my personality) and were completely convinced that I talked Gary into it. I didn't have to convince him too much he thought it would be a memorable way to get married and although it was only 7 weeks after our engagement. Since we'd been together for almost 9 years it didn't seem too fast for us.
If you had to do it all over again, would you still get married on live TV?
Absolutely! It's a story that we'll be able to tell for the rest of our lives.
From the Bride: I was extremely calm and excited at the thought of all the fun we were having. I only got nervous when it was time for the "I Do's"
From the Groom:
I was nervous leading up to the live airing, then my emotions went into competitive mode during the show and once it was time for the actual ceremony I was calm because I was ready.
The couple's memorable moment:
The most memorable moment of the whole process was getting our marriage certificate the day before the show aired. The most memorable moment of our wedding reception was our first dance to Janelle Monae and Miguel- Primetime.
What makes your love sp
ecial?
Gary: Aside from her great personality and spirit, and the fact that she lights up any room when she walks in (she is beautiful). It is our ability to talk about any and everything. She is very supportive and I am truly a better man because of her.
Ama: As a man of few words, his ability to lead with his actions more than words is what I love most about Gary. Gary's extremely intelligent but humble so he will not dominate a conversation but when he speaks his words are always extremely valuable and smart. He's also handsome! (Especially in a suit)
Wedding song, explain choice for song:
Primetime- Janelle Monae and Miguel- It's the perfect song because it talks about not caring about anything or anyone else but this being the perfect time for us despite anything that's happened in the past and what would come in the future.
Favorite reception detail:
The video we created and showed at the reception to summarize our wedding story for many of the guests who weren't able to be a part of the special day. The rose petal cupcakes and the hand designed decors.
Check out the video they shared at their reception HERE.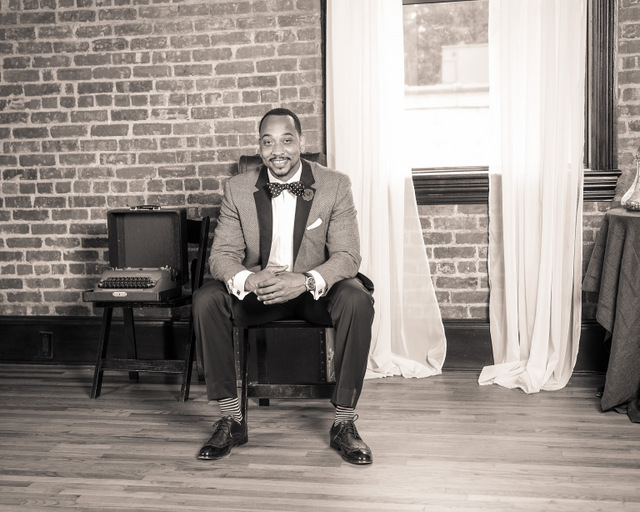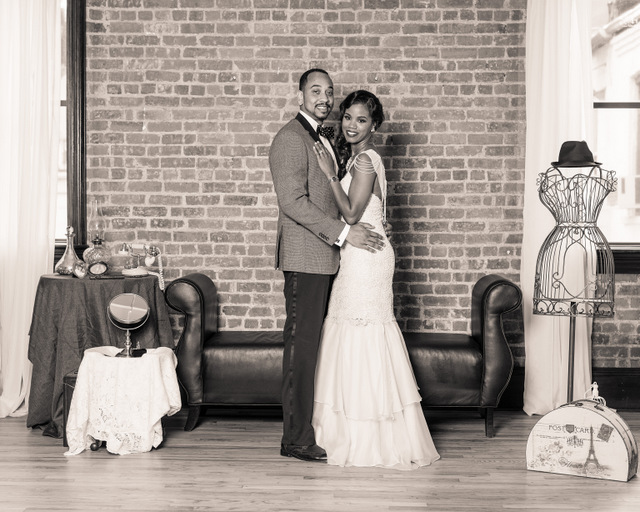 What are you most looking forward to as a married couple?
Life is about truly living! Sharing moments with people you love, embracing change and being open to new ideas.
Advice for a Bride and Groom on their wedding day:
Hire someone good to handle all the details day of so that the bride and the groom can truly enjoy every moment.
What's the next exciting project for the two of you:
To start a not-for profit organization in partnership with Gary's childhood friends called Love Is Rich. An organization in honor of Gary's best friend who past away 10 years ago in a tragic car accident. The organization's goal is to empower youth to set goals and strive for success in life. The program will also offer safety and defensive driving courses.
Congrats to the newlyweds Ama and Gary! We wish you many more years of wedded bliss.
Vendors:
Photographer: Collette Ashman
Ceremony location: Good Morning America Studio
Reception location: Brooklyn Brownstone
Bridal gown: Margaret Curtis, Forbes Couture by Margaret
Groom's tux: Robbie & Co.
Cake: Jodi's Sweet Delights
Music: www.beyonderevents.com
Hair: Karene at Simply Beautiful Salon
Makeup: Kristen Daryl and Nickia Williams

Curated by our Wedding Features Editor, C.K. Alexander. C.K. is the creator of the Single Bride Blog and the owner and founder of Love Ink and Brownstone Bridal. Keep up with C.K. on Twitter here: @Love_Ink