It was 2015 when Nick and Nafeesah both swiped right on the dating app, Plenty of Fish. Little did they both know that it would lead to them finding true love. Nafeesah says, "I remember his polite introduction that instantly gained my attention. After a few days of talking, he taught me my first few words in Swahili one of which was 'Nakupenda sana' which means I love you forever."
The couple have been together ever since and now prepare to walk down the aisle in the summer of 2022! Read more of their love story and check out details from their edgy engagement session at the Art Factory in New Jersey, captured by Fabian Ferguson of Double F Photo.
Bride: Nafeesah Rahman, 41, Author and Office Manager
Groom: Nicholas Ogola, 37, Senior Developer
Place of residence: New Jersey
Engagement Shoot Location: The Art Factory
Wedding date: July 1, 2022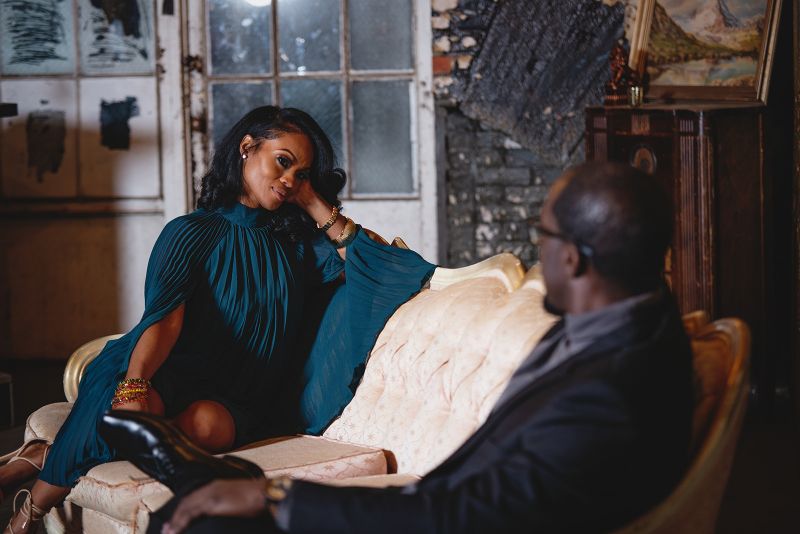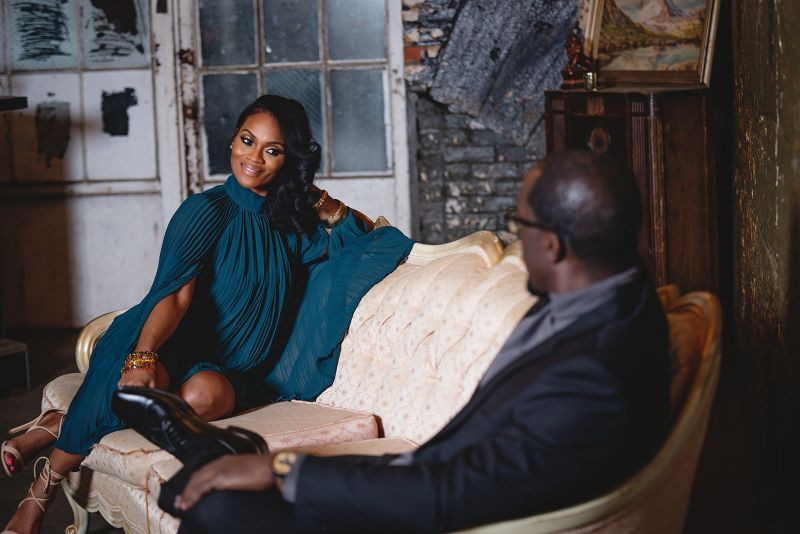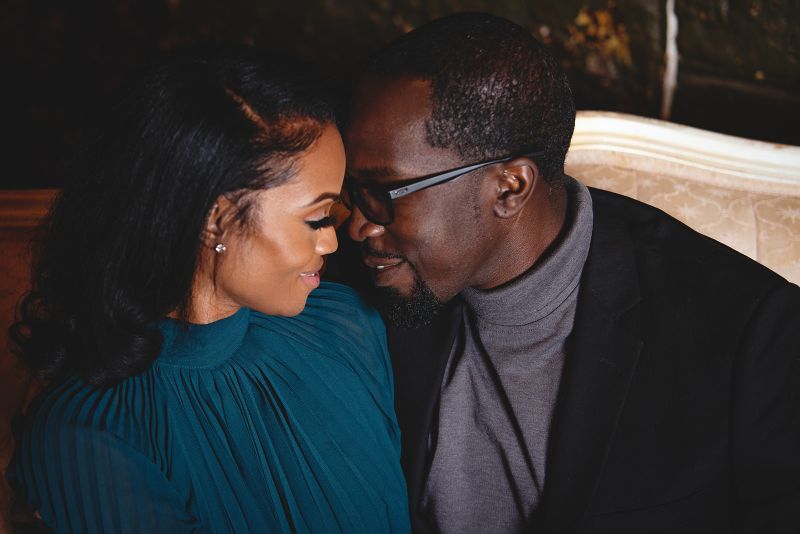 Engagement story
The proposal day started out like any other day, Nick and I sat on the couch while he worked; he then suggested we go to the mall. I had a slight clue that he could possibly propose that day. I decided to play along in hopes that I was going to be taken to the proposal destination. However, we roamed through the mall looking for sneakers for him. Store after store I waited for Nick to say let's go to a park or out to eat, yet he still continuously went from store to store.
Once home, I headed straight to my room and changed into my pajamas. I was livid. Nick sent me a text and asked me to come down to the kitchen. That's when I heard Brian Mcknight softly playing in the background. As Nick guided me into the living room there were rose petals with lights, balloons that said 'Will You Marry Me' on the wall, and my children and one of my closest friends waiting there for the proposal. I had so many emotions but most of all excitement. The idea that one day I will be Mrs. Ogola to the man that I wanted to marry from the minute I saw his photo on Plenty of Fish was finally coming true.
For the Groom: Walk us through the behind the scenes of creating this special day:
The proposal itself took weeks of planning. I went back and forth with Jessica (Nafeesah's close friend) about the type of ring she'd like, how and where to propose, without giving it away. I decided that I would take Nafeesah out in the afternoon and Jessica offered to set up the house with balloons, rose petals and get a romantic ambience going. We involved Purity (Nafeesah's daughter) and Keduse ( her son) in the planning as well. They were more than happy to help set up, which made my work much easier. All I had to do was keep her out until everything was set. Finally I received the text that the set up is ready, we headed back to the house. I texted her to come down. I took her hand and in my nervousness I fumbled through my proposal(wasn't my best moment). She said yes, the proposal day was a success!
What makes your love special?
What makes our love special is the natural and authentic bond we have. We never pretended to be anyone but ourselves. We are best friends and root for each other. We push each other to be better. We have respect and admiration for each other and have an end goal in mind, love for forever.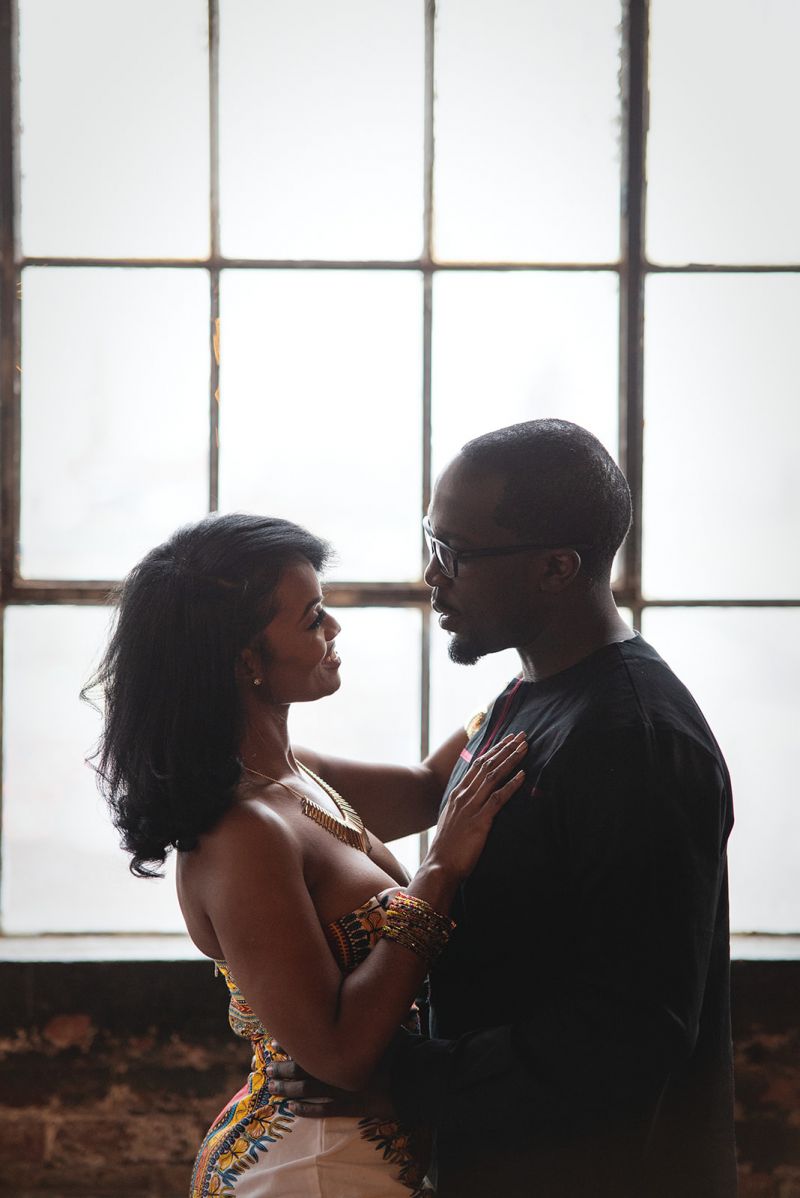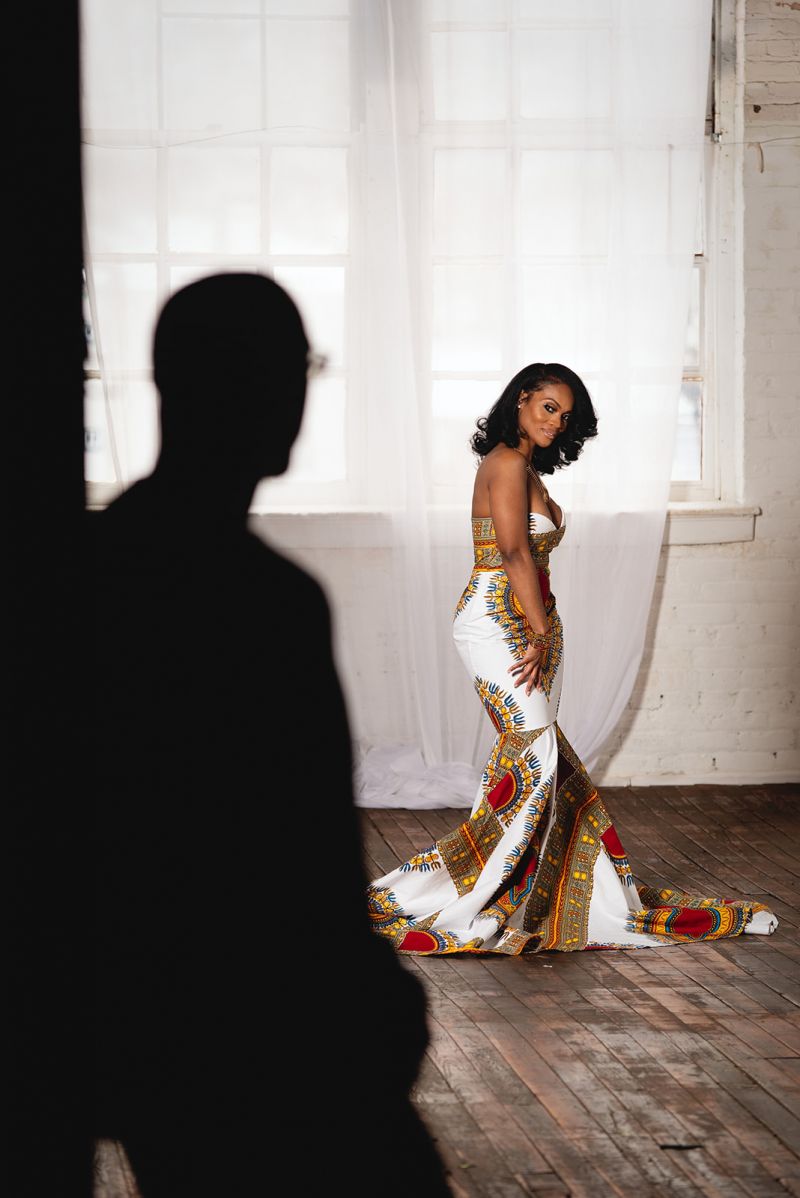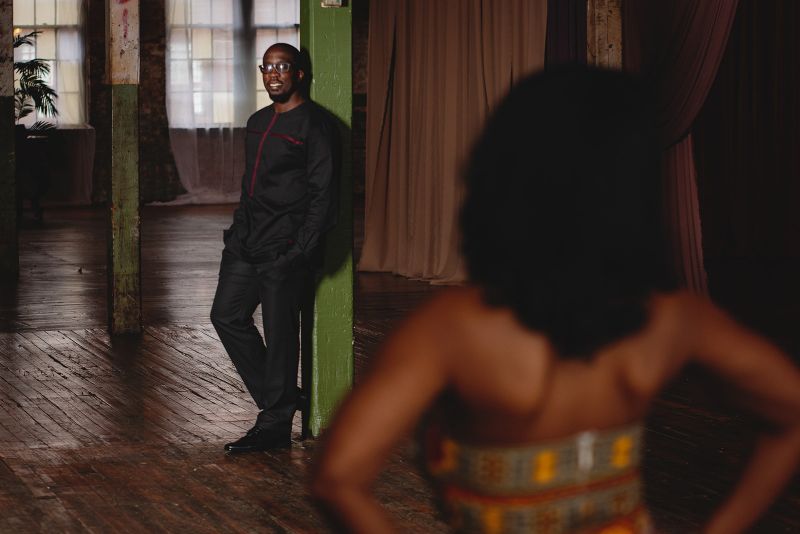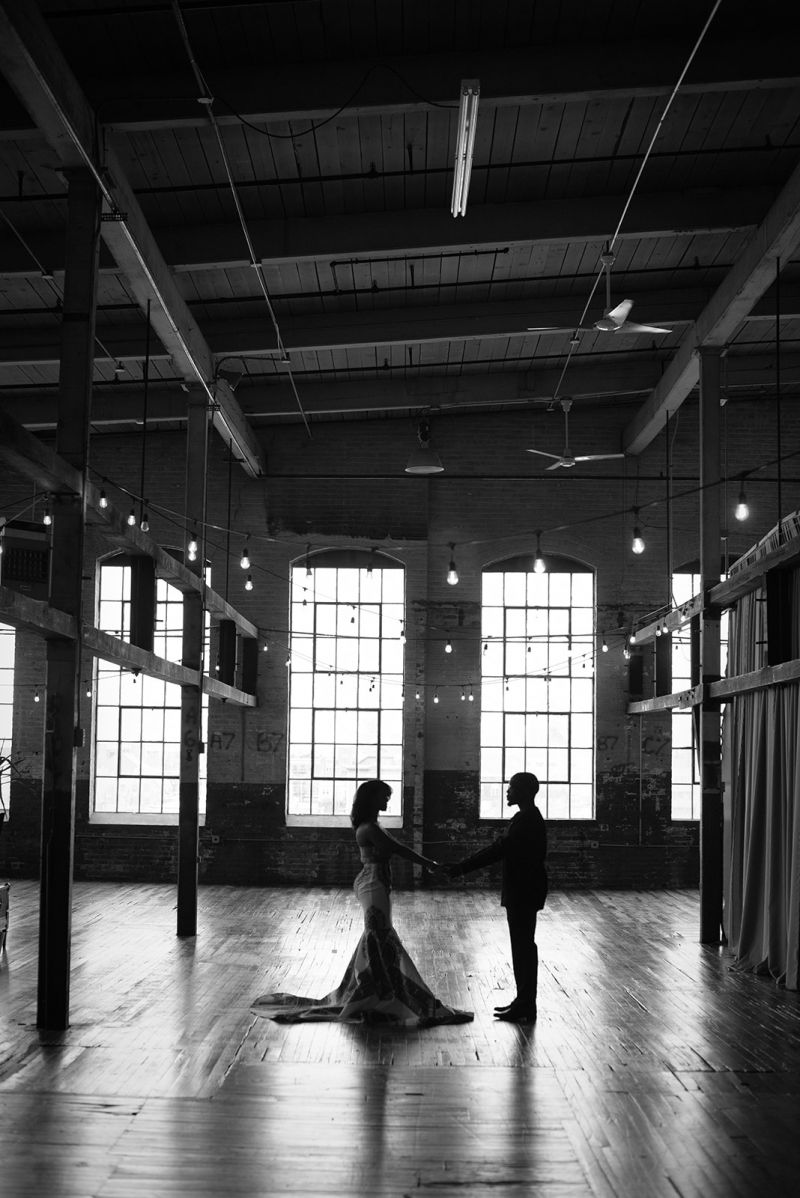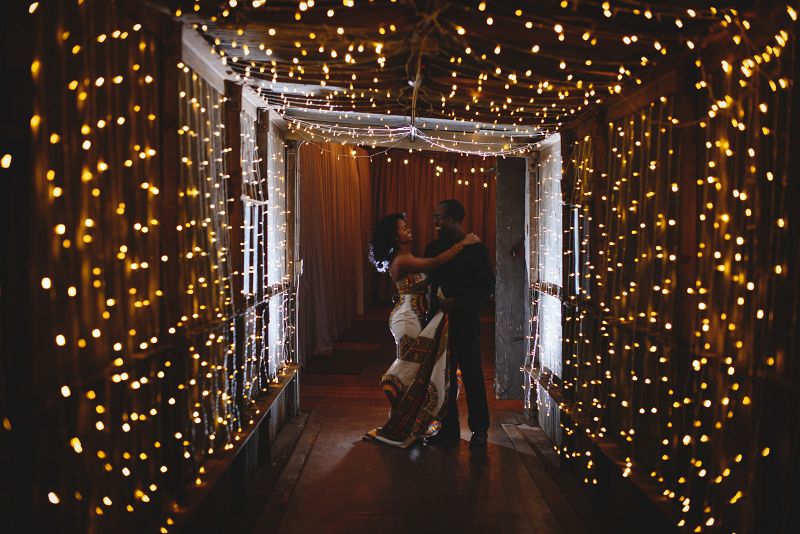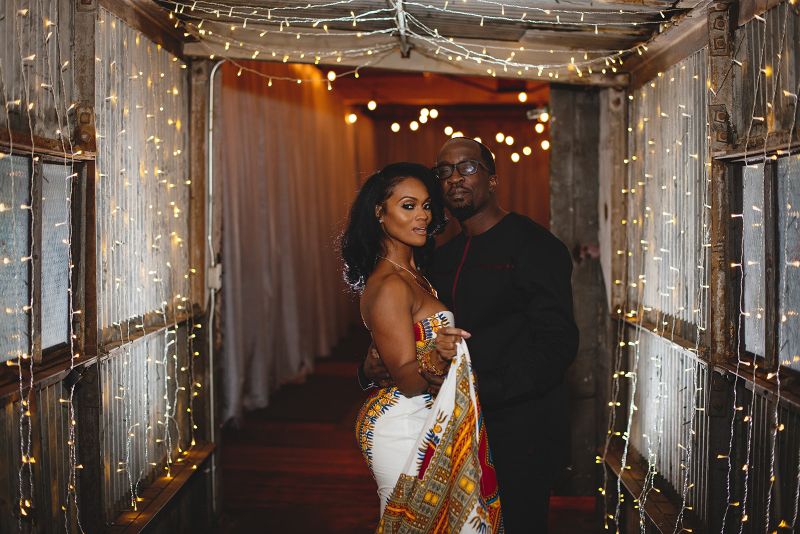 What was the theme of your shoot?
We didn't choose a specific theme, but we wanted to incorporate a bit of Nick's heritage by wearing African garb as one of the outfits. I also wanted to have an outfit that was elegant but simple. As for the location of the shoot, the Art Factory had a rustic feel that I thought would be a perfect place to capture our photos. The venue has a vintage yet timeless look about it that I thought would bring our photos to life.
Were there any memorable moments during the shoot?
There were several memorable moments, we most enjoyed posing and the room changes, The Art Factory had so many options to choose from. Some rooms were cold but we made the best of it.
What are you most looking forward to about your wedding?
We are mostly looking forward to becoming Mr. and Mrs. Ogola, as well as having our closest friends and family watch us bring our union together. We look forward to having great food and great music that will make us dance until we sweat!
Have you started planning your wedding?
Yes we have, we are so excited with the planning, we booked our venue and photographer. We are having an outdoor wedding and an indoor reception.
Congratulations to the happy couple! We wish them a fruitful marriage and many years of wedded bliss!