Though they had already known of each other for some years, Cressana and Edward first officially met at a graduation dinner. After Cressana's aunt told her that Edward was interested in getting to know her, the two hit it off and have been together for over four years now. The lovely couple walked down the aisle in a romantic red and white ceremony at the Bougainvilleas in Houston, Texas. Read more of their love story and check out their stunning day captured by Adrianne Michelle Photography.
Bride: Cressana Sennet, 36, Territory Sales Representative
Groom: Edward Sennet Jr., 32, Level II Nondestructive Testing Technician
Photography by: Adrianne Michelle Photo
Place of residence: Houston, TX
Wedding date: October 25, 2020
Wedding location: The Bougainvilleas, Houston, TX
Wedding theme/motif/inspiration: Royal Romance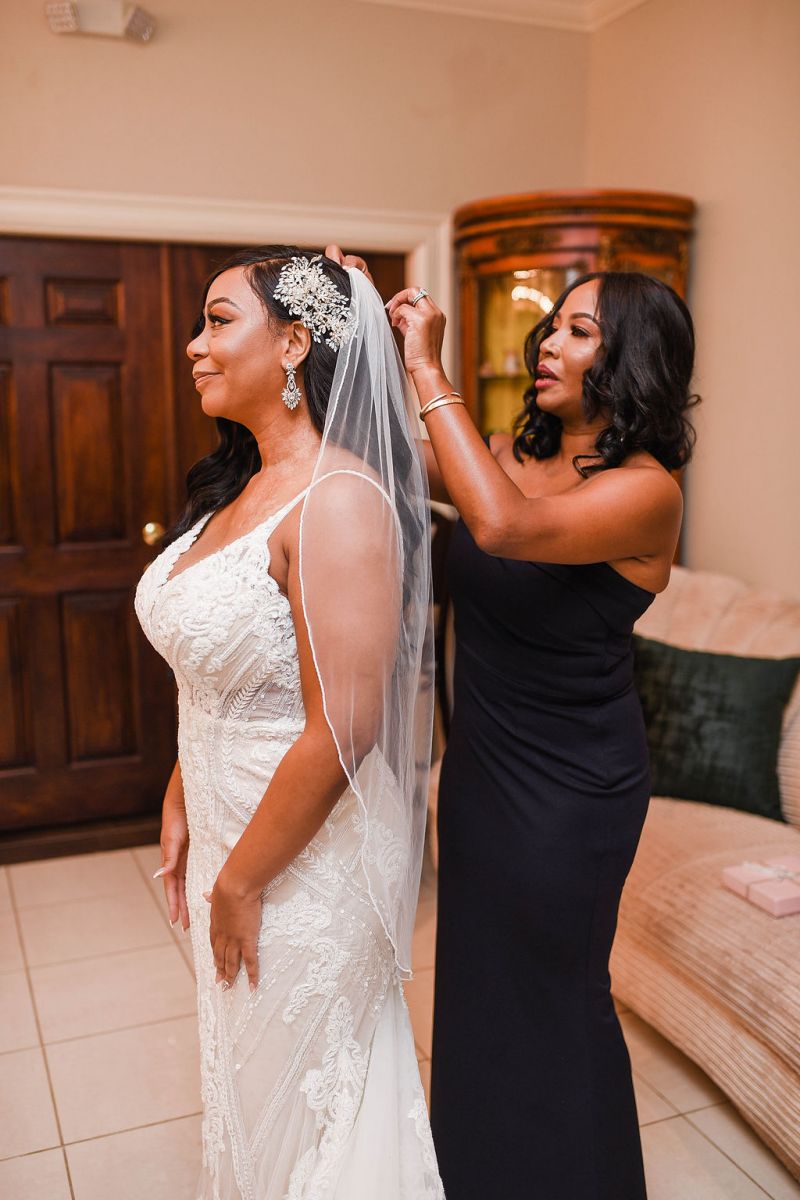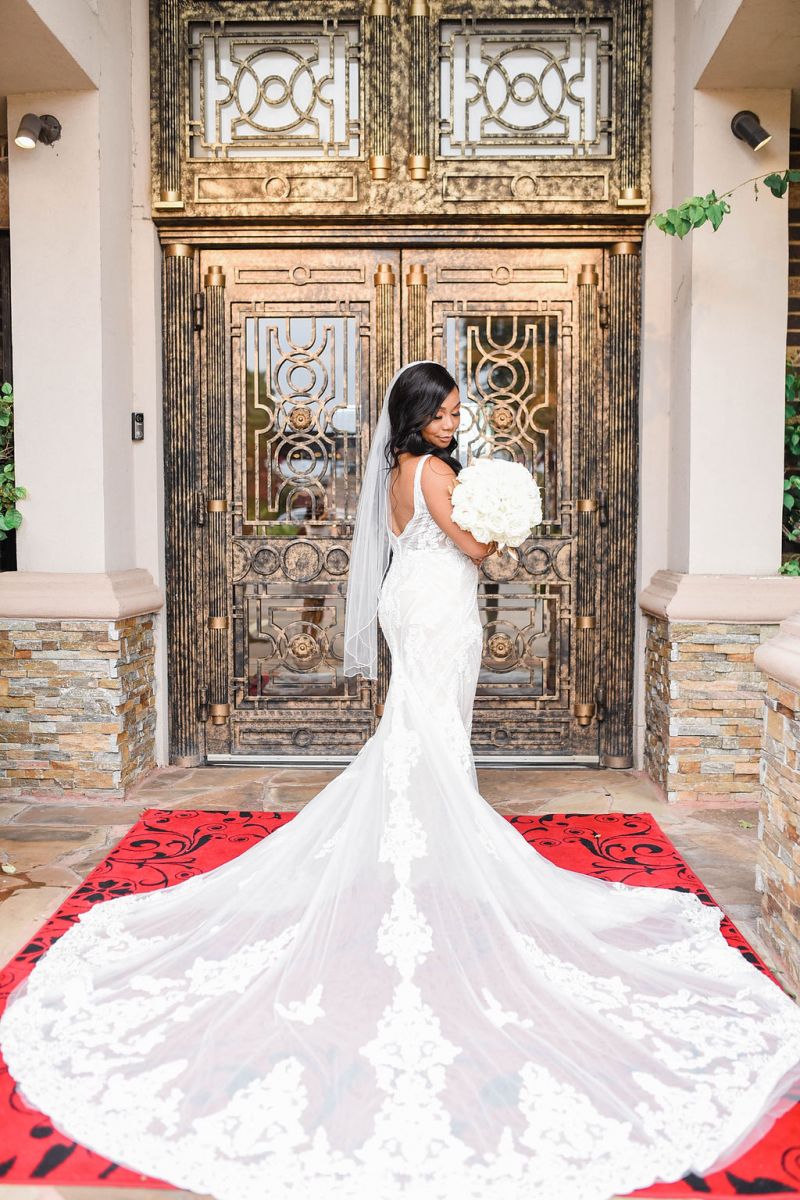 Engagement story:
Edward and my bonus son basically gave it away that he was proposing. The day before, he asked me if I heard from his parents, which was random. He stated that he had a feeling they were coming to "surprise" him in Dallas. Then later that night my bonus son asked me if I saw myself being with his dad forever. That's when my mind started racing! Fast forward to the next day at my nephew's birthday party. I am cutting my nephew's cake and turn around to start serving the cake to the children and there Edward was standing and everyone was quiet. He asked me to marry him in front of our families and friends.
What makes your love special?
Our love is special because we are truly ourselves with each other. We love to have fun wherever we go. We are best friends!
From the Bride:
I was so calm and ready to marry my best friend. I did not have one nervous bone in my body about marrying him. I felt like I was dreaming and floating the whole day. When I walked into the venue I was so happy and amazed because all of our vendors truly brought my vision to life. Our wedding planner Kaylon, made everything flow and I am forever thankful for her!
From the Groom:
My wedding experience was exactly what I was expecting. It was the best day of my life, joining my love with my best friend was nothing less than PERFECT! From the décor, venue, and the assistance from our wedding planner everything was wonderful. Our DJ kept the dance floor live with back to back hits. I loved every minute of it!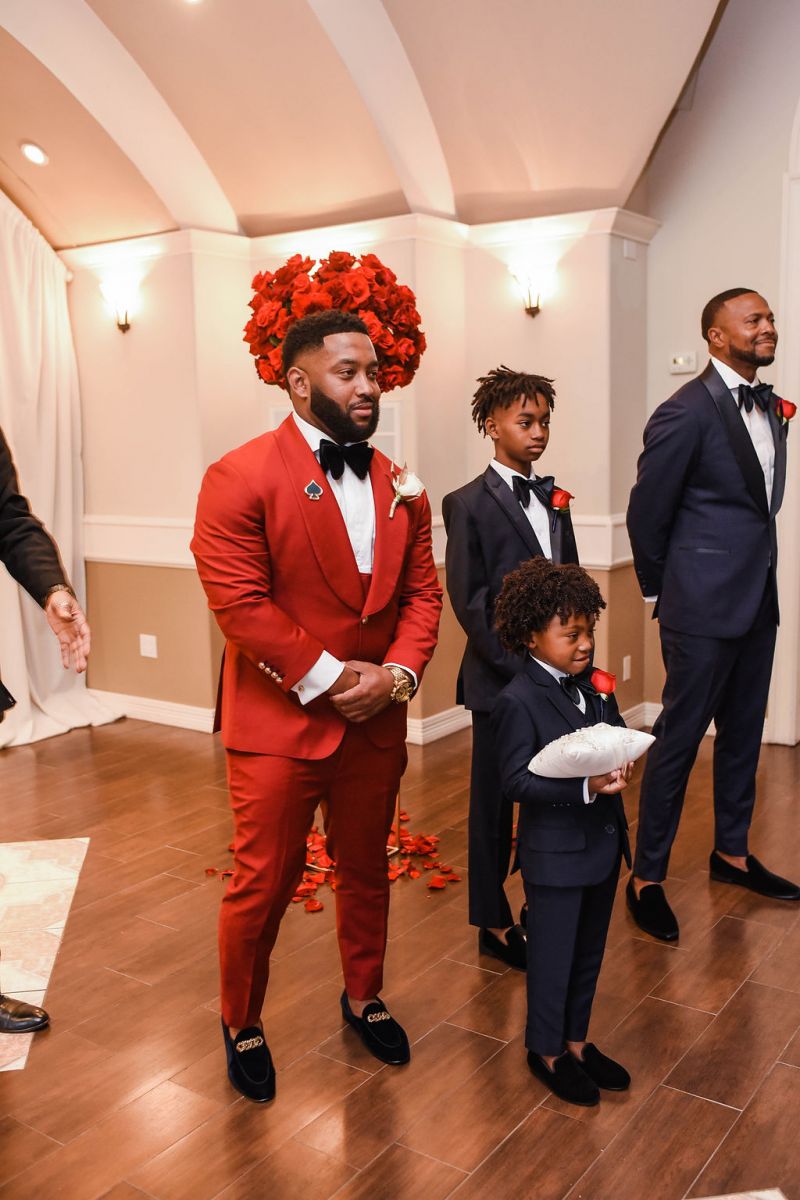 Your best/most memorable moment:
Our most memorable moment was when we said our vows while looking into each others eye.
Wedding song, explain choice for song:
"Wedding Song" by Jamie Foxx; we chose this song because every word is described our story. "I am marrying an angel today"!
Favorite wedding detail:
I would say all of the décor and details were my favorite. Everything looked like perfection!
What are you most looking forward to as a married couple?
Doing life with my best friend and growing our family!
Advice for a Bride/Groom on their wedding day:
Remember to be present in the moment. Take a few moments together for you and your spouse to take it all in!
Congratulations to the happy couple! We wish them a fruitful marriage and many years of wedded bliss!
Sources
Adrienne Michelle|Kaylon Beck – K. Benai Events|The Bougainvilleas|Martina Liana|Well Groomed Man|Supreme Kakes|DJ Debanair|Valencia Goodwin- VIP Hair Studio|Krystal Knowles|Dream Bouquet|Dennis- Owner, Chopped On Blades|2 B Luxe Rentals|Kevin and Katie Magee|Charles Jackson- Love the One You're With Wedding Officiant Services