Felicia and Michael met during the summer of 2010 at a lounge in Baltimore, Maryland. It's funny because Felicia was actually celebrating her twenty first birthday the night she first saw Michael. Michael always likes to conveniently leave that detail out when telling their love story but looking back on it, he was the most amazing birthday gift god could have ever blessed Felicia with. She had noticed him from across the room and they immediately made eye contact. After catching glimpses of each other all night, Michael smoothly slipped behind her and snuck in a dance. Luckily, the pair love to dance! They just seemed to fit together and were simply in sync. The connection they had set the precedent for how naturally their relationship would unfold. Shortly after meeting, they had their first date in Georgetown, in a lovely neighborhood in Washington D.C. And that is why they decided to have their engagement shoot in Georgetown. After dinner, they got ice cream and talked for hours. Both didn't want the date to end, but when it was finally time to say goodbye, Michael was such a gentleman. He walked Felicia back to her car, gave her a big hug, and kissed her on my forehead and nose. After months of dating and being friends, they became a couple on June 9, 2011 and the rest is history! Our wedding will celebrate our seventh anniversary together as a couple. Check out Felica and Michael's prenuptial celebration at the Tudor Place, captured by Memories of Bliss Photography.
Bride's full name, age and occupation: Felicia Cordy, 28, Pediatric Emergency Room Nurse
Groom's full name, age and occupation: Michael James, 33, Computer Systems Engineer / Government Contractor
Place of residence: Laurel, Maryland
Engagement Shoot Location: Tudor Place, Georgetown, Washington D.C.
Wedding date: June 16, 2018
Engagement story:
The weekend Michael proposed to me was a very big weekend in my sorority because we were bringing in a new line of girls — so my mind was not even on my man! About a month before the engagement, one of my sorority sisters (who was in on the whole thing) wrote in our sorority's GroupMe, "Hey everyone, I'm setting up a nice dinner the weekend we bring in the new girls since we'll be having some line sisters from out of town." In hindsight, it really was the perfect cover-up! Fast forward to the dinner, my sorority sisters and I were all at the restaurant chatting, having a good time. All of a sudden, another one of my sorority sisters came in late and was really upset because she said that she had just gotten fired from her nursing job! I couldn't believe it, but before I could say anything she rushed me into the bathroom with her.
While I was in the bathroom, everyone for the engagement (they were hiding out next door) came into the restaurant to take their places. After about 15 minutes, my sorority sister and I walked back into the dining space. When I walked up the stairs, all of our closest friends were holding up illuminated letters that spelled, "Will You Marry Me" and Michael was standing there smiling down on one knee. He had been planning everything for months and had my closest friends fly from out of town to be there. I was so shocked that Michael had planned the whole engagement and I hadn't the slightest idea! And to top it all off, the restaurant where the engagement took place was one of our favorite date spots. It was truly the happiest moment of my life.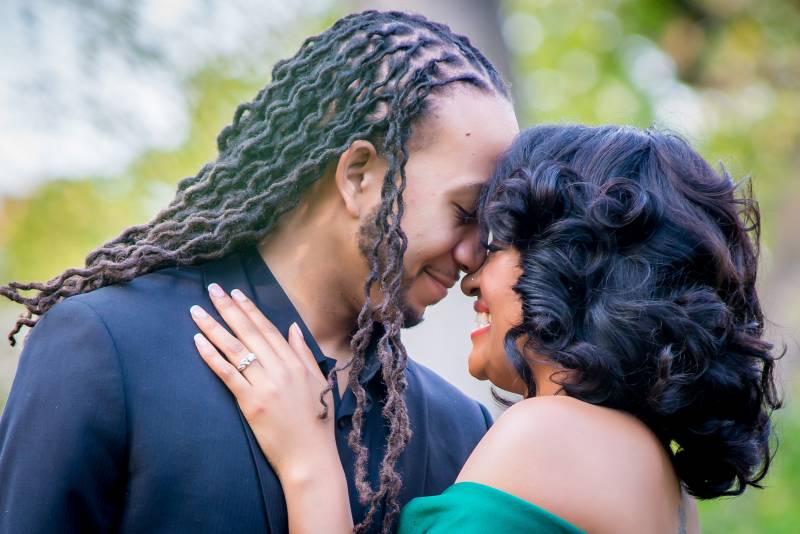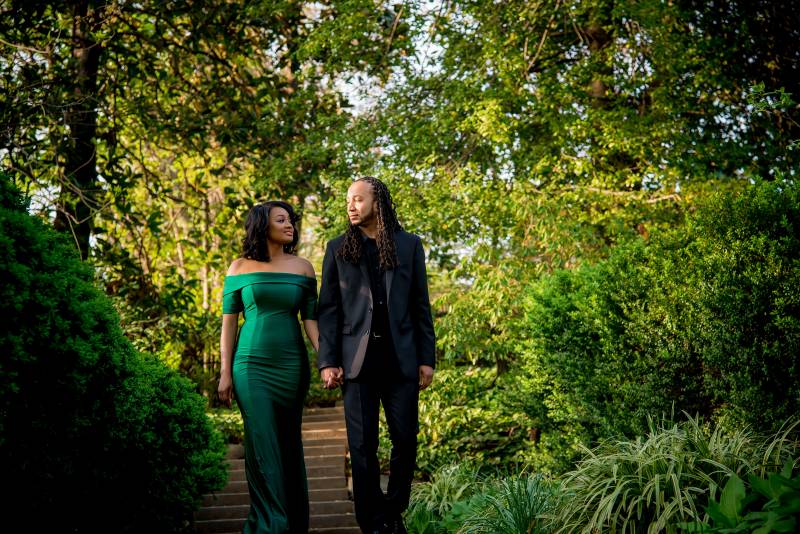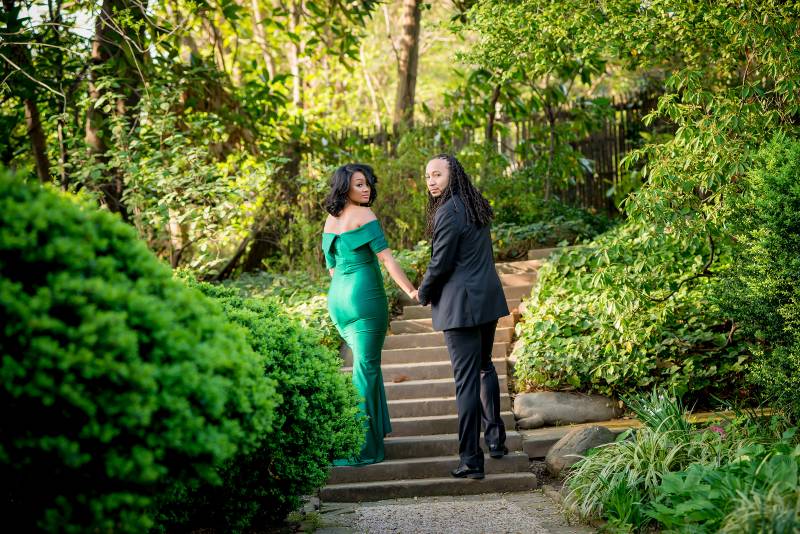 For the Groom: Walk us through the behind the scenes of creating this special day.
Felicia deserves the world so I knew the engagement had to be special. I got Felicia's father's blessing a year beforehand so I had been planning it for a while, but I also wanted the perfect opportunity when I asked her to be my wife so it would be a surprise. Felicia is very involved in her sorority so I reached out to one of her sorority sisters to help me organize the engagement. The timing of everything couldn't have worked out better!
Any guy will tell you, the moments leading up to the engagement can be nerve wrecking. I remember having so much on my mind that I actually walked passed the restaurant once we got the okay from Felicia's friends to take our places. Thankfully, my father was there and he gave me some words of encouragement. Once it was time, I got on one knee and simply spoke to her from my heart. Seeing how happy Felicia was and then finally being able to put the ring on her finger… It's an indescribable feeling!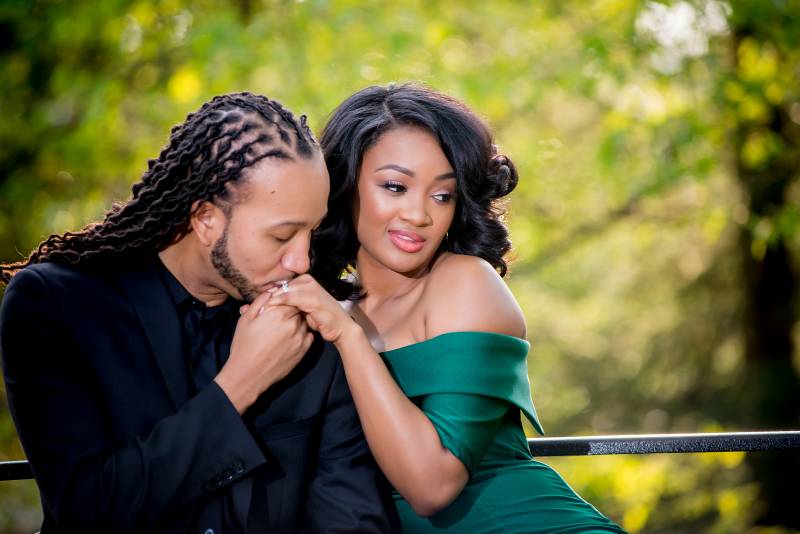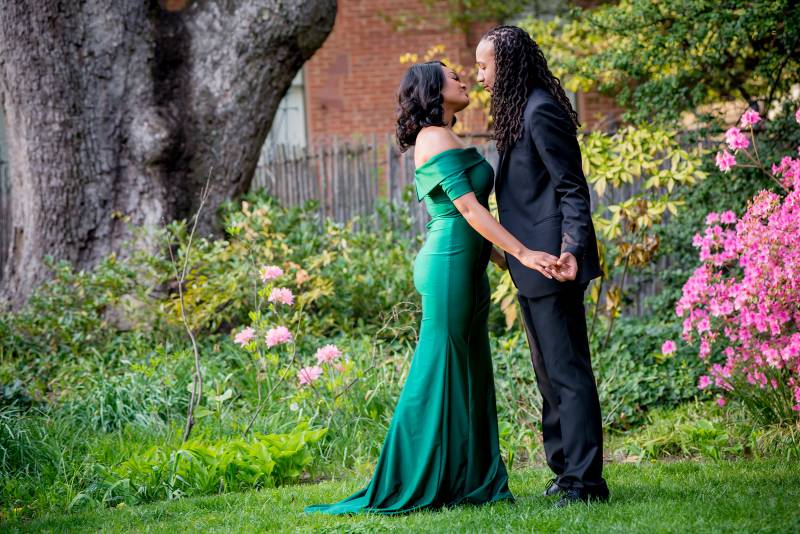 What makes your love special?
By the grace of God, through all these years we have been able to grow up together, both individually and as a couple. Felicia is truly my best friend and I can't imagine life without her. I am grateful for the strong foundation we have built. Felicia and I have been through it all: a long distance relationship, her crazy nursing schedule, graduate school, life's setbacks, and then some — yet instead of crumbling we've only grown stronger together.
What was the theme of your shoot?
Our garden of love.
What are you most looking forward to about your wedding?
Being able to celebrate our love with the people who matter the most to us.
Have you started planning your wedding?
Yes, it's a few months away!
Congratulations to the happy couple! We wish you a fruitful wedding and marriage.
Sources
Memories of Bliss Photography|Prestigious Occassions|Tudor Place Historic House and Garden|Jamaya Moore|Luxurious Barber|Dina Jay