The year was 2006, school was in session, and a long- lasting friendship turned romance was in the works. When Jazmyn and Mychal met in high school while taking a couple of the same classes together, they had no idea what was in store. The two became friends and continued to stay in touch after high school. One day they decided to give love a try and have been together now for ten years. Share in their joyous occasion captured by Porterhouse LA Photography.
Bride: Jazmyn Anderson Creer, 29, Lifestyle Blogger & Entrepreneur
Groom: Mychal Creer, 30, Instructional Assistant
Photography by: Zyaire Porter, Porterhouse LA
Place of residence: Los Angeles, CA
Wedding date: March 7, 2020
Wedding location: Private Estate, Porter Ranch, CA
Wedding theme/motif/inspiration: Modern, Minimal, Romantic
Engagement Story:
Mychal scheduled a couple's photo shoot with his friend who is a photographer. As Jazmyn and Mychal were posing during the shoot, he got down on one knee, with the ring box open, and asked Jazmyn to be his wife. At the time, they had been dating for 7 years, and the date was July 7, 2017 (7-7-17). It was a very sweet surprise!
What makes your love special?
We went to the same middle school and high school and did not really connect until we were almost graduating high school. We were friends first, so our connection is so genuine; we stayed together throughout college and the rest is history.
From the Bride:
I felt very calm and supported on our wedding day. I trusted everyone to execute and they really took good care of us. It was an intimate party with all the right people; it was perfectly us. I wish the day didn't have to come and go so fast, but I'm glad I had the chance to experience a wonderful wedding day.
From the Groom:
The wedding day was amazing! I liked that it was personal, and that our family and friends were there. I had a fun time!
Your best/most memorable moment:
All the right people were there, all the right vendors; it was absolutely perfect. It happened right before the shutdown, so it was the last party most of us experienced and it left us and our guests on a high from all the love.
Wedding song, explain choice for song:
Once we were officially husband and wife, we walked up the aisle to "Double Up" by Nipsey Hussle. We chose that song because we never considered ourselves to be a traditional couple and felt like we were sharing in our own victory lap. The road to that day was well paved and we're ready to go up from here.
Favorite wedding detail:
Everything was reflective of our style, especially the minimal color palette. The clear Chiavari chairs, the velvet linens, the Moet candles, the cake, our flower wall, the neon sign, the flowers, my vendors, they made everything so perfect. There isn't a thing we would change.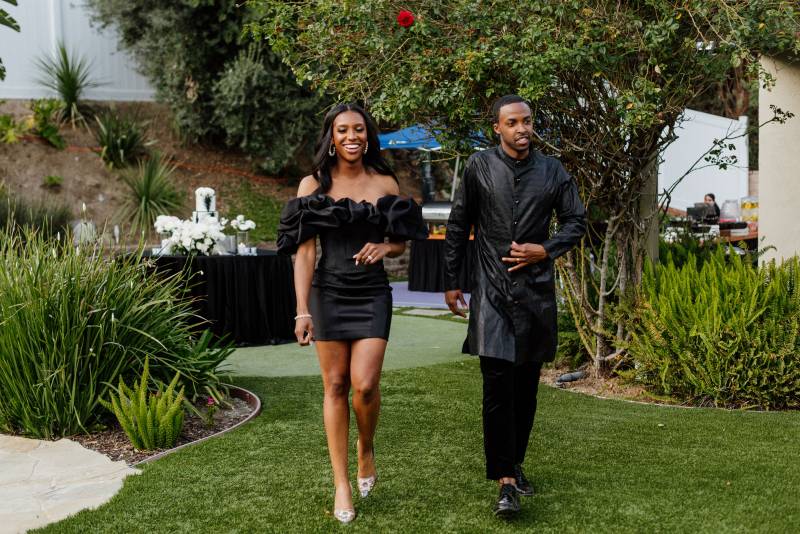 What are you most looking forward to as a married couple?
Eventually starting a family, creating a new legacy, and having the ability to create a new narrative for our family. We are looking forward to more couples' outings and trips with our village of friends, and going on our honeymoon!
Advice for a Bride/Groom on their wedding day:
Do what works best for you as a couple. Your day should represent your love and your experience together. There will be one million opinions and suggestions; do what makes you both happy. Don't settle. Decide what is most important to you in your budget, you don't have to follow a list of traditions, and most of all, enjoy every single moment of the celebration. The day will FLY by. Choose great photographers and videographers to capture the moment.
< strong>Please feel free to include any other interesting anecdotes from your big day!
We had a trampoline that was a big hit as the night went on.
Congratulations to the happy couple! We wish you a fruitful marriage and many years of wedded bliss!
Sources
Porterhouse LA|Waverly Coleman|Private Residence|Asos Edition Collection|Michael Ferrera Bespoke|Lady Diannes Cakes|Tacos Don Jorge|Kelsie Lynn|Drini Marie|Poppy Lavendar Florals|The Byrd Sisters|Paige Tuzee Designs|Wonder Wall OC