Zayna and Olanrewaju have known each other since 2007. They both attended the same high school, Morrow High, and the same college, University of West Georgia. "In March 2011 I sent out a subliminal tweet expressing my interest, and he caught it. We began riding to UWG together and from there we got to know each other," recalled Zayna. On November 10, 2011, Olanrewaju asked Zayna to be his girlfriend and the rest is history. The two are planning a royal wedding next year at the Ashton Gardens in Atlanta, GA. Check out their chic outdoor engagement session captured by Mecca Gamble Photography.
Bride: Zayna Leah Carter-Sholaja, Brow Expert/ Esthetician
Groom: Olanrewaju David Sholaja, Active Duty Navy
Place of residence: Atlanta, GA
Engagement Shoot Location: Piedmont Park
Wedding date: 8/20/16
Engagement story from the bride-to-be:
David proposed to me twice, the first time was Easter Sunday, April 20th, 2014, he was in Mississippi for A school, prior to A school he was at basic training in Chicago. So leading up to me going out to see him in Mississippi we hadn't talked or seen each other for 3 months (longest 3 months of my life), it was so evident how much we loved each other and I feel that he felt it was his time to ask me. The second time was August 8th, 2014, he had a ring this time and he was able to propose the way he felt he wanted to, in front of friends and with a ring, even though I already said yes to the first proposal, I just allowed David to propose the way he saw fit and I said YES again.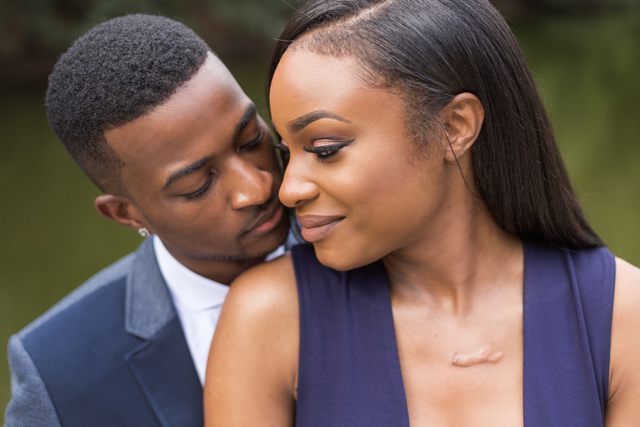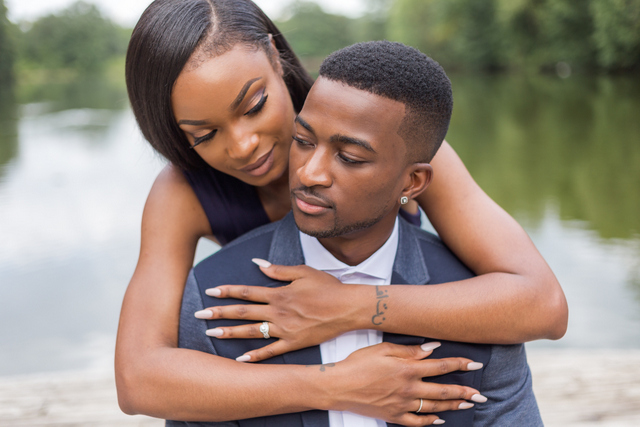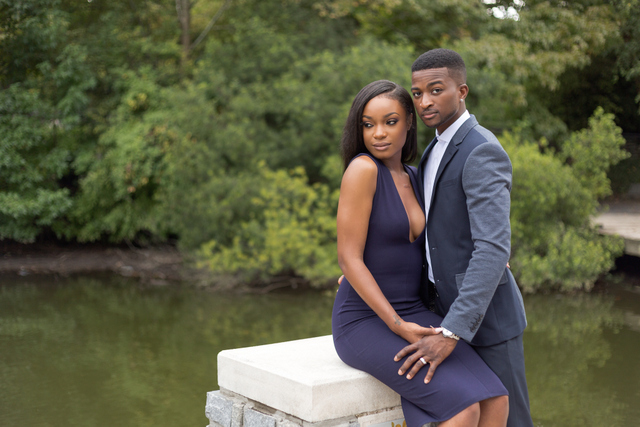 For the Groom: Walk us through the behind the scenes of creating this special day:
Proposing to Zayna was equally planned and spontaneous. I remember my first thought about it was to just use the opportunity of me being on leave and being back home in Atlanta for a short period with her to get some advice and help from her sister (ring size etc) and it took a great deal of efforts to make it look like I was busy and keep her clueless to my whereabouts. When it was all done and I walked out with the ring in hand, I had no clue how or when I was going to propose, but I kept the ring on me throughout the day. Later in the evening I planned to meet my friends and go out for food and drinks and Zayna was supposed to see her family. At this point, the only people who knew about the ring were her sister and my friends. Zayna ended up coming with me to dinner with my friends because she wasn't up for the drive to her family's house that night and it was near midnight at this point. So we had dinner and great conversation with my friends. Although I had the ring close by I still was not thinking about actually proposing because of course I wanted it to be special. Once we were finished eating, we began to walk outside and randomly started taking pictures because my friend had a Polaroid camera. I began to think about how much fun I was having being back home with the people I love and then it just hit me. The thought of that along with being in the heart of the city in front of the restaurant that night was the perfect time to propose. So I asked my friend to take a Polaroid photo of Zayna and I, after the first photo I said "wait I got a better idea" and proceeded to get down on one knee and proposed. It ended up being perfect in our eyes because everything fell in place leading up to that moment.
What was the theme of your Engagement session?
We didn't have a specific theme, we just wanted to express our love via photos to share with family and friends and to add to our wedding website for out of town family to view regarding wedding information. We just wanted to have fun, be comfortable and create great images to keep for life and share with future kids.
What makes your love special?
Our love is special because he and I have struggled together, we have learned together, grown together, built a foundation together and more importantly we have accomplished goals separately on the strength of us supporting each other, which in turn makes us successful together David is such a genuine man, and that's the biggest reason why I decided to be with him and yes to love. He constantly puts me in positions to be successful and accomplish goals, he genuinely loves not only me but my flaws as well. We are the farthest from perfect and we don't always agree, but neither one of us could ever envision life without each other.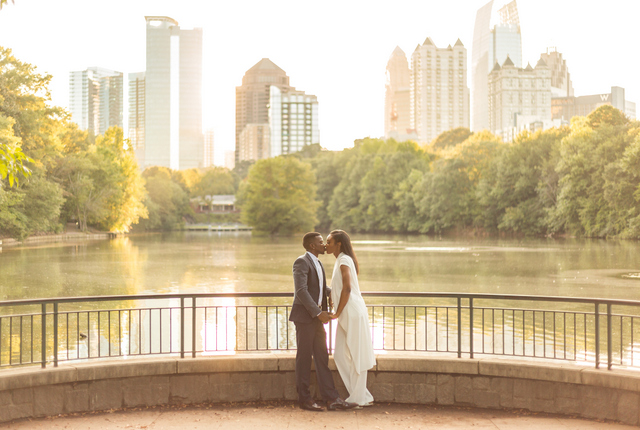 What are you most looking forward to about your wedding?
Our family members and friends experiencing this day with us and witnessing the amazing love we have for each other. Have fun and just celebrating genuine black love.
Have you started planning your wedding?
Yes, I've started planning, David is Nigerian so we will have a "Royalty" theme wedding. Although I have purchased my wedding dress, I will also be wearing a traditional Nigerian gown. Our colors are all shades of purple, from light to dark, navy blue and white.
Congratulations to the happy couple Zayna and Olanrewaju! We wish you a wonderful wedding and marriage.
Vendors:
Photography: Mecca Gamble Photography
Beauty – Make-Up: Glam Ashley Green
Stylist: Charlie Brianna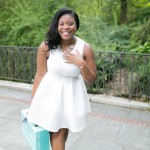 Curated by our Wedding Features Editor, C.K. Alexander. C.K. is the creator of the Single Bride Blog and the owner and founder of Love Ink and Brownstone Bridal. Keep up with C.K. on Twitter here: @Love_Ink