DaLice and Greg met in college at Hampton University in 2001. "We exchanged phone numbers and never called one another but ran into each other again, while at school in 2004 and have been together ever since," said DaLice. The two celebrated their union with a "Red Carpet Movie Premiere," themed wedding at the Design Center, in Charlotte, NC. Check out their special day captured by Deevo Tindall of Fusion Photography!
Bride: DaLice A. Wiggins, 32, Case Manager
Groom: Greg Wiggins, 31, HR Generalist
Place of residence: Charlotte, NC
Wedding date: 10/12/14
Wedding location: The Design Center
Honeymoon Destination: 7- Day Caribbean cruise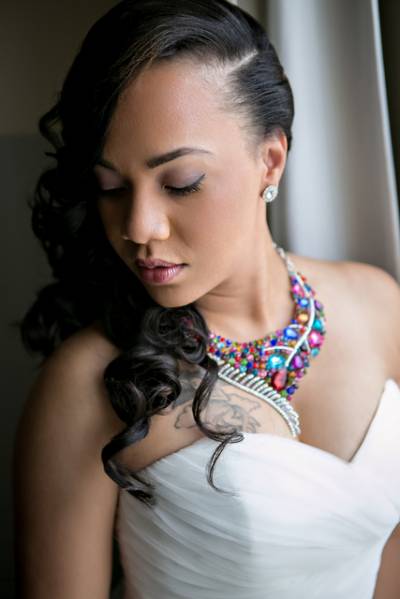 Engagement story:
In all of our years together, we have celebrated the new year at home, but this particular year, we went out and partied. The next morning, he got down on one knee and popped the question. Some people say you know when its coming, but I was completely surprised. I am not one who cries easily, so I just giggled the whole time. After saying yes of course.
From the Groom:
We were so blessed to have tons of support, so the day of the wedding I was extremely relaxed. Even though I didn't sleep the night before (due to anticipation and bachelor party) everything ran smooth. I was even able to sneak some football in before we had to take pictures. The day flowed flawlessly without even having to think. The first time I had a moment to myself was at the altar waiting for DaLice. At that point looking across rows of loved ones then seeing your bride, love, future coming down the aisle; only then I realized how blessed I am. Needless to say, it was a great day.
Favorite wedding detail:
The VIP press pass escort cards with one of our engagement pictures.
From the Bride:
I was relatively calm the first part of the day, which I did not anticipate to be. Pretty much everything went as planned. My bouquet was late and not what I expected, and the weather was cloudy and misted the whole day. However, since those were things out of my control, I didn't let it ruin my day. The pre-wedding cocktails and having my closest girlfriends, more like sisters, there with me also helped. The walk down the aisle was surreal. I do not like attention to be on me and I thought I would be anxious about walking in front of everyone but I only noticed him and it felt like he was the only one in the room.
What makes your love special?
Our love would be best described in 2 words. Simple and Understood. We know each other's thoughts and feelings, without having to verbally express it. It doesn't take a lot to make us happy, which I think is what has been one of the things that has kept us together so long.
Your best/most memorable moment:
The best man's speech, who gave the best advice ever… don't take anyone else's advise, just do what's best for us.
What are you most looking forward to as a married couple?
Building a future together and starting a family.
Advice for a Bride & Groom on their wedding day:

Don't forget it's YOUR celebration so make sure you have fun!
Congratulations to newlyweds DaLice and Greg! We wish you many more years of wedded bliss.
Vendors:
Photographer: Fusion Photography
www.fusionphotographystudio.com/
Ceremony & recption location: The Design Center Atrium
Bridal gown: Blu by Mori Lee, NY Bride and Groom
Bridal shoes: Aminah Abdul Jillil
Bridal party attire: Henkaa
Groom's tux: Vera Wang
Cake: Holy Sheet Custom Cakes
www.weddingcakescharlottenc.com
Caterer: Best Impression Caterers
bestimpressionscaterers.com/main.php
Wedding planners: Nicholas Wiggins
groom's brother
Music: DJ A Rock- www.djarock.com
Hair and makeup:
Hair- Y
velisse Salon, Charlotte NC;
Makeup- Terri Craft
Flowers: Ribald Farms
Curated by our Wedding Features Editor, C.K. Alexander. C.K. is the owner and founder of Love Ink and Brownstone Bridal. Keep up with C.K. on Twitter here: @Love_Ink