DeAnna and Brandon met in 2012 through DeAnna's coworker and Brandon's uncle. DeAnna was at dinner with her buddy/co-worker Sidney Younger and her then boyfriend Alexis McIntosh. They were talking about the lack of eligible men in Fort Myers when Alexis said that he had a nephew in Chicago that she may like and Sidney agreed. DeAnna was hesitant at first, but then thought that a phone buddy was better than nothing! Alexis showed DeAnna a picture of Brandon and texted Brandon a picture of her. Alexis gave Brandon DeAnna's number, and their phone friendship began. Several months later, Brandon asked DeAnna to be his valentine and sent flowers and chocolate covered strawberries to her job! DeAnna also sent Brandon a Jacksonville Jaguar cookie bouquet to his job (it's his favorite team). A month later, Brandon came to Florida for his spring break and met DeAnna for the first time on a manatee tour. It wasn't love at first sight between the two, but they continued their friendship as Brandon returned to Chicago. Brandon and DeAnna's friendship grew deeper after Brandon moved down to Ft. Lauderdale for a job. They were able to spend more time together, get to know each other's families, and to see each other in their own environments. A couple months later, they realized the amazing potential for a fulfilling, lasting relationship that they had and made it official. Check out their "vintage romance" themed wedding , beautifully captured by Castaldo Studio.
Bride: DeAnna J. McIntosh, 26, Associate Manager, Technology Merchandise Strategy & Execution
Groom: Brandon M. McIntosh, 29, High School Social Studies Teacher & Assistant Football Coach
Place of residence: North Lauderdale, FL
Wedding date: 3/22/15
Wedding location: Montverde, FL at Bella Collina
Wedding theme: Vintage Romance
Honeymoon Destination: Punta Cana, Dominican Republic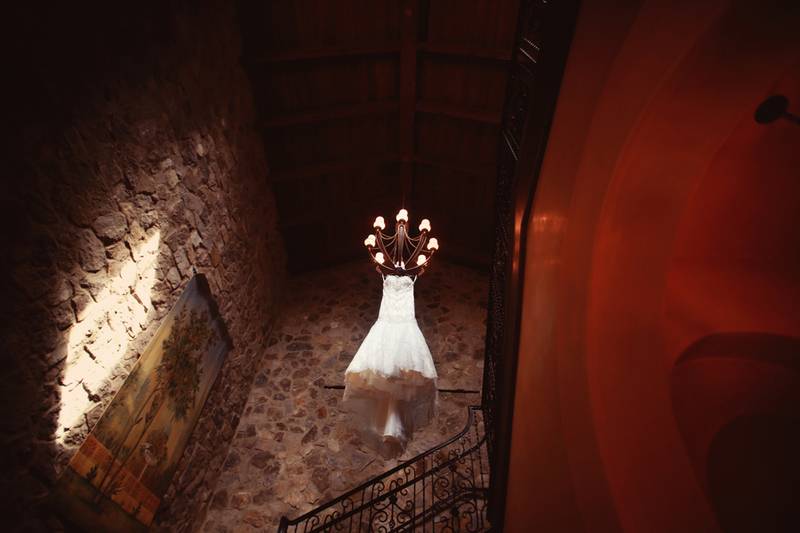 Engagement story:
With the summer of 2014 rapidly coming to a close, Brandon and DeAnna decided to spend time together in New York City. DeAnna was already in NYC for work that week, and Brandon met her there for the weekend. While DeAnna was very experienced in the city's mass hysteria, Brandon was making his first visit to New York with high expectations and the ring! Unaware of where or when he would make his proposal, Brandon patiently awaited his opening as DeAnna literally showed him around all of Mahattan in one day (walked 9 miles!!!) After nearly walking their feet off, Brandon decided to wait until he and DeAnna were rested and alone. The next morning, the couple raced to check out of their hotel in order to meet two of DeAnna's college friends for brunch. It was then that Brandon saw his opportunity by hiding the ring under a pile of DeAnna's jewelry on the bed when she wasn't looking. Spontaneous and risky, there was a slight chance that DeAnna would not even find the ring at all. Finally, it was time to leave, and both DeAnna and Brandon had to finish packing their luggage. DeAnna quickly scrambled through her jewelry when she came upon an unfamiliar item. "Wait, this isn't mine," she said. Brandon, subtly approaching as DeAnna realizes what was happening. Once Brandon asked DeAnna to marry him, DeAnna said "Yes."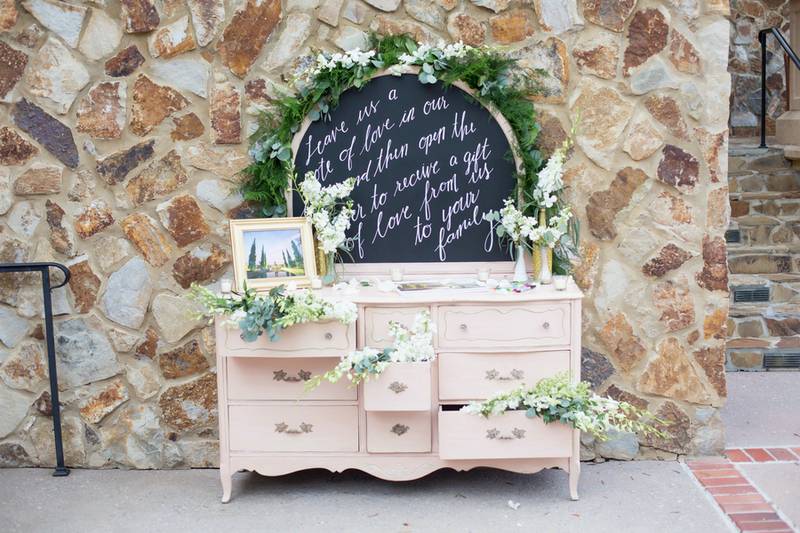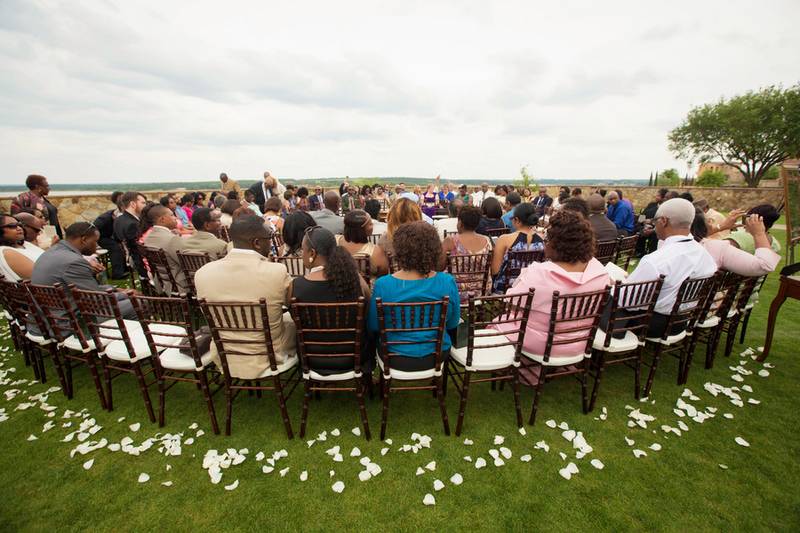 From the Groom:
It was a surreal experience. All I wanted was to enjoy the day with my new wife and everyone who came to celebrate with us. I was really proud of all of the hard work my wife put into the preparation of the wedding. The venue was amazing and the details she put into place made the wedding unique. I could tell how much people caught onto some of those aspects weeks and months after when talking with friends and family about the wedding.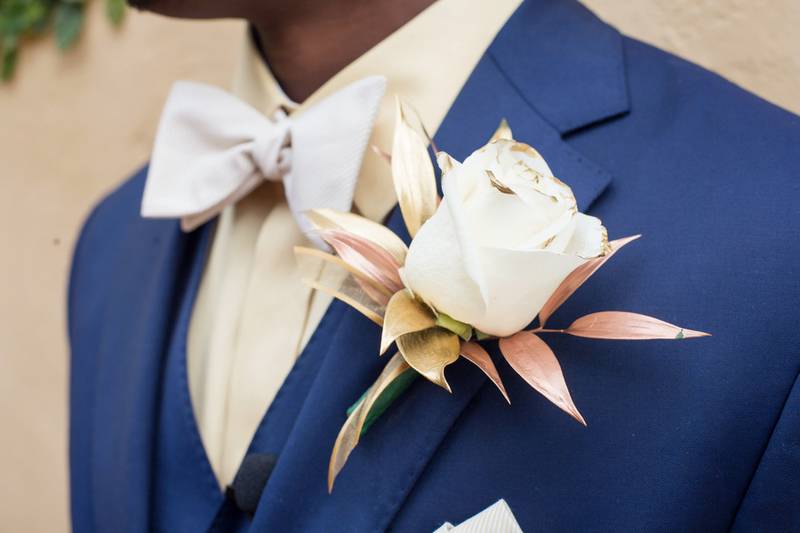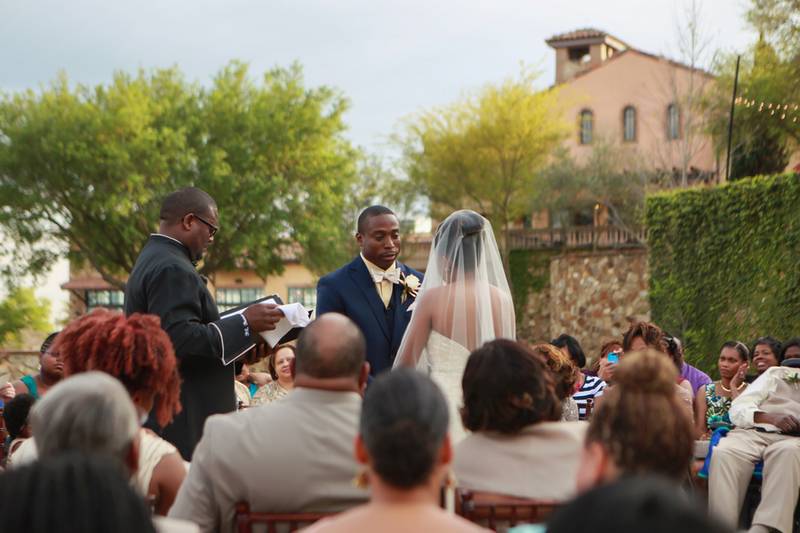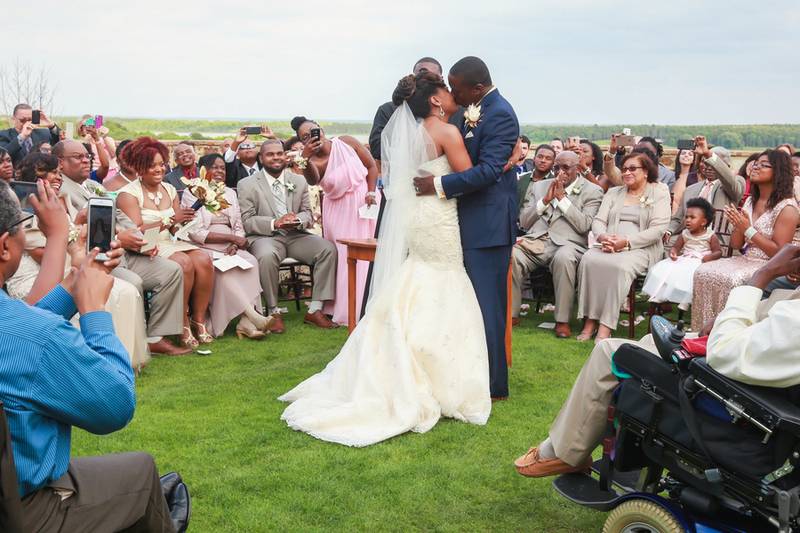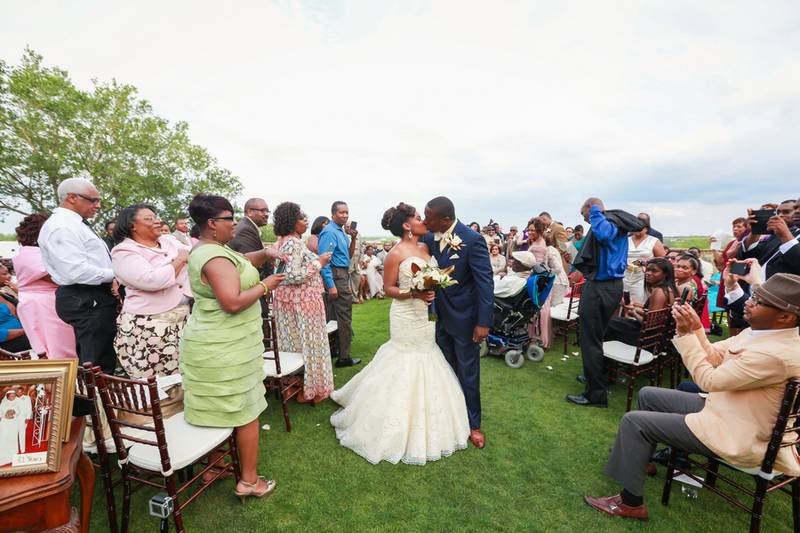 About the Ceremony:
Our ceremony was on the lawn at Bella Collina. The chairs for the ceremony were setup in a spiral, with an aisle coming through the middle. When guests approached the spiral, on their left was a legacy table with wedding photos of our parents and grandparents along with a card saying how long each couple had been married. Both of our parents have been married over 30 years. My grandparents on both sides have been married over 57 years! At the entrance of the spiral on the guests' right was a mirror on an easel with "Brandon & DeAnna, Your legacy starts today" written on the mirror in chalk. Both the mirror and the legacy table photos are in our living room! We made them into a photo collage. At the feet of the guests seated in the spiral were rose petals. There were programs on every other chair. The programs were unique in that they were also fans! They had the itinerary of the evening, list of vendors, and best of all, their very own "honey do list" which listed the many things guests had to make sure they did before the end of the night, i.e. roast s'mores at the firepit, try as many desserts as possible in the dessert lounge, etc. The processional song for the family was "Then Came You" by Javen. The Bride's entrance song was "This Very Moment" by K-ci and JoJo. During the ceremony, we took communion (we're Christians), and we had the pastor say a prayer and all of our guests stretched out their hands to us, which was a really powerful moment, and picture, showing us in the middle of everyone who truly loves and supports us. My husband and I recited our own vows – and we promised each other we wouldn't prepare them ahead of time. We wanted to do it straight from the heart – which is why i had such a hard time getting through it at first without hysterically crying.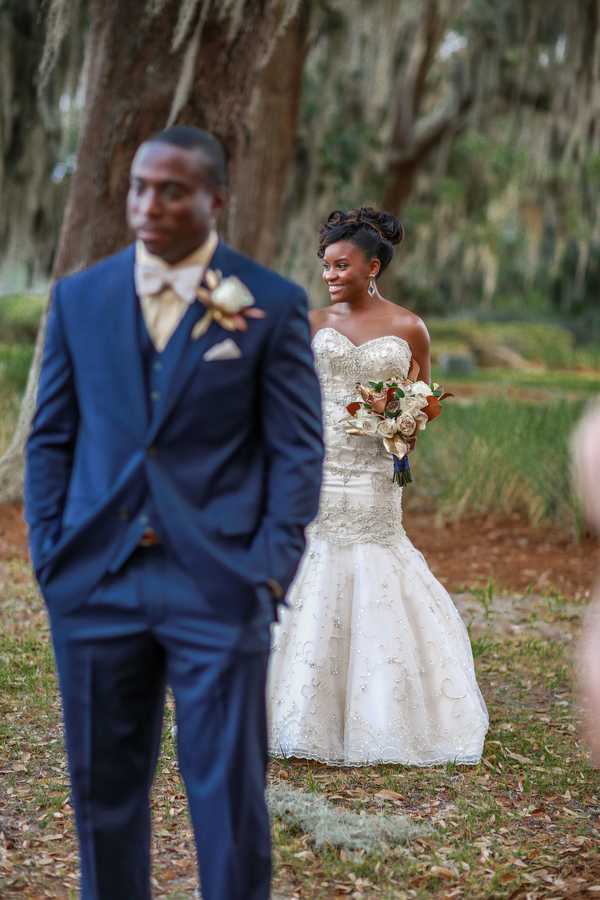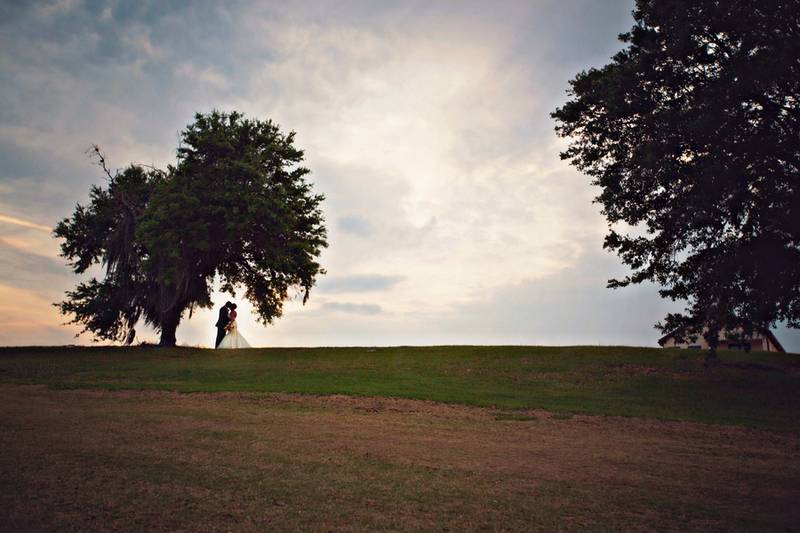 From the Bride:
On our day I was nervous – but not about the fact that I was getting married, that part I was 250% sure about – I was nervous because I wanted everything to go smoothly and our guests to have an amazing experience! I'm also an event planner, so I enjoyed planning our day from start to finish and seeing our vision come to fruition. We didn't have bridesmaids or groomsmen which I feel is why I was truly able to relax beforehand, take my time getting dressed, and just bask in the moment. My venue told me they'd never seen such a calm bride! The day zoomed by and I was just excited and overwhelmed with the love and support from our family and friends, and also about the fact that I still stand amazed that God blessed me with Brandon McIntosh.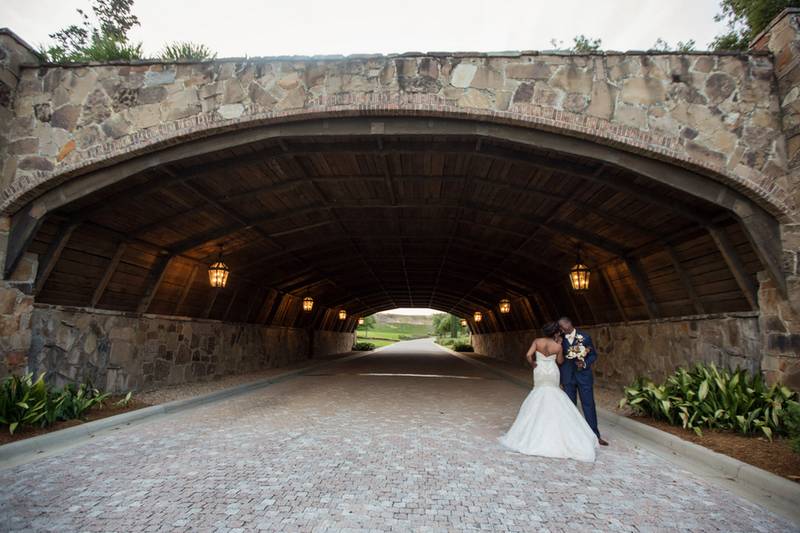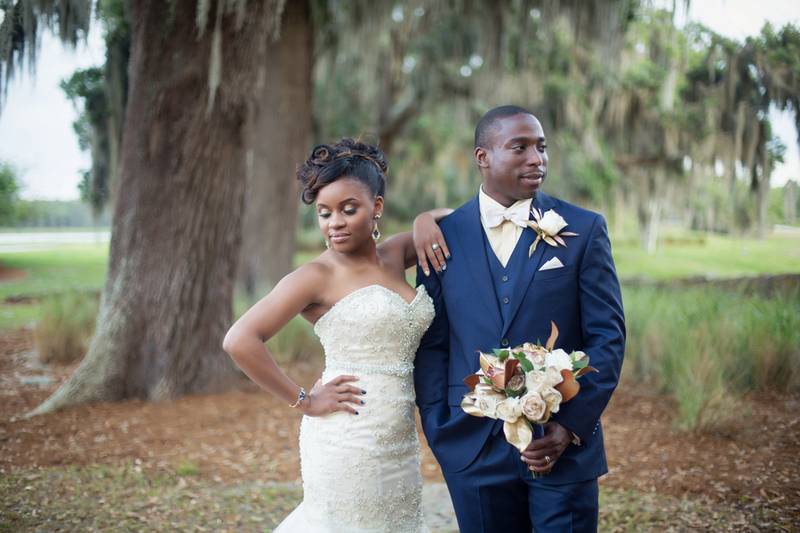 What makes your love special?
We were best friends when we decided to take our relationship to the next level and start dating, and we're still best friends as husband and wife. We truly enjoy each other's company, no matter where we are or what we're doing. We constantly find ways to celebrate each other! Every month on the 22nd (our wedding date) we make it a point go out on a date and fall in love all over again.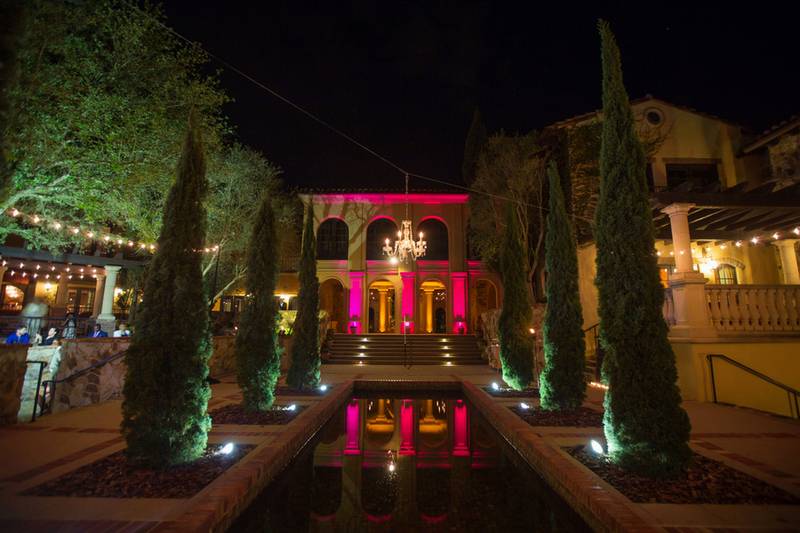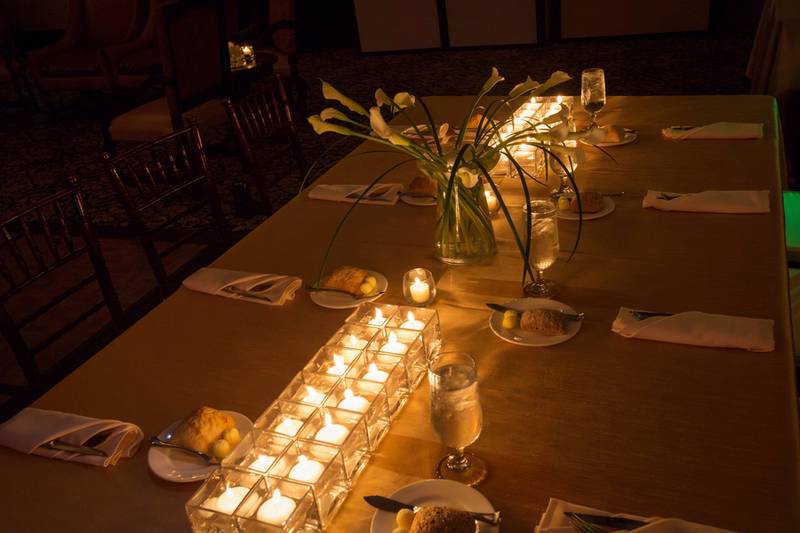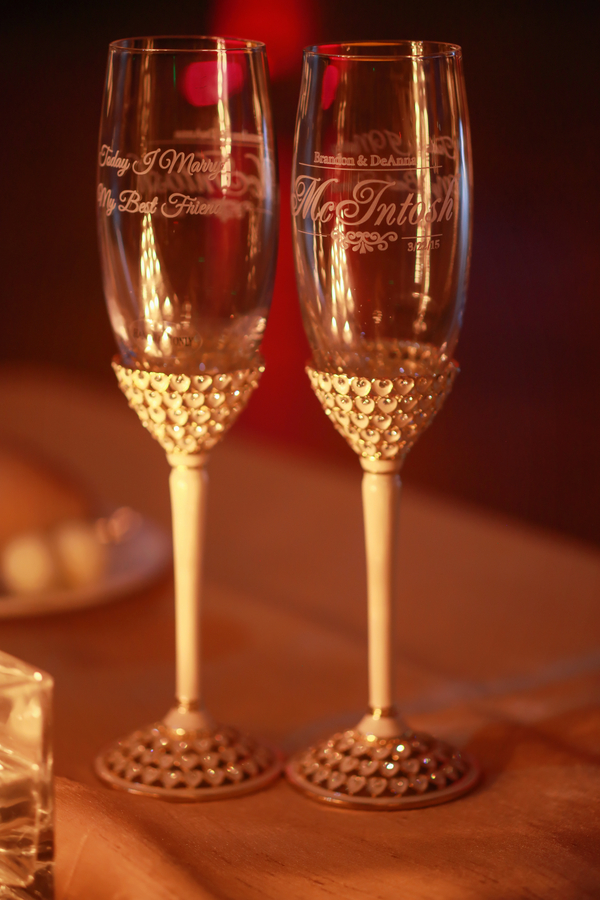 Favorite wedding detail:
My favorite detail of the wedding was our Guestbook and Favor display. We rented a large blush pink buffet from RW Events. It had a garland framing the chalkboard, which read, "Leave us a note of love in our book and then open the drawer to receive a gift of love from us to your family". On top of the buffet was our photo guestbook made from Picaboo with our engagement photos – which were taken at Bella Collina! So guests could relate to the photos in there which was cool! After writing in the guest book, guests would open the drawer and pick one gift – we had assorted basalmic vinegars and olive oils for them to choose from that had our names and wedding date on them! Guests would then place their gift in one of our fatigue gift bags that we handpainted in gold "Love, The Mac's" on the front.
Best and most memorable moment:
The dessert lounge! It was a completely different look and feel than the ballroom. It was in the wine cellar, and was completely washed out in blue uplighting, had Miami house music playing, and guests got to indulge in 13 different kinds of desserts!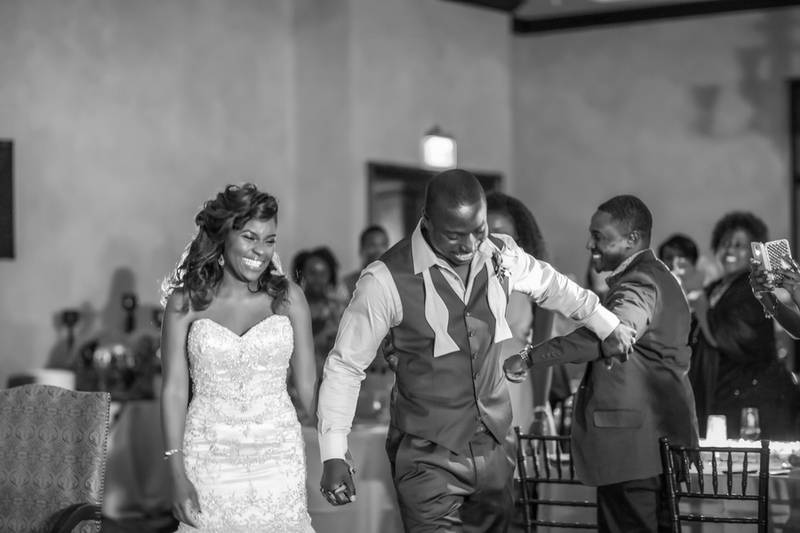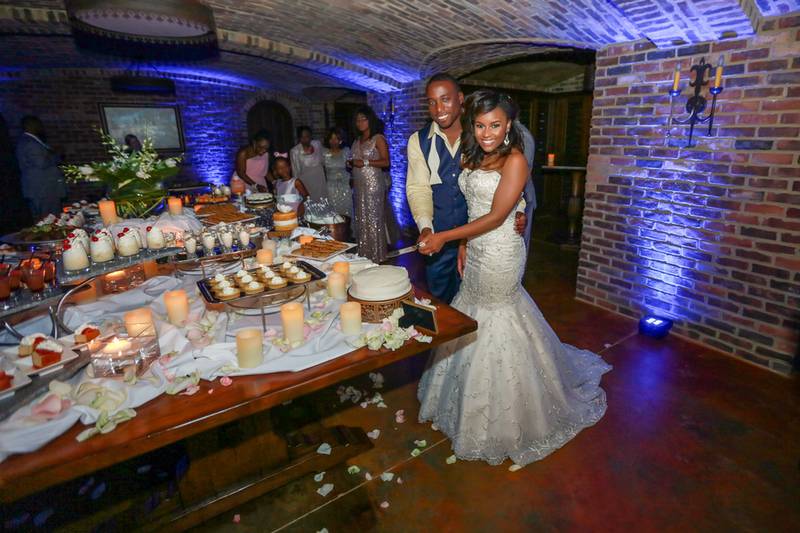 What are you most looking forward to as a married couple?
Continuing to have just as much, if not even more fun, than we did when we were dating! We are totally focused on enjoying each other as a married couple by trying new things and traveling to new places together.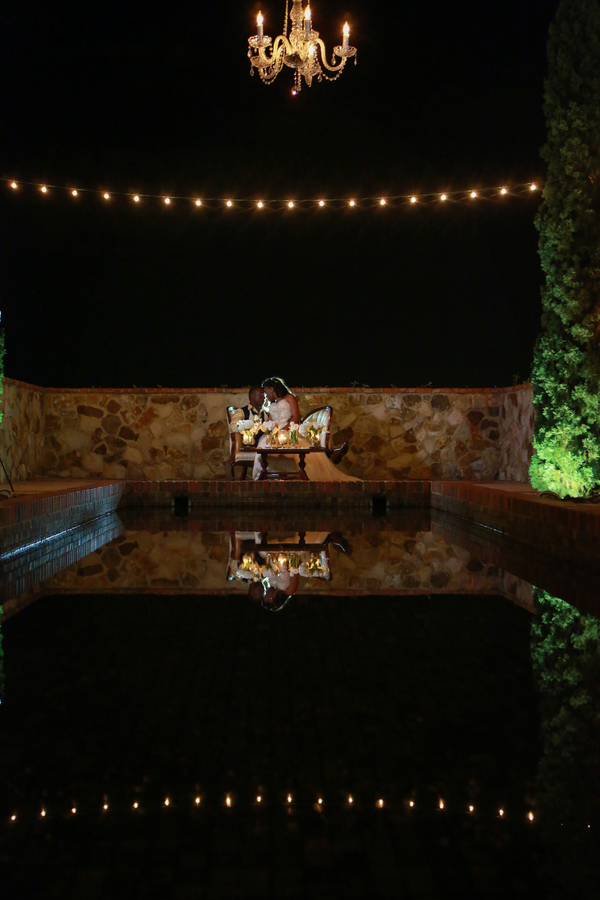 Advice for a Bride/Groom on their wedding day:
Keep focused on what the day is solely about – your marriage, your love, your lives beginning together. Things will inevitably go wrong, so if something does, tell your coordinators so they can fix it, then smile, and get back to enjoying your wedding! The day is going to be over before you know it, so greet as many guests as you can, and really take a couple seconds to savor each special moment!
Congratulations to the newlyweds DeAnna and Brandon McIntosh! We wish you many more years of wedded bliss!
Vendors:
Photographer & Videographer: Castaldo Studio
Ceremony & reception location: Bella Collina
Bridal gown: Robin Jillian, Jon's Bridal
Groom's Attire: Miller's Designs
Cakes: Two Sweets Bake Shop
Caterer and Desserts: Bella Collina
Favors: Alta Cucina
Wedding Design: Affinity Event Creative
Wedding Coordinator: Runway Events
Music: DJ Live Productions
Hair: Hair by Aesha Alleyne & Beauty Spa by La-Nitha Davis
Makeup: Looks of Vanity
Jewelry: LuLu Splendor
Programs: Poetic Twist
Lighting: Get Lit Productions
Vintage Rentals: Vintage Chic Affairs
Vintage Rentals: RW Events