Engagement story: Gerald and I started dating about 2 years ago. On July 31, 2011, my oldest sister and her family were in town from Nashville and we decided to have a family dinner at my home, Gerald shocked us all and got down on his knee and asked me to marry him. It was perfect for I am very family oriented and to have my family there to share in such a wonderful event could not have been better.
Wedding date: August 18, 2012
Wedding location: Double Tree Hilton, Independence Ohio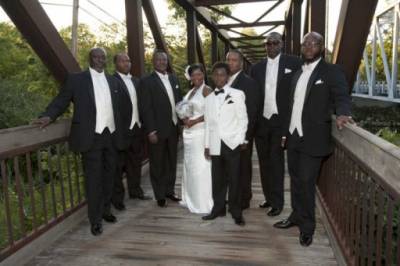 Theme/motif/inspiration: Old Hollywood Glamour with lots of sparkle.
Your best moment: First when my son Brisk gave me away, then when we were pronounced husband and wife.
Wedding song, explain choice for song: Here I Stand by Usher. The words in the song we chose are powerful, and describe the love of how my husband has always made me feel and the love that my husband and I share for one another
Favorite wedding detail: Everything! My Cake and decorations were simply gorgeous and elegant, just as I envisioned it. The favors I made were 7 oz soy candles had the reception room smelling like an exotic mix of Lavender, Ylang Ylang and Spiced Orange which made the room warm and sensual. My saxophone player played as my wedding party and I walked down the aisle.
Honeymoon Destination: Punta Cana
From the Bride: Romantic, elegant and full of love.
From the Groom: The best and so worth the wait
Photographer: Stuart Pearl Photography, www.pearlphoto.com
Ceremony location: Double Tree Hilton, Independence, Ohio www.doubletree.com
Reception location: same as above
Bridal gown: Galina Signature, David's Bridal, www.davidsbridal.com, Shoes, Nordstrom's (pearl & rhinestone accents added by bride Torrian Denise, www.dornee.com)
Bridal party attire: Groom's tux: Bridal party, David's bridal. Groom's tux from American Commodore, South Euclid, Oh www.americancommodore.com
Cake: Michael Angelo's Bakery, Broadview Hts, Oh www.michaelangelosbakery.com
Caterer: Double Tree Hilton, Independence, Ohio www.doubletree.com
Favors: Torrian Denise, DorNee' Natural Body Luxuries, www.dornee.com, [email protected] DorNee Natural Body Luxuries (FaceBook)
Wedding planners: Breathetakers Event Planners and Decorators, (Face Book) Sharmaine L. Marshall, 216-509-4439, [email protected]
Music: John Watkins, Saxophonist
Hair: Shennevean Oliver, owner Changing Faces Hair & Nail Designs, Cleve Hts, Oh 216-321-5900, [email protected]
Makeup: Lorna Lewis, MAC Saks Fifth Avenue, Beechwood, Ohio. [email protected]
Flowers: Bride's Brooch Bouquet by bride, Torrian Denise, www.dornee.com. DorNee' Natural Body Luxuries (FaceBook)
Bridal Party: Breathetakers Event Planners and Decorators, (Face Book) Sharmaine L. Marshall, 216-509-4439. [email protected]
Stationery: LT Squared, South Euclid, Ohio www.ltsquared.com