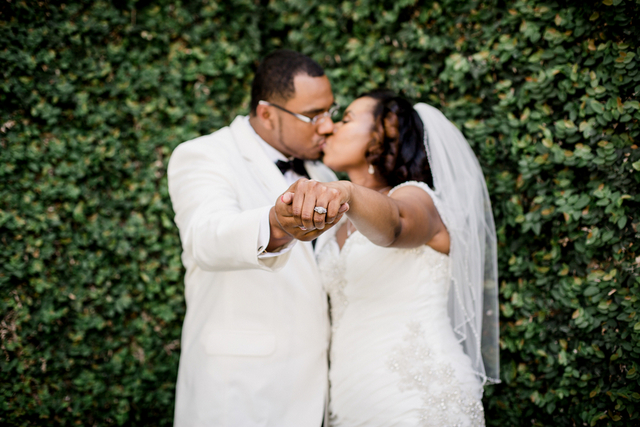 Carmelle and Dominic met the summer of 2004 while they were both working at a summer camp for mentally and physically disabled youth. "The morning of orientation, the director asked the interns to meet in the gymnasium. To pass time, Dominic incessantly dribbled a basketball. Tired of the noise echoing in the quiet gymnasium, I asked Dominic to stop bouncing the ball. Dominic turned around, ready to give me a piece of his mind, but was taken aback by my beauty and grace (his words)," said Carmelle. Over the course of the summer, Carmelle tried to play hard to get, but Dominic's persistence and "kind spirit" eventually won her over. That summer, Dominic told Carmelle, "I'm going to marry you one day!" Although she thought he was crazy, that statement would soon become a very real possibility. The two courted for about a year before they found themselves separating to pursue their careers in different states. In 2012 Carmelle found herself rummaging through old photos and wondering, "What ever happened to Dominic?" "I decided to do a quick Facebook search and was shocked to retrieve a result for Dominic. I nervously sent him a message…and the rest is history," said Carmelle. The happy couple celebrated their union with a classic Texas wedding, where Carmelle created a lot of the decor and personal touches herself, with a little help from Pinterest. Check out their special day captured by Mikenzie Bean of Grey to Blue Photography!
Bride: Carmelle Nesbitt, 28, Educator
Groom: Dominic Vietti, 28, Logistics Management
Place of residence: Houston, Texas
Wedding date: 5/1/15
Wedding location: Vintage Villas in Austin, TX
Wedding theme: Authentic. Elegant. Christ-Centered. Creative. Classic.
Engagement story:
Dominic proposed Thanksgiving Day 2014 in front of my family with a breathtaking white gold, vintage-inspired diamond ring. It was an unexpected, beautiful, and heartfelt proposal. I managed to say "Yes" through tears of joy.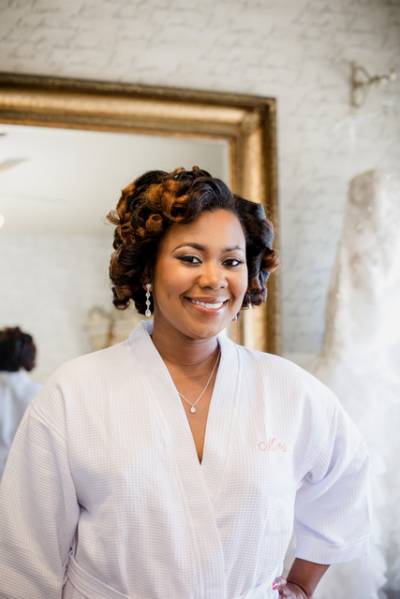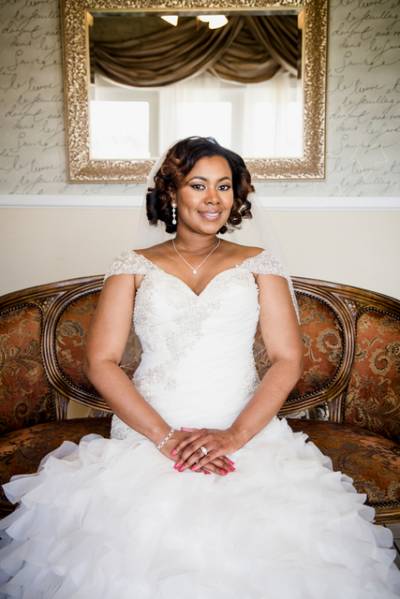 From the Bride:
The morning of the wedding was bananas! There were several delays and hiccups leading up to the ceremony. Because I'd planned the wedding and was one of the few people who knew details, I doubled as the bride and coordinator, lol. I was in "getter done" mode until it was time to walk down the aisle. (Literally, while the wedding party walked the aisle, I was still running around behind the scenes- in my wedding dress!) When it was finally my turn to proceed down the aisle, I took one step…and broke. I cried like a baby! Tears of joy, excitement, and relief! All the planning and tireless hours were over. The moment had finally arrived! Thank God!
From the Groom:
I was completely relaxed and excited. The morning of the Big Day I was a little nervous. I anxiously anticipated seeing my beautiful bride in her dress, walking down the aisle to become my wife!
The couple's most memorable moment:
Groom: Seeing my wife come down the aisle. She looked heavenly! Also, taking communion for the first time as husband and wife.
Bride: Standing at the alter with Dominic…10 years after meeting. It was a surreal moment!
Wedding games:
Instead of a "First Dance" we played "If the Shoe Fits" aka "The Shoe Game." Dominic and I traded a shoe with one another, and then our DJ asked us a series of questions. After each question, we held up the shoe of the person we thought was the best answer to the question. Some of the questions included, "Who will be doing most of the cooking?" "Who is the better driver?" and "Who said, 'I love you' first?" Our guests really enjoyed this game! It was a great way for them to get a glimpse into our relationship.
What makes your love special?
Our solid and authentic foundation in Christ. Our story has many twists and turns, but through it all we remained faithful to God's plan and design for our love.
Favorite wedding detail:
Our favorite details were the food, cakes, and personalized DIY décor!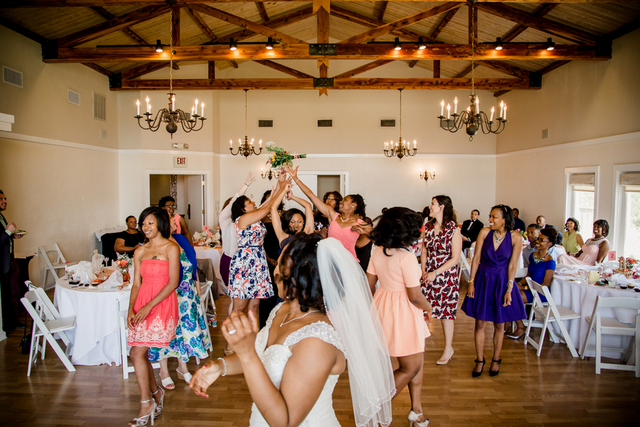 What are you most looking forward to as a married couple?
Starting a family and sharing the love and joy of Christ with them!
Advice for a Bride/Groom on their wedding day:
Groom: Trust God. He will lead and direct you in all things concerning your marriage.
Bride: Ditto the groom. And relax! Don't sweat the small stuff. Invest more in your marriage than in the wedding day!
Congrats to Carmelle and Dominic! We wish you many more years of wedded bliss!
Vendors:
Photographer: Mikenzie Bean of Grey to Blue Photography
Ceremony & reception location: Vintage Villas
Bridal gown:
Designer: Allure
Boutique: Low's Bridal and Formal
Bridal party attire: David's Bridal
Groom's tux: JoS A. Bank
Cake: Nothing Bundt Cakes
Favors: The Knot Wedding Shop
Stationery: Vistaprint
Curated by our Wedding Features Editor, C.K. Alexander. C.K. is the creator of the Single Bride Blog and the owner and founder of Love Ink and Brownstone Bridal. Keep up with C.K. on Twitter here: @Love_Ink