Like most amazing love stories, a little bit of luck was in play when Billy met his dream girl Tiffany. In 2007, while Billy set out to purchase an extended warranty for his vehicle at the Mercedes-Benz dealership, he got way more than he bargained for when he set his eyes on Tiffany, who happened to be working there at the time. The two exchanged numbers and kept in contact every so often. However, it wasn't until 6 months after their initial meeting that the two finally decided to go on their first date. Not before long, this couple was inseparable and 5 years later Tiffany and Billy made their union official! Like the saying goes, "Everything is Bigger in Texas!" and Tiffany and Billy's purple palette wedding at Chateau Cocomar, definitely fits the bill! Check out this awesome wedding captured by Kirk Lindsey of Kreative Concepts Photography.
Bride: Tiffany Monique Starling, 32, Staff Accountant / Entrepreneur
Groom's full name: Billy Starling, 31, Medical Technologist / Entrepreneur
Wedding Location: Houston, TX (Pearland)
Wedding Date: 09/08/12
Honeymoon Destination: Aruba
The Engagement Story ( From the Groom):
"I proposed to the love of my life / better half on February 4, 2009. It was half-time of Super Bowl XLII, Giants versus Patriots. I blind folded Tiff and walked her into the kitchen. I placed two ring boxes on the kitchen counter, then I took the blind fold off so that she could open the boxes that I had left for her. When she opened the first box there was a love poem that I wrote for her. While she was reading the poem I wrote "left" in the second box and stepped away to get our son Aden. I stood behind her on bended knee holding our two month old son in the air. Tiff turned around confused. I remember her confusion quickly turned into excitement as she read the custom made bib I had bought for Aden which read, "Will you marry Daddy, Mom?" Of course she told Big Daddy, YES (LOL)! I had the ring tied around our son's neck. The moment I put that ring on her finger I knew with all certainty, that I would love her for life."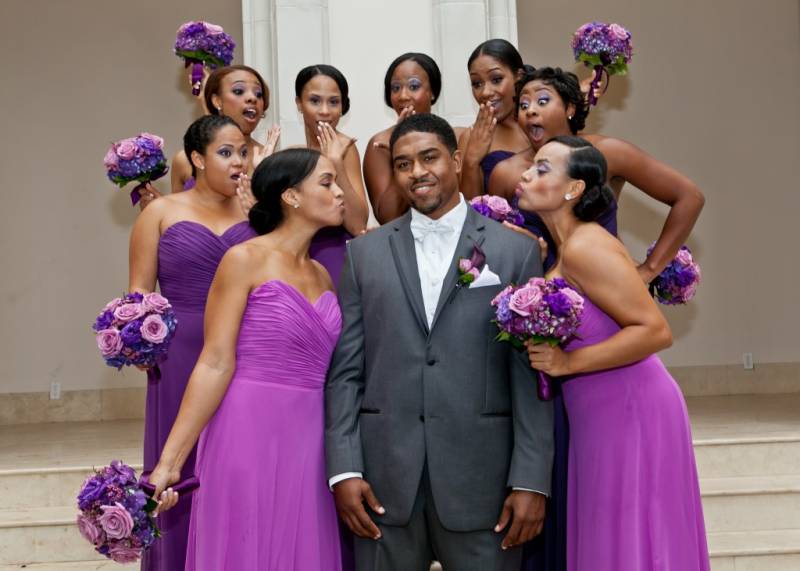 Best Moment:
"Watching the ceremony from afar before I walked down the aisle. It was so surreal. I felt like I was in a fairytale."- Tiffany
Favorite Details:
"I can't choose a favorite detail. I love how everything turned out. The wedding party's attire looked amazing, the flowers were beautiful, and the reception and the venue were all just breathtaking."
Wedding song:
"I walked down the aisle to Beyonce's "So in Love." I chose that song because I connected to the lyrics. My husband and I have been together for a few years and have gone through a lot. Throughout everything we've overcome, I'm still So in Love."
From the Groom:
"I enjoyed the wedding as a whole because I got a chance to see a lot of friends and family that I haven't seen in years."
From the Bride:
"I had a beautiful wedding. I wish I would have slowed down and taken it all in. The experience went by so fast. If I could give any advice to future brides I would say relax, enjoy and be in the moment."
Want to see more of this beautiful couple? Check out their awesome wedding video shot by videographer George Drake. Congrats to Tiffany and Billy! We wish you many years of wedded bliss!